Do you know that once upon a time, Singapore and Borneo used to be the same country? On September 1963, Singapore joined Malaya, Sabah (North Borneo), and Sarawak in the Federation of Malaysia but became a country on its own after two years. That been said, find out these 6 facts you need to know about Singapore and Borneo!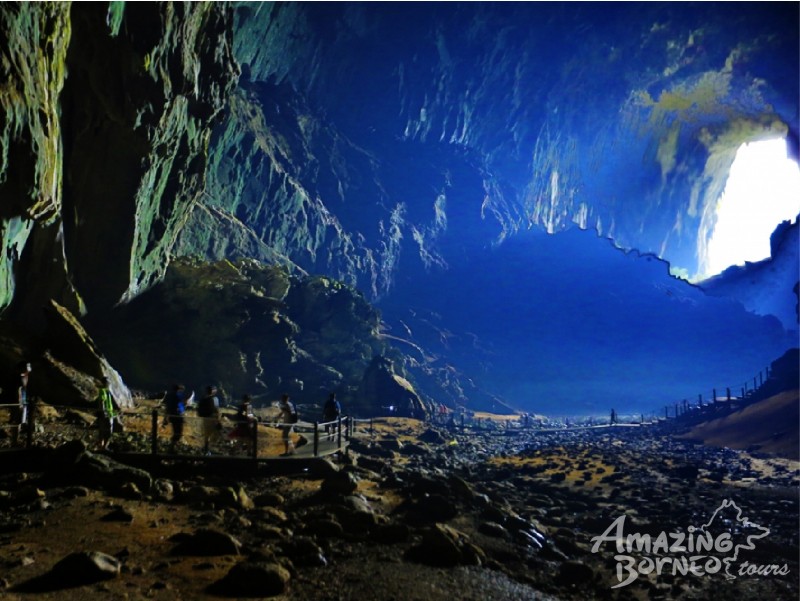 Mulu Caves, Sarawak
1. Geography and Topography
Borneo has an area of 743,330 km², more than 1 thousand times larger compared to Singapore which comprises of 721.5 km², making Singapore the smallest country in Southeast Asia. In contrast with Borneo which is the largest island in Asia. Singapore mainly has a flat surface packed with concrete jungle and no distinct rivers, a small range of hills with the highest point at Bukit Timah standing 166m. As for Borneo, our topography features nature high hills and mountains including Mount Kinabalu, the highest point of Borneo with an elevation of 4,095m. Not forgetting thick condensed jungles, wide stretches of rivers and pristine beaches. In contrast with the 63 islands of Singapore, Borneo has hundreds of tropical islands that's perfect for water sports and hands down our beaches will be one of the most beautiful sunset settings that you will ever see in your life. Come visit Kota Kinabalu to see it yourself and use this as a guide to chasing sunsets.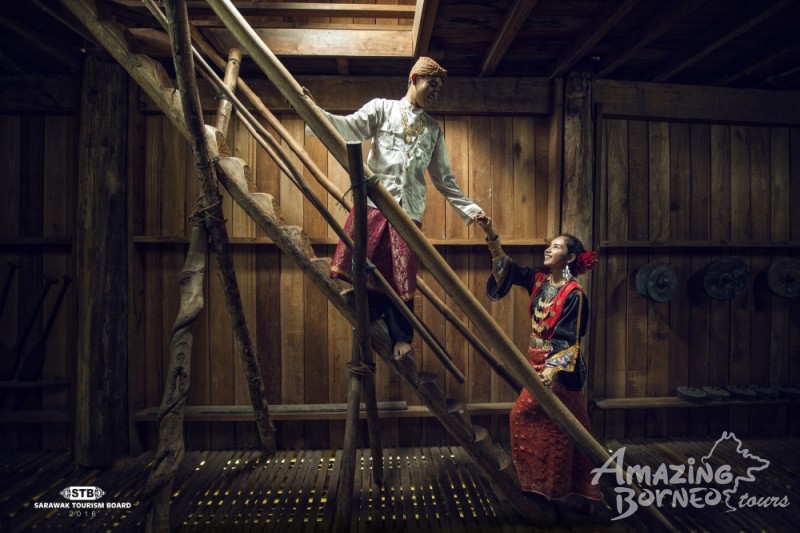 Sarawak Cultural Village
credit Sarawak Tourism Board
2. Do you know both Singapore and East Malaysia has a similar population of close to 6 million?
Being one of the busiest countries in the world, Singapore attracts people from all over the world to the island city-state for business and career opportunities. Meanwhile in Borneo's population is mainly made up by its native people of more than 200 different ethnic groups. There are cultural villages built to preserve and educate youngsters about the different cultures. If you're curious about the vast culture in Borneo, make sure to visit Sabah on May for the annual Harvest Festival and Gawai Dayak Festival held starting on 1st of July every year. Other cultural attractions are Mari-Mari Cultural House and Sarawak Cultural Village that are available all year round.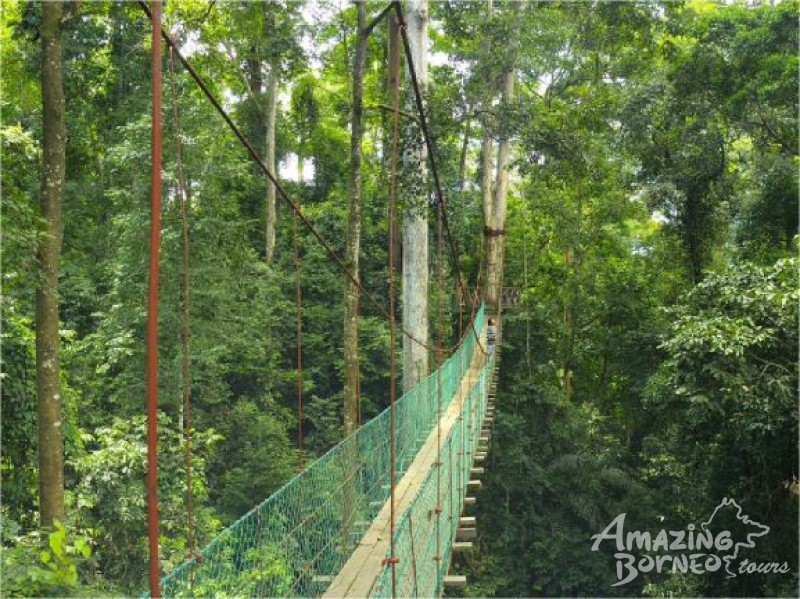 Rainforest Lodge - Lahad Datu, Sabah
3. Singapore's Green City Journey and Borneo's Fight to Preserve its Rainforest.
Singapore's meteoric economic rise launched a landscape of towering architecture in the compact city-state, but as the metropolis continues to grow, urban planners are weaving nature throughout reshaping the skyline by replacing greenery lost on the ground from development with greenery in the sky through high-rise terraces and gardens. In 2017, Singapore beats 16 cities in green urban areas besting other countries such as Sydney, Australia and Vancouver, Canada. Following Singapore's lead, Malaysia has set sustainability standards in recent years to curb the conversion of forests into plantations. The Borneo rainforest is estimated to be around 140 million years old, securing a top spot as one of the oldest rainforests in the world. The jungle supports approximately 10,000 plant species, 380 bird species and several mammal species. It is also home to the world's largest flower, the Rafflesia is a rare, short-term bloomer and so temperamental, even Singapore's Botanic Gardens has not yet succeeded in growing its own and you can see it here!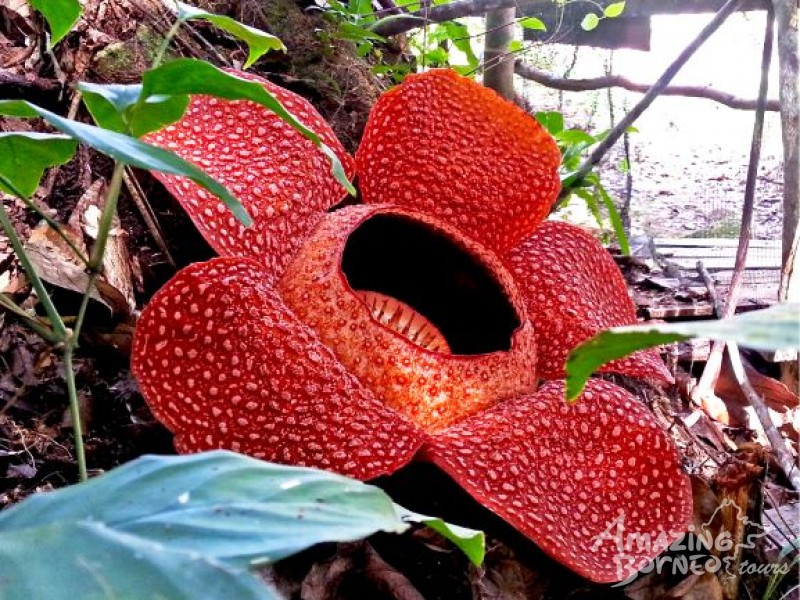 Rafflesia blooming at Sabah Park - Kundasang, Sabah
4. Man-made vs. National Parks
Singapore has myriad of beautiful and breathtaking man-made parks to choose from. Universal Studios Singapore has more than 20 attractions including the Lost World, Ancient Egypt, New York, Hollywood, Far Far Away and Madagascar. If you love water activities, Wild Wild Wet Singapore offers a fun action-packed day of splish and splash adventure! Duplicating the idea from nature rainforest jungle, Gardens by the Bay are built with steel structures that harvest rainwater for use of the gardens, and solar panels to generate power. However in Borneo, you are able to get up close and personal with nature through many declared national parks. Researchers and travellers from all around the world gather and explore the wonders of Borneo, the clever Orangutans and colourful Hornbills, unique flora and fauna can be found such pitcher plants and the biggest flower in the world - Rafflesia, and many more. You can find this wildlife in few of Borneo's national parks such as Mount Kinabalu National Parks, Tunku Abdul Rahman Marine Park, Gunung Mulu National Park, and Bako National Park.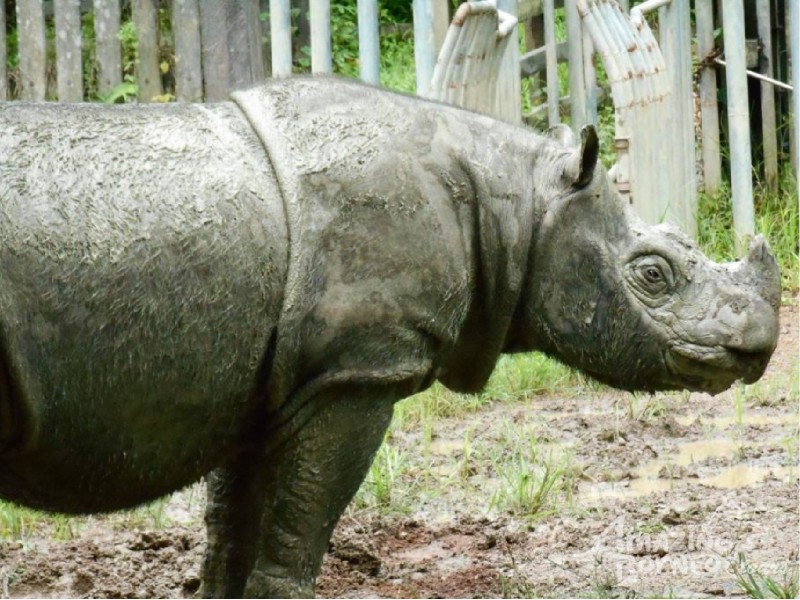 Late Tam - Sumatran Rhino
credit borneorhinoalliance.org
5. Animals & Zoo
Although Singapore has lost its tropical forest that it once has, there are still so many unique native wildlife species worth viewing. Singapore has been fighting for the local nature reserves as these animals are vulnerable and endangered because of Singapore's rapid urbanization progress for the past few decades. Zoo and nature reserves can be found abundant in Singapore such as Singapore Zoo, River Safari, Jurong Bird Park, or the new Rainforest Lumina that offers multisensory feast showing glowing flowers, trees, and animated animals. Similar to the extinction of Singapore's last tiger that's been shot in the 1930s, Borneo recently has lost Tam, the last Sumatran rhino in Malaysia. More reason to reinforce and bolster Borneo's wildlife, as it is the home to a plethora of wild plants, animals, and marine lives yet to discover. Sarawak of Borneo having the title the 'Land of Hornbill' and the Orangutan can only be found on the islands of Borneo and Sumatra.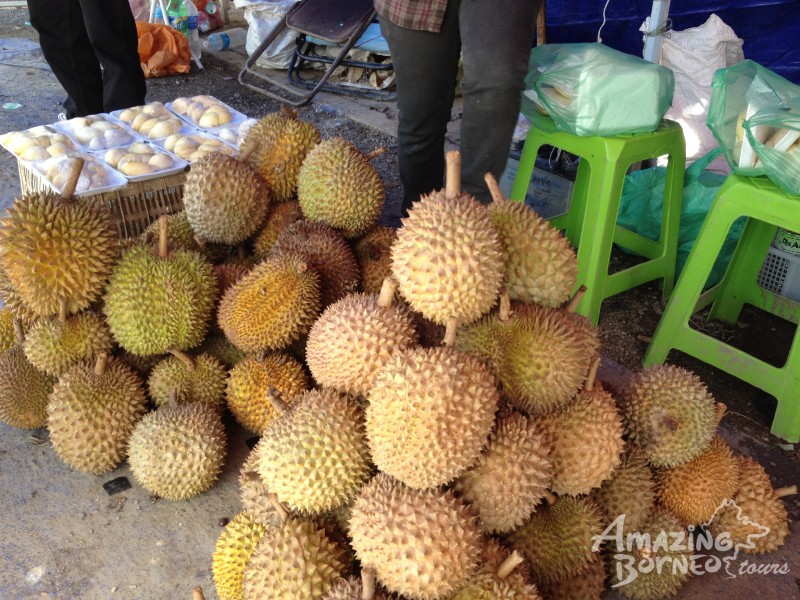 Durian at Kundasang Vegetables & Fruits Market
6. Food Galore
One thing that both Singaporean and Borneon definitely have in common is the love for food! Bak Kut Teh, Wanton Mee, Dim Sum, Laksa, Ice Kacang and Seafood. Not forgetting how much we love our local food especially the 'King of Fruits' Durian, smooth creamy flesh texture that one can't resist! It only takes about two and a half hour flight to Borneo so book yourself a trip, and decide which country have better food yourself! Additionally, you can read all about the 10 Borneon Fruits You Must Try Before You Die!