If you're planning to go out for a water adventure, SeaTango offers several great services to choose - from snorkelling, scuba diving, island hopping, sunset cruising and much more! Equip with ample of boat spaces, you can either hang out at the upper sun deck for the overall view, sunbath at the front deck with sparkling azure sea view, or just chilling inside the spacious main deck shaded from the sun. Packed by a team of experts, they shall answer all your questions and attend your needs, warm and attentive, and most importantly practice first aids! Here are my top 5 picks to do with SeaTango.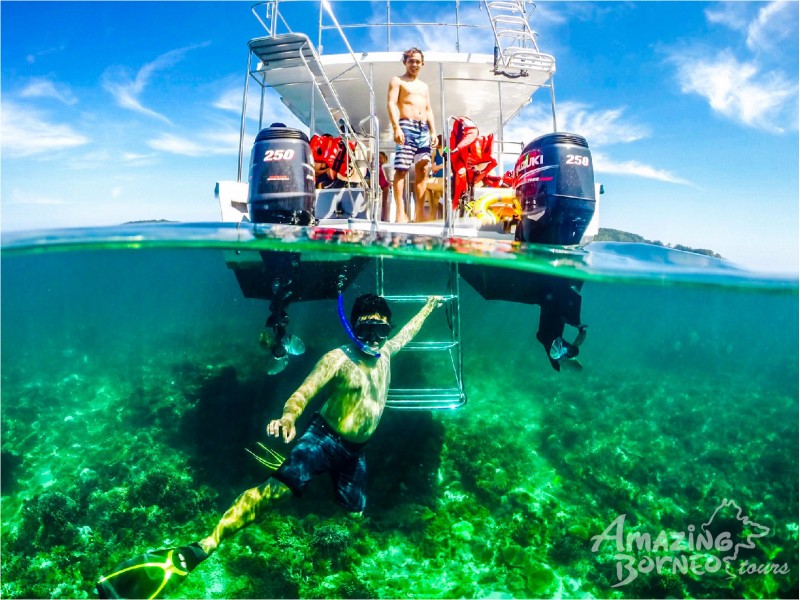 more fun with SeaTango!
1. Snorkelling - A whole new world
SeaTango has several snorkelling spots to choose from the marine national park of Tunku Abdul Rahman. Take it easy by just floating around on the surface of the warm salty water and witness the vivid colour of marine life. For just about 15 minutes ride from KK City, you can enjoy both the sun and the ocean packed with beautiful coral reefs and the wide variety of marine life without the need to dive deep. Some refreshments - local titbits, hot drinks and refillable mineral water shall be provided throughout the snorkelling session. So get your fins on, put on your snorkelling mask and plunge in for the magnificent view down below.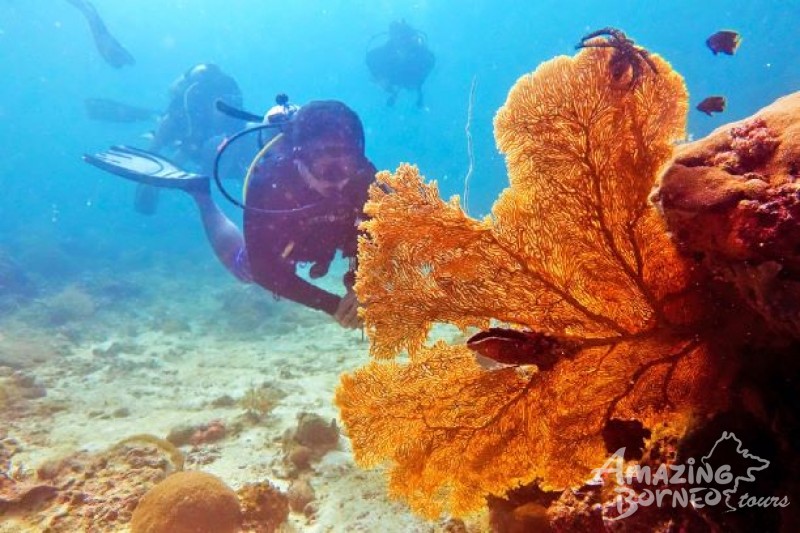 scuba diving at Tunku Abdul Rahman national park
2. Scuba Diving – Discover the mystery and wonder of the ocean
Carpeted with white sands as the background against the bright colour of marine life, explore the wonders and charms in one of the world's most beautiful scuba diving spots, scattered among the national parks in Tunku Abdul Rahman. SeaTango experts divemaster will bring you to the beauty around scuba diving spots in the marine parks. Or if you're up for it, take a 40 minutes ride away from KK City for their latest discovery, untouched and private scuba diving spot, SeaTango's Ballroom is perfect for those who appreciate the serenity and away from the overcrowded tourist destination.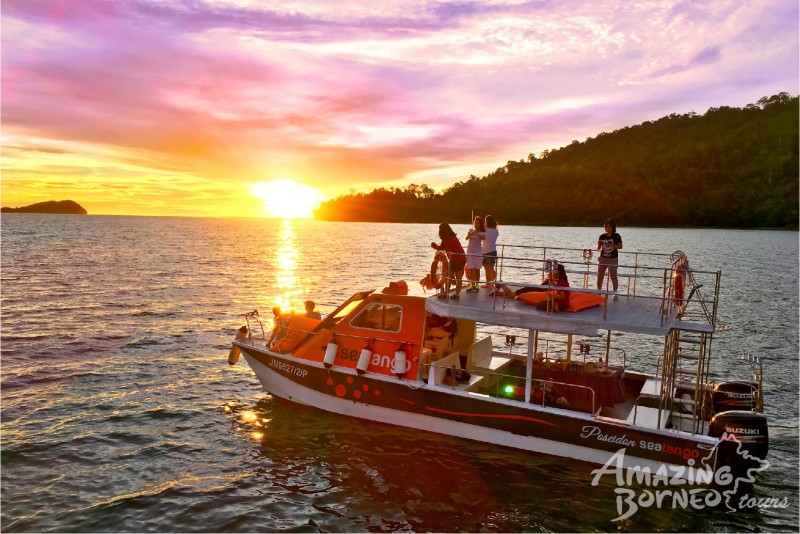 sunset cruise with SeaTango
3. Romantic Sunset Cruise
Take a relaxing, cool, and breezy cruise with SeaTango away from the city's hustle and bustle before witnessing one of the most beautiful sunsets in the world. The boat will start to depart from Marina jetty around 5 pm, enough time for a brief cruise along KK City and nearby islands. The sultry twilight of KK City's waterfront will set you in the mood for a tranquil and soothed ride to the water village in Gaya Island, the largest island in Tunku Abdul Rahman National Park. You can see colourful and slightly frail house infrastructures when riding along the water gipsy's houses. The boat continues to cruise between Gaya Island and KK City, just the right spot to enjoy both settings of the sunset and the city's lights. For the best view, head up to the upper deck to see the perfect blend of a smooth gradient colour of the warm sunset and the dark blue of the night.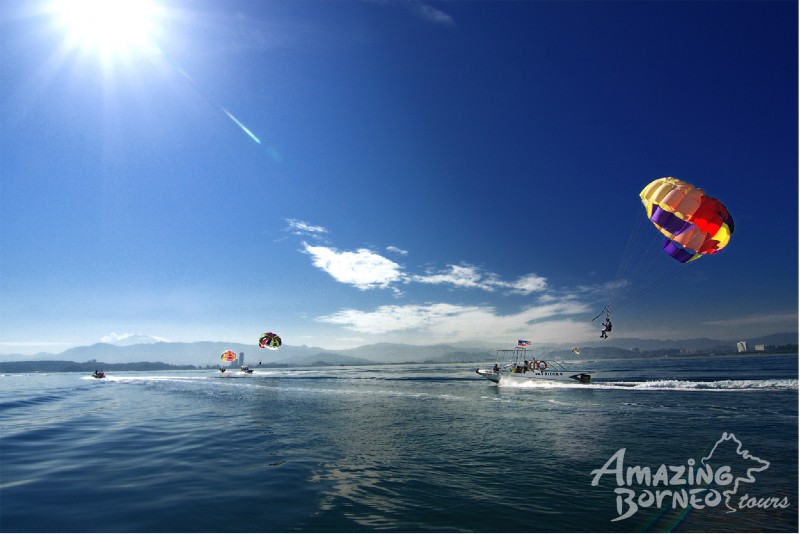 one of the many water activities provided by the islands
4. Islands Hopping
There are several beautiful islands near KK City located just next to each other, thus it's easy to create a convenient and action-packed island-hopping itinerary, especially the twin Manukan and Sapi Islands. Lipped with stunning beaches and coastlines, most of the islands provide basic tourist facilities that include restaurants, accommodations, restroom and more. These islands also offer a wide range of activities from water sports like snorkelling, kayaking, parasailing, banana boat to jungle activity such as trekking and bird watching and if you're not keen on joining any physical activity, lay down your mat and have a relaxing sunbathing session.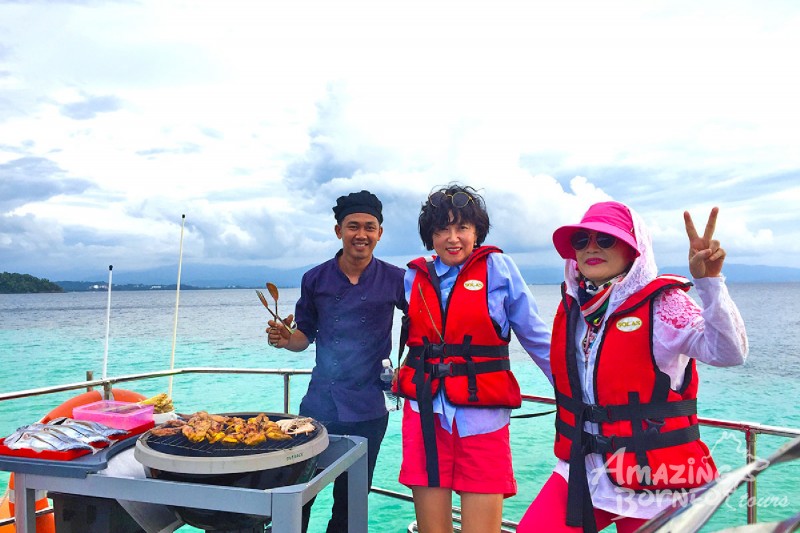 SeaTango is available for private charter
5. Private charter for an exclusive special event
Planning for a birthday bash, a family reunion, bachelorette party or a romantic proposal in the middle of the ocean? Or explore the islands and beautiful destinations of Sabah's salty water according to your schedule and at your own convenience? Add SeaTango on your list! The catamaran can cater to any function allocated up to 24 people max. Bring your family, friends and loved ones and get spoiled by our crew on a limited cruise that combines the right mixture of classy and fun!
It's easy to forget about the time when you're having fun. But don't forget to stay hydrated, bring your shades and wide brimmed-hat to avoid unnecessary sunburn!

Check out this video that I made during the Fun Boat Snorkeling activity.