The Malaysian Borneo region is a must-visit destination for nature lovers. The 140 million-year-old rainforest is home to an overwhelming variety of flora and fauna, making it a perfect spot for eco-tourism. To fully immerse yourself in the jungle's enchanting rhythms, what could be a better way to experience the jungle-jive than staying in luxurious accommodations?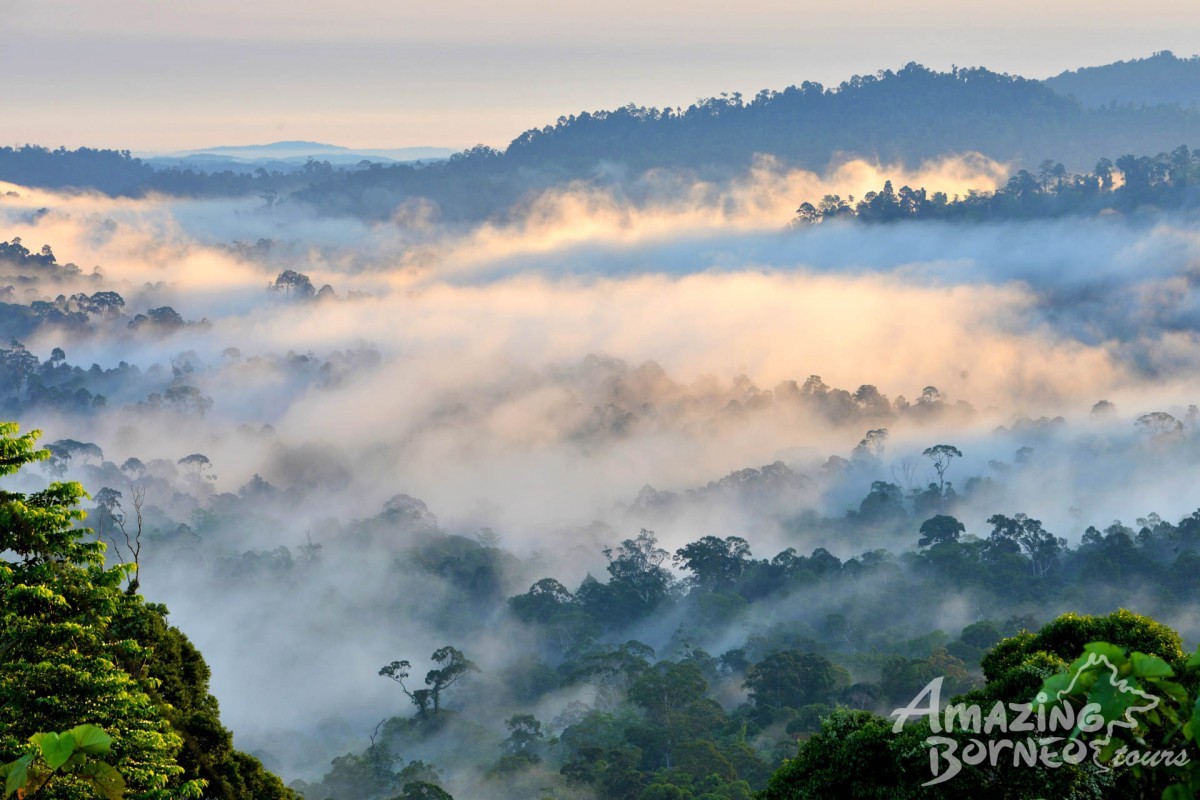 If you're looking for a luxurious stay that prioritizes eco-friendliness and social responsibility, look no further. This article will showcase five eco-friendly accommodations that demonstrate how practicing ecological and social responsibilities can coexist with exceptional hospitality. By weaving in eco-sensitive principles without compromising ultimate comfort, these eco-friendly accommodations will amaze you with some brilliant Go-Green ideas! Disconnect from city-life humdrum and discover deeper roots of connection in these dazzling eco-retreats scattered throughout Sabah ─ where sustainable luxury is not an oxymoron.
1. Borneo Rainforest Lodge, Danum Valley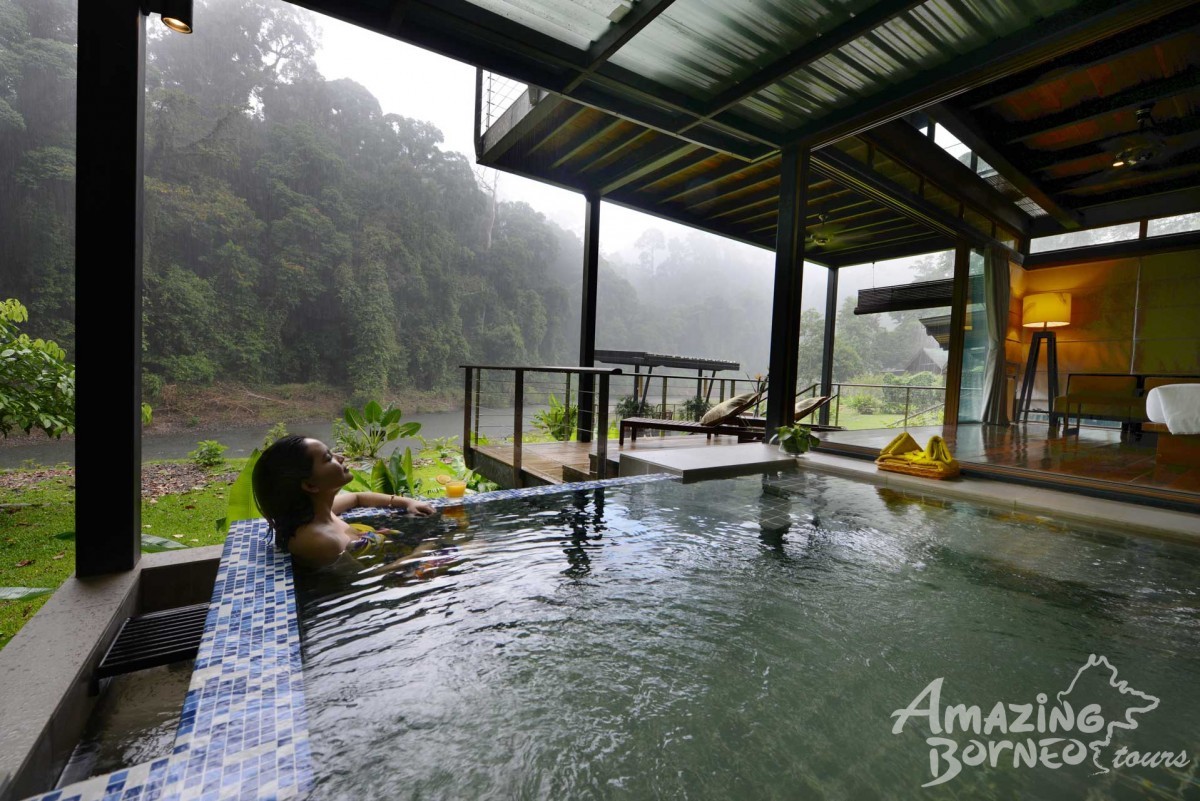 Snuggled within an ecosystem of unparalleled size, beauty and diversity and wrapped by the sounds of the surrounding nature, Borneo Rainforest Lodge ushers you straight into the wilds of Borneo; where you bask in luxurious comfort with an undisturbed primary rainforest literally at your doorstep ─ the rustic-international standard lodge does make anyone wonder how luxury can exist deep in the rainforest! This rainforest is throbbing with birdlife, Pygmy Elephants, Orang Utans, Gibbons, Sambar Deers, Clouded Leopards, Palm-sized spiders and more, making it a habitat to over 340 species of birds, 124 species of mammals, and an astonishing 200 species of plants per hectare. In Borneo Rainforest Lodge, you're granted front seat views to Borneo's most premier wildlife. Yeah, there have been moments when an orangutan has come straight through the lodge restaurant or made its nest above one of the chalets! With excellent guides, well-carved trails and well chalked out itineraries, it is an ideal stay for any nature enthusiast seeking an elevated and educational wildlife experience.
Borneo Rainforest Lodge's dedication to environmentally friendly practices is exemplified by their comprehensive management of waste, water, chemicals, energy, and noise. With all the delicious buffet spreads that goes on throughout the day, excess cooking oil and charcoal ashes are turned into cleaning soaps and fermented kitchen waste is turned into compost for organic planting. They also treat wastewater with Effective Microorganisms (EM) and utilize EM mud balls to enhance water quality. In terms of chemical management, Borneo Rainforest Lodge prioritizes eco-friendliness by using environmentally safe detergents and selling natural insect repellent. Their commitment extends to providing eco-friendly amenities with natural ingredients, and we ensure the purity of our water through an extensive filtration process followed by UV water purification instead of chlorination. Additionally, the design of Borneo Rainforest Lodge's chalets adhere to passive design principles. The installation of solar-powered water heaters in each en-suite and energy-efficient light bulbs and LED lighting throughout all of our facilities are part of their ongoing efforts to promote sustainable practices. By staying at Borneo Rainforest Lodge, you may doze off with the sounds that emanate from deep within the virgin rainforest knowing that simply being there contributes to protecting one of the greatest natural environments on the planet. Book a 3D2N stay at Borneo Rainforest Lodge today!
2. Sukau Rainforest Lodge, Sandakan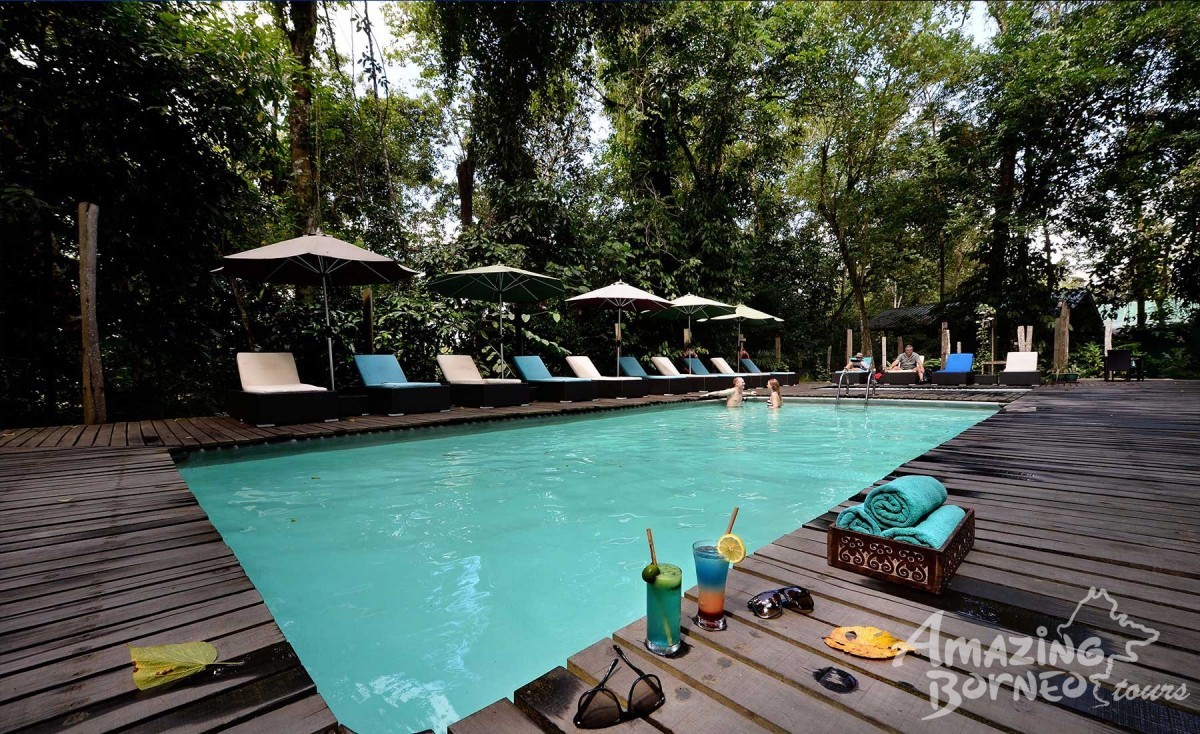 Sukau Rainforest Lodge incorporates green policies that prioritize conservation, community development, and sustainable tourism. Situated on the banks of a floodplain, the award-winning lodge was designed to safeguard the thriving and intricate eco-system that exists there. Despite the focus on preservation, guests are treated to a comfortable and enriching experience that fosters an appreciation for the fragility of the surrounding mangrove forest and the diverse life it supports. By night, the lodge takes on a cozy ambiance, thanks in part to the warm glow of recycled cooking oil lamps used in the lounge area. The local community plays a crucial role in the lodge's success and renowned hospitality, with around 80% of the staff coming from neighboring villages. These individuals have received extensive training through the lodge and are integral to initiatives aimed at preserving the forest and sustaining the local economy. The entire lodge is connected by wooden boardwalks, which minimize erosion and allow the environment to thrive undisturbed.
Sukau Rainforest Lodge has been involved in several community and environmental projects since 2000 through its non-profit organization, the Borneo Ecotourism Solutions and Technologies BEST Society. These projects include providing over 90 water tanks to local families, organizing three medical camps, and working on the Kinabatangan Wildlife Corridor Rehabilitation Project. To support conservation efforts in the region, Sukau Rainforest Lodge and Borneo Eco Tours contribute RM 4.00 and RM 8.00 per international guest, respectively. In addition, conservation levies of RM 20.00 per guest are collected to support the Kinabatangan Corridor of Life Tourism Operators Association and BEST Society. As of December 2020, Sukau Rainforest Lodge has contributed RM 677,345.08 towards implementing community and environmental projects under BEST Society. Book a 3D2N stay at Sukau Rainforest Lodge today!
3. Tabin Wildlife Reserve, Lahad Datu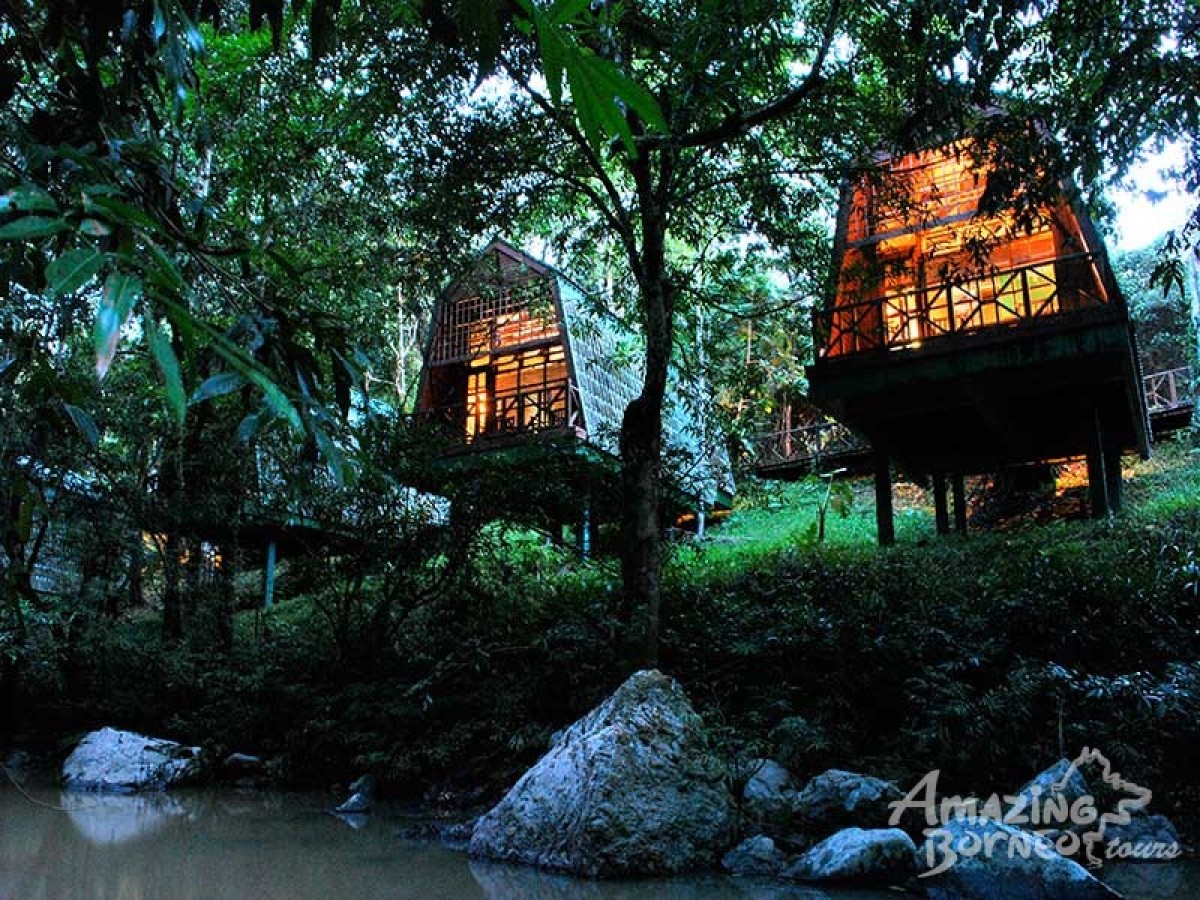 Situated in the eastern part of Sabah, Malaysia, on the island of Borneo, the Tabin Wildlife Reserve is the largest wildlife reserve in Malaysia. Covering an area of around 300,000 acres, the reserve is located in the middle of the Dent Peninsula, to the northeast of Lahad Datu town. Twice the size of Singapore, Tabin's dipterocarpaceae rainforest supports a startling amount of biodiversity, as you might spot rare species such as Bornean elephants, Sunda clouded leopards, Bornean orangutans here, making it a dream destination for nature-lovers, adventure-seekers, photography aficionados, and birding enthusiasts.
The development of Tabin Wildlife Reserve as an eco-tourism destination is particularly mindful of the protection and conservation of nature, making it a top priority. All programs and activities are designed with minimal impact on natural resources in mind. For example, they organize their guests into small groups and dispose of kitchen waste responsibly. Their waste is collected and placed in a compost bin to create fertilizer for their plants, while fruit enzymes are used as insect repellent. They also encourage guests to recycle by providing recycling dustbins, and they have built a greenhouse to grow our own vegetables for staff and guests. They support local communities by purchasing supplies and produce locally and encourage their guests to do the same. Additionally, they train young local guides and staff to provide them with the skills necessary for career advancement as a commitment to social responsibility. Overall, at Tabin, careful and well-thought-out sustainable efforts and facilities have achieved a balance between human and nature, allowing both to coexist harmoniously. Book a 3D2N stay at Tabin Wildlife Reserve today and create memories that will last a lifetime!
​4. Shangri-La Rasa Ria Resort & Spa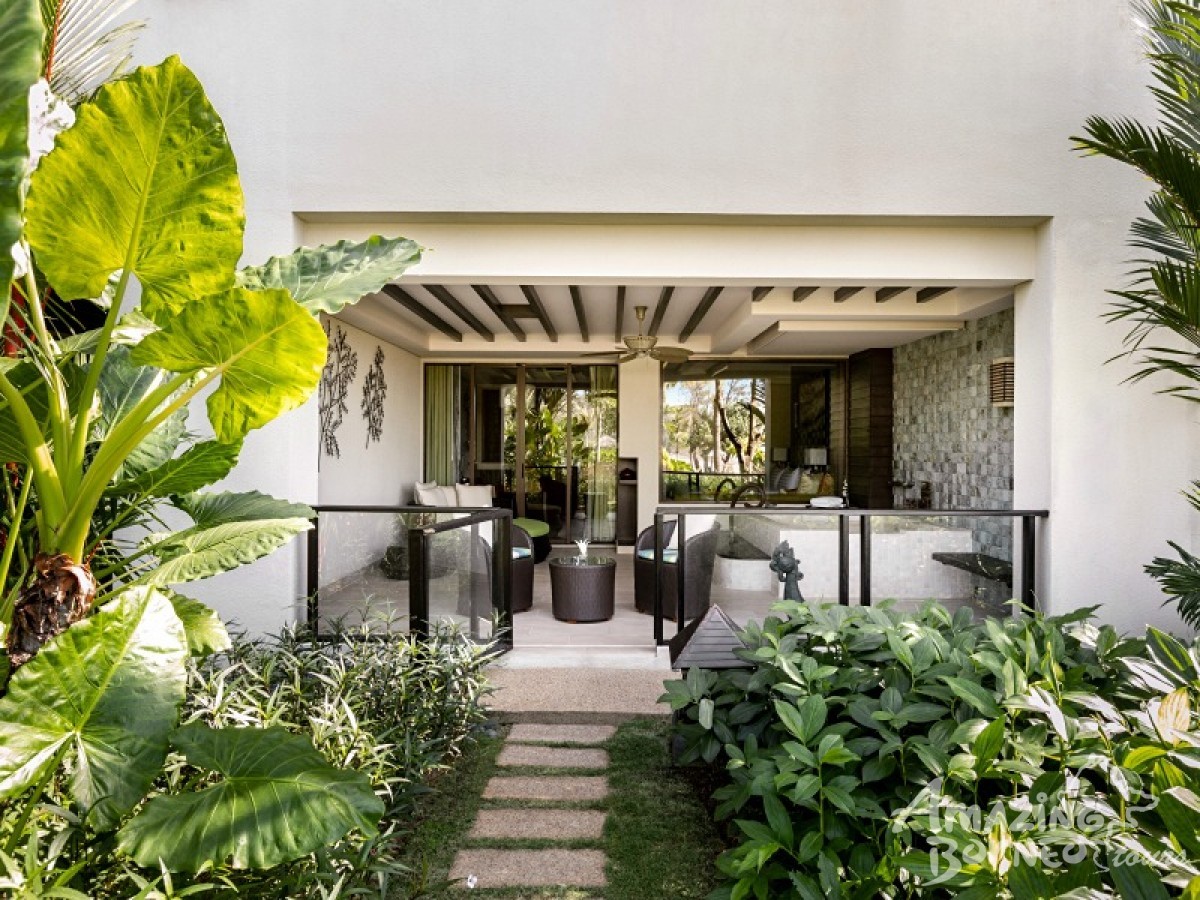 Shangri-La Rasa Ria Resort & Spa, nestled amidst a tropical rainforest on Pantai Dalit Beach in Tuaran, offers an amazing getaway experience. The location offers beautiful coastal views of white sandy beaches with waves rolling onto the shore, as well as a distant view of the majestic Mount Kinabalu. The resort's warm Sabahan hospitality adds to the experience, making it nothing short of amazing. The days here are perfect for relaxation, with a trifecta of Sun, Sand, and Sea all around you.
However, the resort has much more to offer, as it is also home to a 64-acre Nature Reserve, which is a long-term commitment to the conservation of the highly endangered Orangutan. Shangri-La Rasa Ria works in collaboration with the Sepilok Orangutan sanctuary and Sabah Wildlife to raise and rehabilitate orphaned orangutans that have been victims of the Palm Oil industry. The nature reserve is where these Orangutans are kept after being rescued from captivity or suffering injuries. Here, they are trained on basic survival skills and, once fully rehabilitated, are sent back into the wild where they can roam free. Over the last 20 years, Rasa Ria Reserve has evolved its conservation projects from rehabilitating orang utans to include wildlife rescue and rehabilitation, environmental education, and habitat enrichment, demonstrating its long-term commitment to preserving nature. This dedication proves that the environment and people can live in harmony with the right foresight and determination. Moving forward, Rasa Ria Reserve plans to strengthen its collaboration with the Sabah Wildlife Department through its animal rescue unit and expand tree-planting initiatives with guests and students. The resort will also provide educational visits and projects to enhance students' awareness and responsibility towards nature conservation. Book a stay at Shangri-La Rasa Ria Resort & Spa now!
5. Borneo Nature Lodge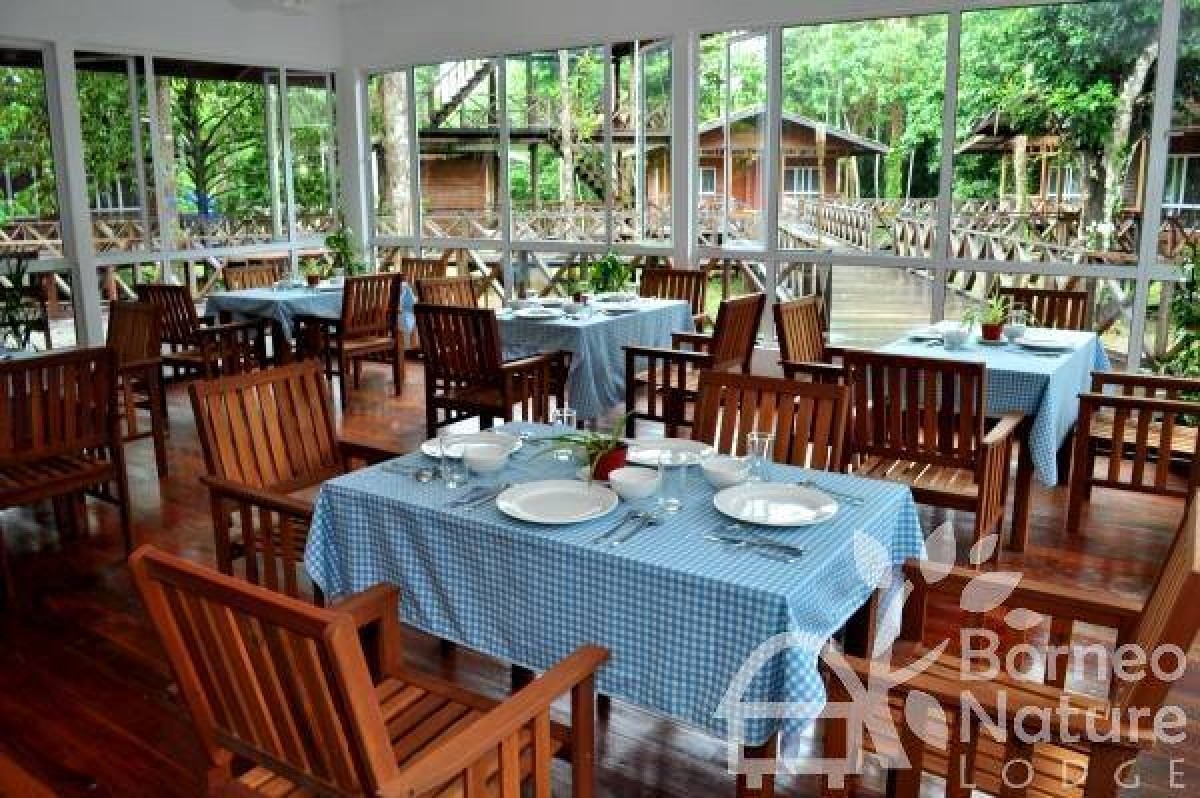 Immerse yourself in the lush rainforest of Sabah by staying at the Borneo Nature Lodge, nestled along the Kinabatangan River. This eco-sensitive lodge was built with the original forest inhabitants in mind, using biodegradable or recyclable materials for the 12 chalets and preserving the elephant path that runs through the area. You can enjoy a guilt-free stay knowing that the lodge is mostly powered by solar energy, and rainwater is collected and used in the toilets. Don't miss the opportunity to join a jungle trek or a river cruise to learn more about the diverse local flora and fauna or lend a hand in the tree-planting efforts of the resort staff.
Moreover, the Borneo Nature Lodge is also committed to maintaining the forest corridor by purchasing seedlings from the Kinabatangan Orang Utan Conservation Project's nursery to plant trees at Lot 3, Kinabatangan Wildlife Sanctuary. This effort is done in co-operation with the Sabah Wildlife's Department and Nestle Project Ri-Leaf program. By doing so, the lodge helps to provide a habitat for wildlife, stabilize river banks, and sustain fish stocks that are an important source of income for the local community. Book your stay at Borneo Nature Lodge now and experience the wonders of Sabah's rainforest while contributing to its preservation!
Click HERE for Jungle Trekking Packages and HERE for Wildlife Adventure Packages!
For more recommended Sabah Tour Packages, head to HERE to learn more!