Famed for its incredible biodiversity, Sabah continues to fascinate travellers from around the world hoping for a glimpse of Borneo's incredible wildlife – the Borneo Big 5.
When deciding on a wildlife tour, many are torn between Danum Valley or the Kinabatangan River. In this article, we are introducing the Kinabatangan River. If you are looking to see one of the oldest virgin rainforests in the world, we encourage you to stay in Borneo Rainforest Lodge to explore Danum Valley. If spotting the Borneo Big 5 is your main goal, we recommend the Kinabatangan River for an almost guaranteed wildlife sighting experience.
The longest river in Sabah and the second longest in Malaysia, the Kinabatangan River is a life giver of sorts, providing several species of flora and fauna the ideal conditions to thrive in a range of habitats such as oxbow lakes, nipah areas, and mangrove swamps. From spotting the silverleaf langur with her golden young to pygmy elephants crossing the river, the number of wildlife you'll get to see out here in the Bornean jungles is unrivalled!
To truly experience what it would be like to stay in the 130 million-year-old jungles of Borneo, there is no experience more authentic than staying in one of the many lodges located in Kinabatangan. And we've done the work for you! Whether you're sticking to a budget or looking to splurge, here are some lodges you can consider staying in when visiting the Kinabatangan region.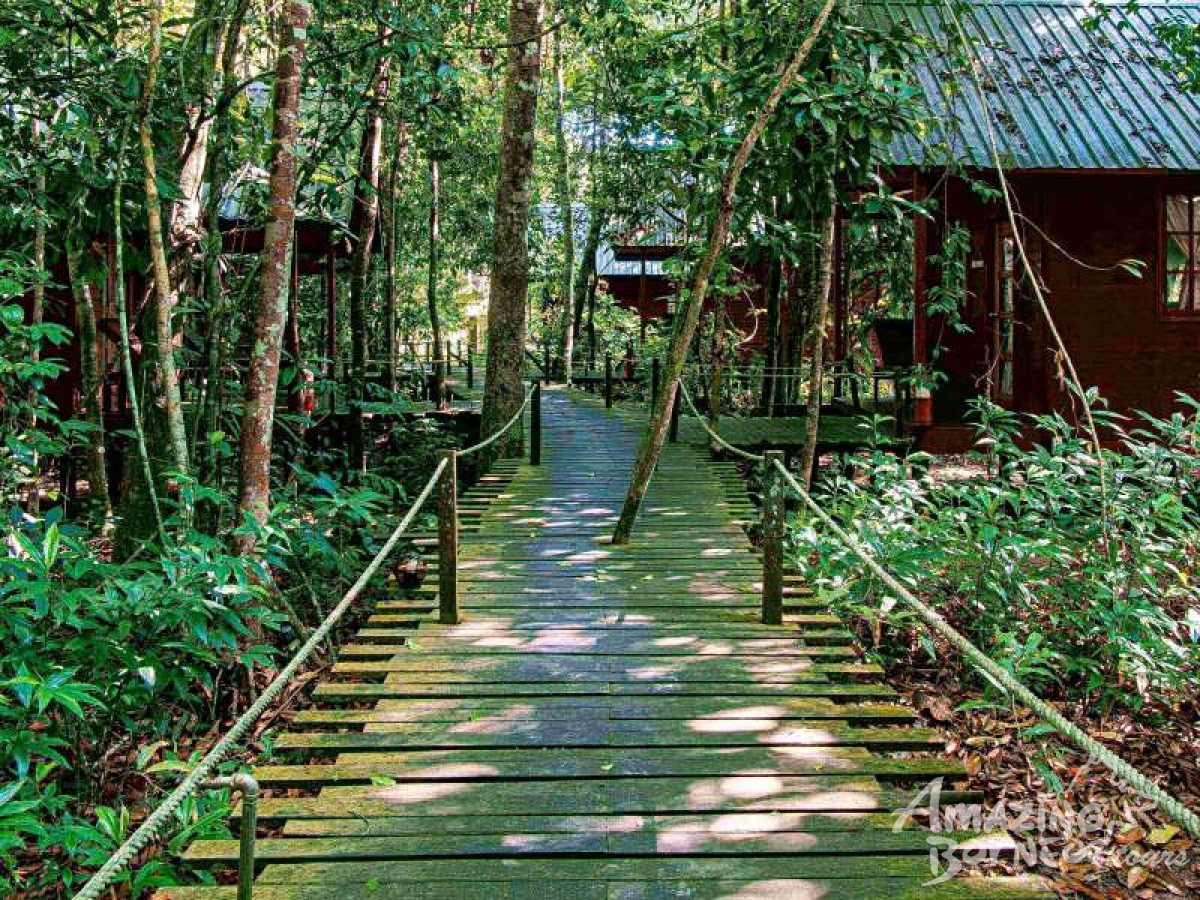 Credit: Leon Kuan | Instagram
For the budget seekers of solitude - Borneo Natural Sukau Bilit Resort
The Borneo Natural Sukau Bilit Resort is an eco-resort located in peaceful Kampung Bilit, nestled along the banks of the Kinabatangan River amidst tropical lush greenery. The chalets rest above wooden stilts, linked together by a series of boardwalks that gives you the opportunity to explore the resort's surroundings. Travellers seeking a relaxing getaway from the hustle and bustle of city life will find the resort more than ideal. You can even spot wildlife from the boardwalks and even some stuck to the chalets, if you look closely enough! A stay at Borneo Natural Sukau Bilit Resort is perfect for those who are sticking to a budget. Guaranteeing both exploration and comfort, it has all the necessities to make you feel as if you're staying in an upscale resort, without that hefty price tag attached to it!
Price Range: From MYR385 per person for 3 days 2 nights
What You Can See & Do: Kinabatangan River Cruise; Night Jungle Walk
If you would like to know more about staying in Kinabatangan, you can read more on my experience below: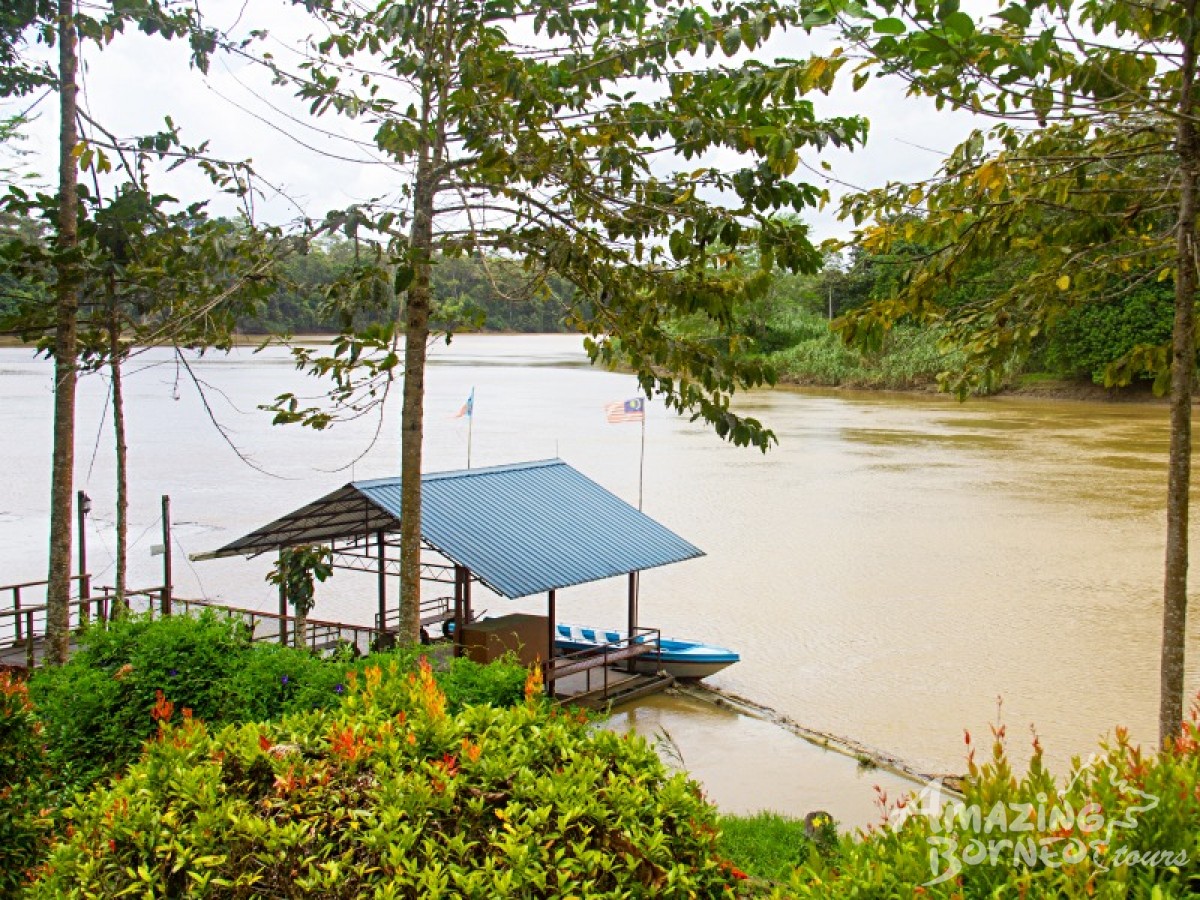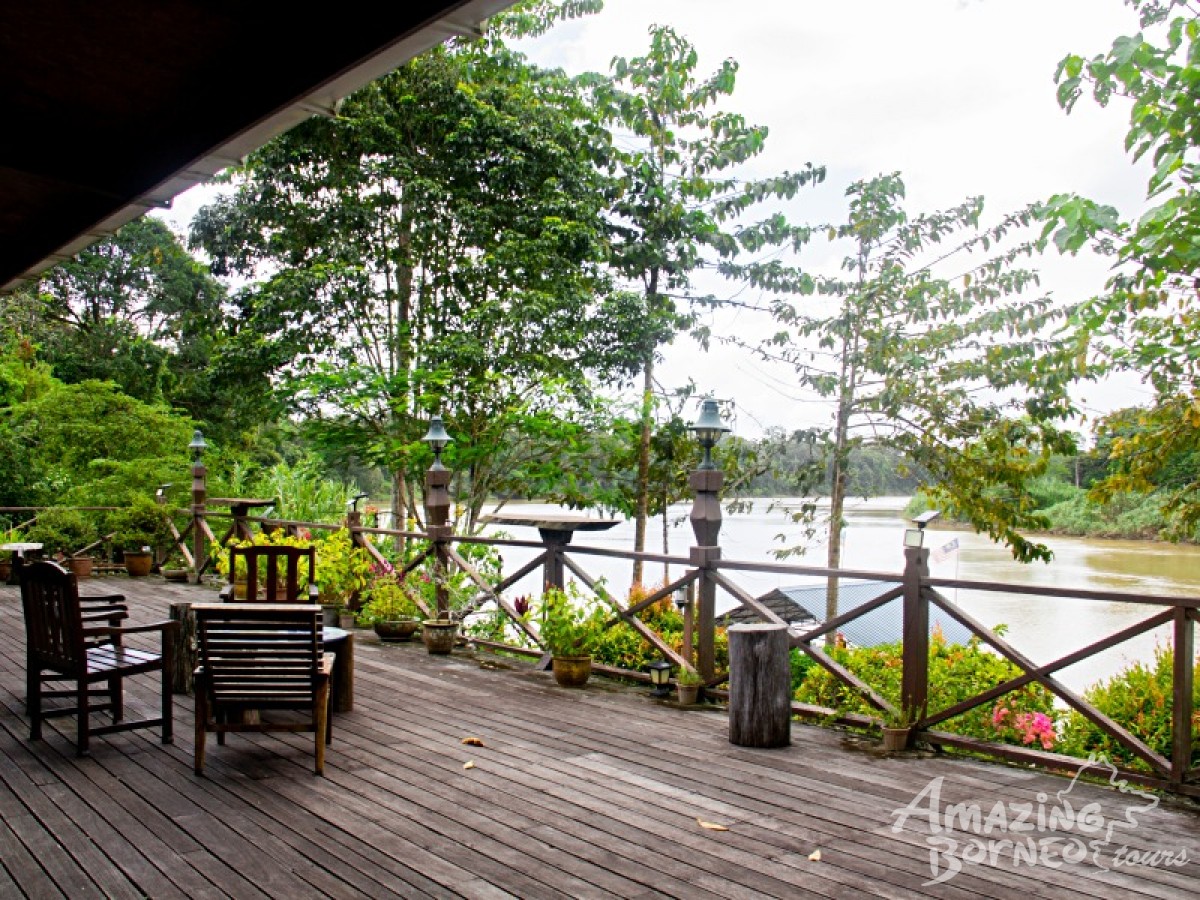 Credit: Louisa Lim | Instagram
If you want a fine view - Myne Resort
Myne Resort is located only a stone's throw away from Sukau and Bilit. Situated right next to the Kinabatangan River on high stilts, you'll get an unobstructed view of the Kinabatangan river and its surroundings. Also, take advantage of the various recreational facilities that the resort offers - fishing, water sports, table tennis or a walk along the Merbau Trail. There's always a chance to try something new!
The Myne Resort is ideal for honeymooners or families with active children looking for a little extra comfort. The villas are spacious, comfortable and modern with a traditional touch. Some of the villas are built on the side of the hill, giving you an unparalleled view of the river and the surrounding jungles. However, there are quite a few stairs to tackle to get to the villas and chalets, which may not be suitable for the disabled or elderly.
Price Range: From MYR620 per person for 3 days 2 nights
What You Can See & Do: Jungle Trekking; Kinabatangan River Cruise; Water Sports Activities
For a luxury getaway - Abai Kinabatangan Wetlands Resort
Tucked in the wilderness of the Lower Kinabatangan River, Abai Kinabatangan Wetlands Resort is surrounded by freshwater swamps and mangrove forests, giving guests an exclusive nature retreat far off from the city life. Recognised as an important wetland area – the resort is closest to the Lower Kinabatangan Segama Wetlands – the surrounding wetlands also gives solace seekers the opportunity to reconnect with Mother Nature and her stunning wildlife. It also borders the Lower Kinabatangan Floodplain, considered to be an important wildlife refuge in Malaysia. Taking over centuries for the floodplains to evolve to five distinct habitats, the flora and fauna here might as well be 'out of this world'.
Abai Kinabatangan Wetlands Resort is ideal for anyone who's seeking a little bit more luxury but with a little adventure put into the mix. We highly recommend Abai for those travelling with elderly or with young kids. There is only one way to get to the resort and that is by boat via Sandakan Yacht Club. So, there's no need to endure the off-road journey through the rainforest! If you're looking to get away from civilisation for the next 2 days or so, Abai should be at the top of your list.
Price Range: From MYR1,270 per person for 2 days 1 night
What You Can See & Do: Kinabatangan River Cruise; Night Jungle Walk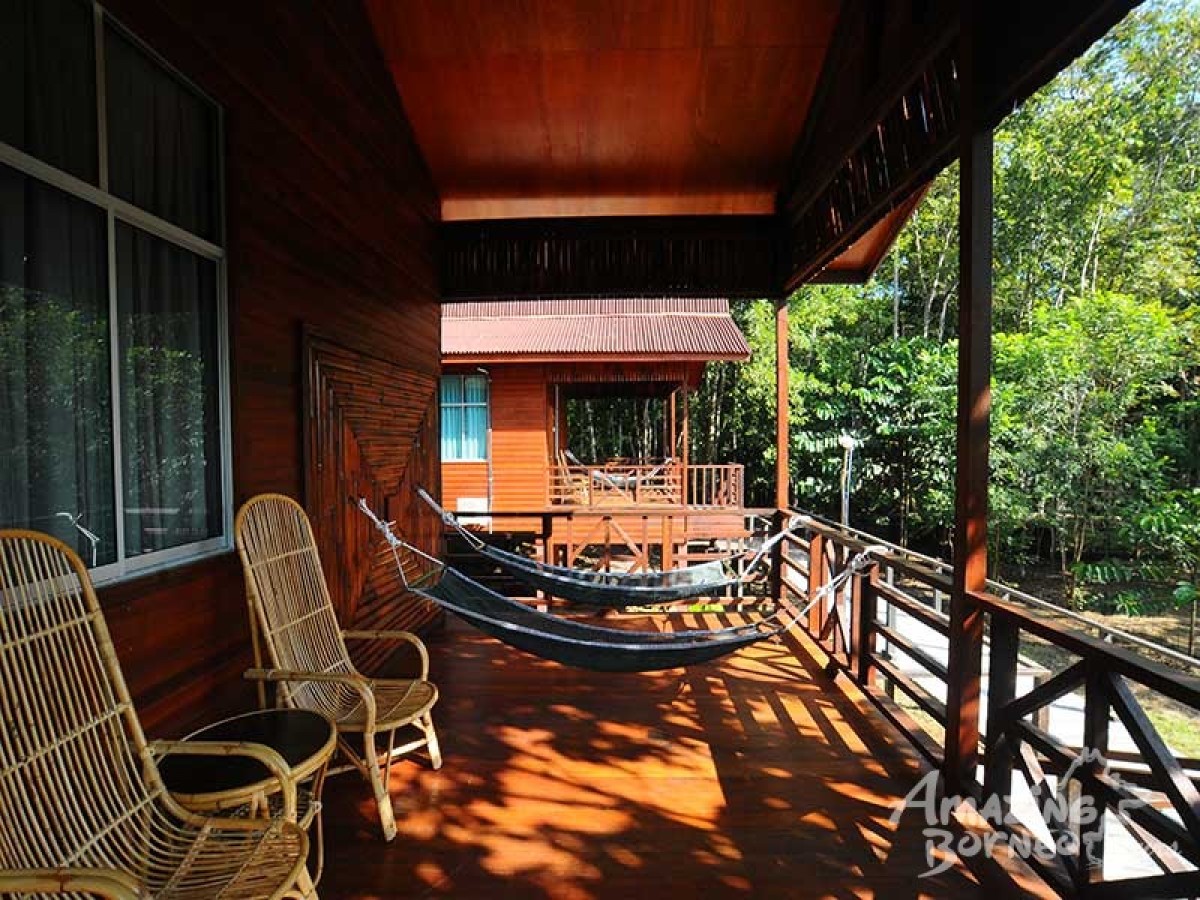 The place with more bang for your buck... Bilit Rainforest Lodge
Located beside the Lower Kinabatangan River in Kampung Bilit, Bilit Rainforest Lodge is the answer you need for a summer getaway. Staying in the Bilit Rainforest Lodge means you'll be getting the experience of a lifetime! Aside from the standard river cruise and jungle walk, the Bilit Rainforest Lodge tour package includes a visit to the Sepilok Orangutan Rehabilitation Centre, Bornean Sun Bear Rehabilitation Centre, and the Gomantong Caves. Do take note that Sepilok Orangutan Rehabilitation Centre is a little further away from Kinabatangan so an hour or so drive to the centre should be expected!
Upon request, you can swap the itinerary for the first and third day of the 3-day 2-night tour. For example, you can visit the Gomantong Caves on the first day and then visit the Sepilok Orangutan Rehabilitation and Bornean Sun Bear Rehabilitation Centre on your last day. It's all up to you!
And if you're a birdwatching enthusiast, then you're in for a treat as the variety of birdlife here is impressive. We're talking white egrets, the rare Storm's Stork, the Night Heron, and several species of kingfishers!
Price Range: From MYR1,520 per person for 3 days 2 nights
What You Can See & Do: Visit to Sepilok Orangutan Rehabilitation Centre and Bornean Sun Bear Rehabilitation Centre; Gomantong Caves; Kinabatangan River Cruise; Jungle walk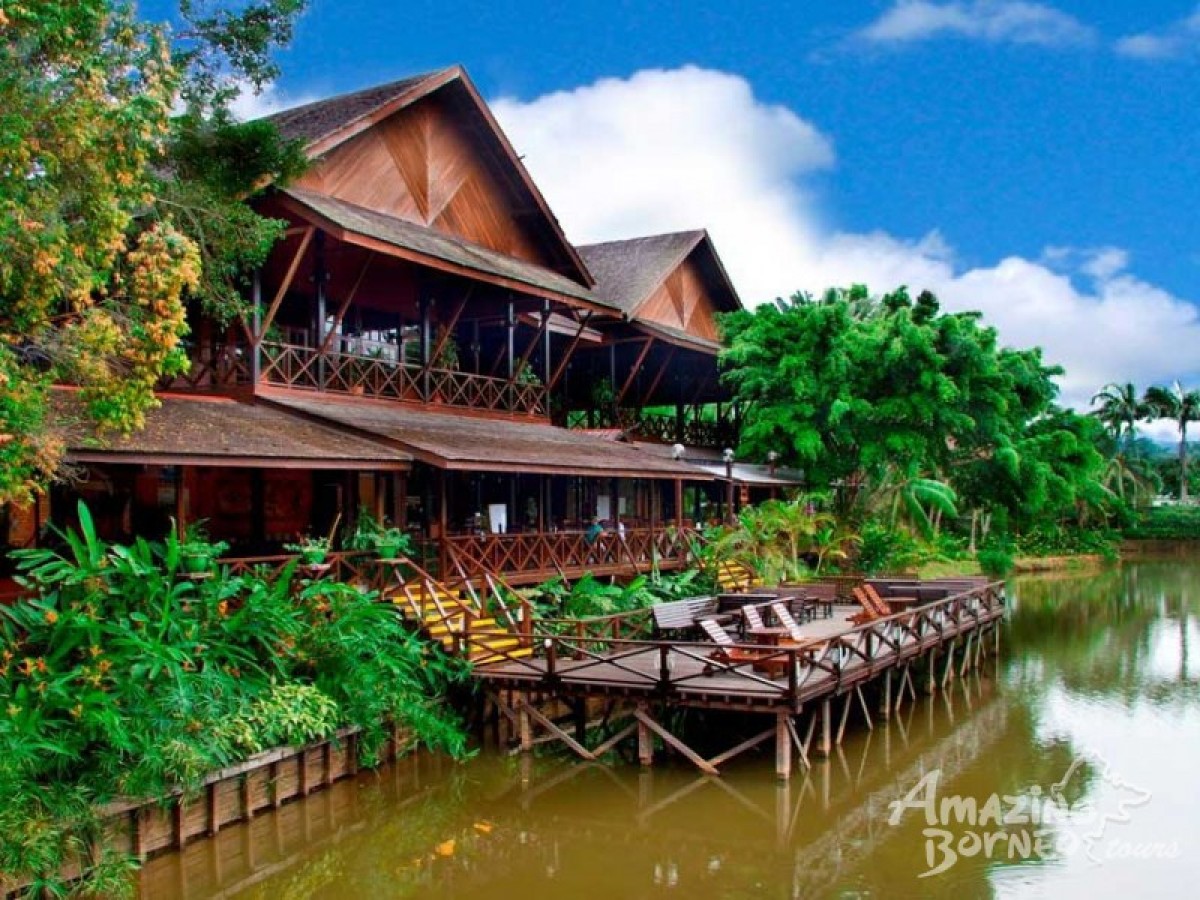 If Orangutans are on top of your list... Sepilok Nature Resort
Sepilok may not be in close proximity to Kinabatangan River – takes about an hour so one way – but if seeing orangutans is what you're here in Borneo for, a stay at the Sepilok Nature Resort does the trick. Not only will you be staying in comfort, you'll also be a walk away from two orangutan sanctuaries: the world famous Kabili-Sepilok Forest Reserve - one of the last forest strongholds home to wild orangutans in Borneo - and the Sepilok Orangutan Rehabilitation Centre, where young captive and orphaned orangutans are helped by trained staff to readjust to living in the wild again.
Price Range: From MYR765 per person for 2 days 1 night
What You Can See & Do: Visit to Kabili-Sepilok Forest Reserve and Sepilok Orangutan Rehabilitation Centre; Guided tour on Sepilok Forest Trails