In early February, Amazing Borneo hosted one of the world's top internet stars, Alyne Tamir, and showed her around Sabah. Alyne, or widely known as Dear Alyne, has been making videos online since 2017. With more than 1.5 million followers on Facebook, she is undoubtedly one of the most prominent female creators on the platform.
Her coming here was actually a spur-of-the-moment decision, and she had only bought her plane ticket a few hours before the flight. Despite the short notice, Amazing Borneo was able to arrange a tour for her.
But the question remains: which aspect of Sabah should we show her?
We could take her to the beautiful islands in the Tunku Abdul Rahman Park and show her the many species of flora and fauna we have in our waters. Or maybe we could show her Sabah's pride and joy: Mount Kinabalu. Being one of the tallest mountains in Southeast Asia, Mount Kinabalu is arguably the most popular place to tourists—many come here to either conquer the summit or just to marvel in its beauty.
Alas, that was not the main reason why Alyne was visiting Sabah. She was actually on the hunt for something so rare that many locals have not even seen it yet. While not as colossal as Mount Kinabalu, what she is searching for is a giant of its own class—the rafflesia.
World's largest individual flower
The name "rafflesia" is not something unheard of, especially among locals. It is named after Sir Thomas Stamford Raffles, the leader of an expedition in the Indonesian rainforest of Bengkulu, Sumatera, where they found the flower in 1818. However, they were not the first ones to discover the flower—the honour goes to French explorer Louis Deschamps who saw the flower in an expedition in Java sometime around 1791 to 1794.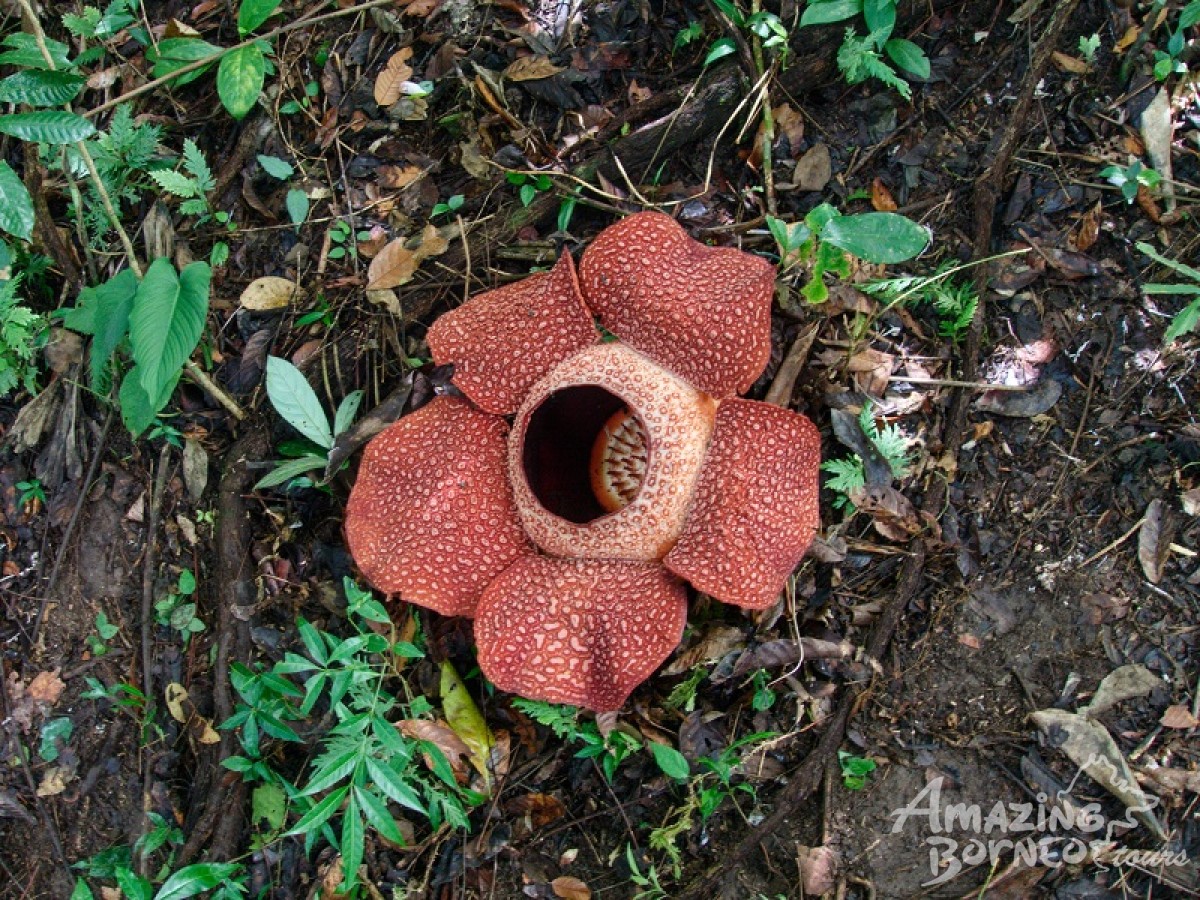 The rafflesia was named after Sir Thomas Stamford Raffles, the founder of modern Singapore
One of the main reasons why many visitors, like Alyne, want to see the rafflesia is because of its size. The plant is famous for producing the world's largest individual flower. While other plants, such as the titan arum, have bigger flowering organs, such plants technically have clusters of many flowers, as opposed to rafflesia's single bloom.
Our hunt for the rafflesia took us to Ranau, a district in Sabah located two hours' drive away from Kota Kinabalu. In Sabah, you can only find the rafflesia in high altitude areas, which is why sightings of the flower are limited to places in Ranau and Tambunan. But even then, finding one would not be an easy task.
Not something that you can see every day
When we heard that Alyne had wanted to do a video on rafflesia, we knew that it would be difficult without the right connections to lead you to the flower. You see, despite being endemic in Sabah, rafflesia is not an everyday sight. In fact, many Sabahans have not even seen the rare flower in person.
Its rarity is because of how it grows in the wild.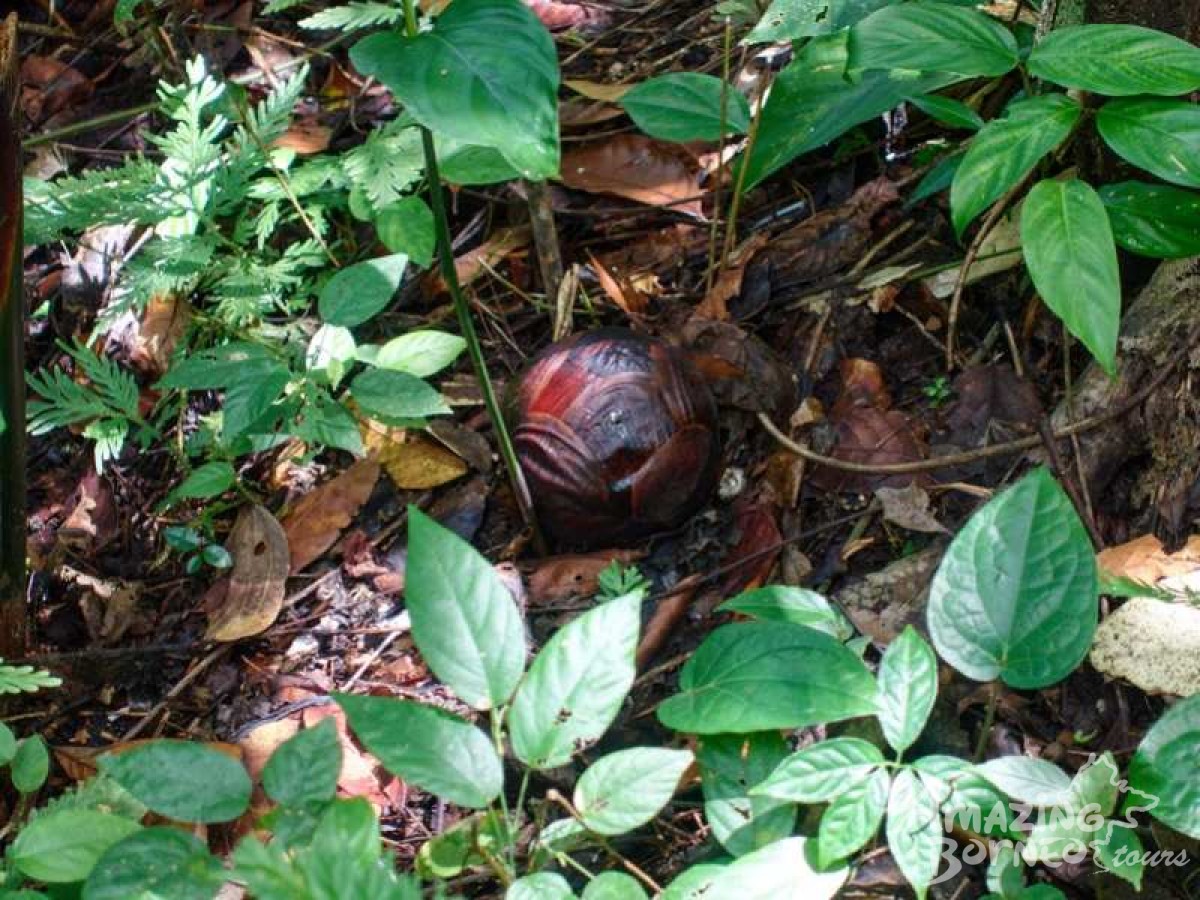 A rafflesia bud
Rafflesia is a parasitic flowering plant, and it can only grow in the presence of another plant called tetrastigma. Rafflesia relies on the tetrastigma vines to get its nutrients, and it will never grow on any other plant.
Another reason why it is so rare is because of the time it takes for the flower to bloom. It will take more than one year for the seed to germinate and the flower to appear, and even when it happens, it will only stay open for up to five days before it starts to wither.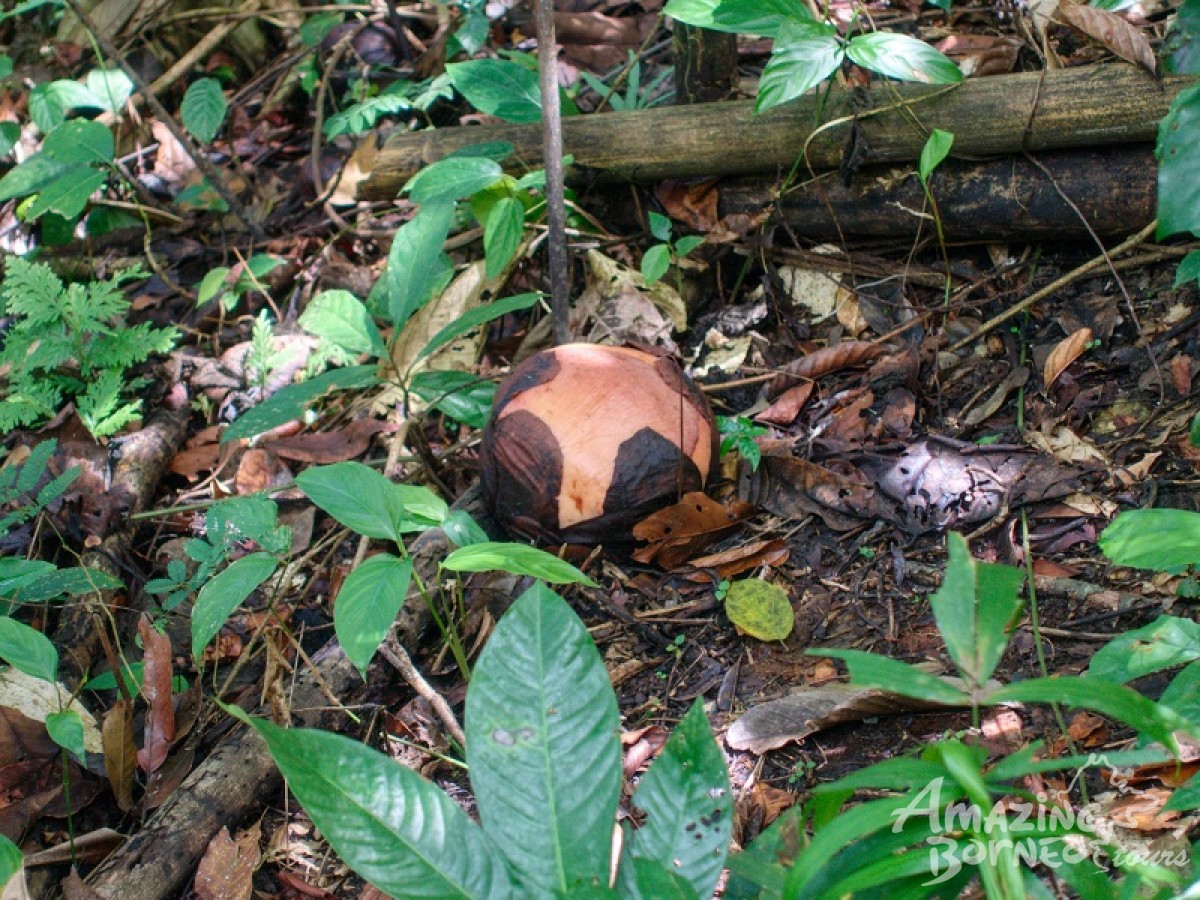 A soon-to-open rafflesia bud
In that short period, the flower must be fertilised, which poses another challenge to the plant. Rafflesia is a unisexual flower, meaning that the female flower needed to be pollinated before it can turn into a fruit. However, finding a blooming male rafflesia nearby is rare, making successful pollination very uncommon.
All these factors meant you would have to be lucky to see a rafflesia.
But lucky for Alyne, Amazing Borneo has an extensive network across Sabah, which means finding a flowering rafflesia at a moment's notice is a cinch. Our search for the elusive flower led us to a quaint little village in Ranau called Kampung Sinarut Baru, outside its usual sighting in Poring and Tambunan.
A small price to pay for the biggest flower in the world
Kampung Sinarut Baru is a few minutes away from Ranau township. From the main road, you can see a banner that indicates a rafflesia in full bloom nearby. That is not something out of the ordinary in this part of Sabah. Families that have rafflesias growing on their land would put up banners by the roadside to let tourists know and allow them to see it for a small fee.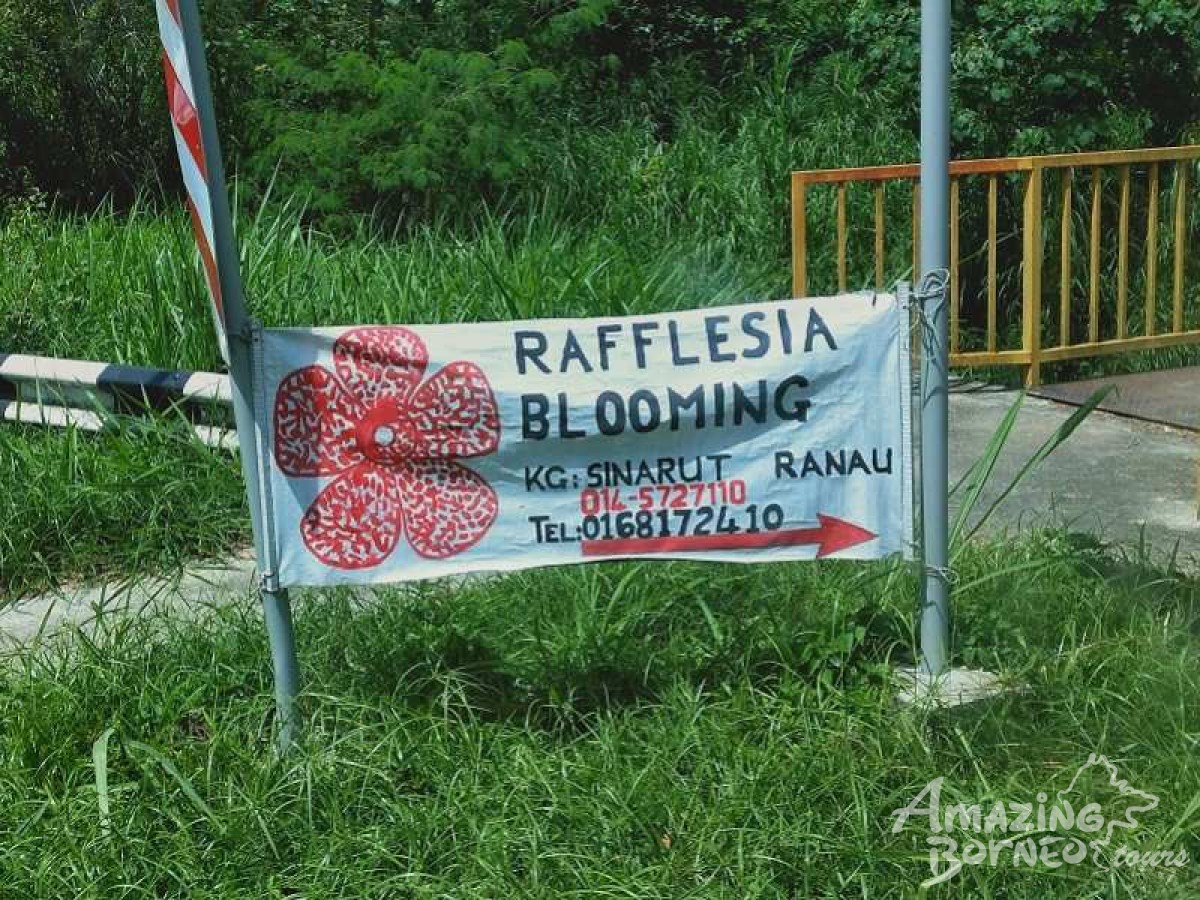 Banners, such as this, are not unusual in Ranau
The one in Kampung Sinarut Baru belongs to Uncle Johnny. The entrance fee was RM20 per person, which was worth the price! In other places, like in Poring, you would have to travel for hours before you arrive to the place where it grows. Even then, you are not guaranteed to see it.
But luck was on our side. According to Uncle Johnny, his rafflesia was on its third day of blooming. If we come there any later, its colour will turn darker and is not as pretty. Not only that, the one that we were about to see was bigger compared to your average rafflesia.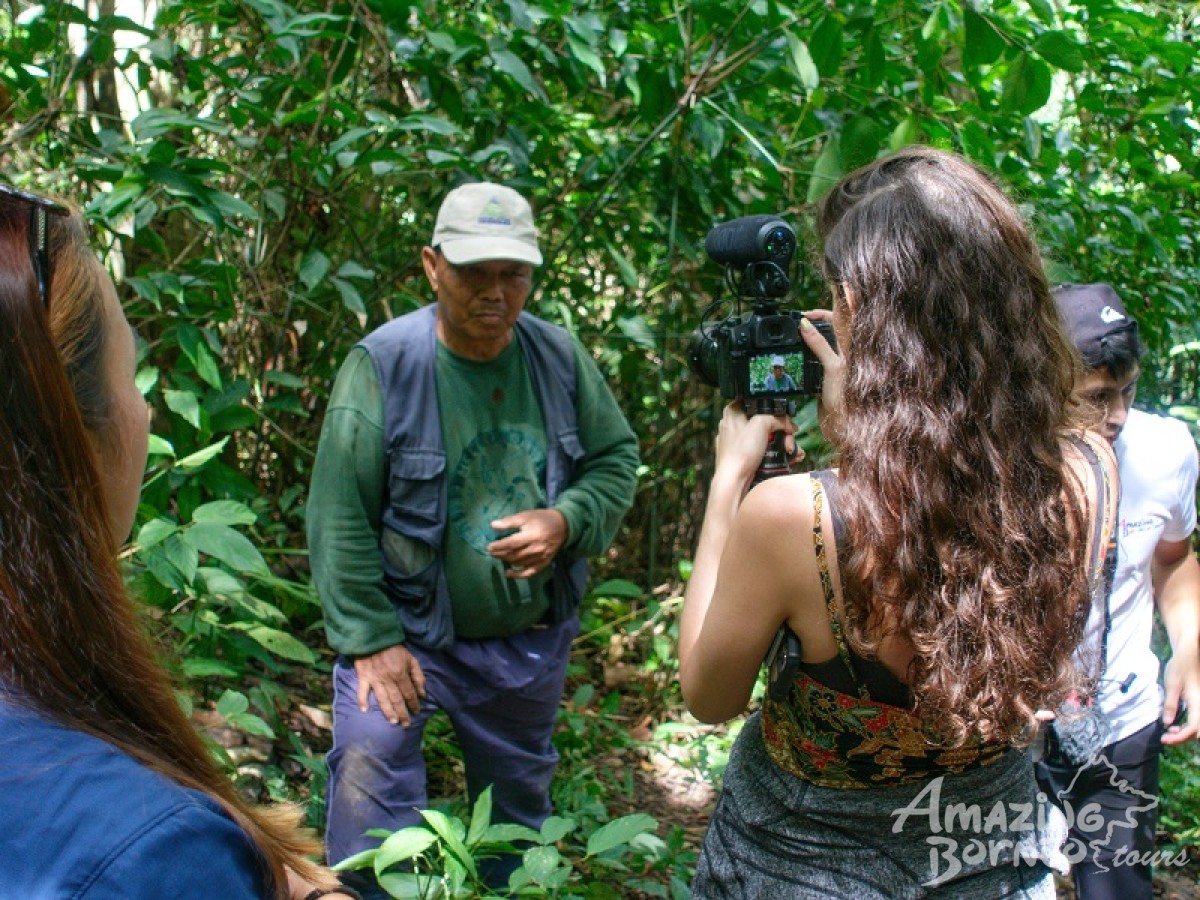 Uncle Johnny (2nd left) being interviewed by Alyne (2nd right)
Just as promised by the banner, we only had to hike a short trail up the hill for a few minutes before we were welcomed by a strong odour coming from an enclosed area of the jungle. There is no doubt about it—we will reach our goal in just a few steps away.
Corpse flower of the jungle
One of the well-known facts about rafflesia is how smelly the flower is. Many said the smell is like rotting flesh, which explains why rafflesia is known as the corpse flower. Just like the titan arum, which also shares rafflesia's moniker, both flowers use their strong smell to attract flies and carrion insects to spread their pollens.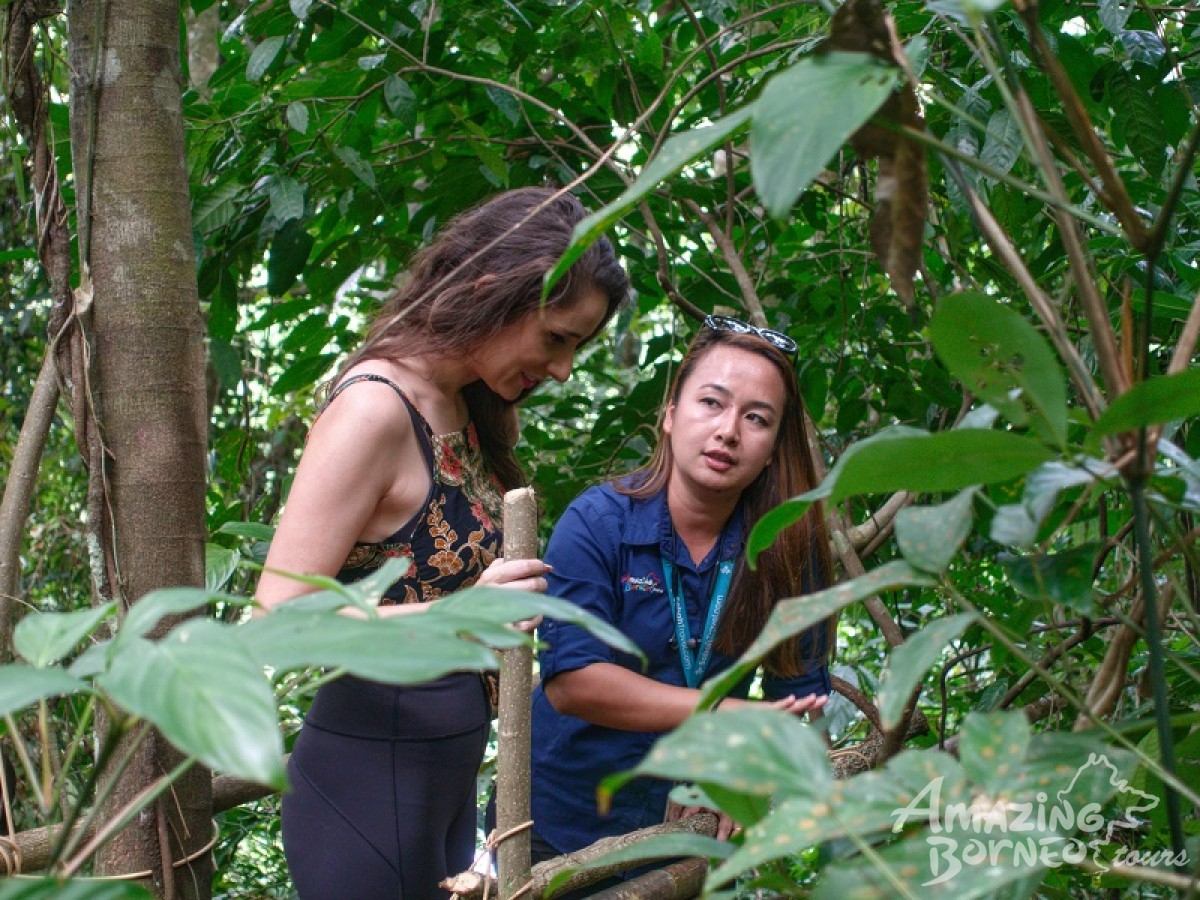 Amazing Borneo's tour guide, Luq (right), explaining about the rafflesia to Alyne
But as we came closer to the flower, we realised that its smell was not as bad as we imagined it would be. Yes, the flower gives off a dull, unpleasant stink, but not to the point where we had to gag. Considering that Alyne sat right next to it for one hour, it is safe to say that rafflesia's smell is bearable.
But getting Alyne to sit next to it is another challenge on its own.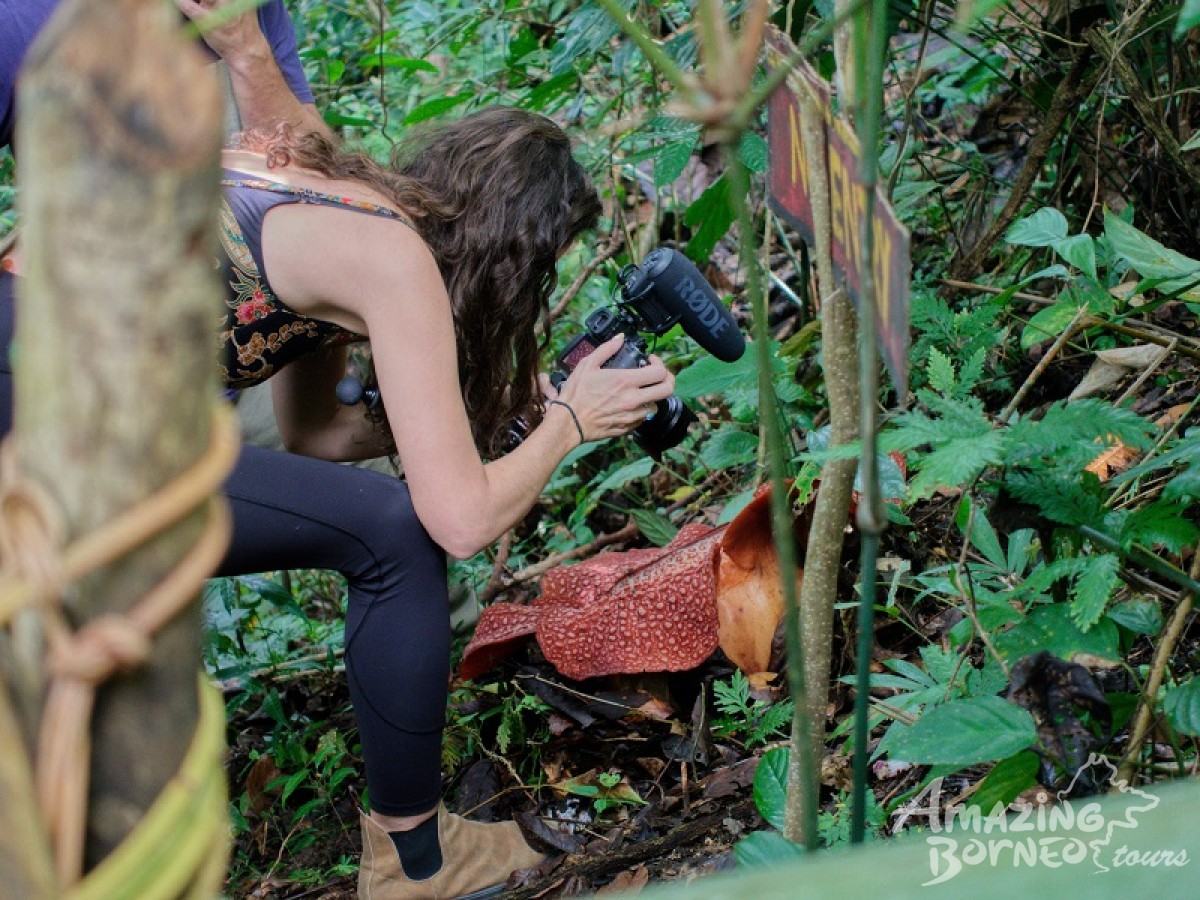 ​​​​​​Alyne filming the rafflesia up-close
The flower is extremely sensitive and fragile, so the area around where the rafflesia grows is usually closed off to visitors. They were only able to see the flower from a distance as to avoid damaging the rafflesia and the buds in the area.
Because of that, Uncle Johnny was initially hesitant to let Alyne film so close to the flower. But after introducing who Alyne was and why she wanted to make the video, he understood and agreed to allow us to shoot closer to his rafflesia. But we were not off the hook just yet—he kept an eagle eye on us throughout our visit. Any broken petal, he said, will cost us RM1,000—that is how precious the plant is!
A hard-to-find giant
People typically do not stay too long when they are looking at the rafflesia—the group of Japanese tourists that came after us stayed around for only 10 minutes the most. But we stayed in the area for almost two hours, and by that time, you would think that we had enough of the smelly flower. But we did not.
Uncle Johnny suggested that the rafflesia might have put a spell on us, making us linger around longer. While we cannot say that for sure, the flower did teach us how nature contradicts itself and how beautiful it can be.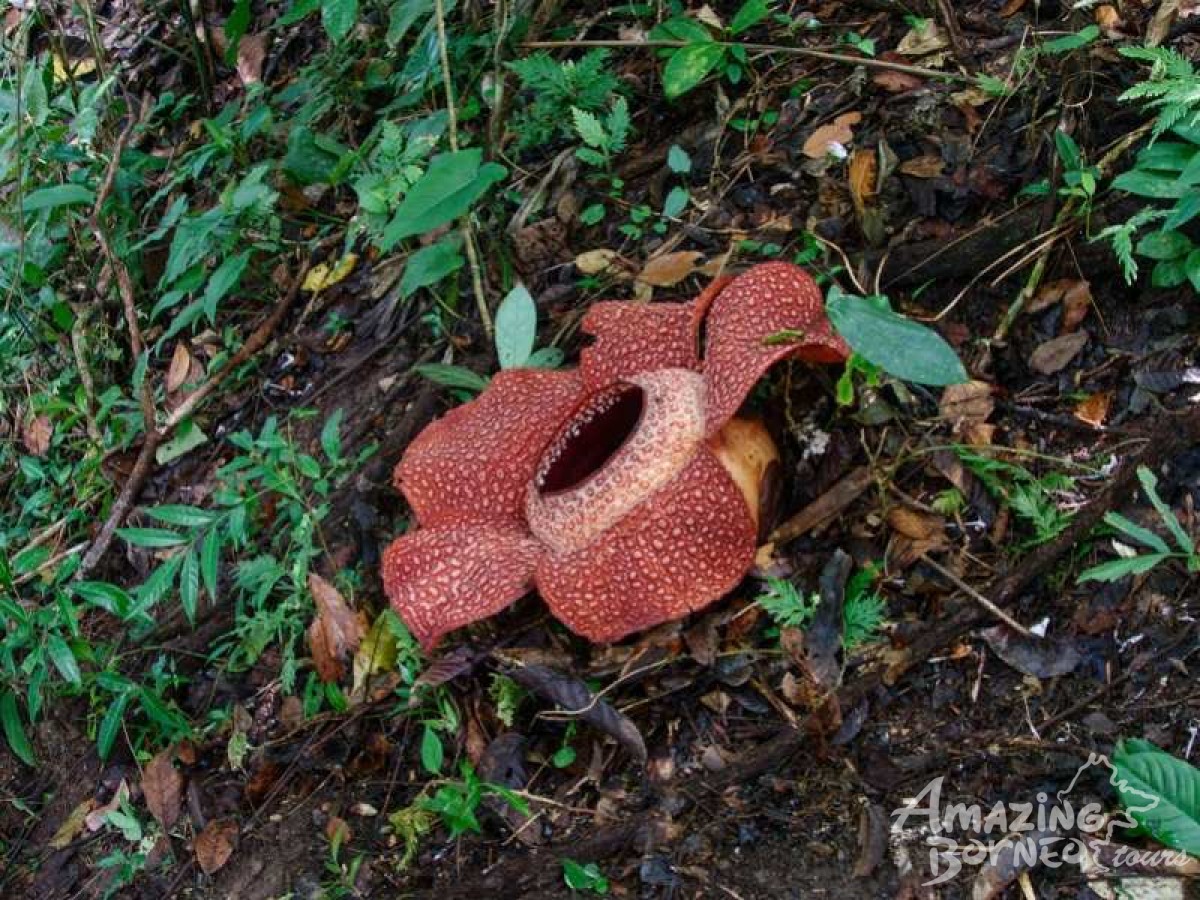 Despite its big size and popularity, not many people has seen the rafflesia in person
While Alyne was filming, she said something about how, despite being the largest flower in the world, it is challenging to see one yourself because of how rare it is. For instance, Uncle Johnny, who has been living in Ranau all his life, only first saw the flower when he was 55 years old!
But just like Alyne, many people are willing to gamble their luck and travel to the Land Below the Wind for the once-in-a-lifetime chance to see the flower. But who can blame them!
Seeing the rafflesia with our own two eyes, we could not help but feel amazed by it. To have such wonder living right in our backyard is such a surreal thing. Us Sabahan has always been proud of our nature and its beauty, and to have Alyne showcasing it to the whole world is such an honour. It only goes to show that you do not have to go far and wide to experience the wonders of the world because you might find it right in your backyard.
Looking back, maybe the rafflesia did put a spell on us, but we are not complaining about it!