Note: This article was written a month before the devastating bushfire crisis that has been affecting Australia since 20th December 2019. Parks, forests, and homes have been destroyed to near devastation, an estimated 480 million native animals are said to have been killed with recent news describing some species' being forced to extinction by the fires, and firefighters continue to risk their lives to fight back.
Our hearts, thoughts and prayers go out to Australia, to the families, volunteer firefighters, firefighters and the native wildlife that have been severely affected by the fires. We also hope this article will help to instil a sense of love and protectiveness in us for the beautiful island of Borneo, a place that is not only blessed with natural beauty but also endemic and unique wildlife that cannot be found anywhere else in the world.
To know how we can do our part in supporting Australia, click here to learn about the many ways that we can help.
+++
The mist engulfed the rainforests and hovered over calm waters. The grey skies looming above us threaten to release torrential rain. As we crane our heads up to the trees, we barely see a rare silver languor expertly concealed amongst one of the higher branches while looking down at us, her eyes filled with both curiosity and suspicion.
The longest river in Sabah and the second longest river in Malaysia, Sungai Kinabatangan or the Kinabatangan River, was a river we had only heard stories about while growing up. Home to one of the richest ecosystems in the world, the river is a life source for the animals, the people, and the rainforests, coexisting since time immemorial.
So, when we got the chance to visit the area, passing up the opportunity wasn't an option.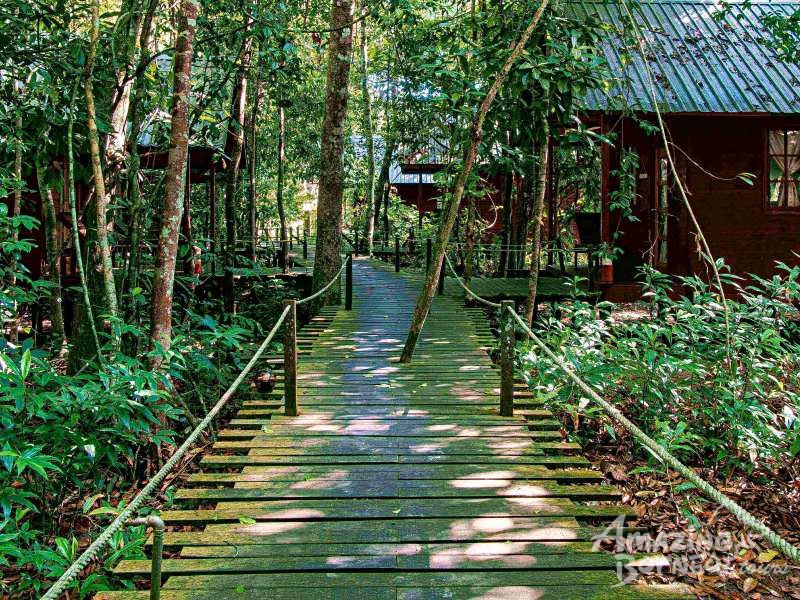 The walkway leading to the lodges of Borneo Natural Sukau Bilit Resort.
Credit: Leon Kuan | Instagram
On the first day, we arrived at Borneo Natural Sukau Bilit Resort around 3.30pm, when the sun was still out and blazing hot. The trees towered above the resort and the sound of the mighty Kinabatangan River's flowing waters filled the air. All these sounds coming together only served to remind us that we were not home, that we were far from it.
Before entering the restaurant slash main communal area, we needed to take our shoes off though socks are permitted if you're not used to going completely bare foot. We waited in the restaurant for our rooms to be ready and that was when we spotted the monkeys. They were agile, climbing over fences and landing on roofs. However, they were also very mischievous. So mischievous our instincts told us to hold on to our belongings just a little tighter.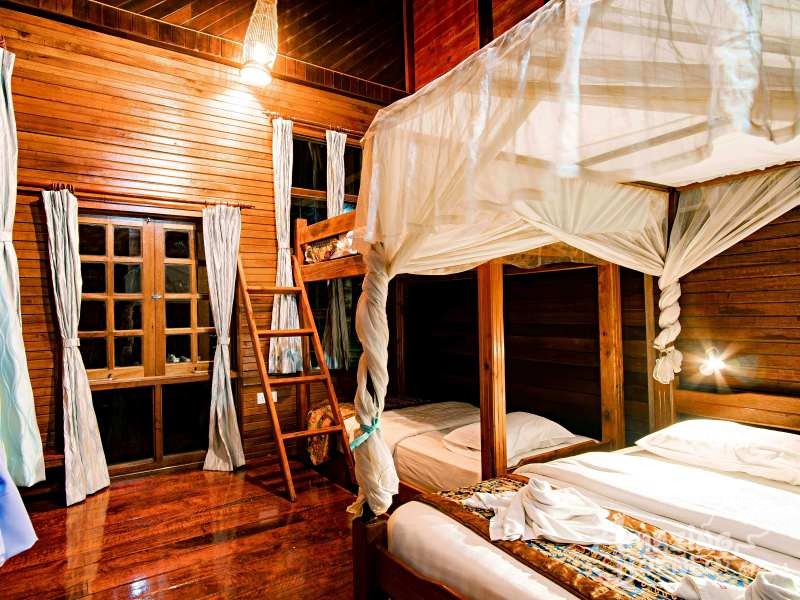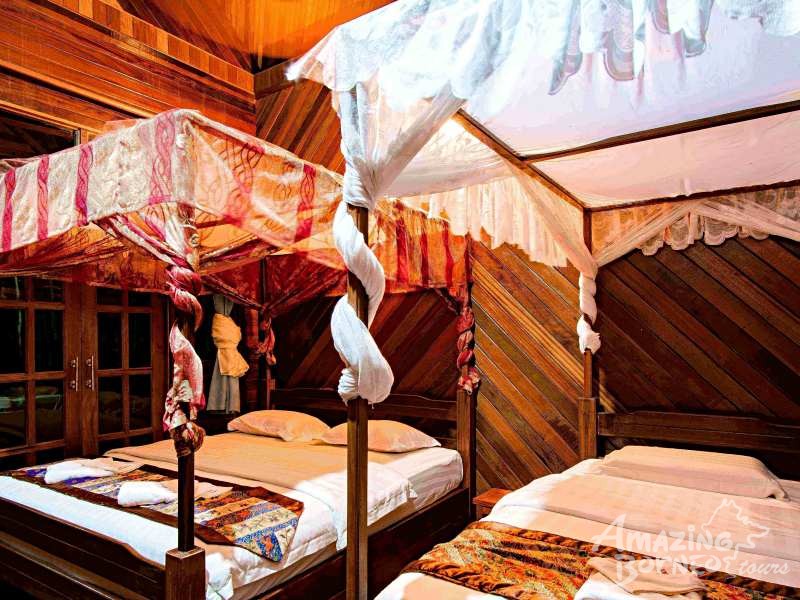 Family rooms.
Credit: Leon Kuan | Instagram
We were shown to our accommodation, a lodge named Kinabatangan – how fitting – that came housed with four family rooms and three persons to each room. The rooms were spacious, beds were comfortable, and modern amenities were provided. If you're looking for communication line, it's limited but if you're going to be staying in the middle of an ancient rainforest, it's best to leave your phone aside and take it all in. Creature comforts can wait.
After placing our things in our respective rooms with a quick break, we headed to the jetty for the river cruise around 4pm. Aside from the river's massive length of 560km winding all the way to the Sulu Sea, the Kinabatangan is also home to some of the richest ecosystems on the planet and plays an important role in the conservation of its wildlife. And that was what we were here to see.
++
The afternoon river cruise would have to be the main event of the day. Having only heard about the river, to see it and to experience it in the moment was a completely different feeling altogether. To see not only the animals but also the people who live by the river, who rely on it for their income and lifestyle despite the dangers lurking beneath the waters. We saw a local fisherman on his boat checking his fish traps and I am reminded of the many crocodile attacks the local communities – namely the Orang Sungai – have been plagued with. Morbid but a common threat they must face daily.
We managed to catch glimpses of silver languors, eagles, and some pigtailed macaques who were territorial and frankly, quite adorable when they tried scaring us off by shaking the leaves.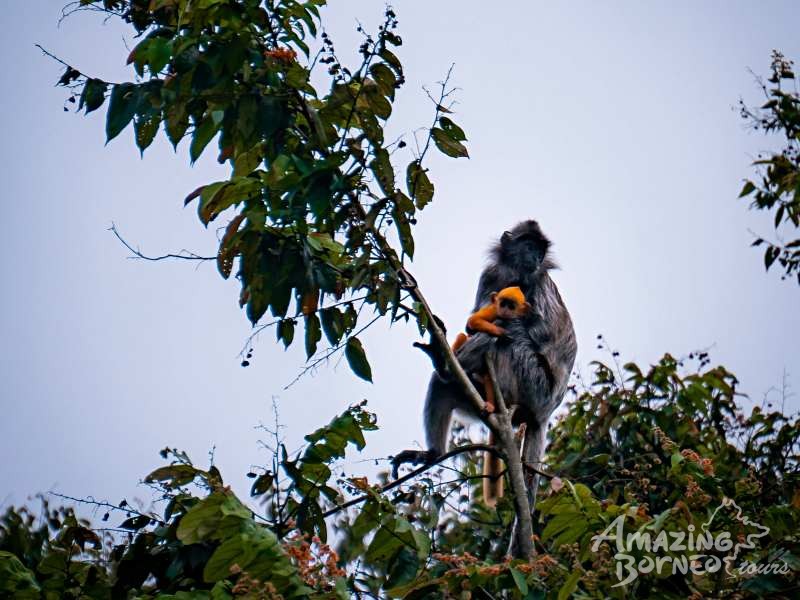 A rare silver languor (also known as the silverleaf monkey) with her golden young.
Credit: Leon Kuan | Instagram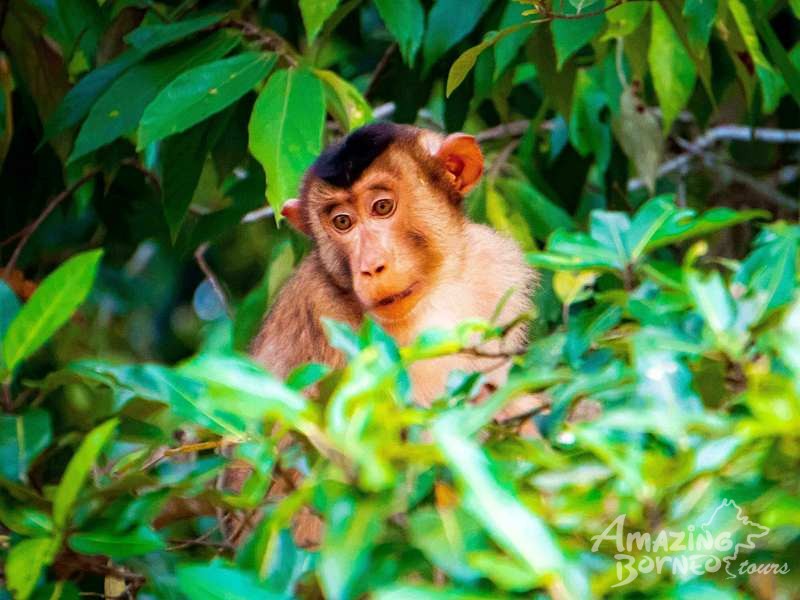 A pig-tailed macaque keeping a close eye on us...
Credit: Leon Kuan | Instagram
But hands down, the highlight of the river cruise would have to be getting to see three of the Borneo Big 5 up close: the proboscis monkeys, hornbills, and the wild orangutans. According to the guide, spotting orangutans in the wild is a rare sighting so we were quite lucky to have spotted them. Though the orangutans were further away, being able to see them in their natural habitat was a comforting feeling.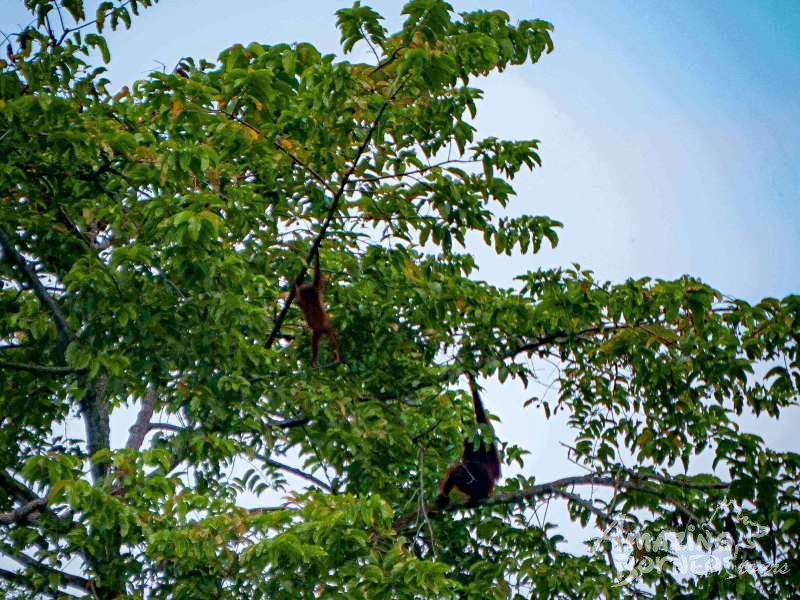 Wild orangutans!
Credit: Leon Kuan | Instagram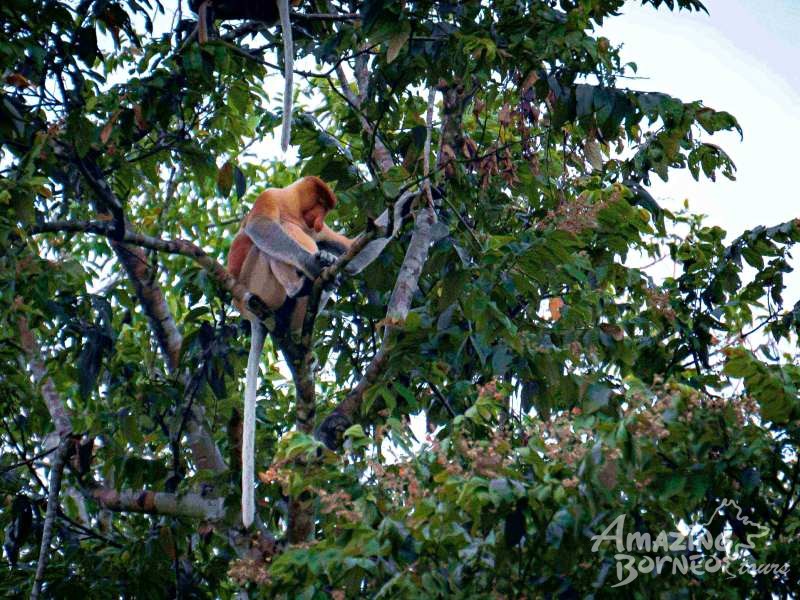 A male proboscis monkey, hanging out in a tree and sporting a large, impressive nose.
Credit: Leon Kuan | Instagram
Major kudos to our river guide for having the sharpest eyes around! Every time they stopped the boat and headed towards shore or the shrubs, we were always struggling to see where the animals were until we saw one camouflaged amongst the safety of the trees. If it weren't for the guides, we would've easily missed them!
---
After a filling buffet dinner, we went for our night walk at 8pm but not before a short briefing. The night walk is 45 minutes at most, and our guide emphasised that sightings are not guaranteed however, as it is highly dependent on the weather.
We walked into the jungle with our feet cladded in rubber boots and a few minutes on the trail, we were already battling with roots and branches that seemed to grow out of everywhere. Some of us carried flashlights but we still very nearly tripped with some even hitting their head by overhanging branches!
Thus, a head's up from the guide before going on night walks in general: head lights or flashlights are highly recommended to avoid any tripping about, which can get ugly. Quite a few of us got bitten by fire ants too – which are both painful and uncomfortable – so any of the two plus hyper awareness mode is great for avoiding these bite-sized creatures as well!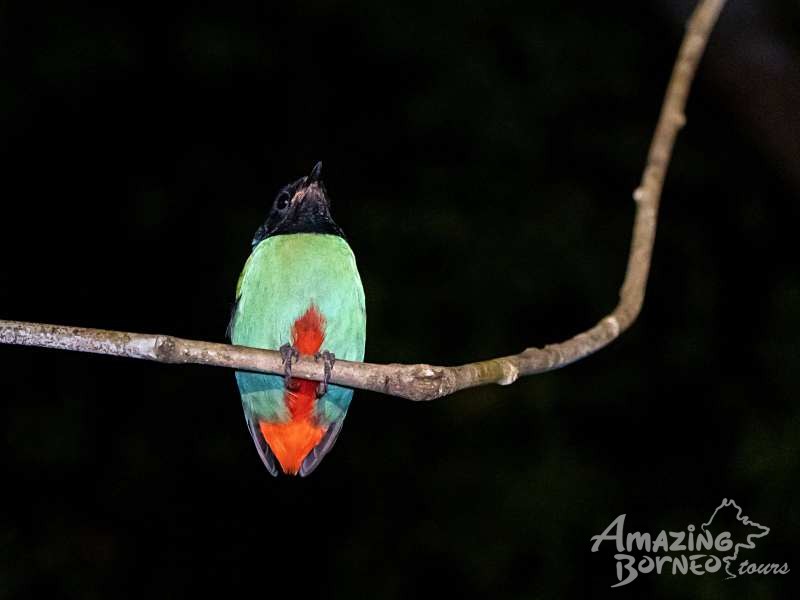 A bird sporting its colourful feathers that is known to eat leeches.
Credit: Leon Kuan | Instagram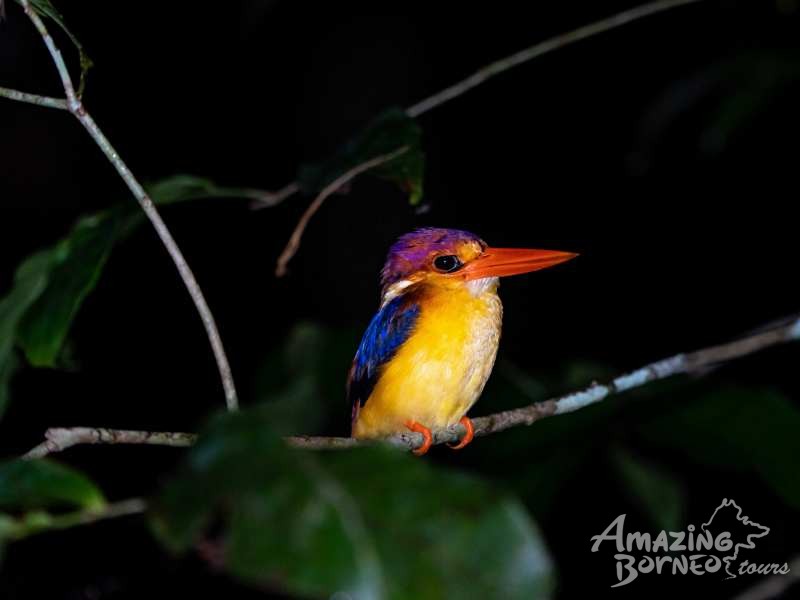 An equally colourful Oriental Dwarf Kingfisher.
Credit: Leon Kuan | Instagram
After what felt like 20 minutes or so, it started raining and just when we thought we weren't going to spot anything, we came upon a bird right above us. Unable to remember the name, it's one of the few birds known to eat leeches, with its head covered in a rich black colour and its breast adorned in iridescent green and crimson red. A few minutes after that sighting, we came across an equally colourful slumbering kingfisher, awakened by our flashlights. Sorry, little fella.
The empty shell of a shed cicada skin.
Credit: Leon Kuan | Instagram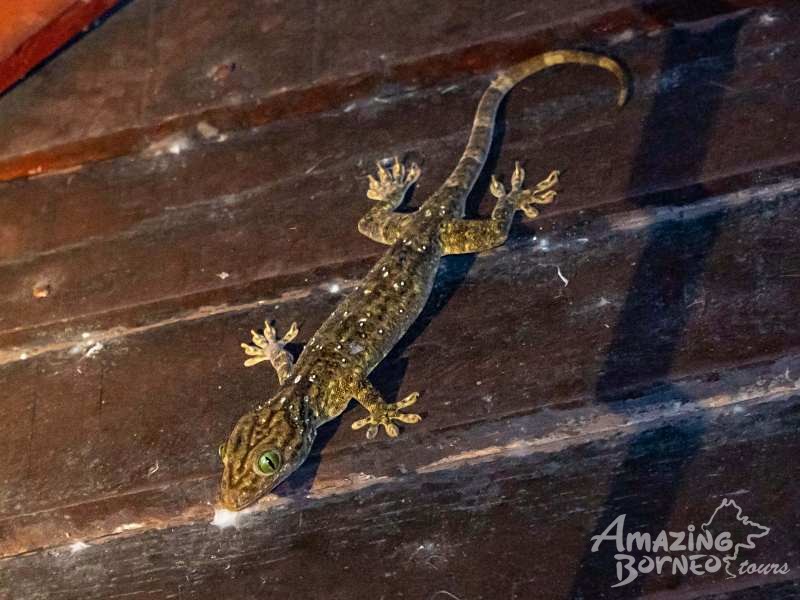 A gecko sticking tight to one of the lodges.
Credit: Leon Kuan | Instagram
Toward the end of the walk, we spotted a few more birds, the shed skin of a cicada, and a pair of geckos playing with each other. But what really surprised us was when we returned from the night walk, we were told that a lone pygmy elephant had passed through the resort, with fresh droppings on the ground for proof! If we had come across one while we were on the night walk, it would have been dangerous, so it was lucky we managed to finish the walk on time!
We finished the day exhausted but highly satisfied with everything that we've experienced and encountered today. A good night's sleep is just what we needed to tackle the very early morning we have tomorrow.