If you're an adventure lover or someone who simply enjoys watersport and nature, then white water rafting ought is the one to scratch on your bucket list. Depending on the level of adventure that you crave and your time allocation, you can choose between Kiulu white water rafting (level 1-2; reads: super easy to easy) or Padas white water rafting (level 3-4; reads: medium to hard).
For beginner white water rafters who are just testing the waters (no pun intended), Kiulu white water rafting is recommended.
My rafting trip began with a pick up from Klagan Hotel, Kota Kinabalu where two of our guests from Hong Kong, Penny and Jackie were staying. Penny and Jackie originally hailed from Penang but their career directions soon took them overseas. Nonetheless, Malaysia is still close to their hearts, and having been living in a big city for years, they have developed a great appreciation for nature and the outdoors -- especially Penny who had visited Sabah three separate times with her family prior to this trip.
The journey from Kota Kinabalu to Kiulu took about 1 hour and 30 minutes. En route, our guide for the day, Leo gave us a briefing on the rafting tour and an introduction to the areas we passed through on our way to Kiulu. During the scenic drive to Kiulu, we got the opportunity to drive past interesting KK landmarks such as the Floating Mosque (Kota Kinabalu City Mosque) in Likas and the Poh Toh Tze Temple along the Tuaran road.
When we arrived at the white water rafting starting point by the Kiulu river bank at circa 10am. Before starting on with the rafting, we were given a safety briefing on the dos and don'ts of white water rafting and what to do in case of emergencies e.g. if the raft capsizes, if someone gets thrown out of the raft, etc. However, the weather had been fairly sunny and dry for weeks. Judging from how calm the river was, our guide assured us that there's probably zero probability of the raft capsizing. Fingers crossed!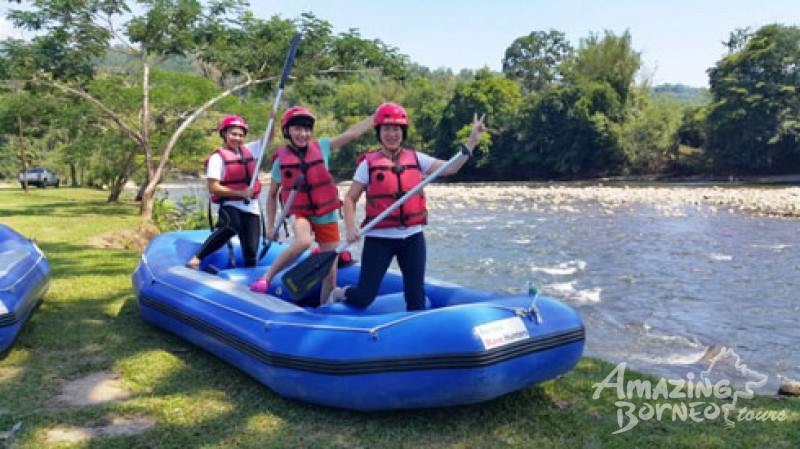 Us posing on the raft after the safety briefing. Life jacket and safety helmet are a must!
As it is rated as grade 1-2 in terms of difficulty level, Kiulu white water rafting is suitable for children (5 years and above) and families who want to ease themselves into adventurous activities together. The rafting route is 12 kilometer long and it would take about one-and-a-half to two hours to reach the ending point, depending on the condition of the river--it takes less time to complete the route when the river is more swollen as the current will be stronger.
After our safety briefing, we happily hopped onto our raft and started rowing. Our raft consisted of a small team of five--myself, our guests, Jackie and Penny, and our guides Ichie and Leo.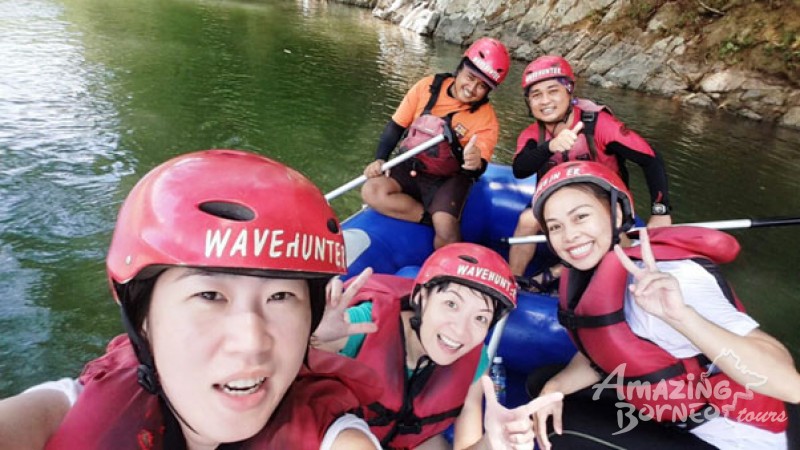 Our happy faces. Front (left to right): Penny, Jackie and me. Back: Ichie (left) and Leo.
Our rafting journey was a very relaxing one with occasional mild rapids that we had to row past. One of the most satisfying part of the journey was being engulfed in nature, surrounded by the lush verdant jungle and being able to breathe in the fresh kampung (village) air.
Occasionally, were also able to catch glimpses of several types of birds, including egrets, kingfishers, swallows and an eagle perched on a treetop. According to our guide, Leo on certain days, rafters will also have the chance to see the longtailed macaque monkeys swinging from tree to tree.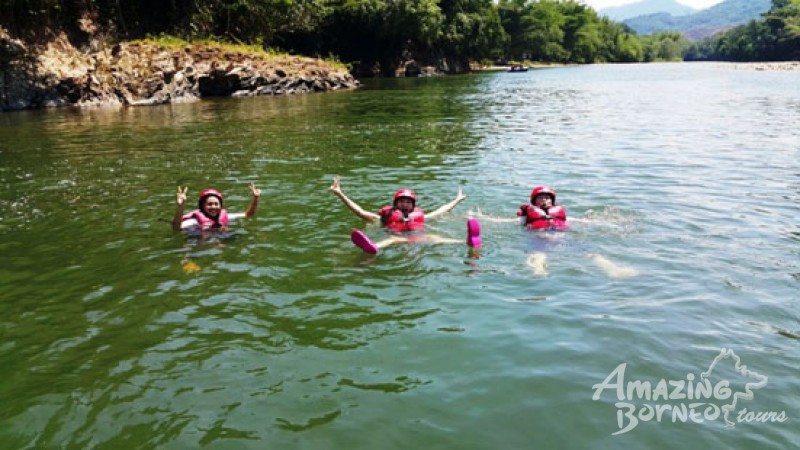 Enjoying a cooling swim in the sunny weather.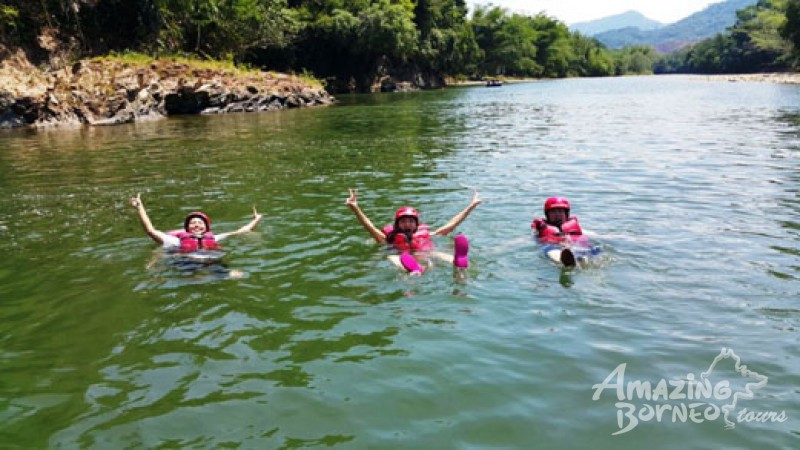 The water felt marvellous!
The weather was beautifully sunny when we rafted and under the sun, the clear river water was a bit too tempting for us to resist jumping in for a swim. So, when our guides gave us the 'green light' to jump into the water for a swim, we immediately jumped out of the raft and into the water.
The water of the Kiulu River was very cool and refreshing! The water was also very clean and clear with a visibility of nearly 10 feet. We were informed that the river is part of the tagal system in which, people are not allowed to fish in order to maintain the fish population in the river. However, once a year, there will be a period of time when the river will be open for fishing and the villagers will be able to fish themselves some bountiful catch!
For fans of fish foot massage (a type of massage where you dip your feet into the water and let the fishes nibble away at your dead skin), you may even experience some nibbling on your toes while you're swimming, as the Kiulu river is home to the Pelian fish--the kind of fish used for fish massages.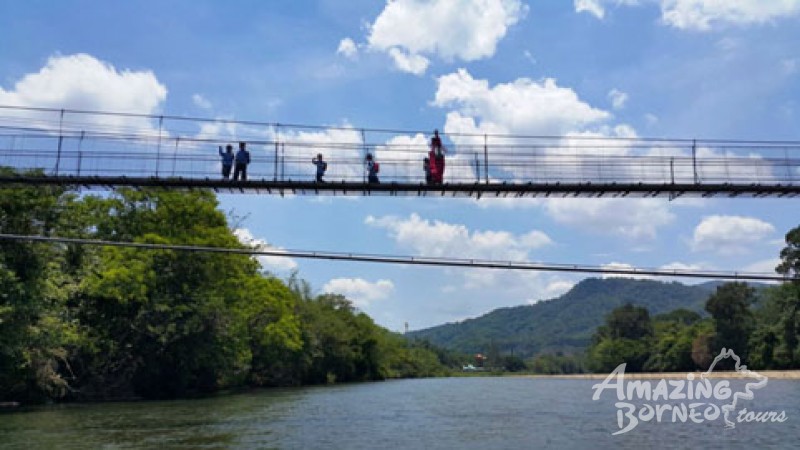 Blue skies and hanging bridge. we were even greeted by little school kids who were crossing the hanging bridge.
We finally arrived at the ending point at 12 noon--approximately two hours from the starting point. After taking a shower and putting on fresh new clothes, we were served with a sumptuous buffet lunch consisting of local halal (Muslim kosher) food such as fried fish, grilled aubergine, sauteed vegetables and fried beehoon.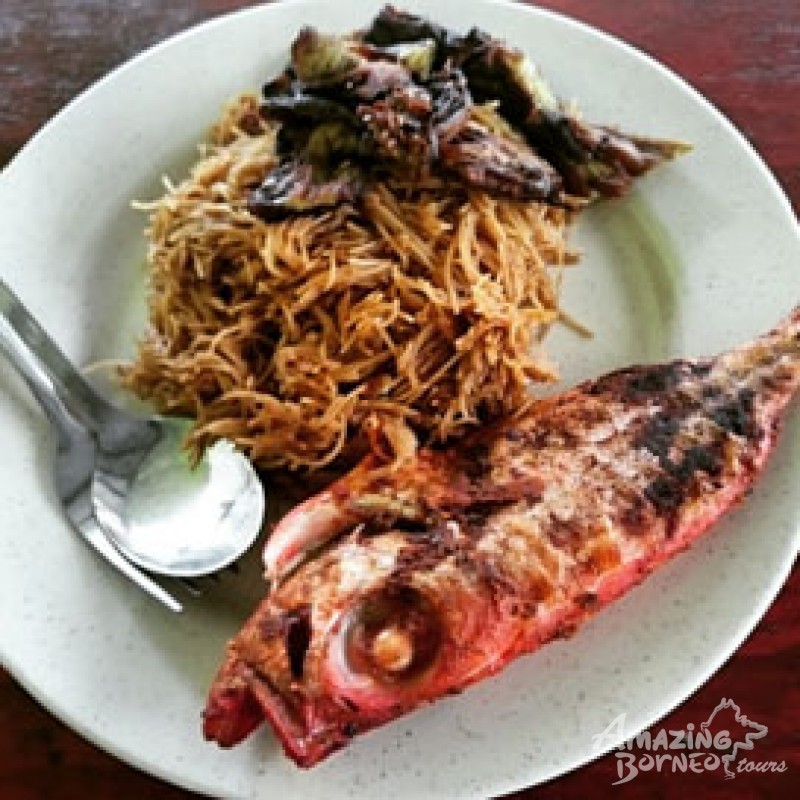 Delicious local lunch!
The rafting trip got me feeling extremely hungry from the rowing and swimming. But most of all, I went home feeling a bit more grateful of this beautiful nature paradise I call home.
For more info on the Kiulu white water rafting tour, click here.