We managed to catch up with finalists of the Miss Sabah Tourism 2015 pageants amidst their hectic schedule to ask them about their experience during pageant week and what they have to say about Amazing Borneo Tours.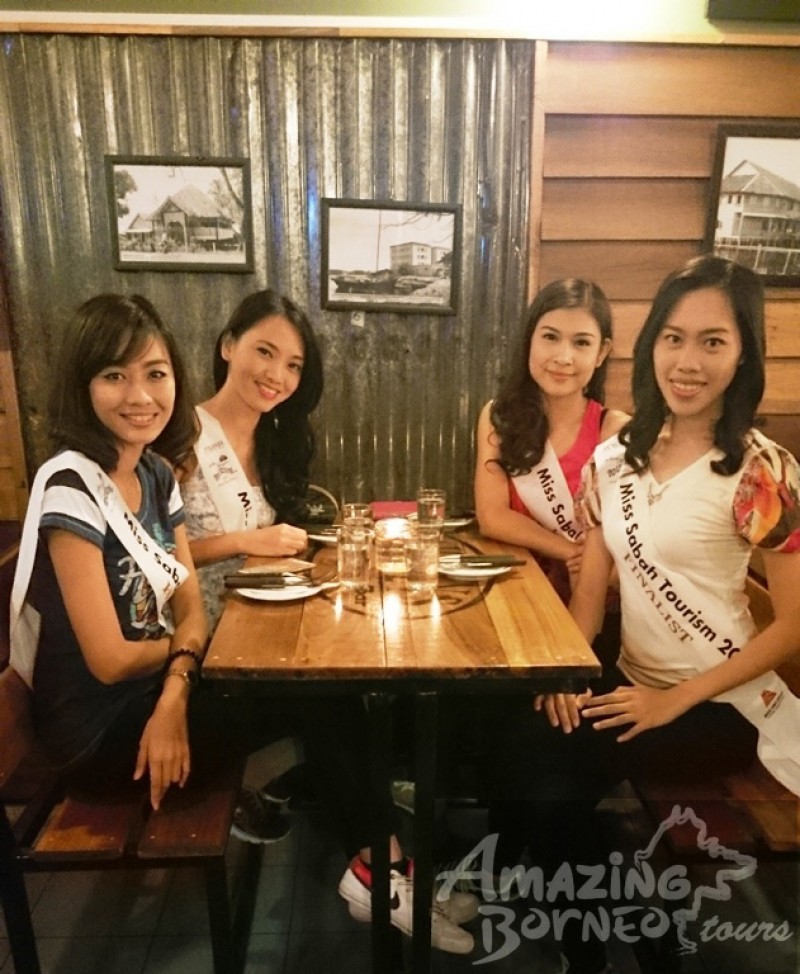 Aspiring beauties. Left to right: Janet, Dewina, Adriani and Cynthia.
According to 24-year-old Dewina Petrus of Tambunan, the activities that they partook in throughout pageant week have been incredibly enlightening.
"During the blood donation drive, we learned more about the Thalassemia disease and the importance of genetics screening before starting a family," said Dewina.
"I used to be reluctant to donate blood due to the fact that I was simply afraid of needles, but learning that a pint of blood donated means the world to those in need makes my fear of needles seem so trivial indeed," she added.
For 26-year-old Adriani Durahim, the one-week experience has provided her with a better understanding of her state.
"I have learned new things and discovered things I never knew about, such as the Sabah official flower and that Sabah has over 300 islands," said Adriani. She added that Amazing Borneo Tours' tour guide, Ryan, has been very helpful in educating them more about Sabah.
"I'm amazed at how much knowledge a tour guide has to have, he (Ryan) is basically a walking encyclopedia! It gives me a whole new perspective about the job of a tour guide," Adriani added.
For Janet Fabian, 26 she had never discovered so much of her own culture and heritage until she set foot in the Monsopiad Cultural Village where she and the rest of the girls were given a good tour of the village and a were briefed on the ancient historical legends of Kadazandusun warrior, Monsopiad.
"It got me in touch with my heritage as a Kadazandusun," she said, "I am already so proud of my state and heritage, I didn't know I can get any prouder," she quipped.
Cynthia Kong Su Mei, 26 was also very impressed by the service provided by Amazing Borneo Tours throughout the pageant week.
"At first, I never knew what Amazing Borneo Tours is about and since there are many tour agencies in Sabah, I assumed that Amazing Borneo Tours is just another tour agency. But I am totally impressed by its professionalism -- from the punctual pick ups and comfortable tour bus that comes with cute plaid blankets to its knowledgeable tour agents. It definitely makes a lot of difference," said Cynthia.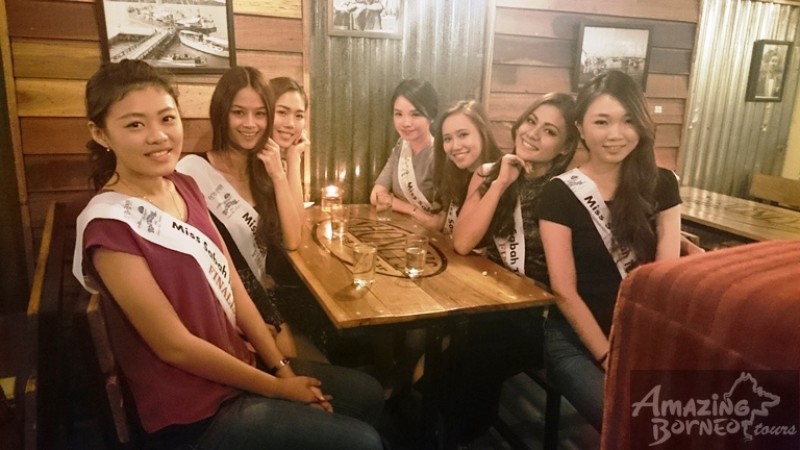 Cheers! From left to right: Joyce Chong Jin Yee, Yvonne Lee Yee Fei, Xandria Ban Kah Yee, Elaine Khor Chee Ching, Lilia Wong, Pachara Emmanuel Apin and Sharon Wong Xin Qian.
The girls will make a final appearance at the Gala Dinner, which will be held at the Hakka Association Hall, Tanjung Lipat at 7.30pm tonight. We wish the girls all the best and stay tuned for the announcement of Miss Amazing Borneo 2015!