In 2014, Huffington Post writer, Kathleen Peddicord wrote an article listing Sabah as one of the top 8 places in the world to witness a beautiful sunset -- we couldn't agree more! To help you in your quest of watching one of the world's best sunsets, here are a list of places from where you can enjoy a glorious sunset today!

1. KK Waterfront
KK Waterfront is one of the most popular spots for KK city dwellers to decompress and enjoy the view of beautiful sunset over a cold glass of beer after work. Besides its strategic location smack dab in the middle of the city, KK Waterfront is also home to many happening night spots in the city. While you're out on KK Waterfront, you may spot North Borneo Cruises cruising by.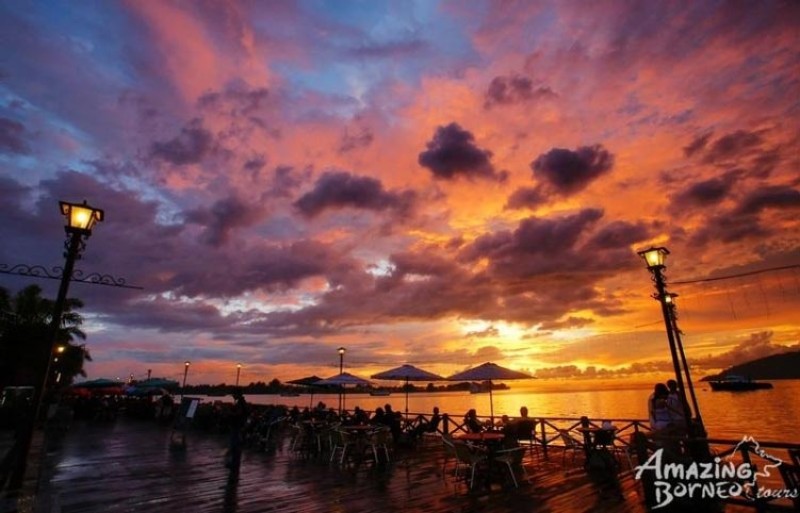 An amazing view of sunset from the KK Waterfront. Photo courtesy of Sham Kien Yee
2. Sunset Cruise, North Borneo Cruises
On the North Borneo Cruises, Sunset Dinner Cruise session, you will have a view of the sunset over the sea as you indulge in an international buffet spread accompanied with music from a live band on board. The scenic route takes you past the islands of Tunku Abdul Rahman Marine Park and the famous KK city waterfront all in the warm glow of the golden hour.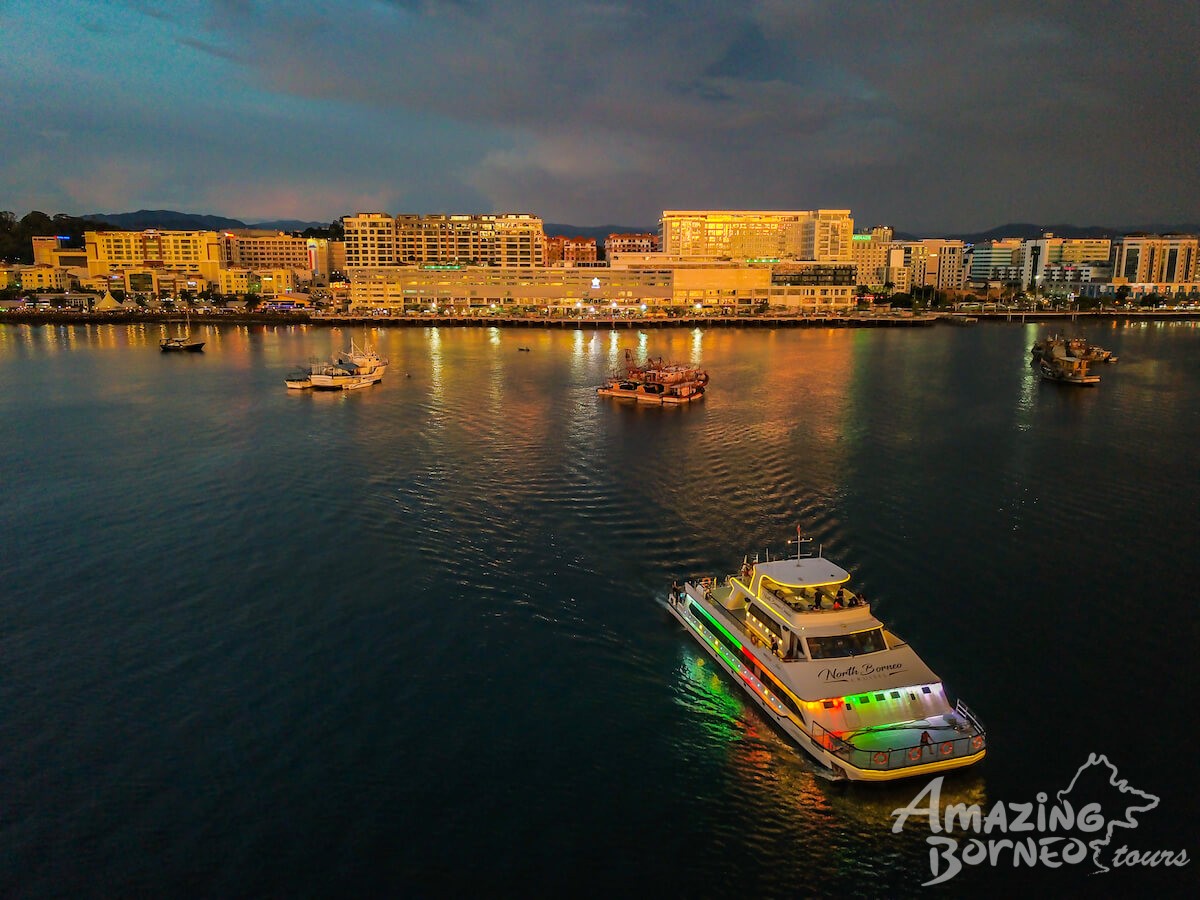 North Borneo Cruises is the place to enjoy an enchanting sunset, glorious islands, and the mystifying ocean.
3. Sunset Bar, Shangri-La's Tanjung Aru Resort
Another great spot to hang out on glorious balmy afternoons to chill and catch a glimpse of beautiful sunset is the Sunset Bar at Shangri-La's Tanjung Aru Resort. Perched at the tip of Pulau Bayu, a private island on the resort, the Sunset Bar is a small rustic bar overlooking the sea. You will also be entertained by the jazzy sounds of a live band while sipping your cocktail.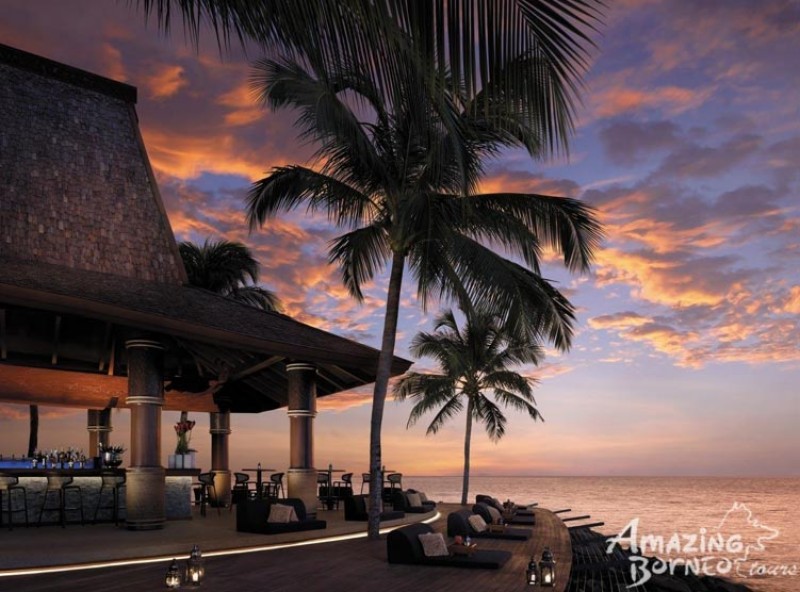 One of the best places to be during sunset, the Sunset Bar at Shangri-La's Tanjung Aru Resort

4. Tunku Abdul Rahman Park

Take a cruise to the midst of the South China Sea and let your senses be filled with awe as you feel the soft seabreeze caressing your face. Enjoy a sip of cold beer and some light snacks as you wait for the blue Sabah sky to turn a lovely shade of vermilion as the sun sets. Book your sunset cruise today at www.seatango.com.


Sunset cruise at Tunku Abdul Rahman Marine Park. Photo courtesy of Sea Tango

5. Mantanani Island, Kota Belud
A couple of hours' drive and a boat ride away from Kota Kinabalu lies one of the prettiest islands in Sabah: Mantanani Island. Apart from being famous for its amazing dive sites and long stretch of sparkling white beach, Mantanani also harbours the secret of unveiling one of the prettiest sunsets in Sabah! Book your stay on Mantanani Island with us today.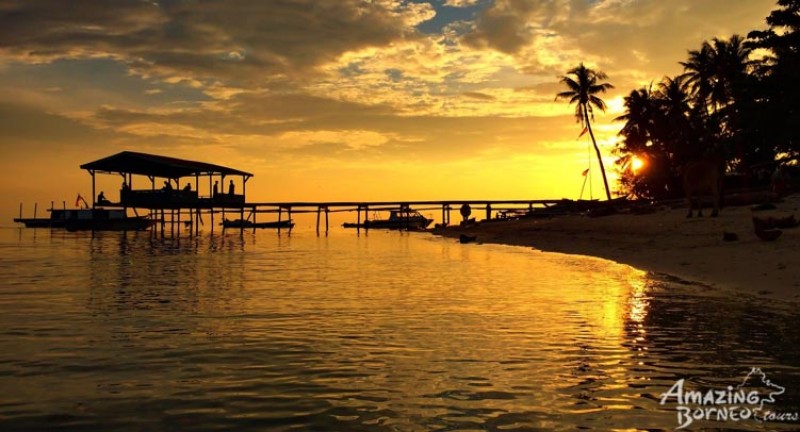 The rustic Mantanani Island at sunset. Photo courtesy of Nasrul Effendy

6. Tip of Borneo, Kudat
The dramatic headland on the northernmost tip of Kudat, known as the Tip of Borneo is famed for its breathtakingly scenic view and even more breathtaking sunsets. A great opportunity to experience the Tip of Borneo at its full glory would be at the annual Sunset Music Fest at the Tip of Borneo -- a musical cornucopia served amidst the Tip of Borneo sunset! Book your Kudat vacation with us now.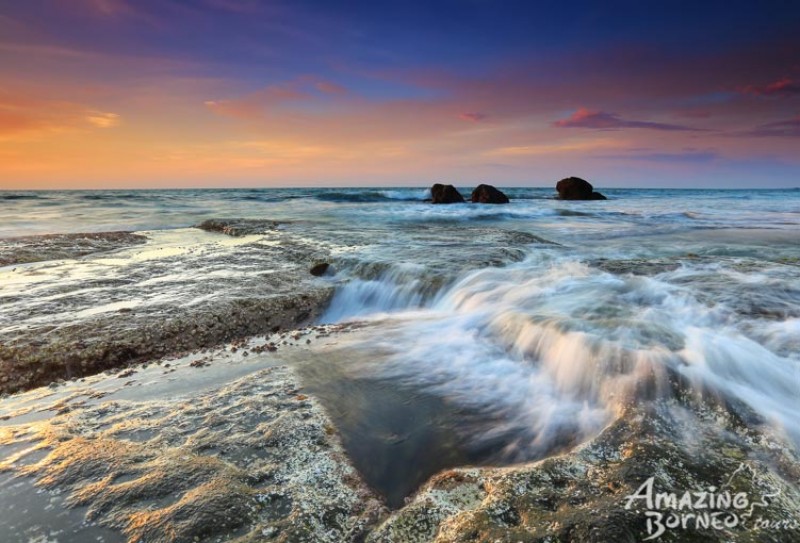 Sunset at the iconic Tanjung Simpang Mengayau aka the Tip of Borneo

7. Pom Pom Island, Semporna
Located an hours' boat ride away from Semporna, Pom Pom is a fairly new island resort which is nicely secluded and private. Surrounded by soft white sands and lush green mangroves, a walk on the beach at sunset will be one of the most visually rewarding walks you'll ever take. Book your stay at Sipadan Pom Pom Dive Resort now!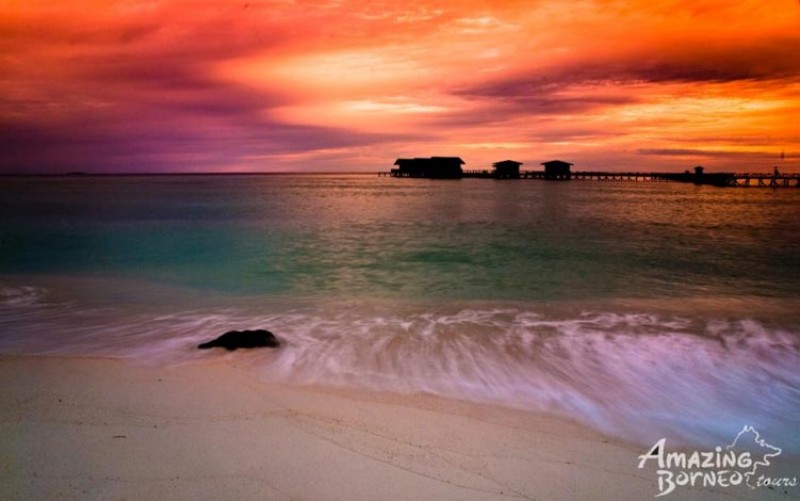 A glimpse of paradise - Pom Pom Island at dusk. Photo courtesy of Shapidog

8. Kapalai Island, Semporna
Another true gem in the Celebes Sea, Kapalai Island is technically not an island but rather a resort built on a network of wooden stilts. One of the best places to chill on this island in the middle of the ocean is at the resort restaurant, couple that with relaxing sea breeze and beautiful sunset and you'll get a holiday to die for! Book your stay at Sipadan-Kapalai Dive Resort with us today!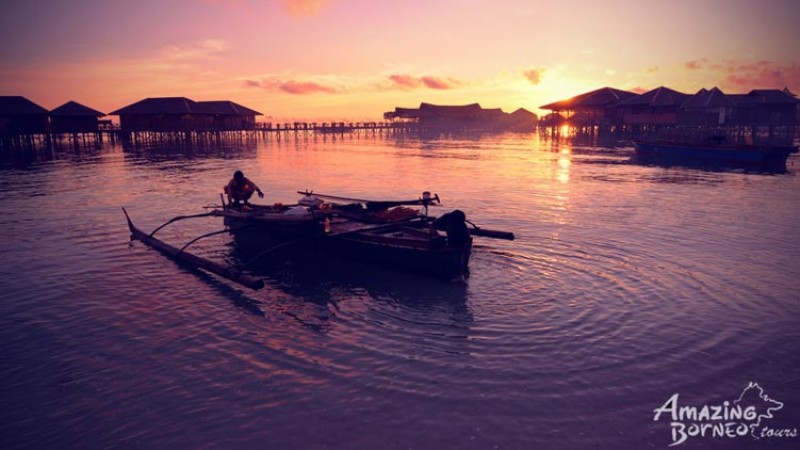 A fisherman gathering his catch near the Sipadan-Kapalai Dive Resort

9. Pendant Hut, Mount Kinabalu
If you're ever climbing Mount Kinabalu on the Via Ferrata trail, you will be spending a night or two at the Pendant Hut (depending on your climbing package). Located at 3,289m on the Laban Rata rock slab, Pendant Hut is a cozy and eco-friendly alpine lodge reserved exclusively for via ferrata climbers, and it offers a prime view of a beautiful sunset over the cloud-shrouded edges of Mount Kinabalu. Check out our Mount Kinabalu Climb with Via Ferrata packages.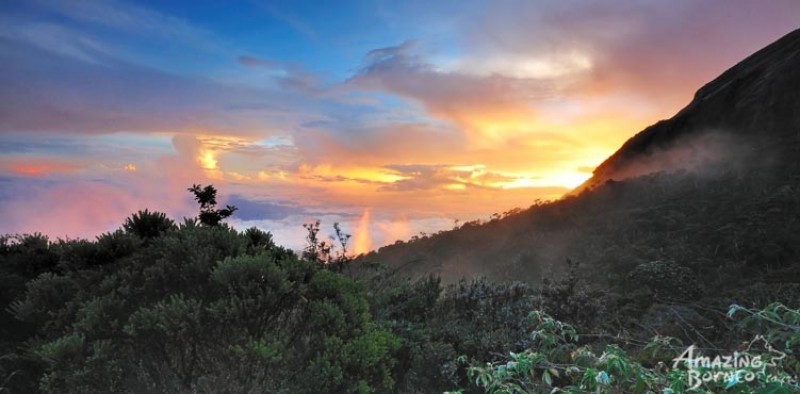 The sun is setting on the horizon, as seen from the Pendant Hut

10. Lankayan Island, Sandakan
A tiny jewel-shaped island located on the northeastern coast of Sabah, Lankayan is part of the Sugud Islands Marine Conservation Area (SIMCA) and is surrounded blue-green waters and coral reefs. Apart from being a marine conservation area, Lankayan also doubles as a top diving spot, turtle landing spot and awesome sunset-viewing spot! Book your stay at Lankayan Island Dive Resort today.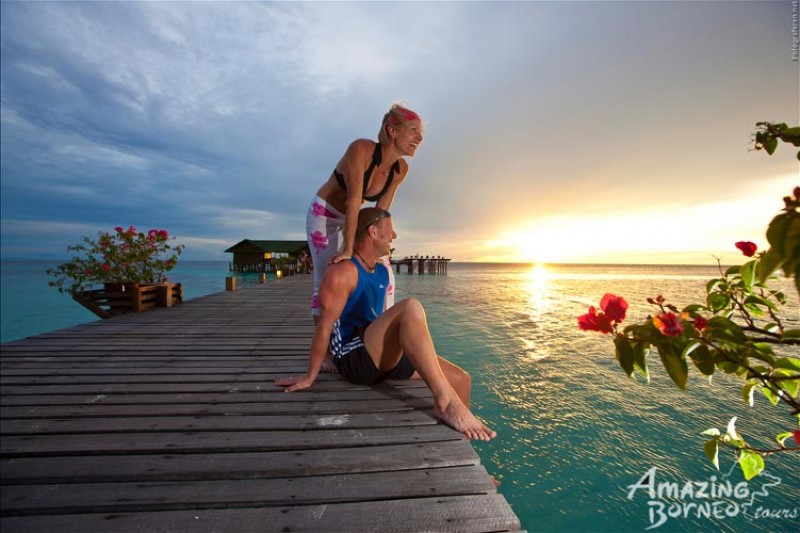 Divers chilling on the wooden deck at the Lankayan Island Dive Resort. Photo courtesy of Rud-gr

11. Maliau Basin
In 2008, the Lonely Planet Borneo once quoted Maliau Basin as "the single best place in Borneo to experience the wonders of primary tropical forest" and described it as "one of the world's great reserves of biodiversity, a dense knot of almost unbelievable genetic richness". While you're in Maliau Basin, don't forget to climb up to the top of the observation tower at sunset to witness the sunset of a lifetime! Check out our Maliau Basin jungle trekking packages.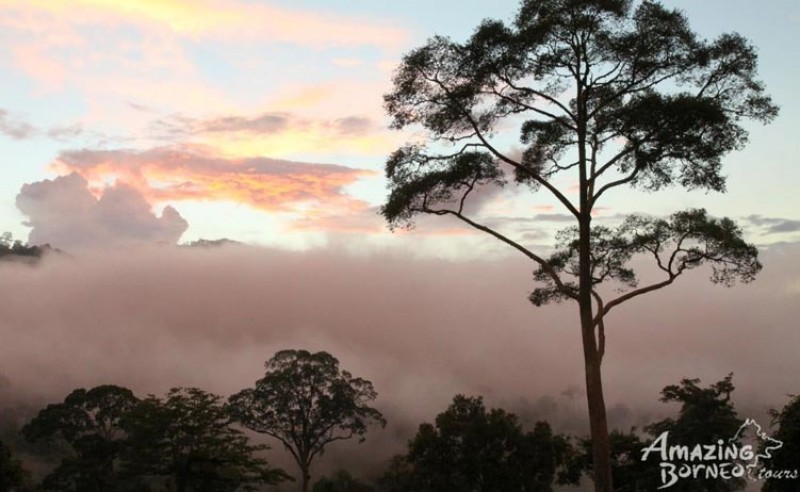 Sunset shrouded in white mist, as captured by Murphy Ng of MySabah.com