Underwater exploration with Seatango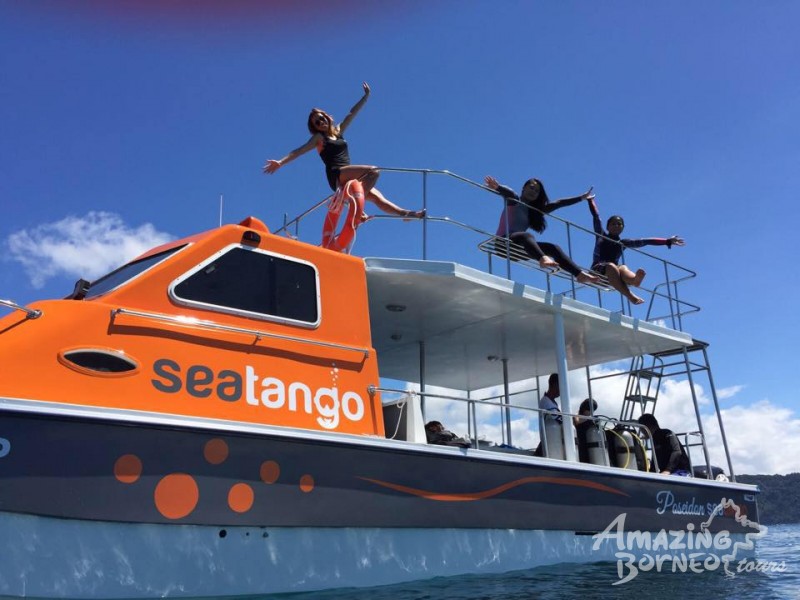 Just like North Borneo Cruise, Seatango departs from Sutera Harbour Marina Jetty. Right after the guests and Dane arrived; our tour began in full speed. Like always, a safety briefing is compulsory and everyone is required to use a life jacket beforehand. This tour consists of two snorkelling sessions; each session is 45 minutes and one stopover at Tunku Abdul Rahman Park island.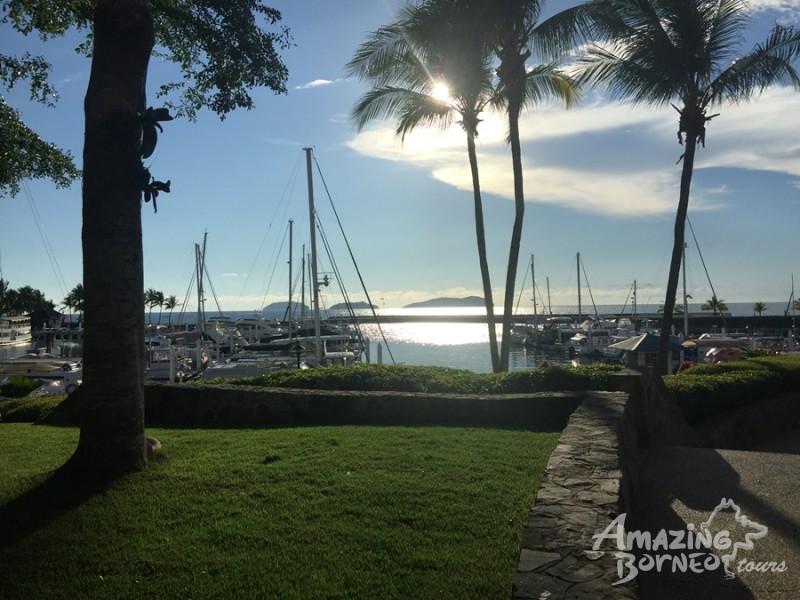 Sutera Harbour Marina Jetty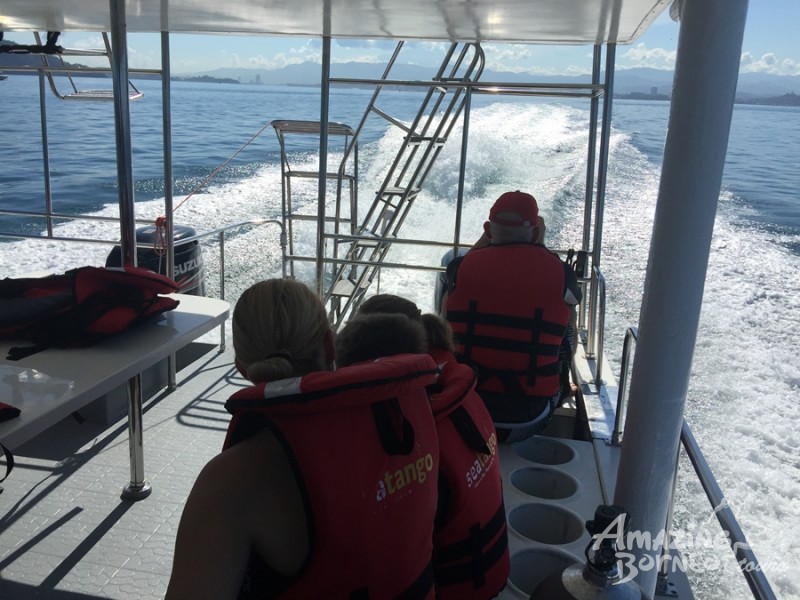 Guests enjoying the scenic ride to Manukan island
I've seen a few to know that Seatango's catamaran is certainly unlike any other. I was surprised at how it can fit 13 pax and still somewhat spacious for a small boat. I was already anticipating motion sickness to transpire the night before since I get it easily when I travel, but the boat is rather steady it cancelled out any panic that was about to rise.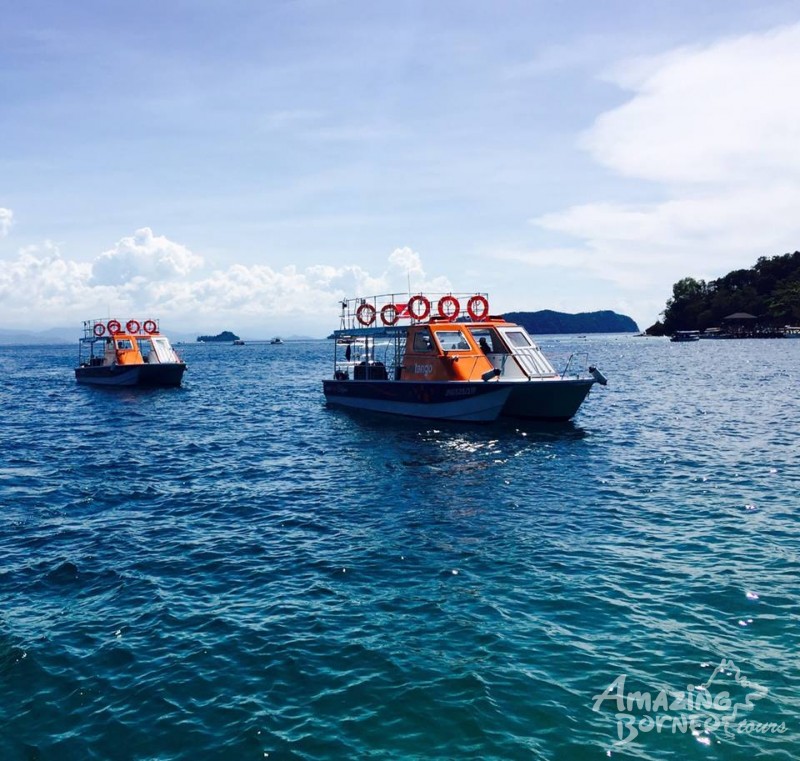 Seatango's catamaran is truly an extraordinary dive boat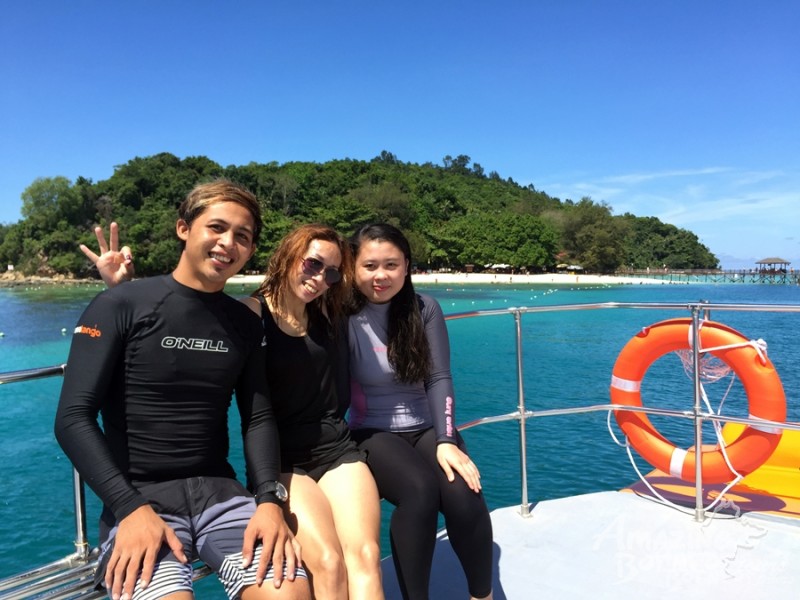 Seatango's experienced dive instructor, Lester
As soon as we arrived at Manukan island for the first snorkelling session, everyone's faces gleam as bright as the sun. Guests are equipped with goggles and fins before leaping into the clear blue water from the diving platform. There's also a built in toilet for you to change into your swimwear and it's quite roomy so don't fret about accidentally banging on the walls.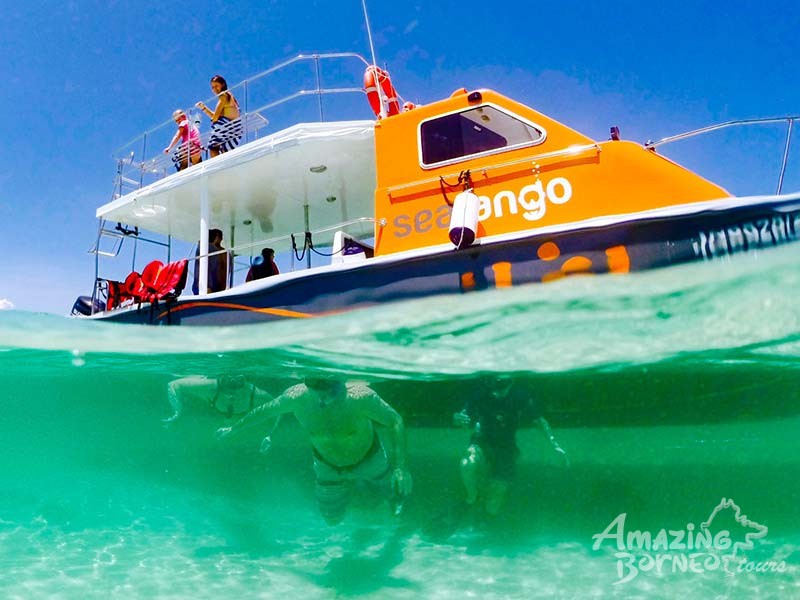 Clear blue waters equal a good snorkelling session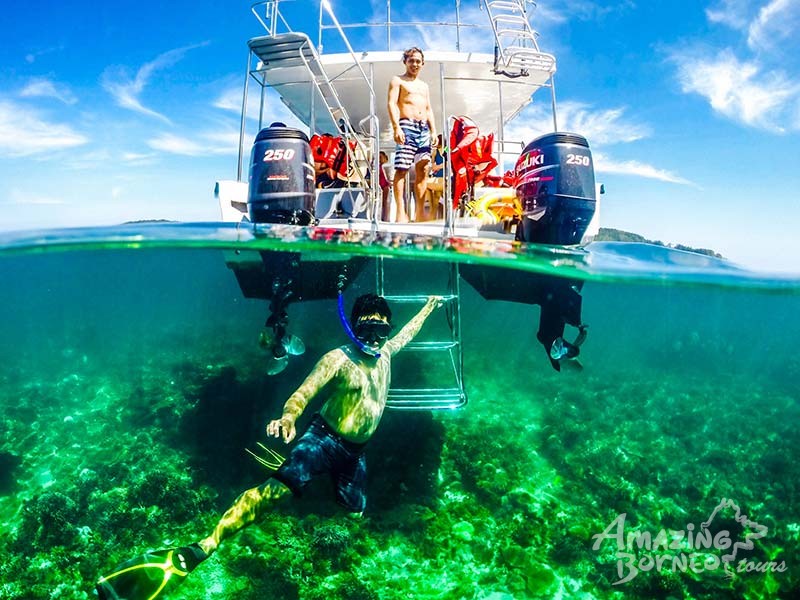 There's also a ladder for you to slowly descend into the water
If you're a non-swimmer, keep your worries about not being able to float aside as both Lester and Nathan are very attentive and constantly prepare to assist anyone who needed help. Floaties are available for those who need to hold onto something to stay afloat.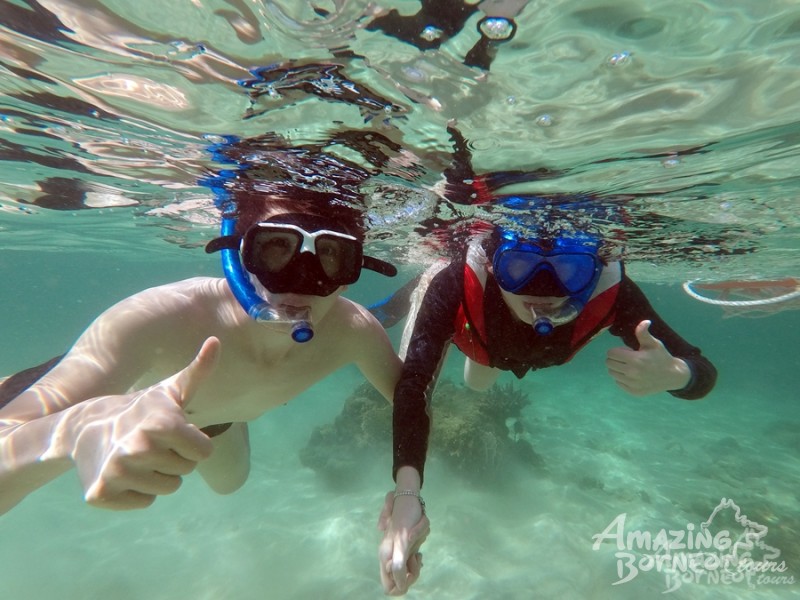 Before the end of the session, Zul prepared two plates of butter cakes, two jugs of coffee and tea, and some glasses on the table for everyone to snack on which is inclusive in the tour. Just a little tip, the snack varies from time to time.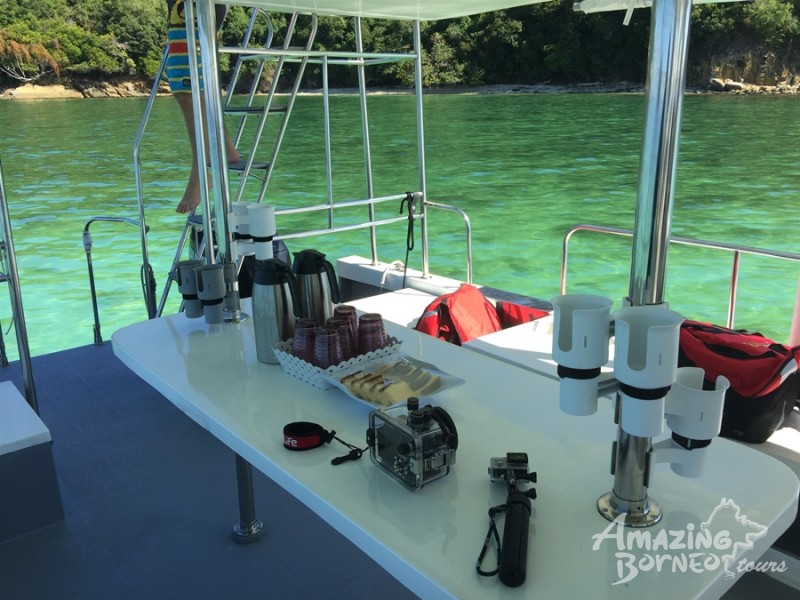 Once the first session is over, we moved on to Sapi island for the next one. An overhead shower is built next to the deck so it's convenient to take a quick wash. Everyone was helping themselves to the light refreshments and interacting with one another during the 15 minutes journey to Sapi. the boat ride comes with scenic views of lush green forests. Guests may request for the speed to slow down to take pictures and such. Lester was kind enough to inform them about it.
Touched down at Sapi island and everyone just jumped without a second thought. What actually made me confident about going into the water is because of Lester and Nathan's assurance and I am forever thankful for that.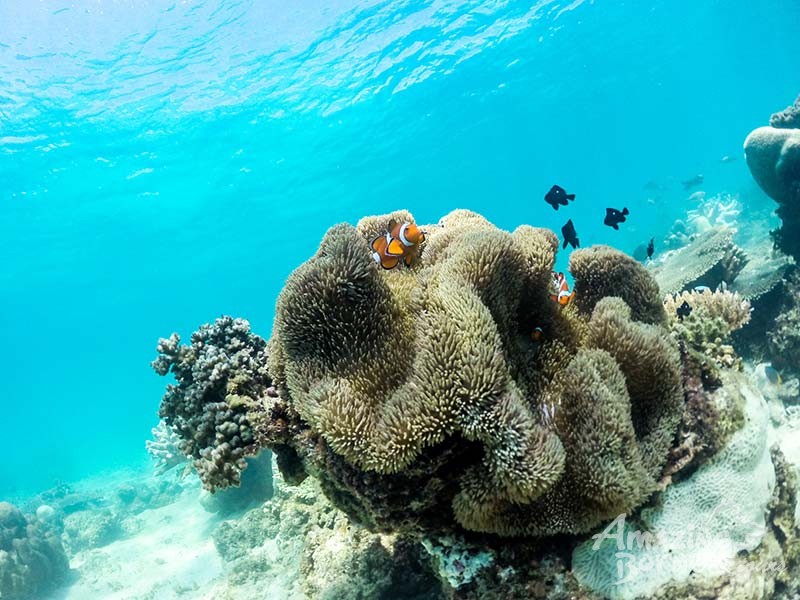 If you're lucky, you might catch a glimpse of a real life Nemo!
If you prefer to relax and get a nice suntan, the sun deck is the perfect spot to achieve both. It's also a safe space for children to lounge around since all sides are covered with safety railings. If you're feeling adventurous, dive into the water from the sun deck!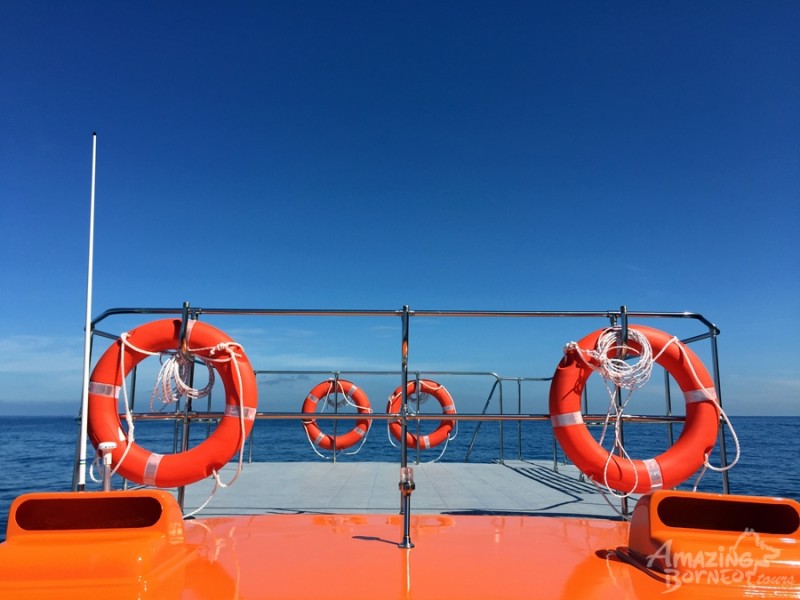 The sun deck is safe for children as there are rails surrounding it
Our last stop is at Tunku Abdul Rahman Park island, also known as Pulau Gaya. This is where we had our lunch and yes, it's included in the tour. The restaurant offers a menu of local and western food fit for both picky eaters and someone who's always up for anything.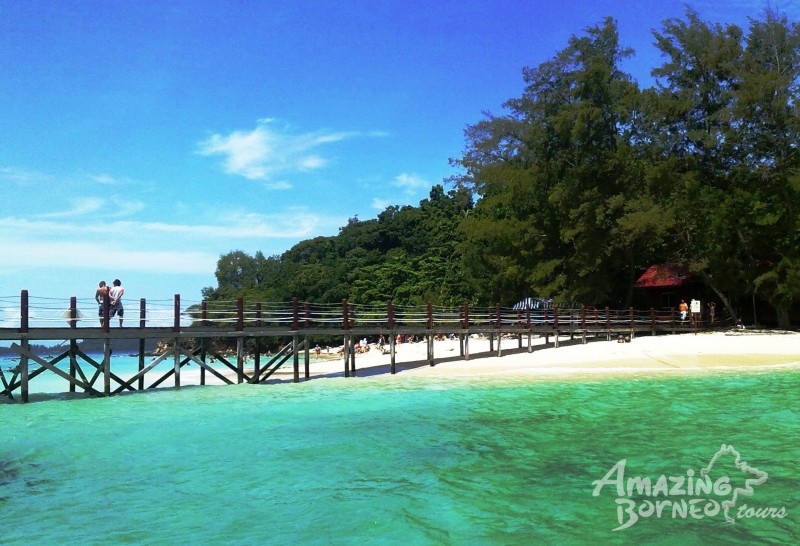 Soak under the blazing sun or take a dip when you're in Pulau Gaya
The stopover at TARP island for two hours means you get to laze around, go for a swim, or take up the challenge of ziplining between Sapi and Gaya island. The zipline activity is not included in the tour and it's under your expenses, but its money worth spending on. I decided to float on shallow waters with my life jacket still intact. Once two hours is up, we headed back to the jetty to make our way back to Marina jetty. On the boat, it was clear everyone was tired but happy. The tour and the crew did an excellent job in making everyone feeling bliss inside and out.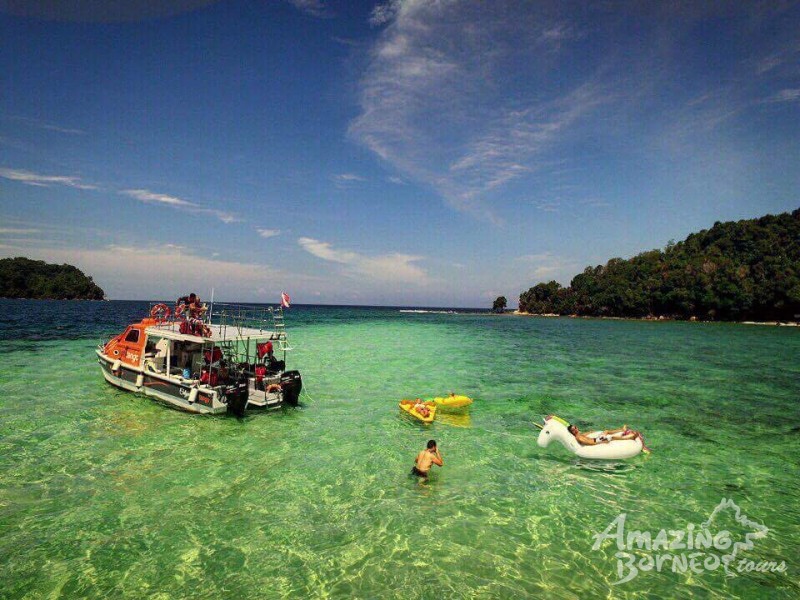 Expect only fun times and good vibes with Seatango
I highly suggest to give Seatango's Fun Boat Snorkelling and Island Visit tour a go. Whether you're a non-swimmer or a pro, the tour offers programmes that provide whatever you need so nobody is left behind and miss out the fun. For local groups of 2-3 pax, it cost RM185 per person. As for international group, it's RM195 per person. Children travellers cost RM110 for locals and RM120 for international. The price gets cheaper when you have more people added in your snorkelling troop! So what are you waiting for? Gather your squad and book your tour at www.seatango.com today!