As we transition into the New Year 2015, here is a recap of the Happy Adventures that our 3 lucky contest Winners enjoyed in December 2014 with our Sabah Ambassadors Ann Osman, AJ Pyro, and Rayner Kinsiong!
Winners Jacqueline Paul, Nathan Hynes, and Yap Shi Meng (on behalf of Edgar Ang) arrived in Kota Kinabalu on 8 December 2014 for their all-expenses-paid 4D3N Adventure Trip to explore our beautiful Wonderland Sabah.
The winners were handpicked from the many participants of our Comment & Win Contest which was launched from 31 October to 7 November 2014. This contest and trip was organized by Amazing Borneo in collaboration with Sabah Tourism Board, One Fighting Championship (Asia's largest MMA organization), and our 3 home-grown MMA star fighters.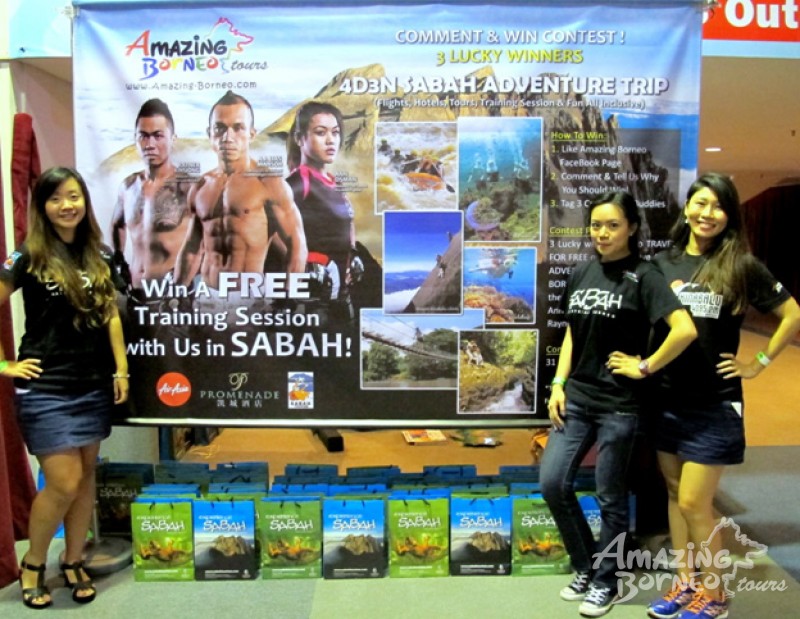 Here are some photos to capture the highlights of their Journey with us!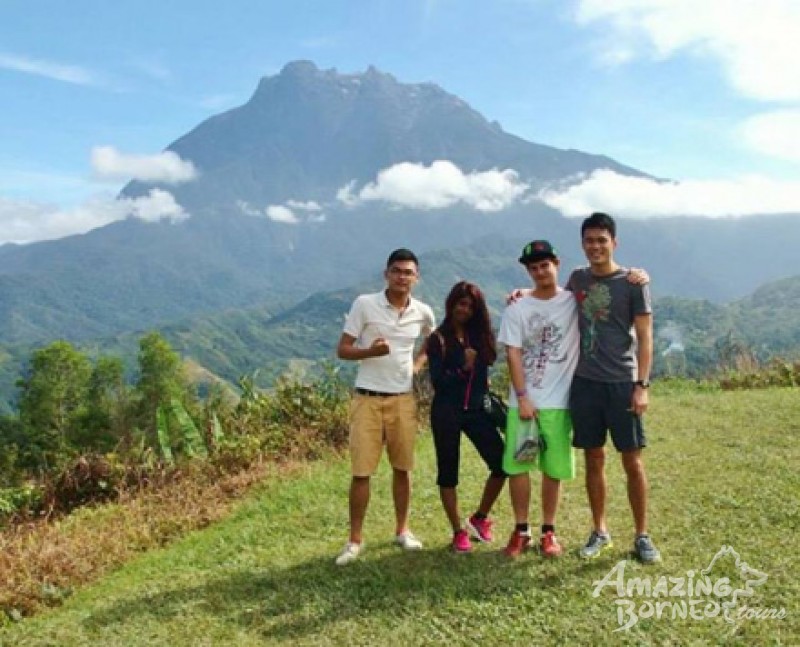 Sabah is the home of majestic Mount Kinabalu, and our winners were treated to a clear view of her jagged peaks!
We paused for this picture and some souvenir shopping at the local Nabalu Market on the two hour journey to Kinabalu National Park, as part of the Kinabalu Park & Poring Hot Spring Tour.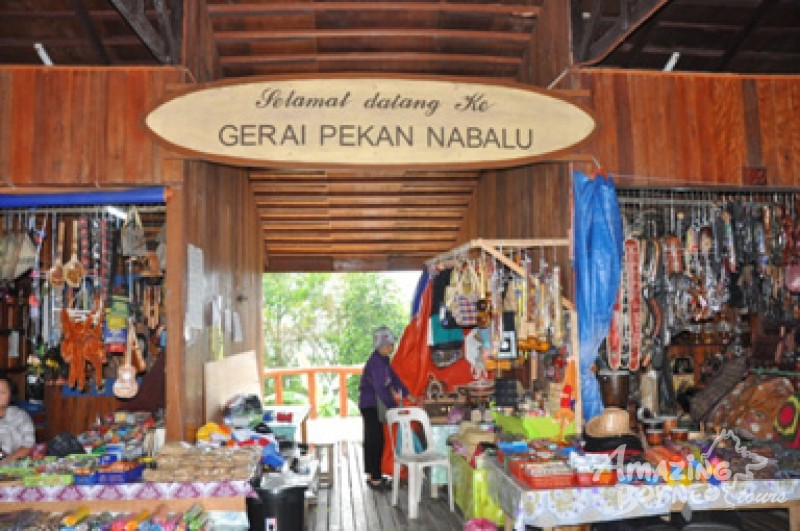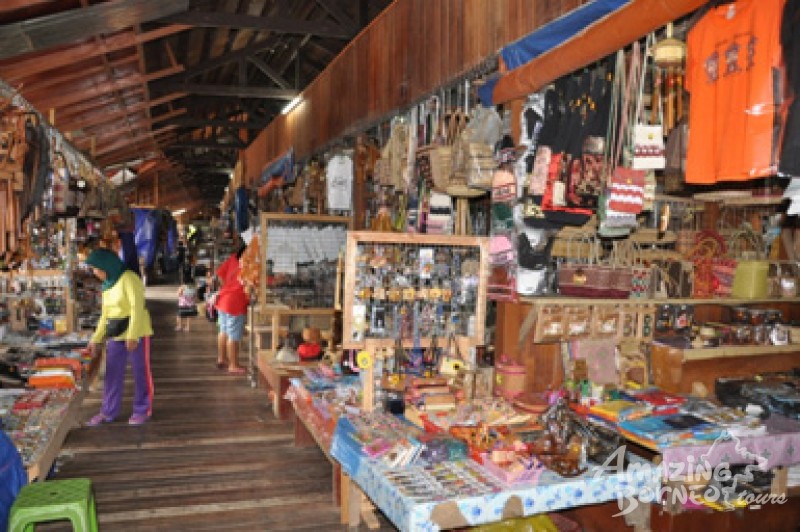 At this market, the locals sell handicraft, clothes, and local produce in their little stores every day.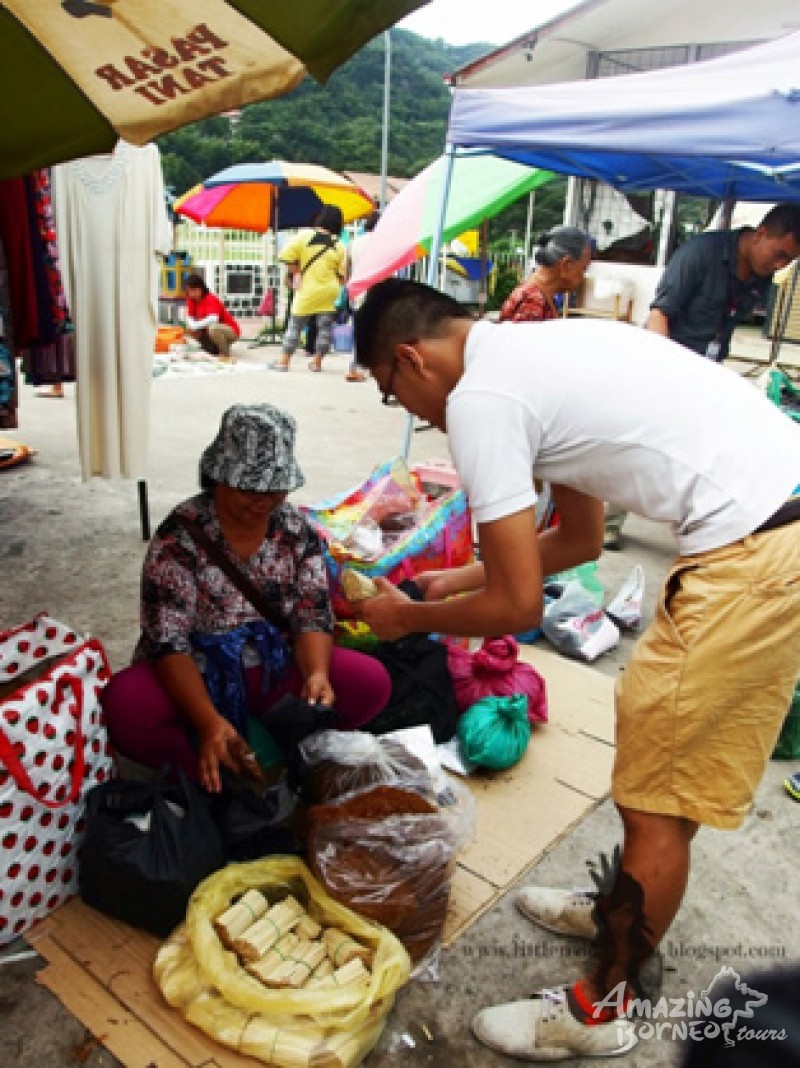 Looks like Owayne, Jacqueline's Crazy Travel Buddy, found something he's interested in!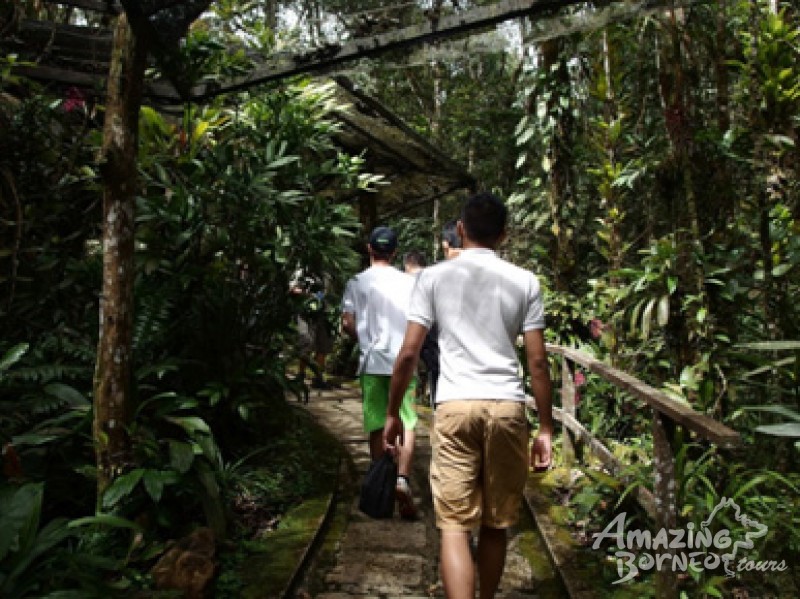 Next was a visit to the Botanical Garden of Kinabalu National Park, which showcases some of the 4,500 species of plants that exist in the cool mountain climate!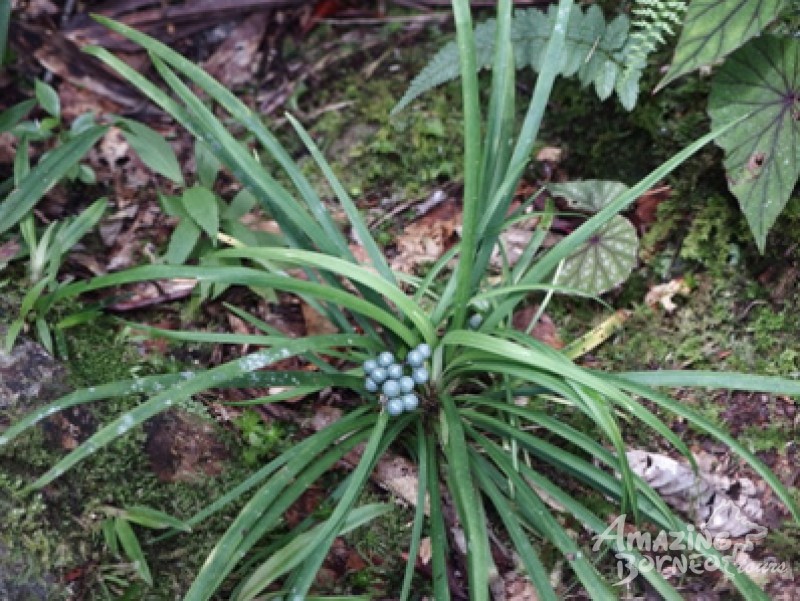 Jacqueline captured some good close up shots of the unique plants with her camera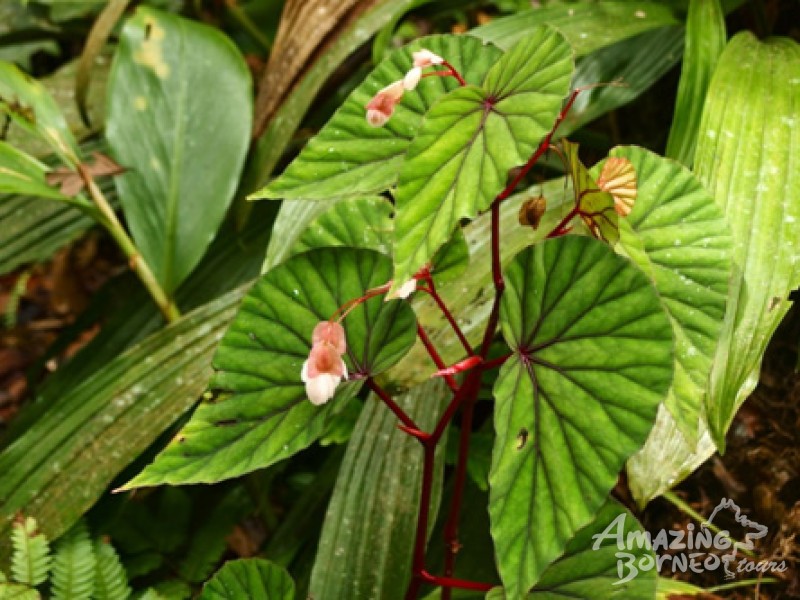 After lunch, we proceeded for the Poring Hot Spring & Canopy Walk – a 45-minute drive from Kinabalu National Park.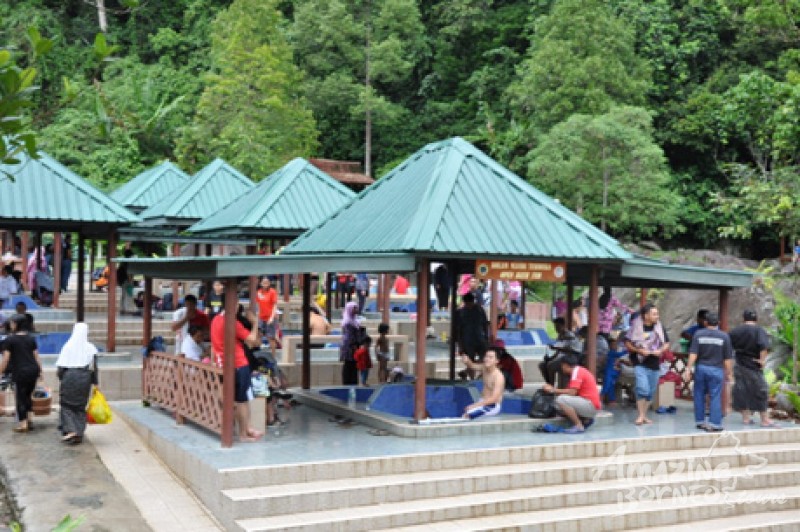 These public Japanese-styled bath tubs can be filled with hot spring water containing sulfuric minerals, which are known for therapeutic properties.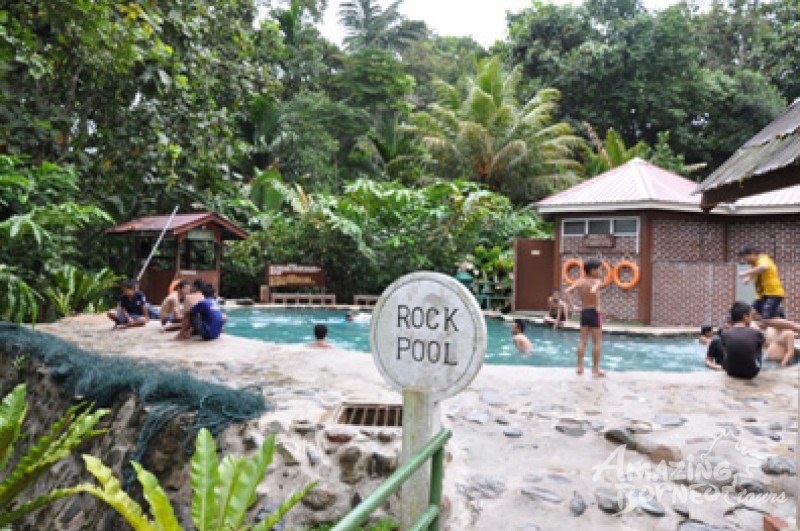 A shallow Rock Pool caters to the water fancies of the little ones while their parents relax in the tubs.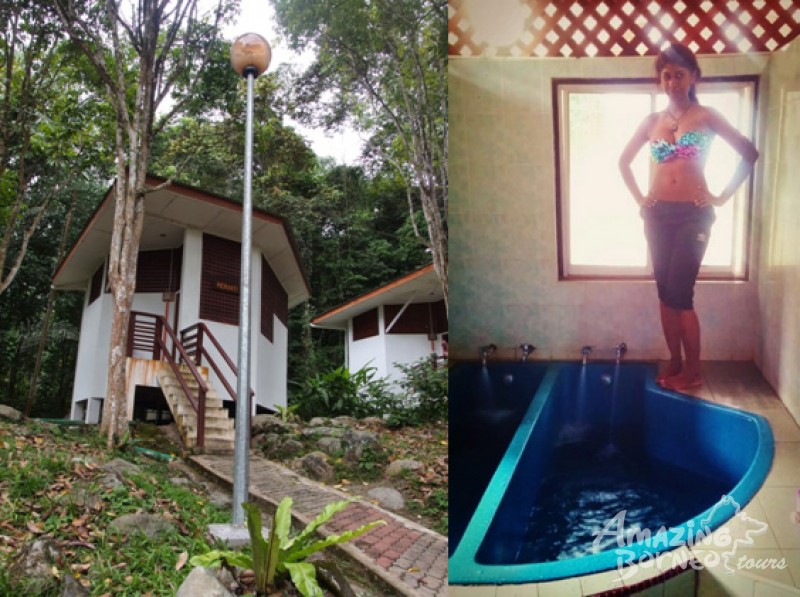 For those who prefer more privacy like our winners, they can opt for the private Tubs in little huts which accommodate 2 to 4 persons at a time.
Our "Rose among the thorns" Jacqueline, ready for her Hot Spring experience! ;)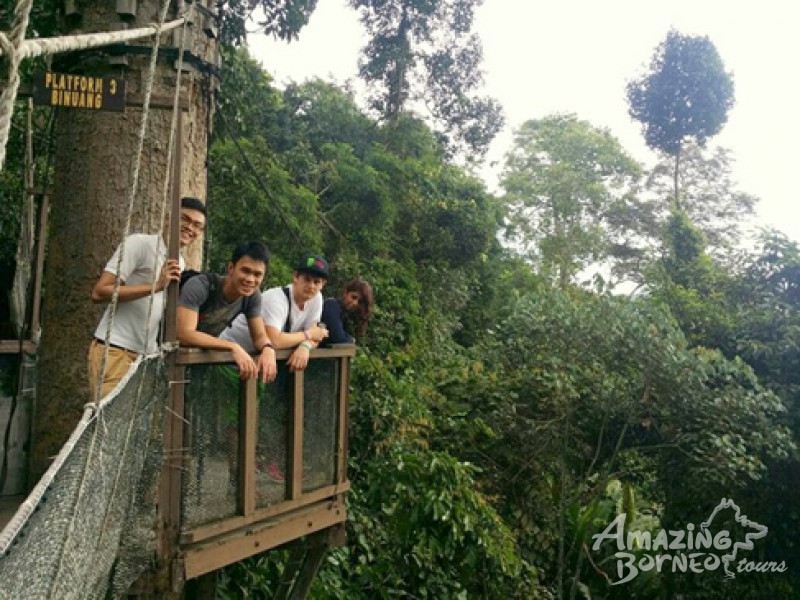 Do you DARE to walk on suspension bridges among the treetops, more than 40 meters above the ground?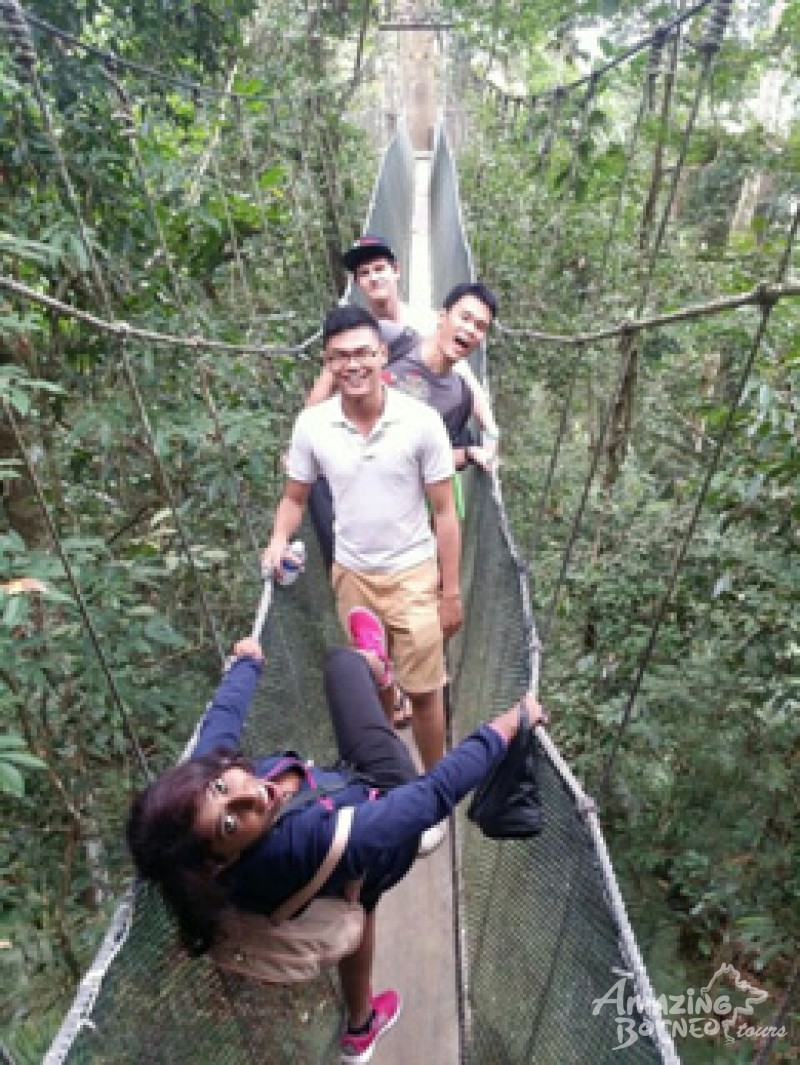 Our winners certainly do - And had a jolly good time as well!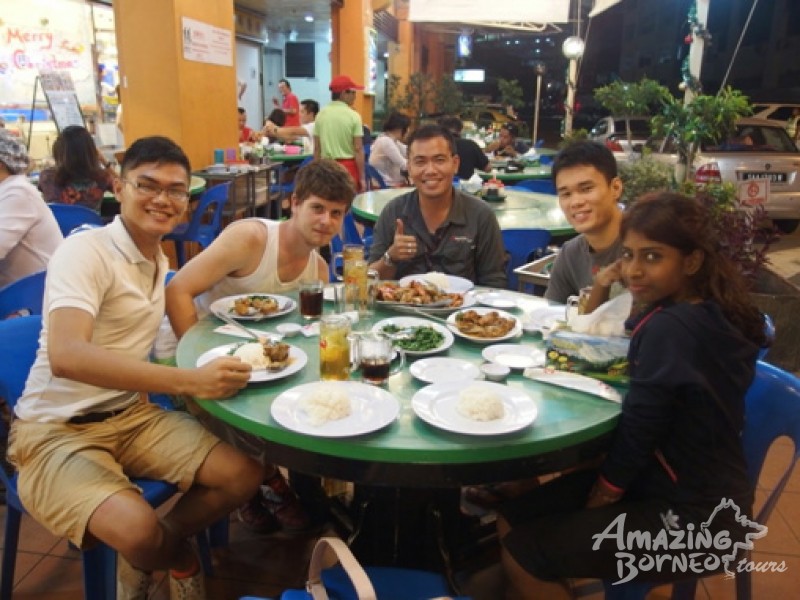 Of course, dinner had to be Sabah's famous seafood at one of the local seafood restaurants!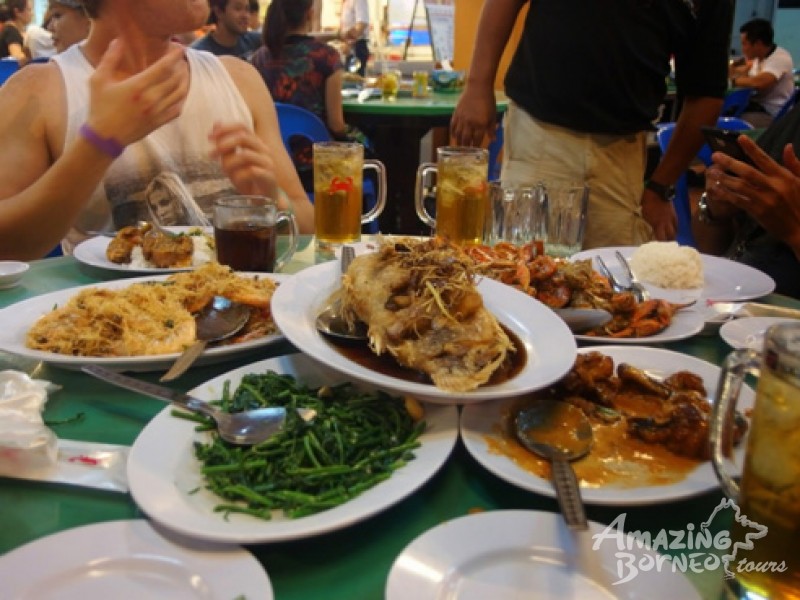 Prawns, Fish, and Crabs Galore… Glad our hungry winners enjoyed it! ;)
------------------------------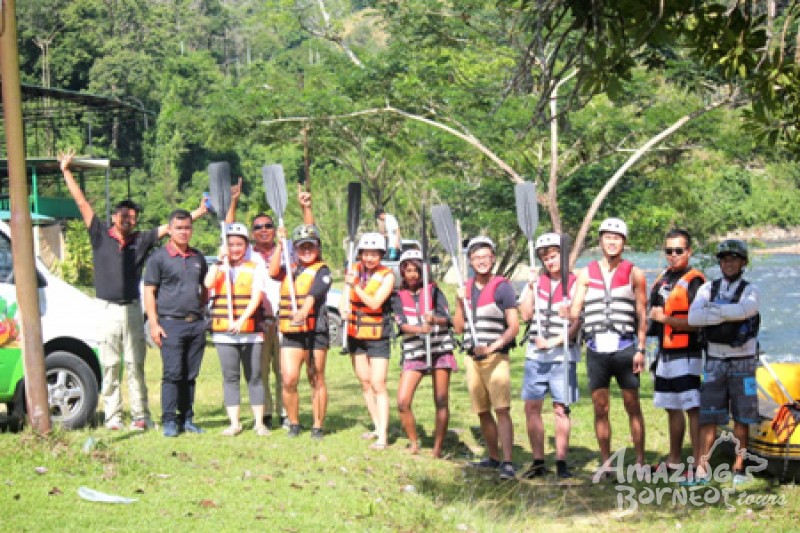 Another DARE, and one of the big Highlights of this trip –
White Water Rafting down Kiulu River with Sabah Ambassador-cum-One FC Celebrity ANN "ATHENA" OSMAN!!!
Heck yes, Our spunky winners were ever ready for the Challenge!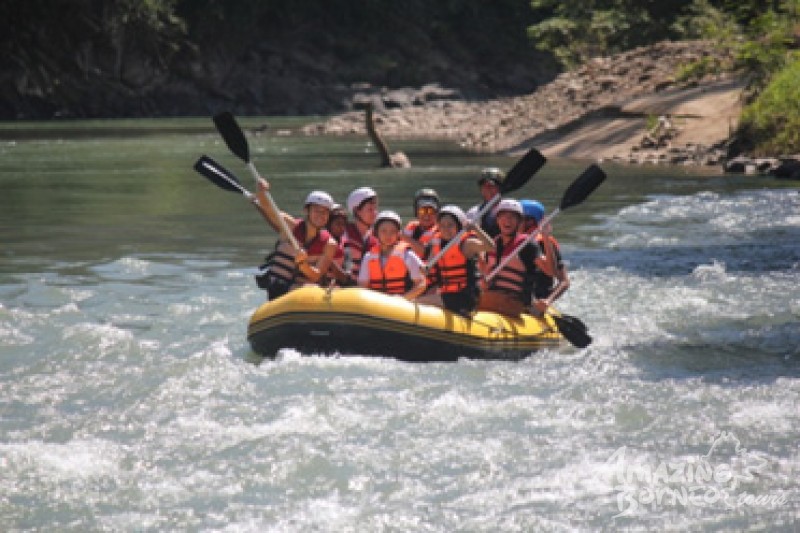 Fun moments with our local sports celebrity Ann, as she was an awesome hostess –
One of the hottest Professional MMA (Mixed Martial Arts) Female fighter stars of One Fighting Championship, Ann is a vivacious and warm personality outside of the fighting Arena, and everyone felt comfortable with her immediately!
She and our Captain Andre led us through the safety briefing and then we set off down the river!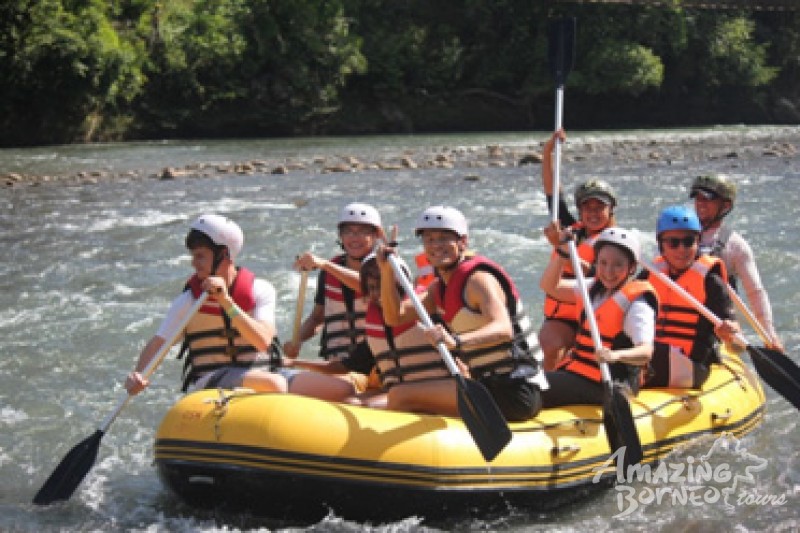 Lots of Laughter, Easy paddling, Sharing experiences…
Pushing & pulling various individuals into the water…
Singing "Row, Row, Row the Boat" as we took turns to Captain the Boat…
(Jac's "Bimbo Moment" as Captain cracked us up!)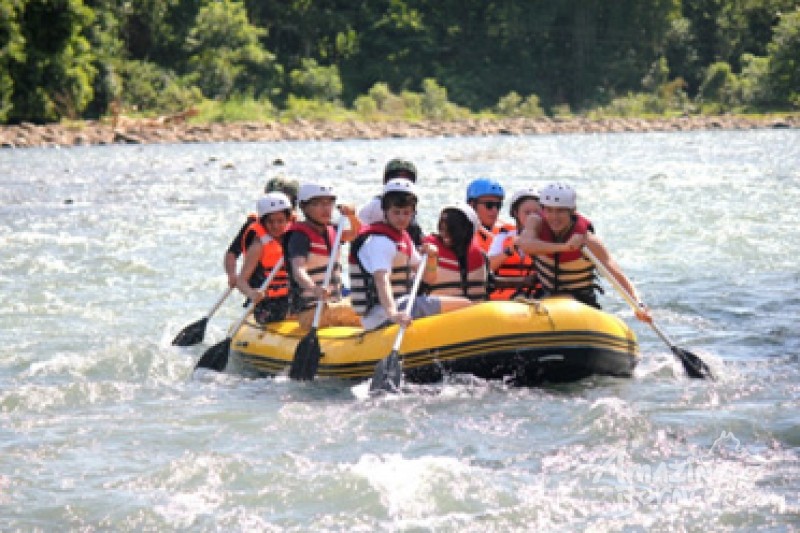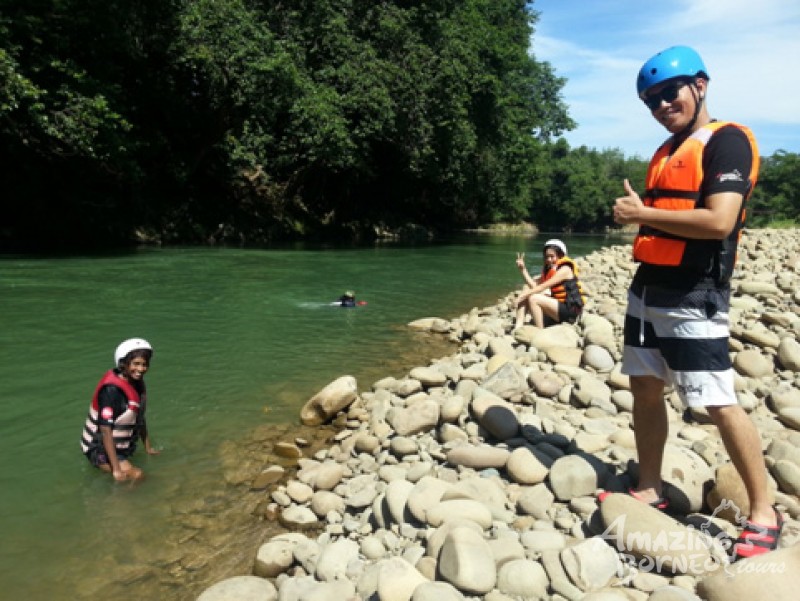 Body Rafting down the cold mountain water rapids…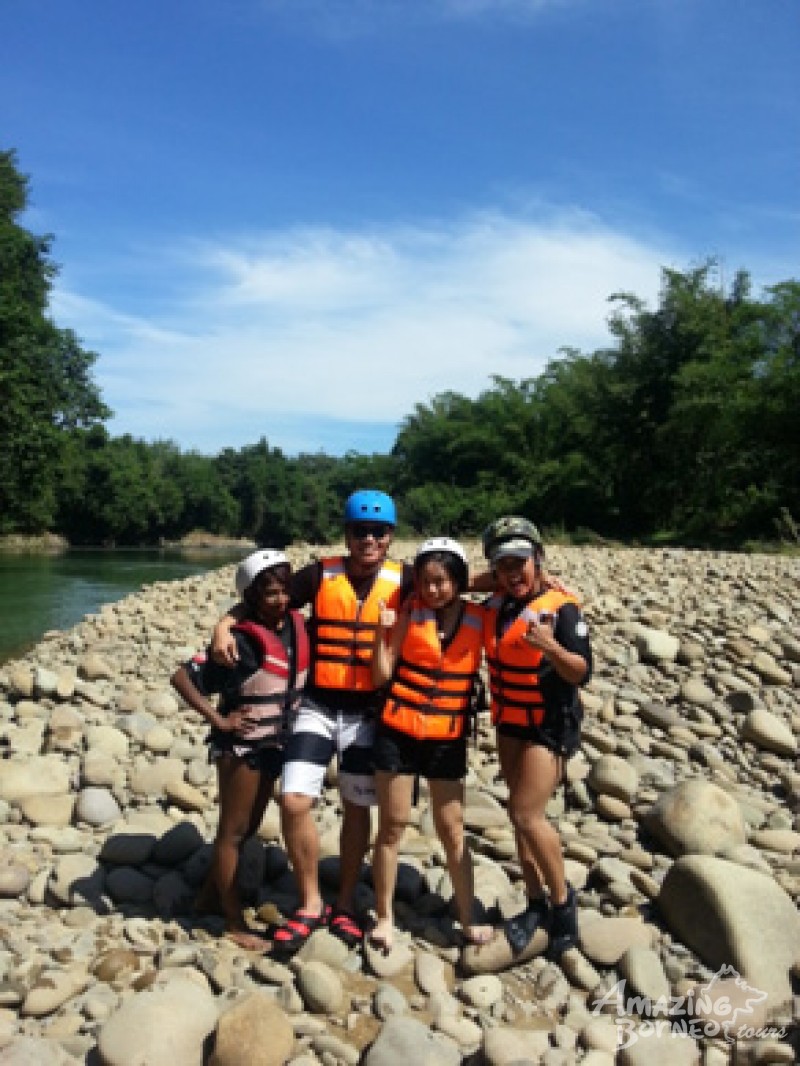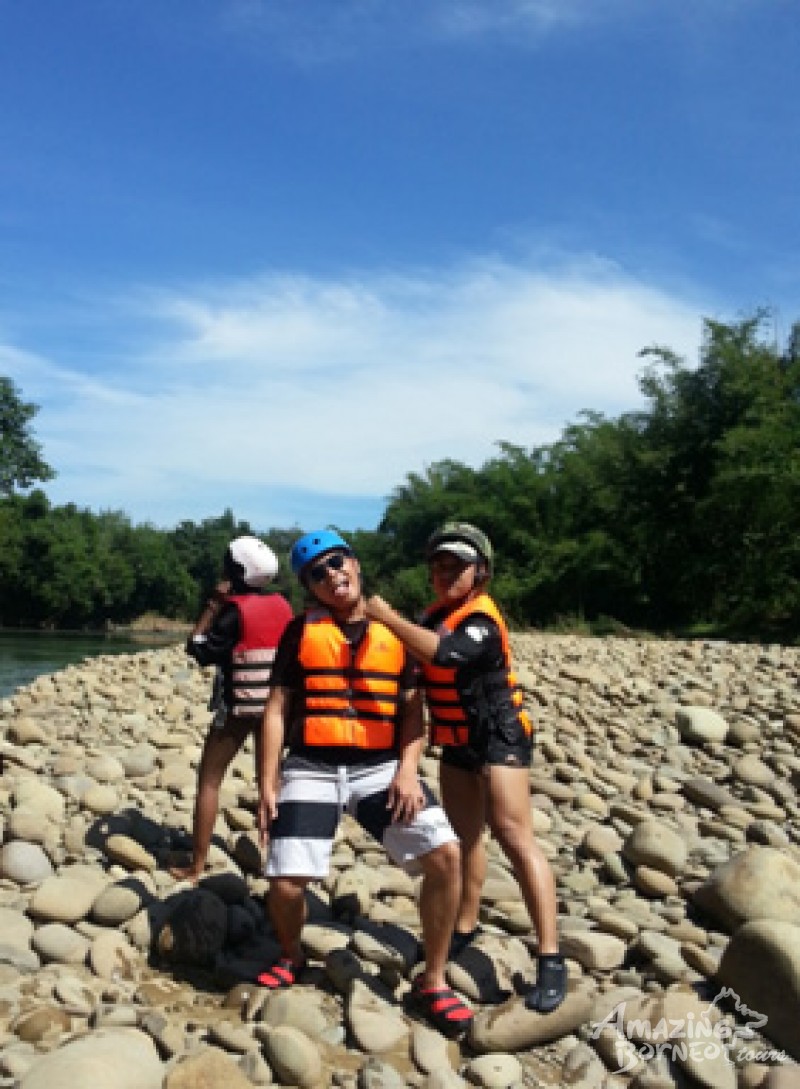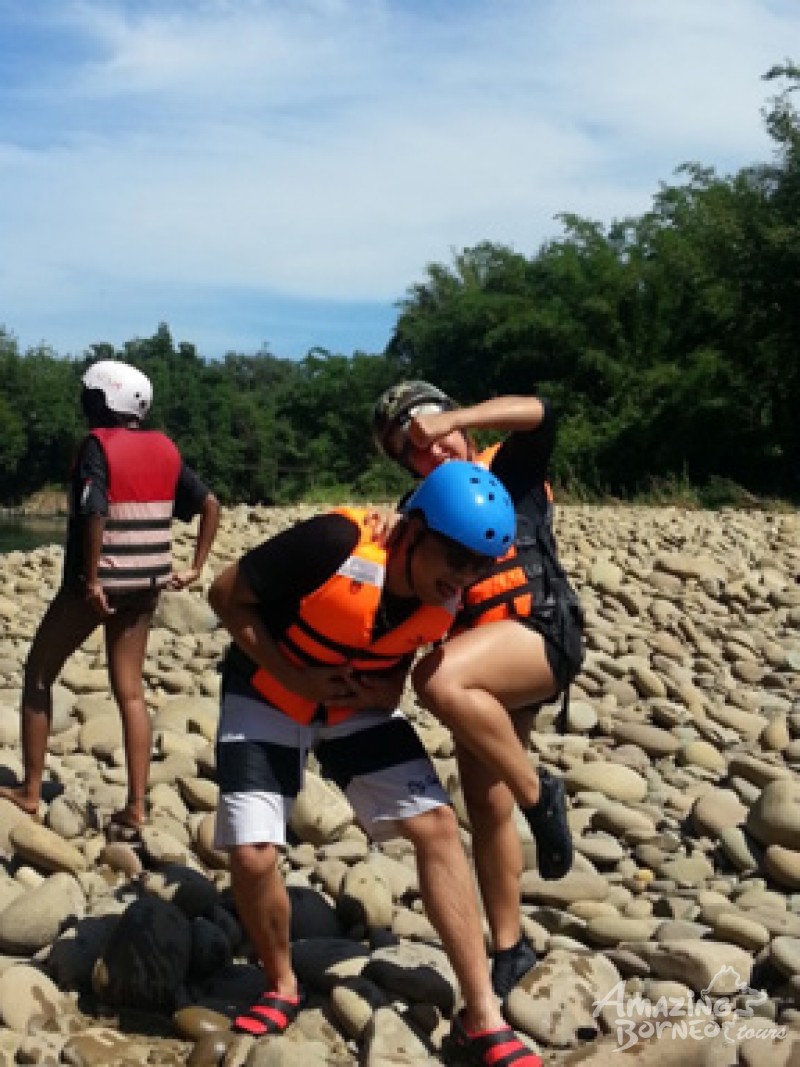 Ann demonstrated some MMA moves on our sporting AB guide Ryan during our "Banana Break"!
Perfect sunny Weather for a perfect morning…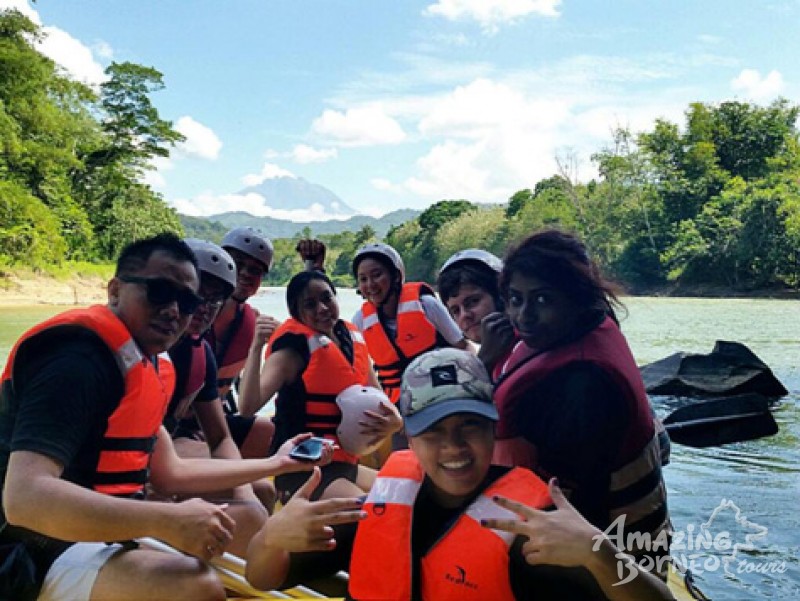 …and as we reached the end of our rafting trail,
even Mount Kinabalu unveiled herself from behind her puffy clouds to take a selfie with us! =)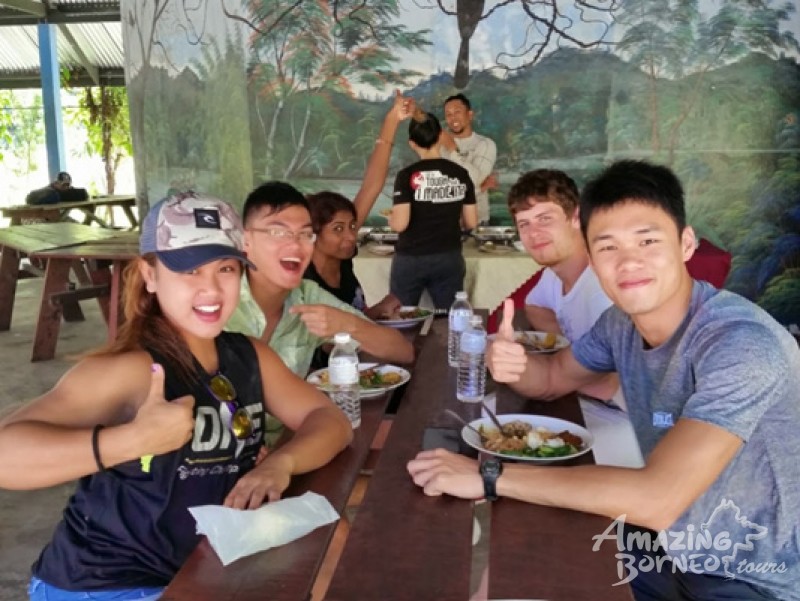 Intimate chats over a sumptuous local lunch.
Thank you, Ann, for spending time and sharing with us about your experiences!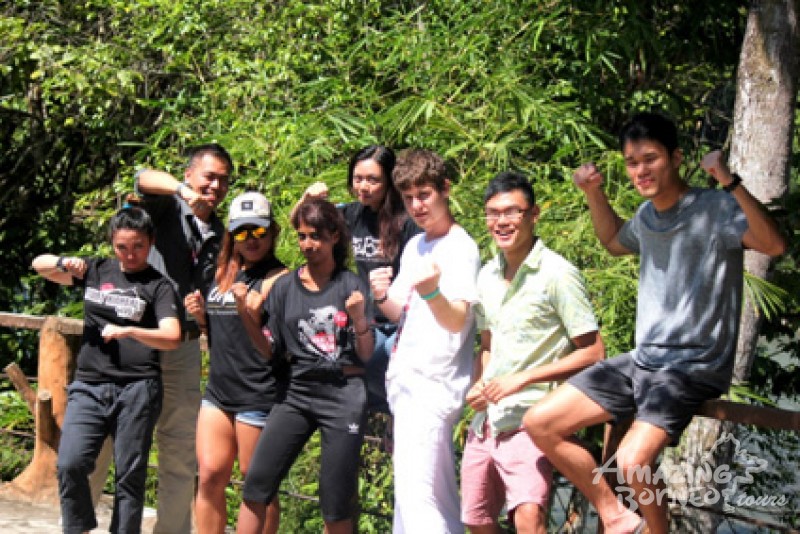 One more group photo for the road…
And then we were headed back to the city.
------------------------------
A short afternoon to rest and freshen up before another exciting Adventure –
A personal MMA Training Session with our Sabah Ambassador AJ "Pyro" Lias Mansor!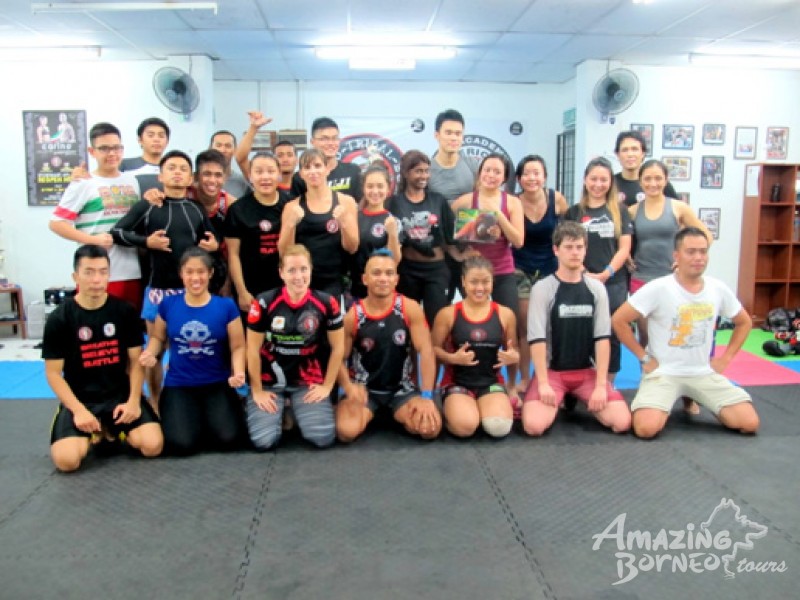 Presenting our Sabahan Ambassadors AJ Pyro and Ann Osman, the BTS Fighters, our psyched up Winners and AB Team!
AJ Pyro, our One FC Champion, is an MMA Coach and the owner of Borneo Tribal Squad, a local MMA gym. Daily, he shares his strong passion for this beautiful sport and grooms and trains aspiring fighters for competitions.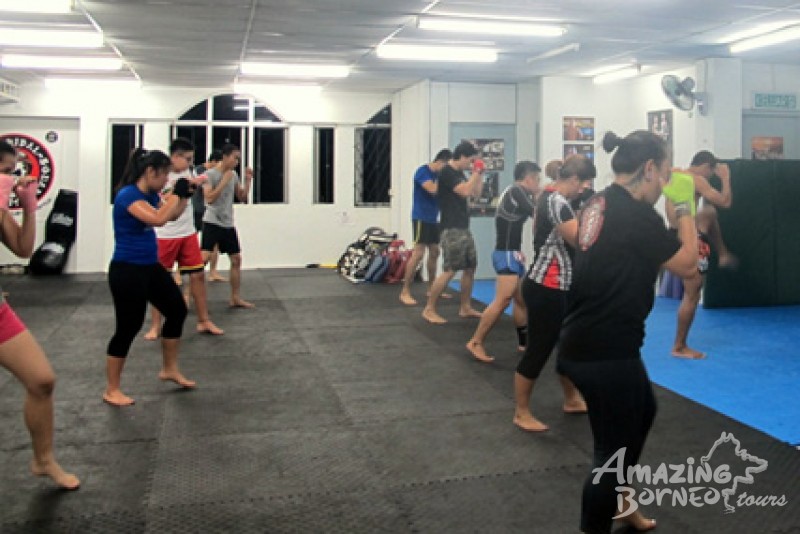 We started the evening MMA training session with some Muay Thai moves led by a guest coach from Thailand,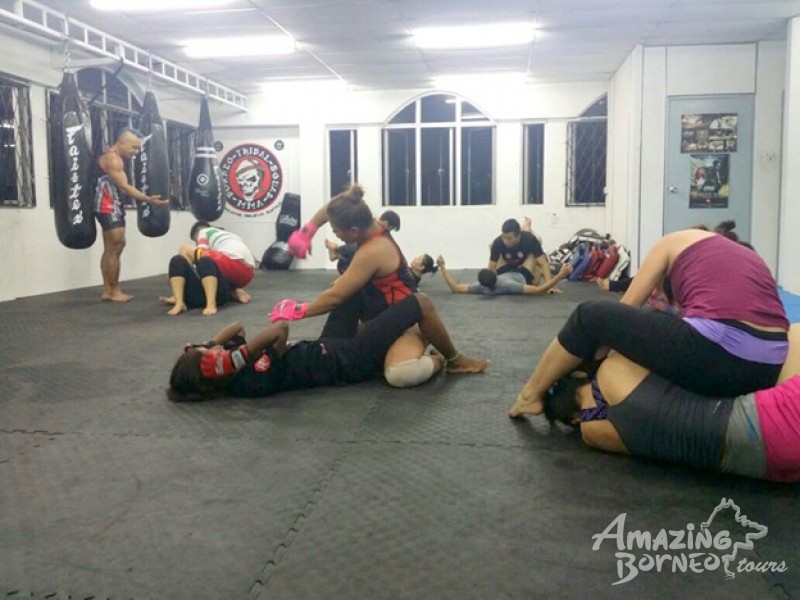 Followed by an intense MMA class led by AJ!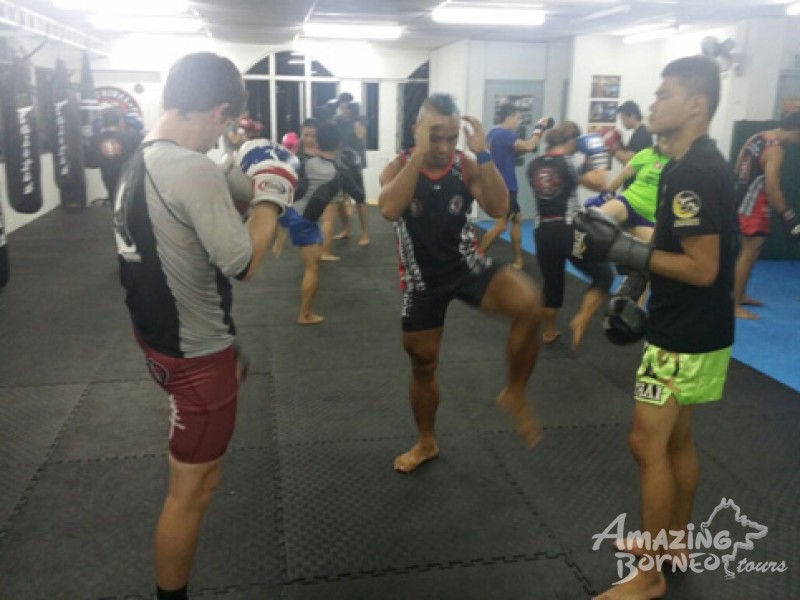 Despite many fighters training together, no one felt left out or unguided.
AJ devoted his full attention to give each of us personal coaching to perfect our moves.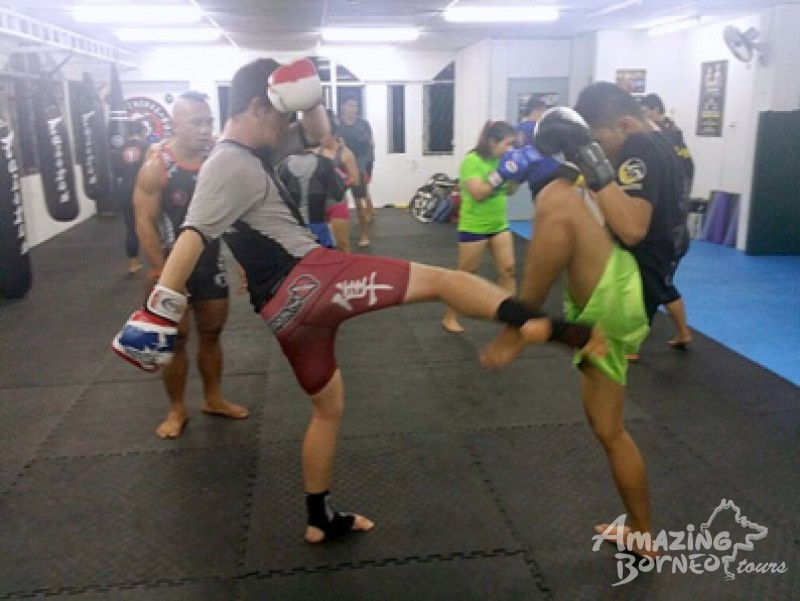 Nathan and Owayne worked those kicks and blocks under Coach AJ's watchful eye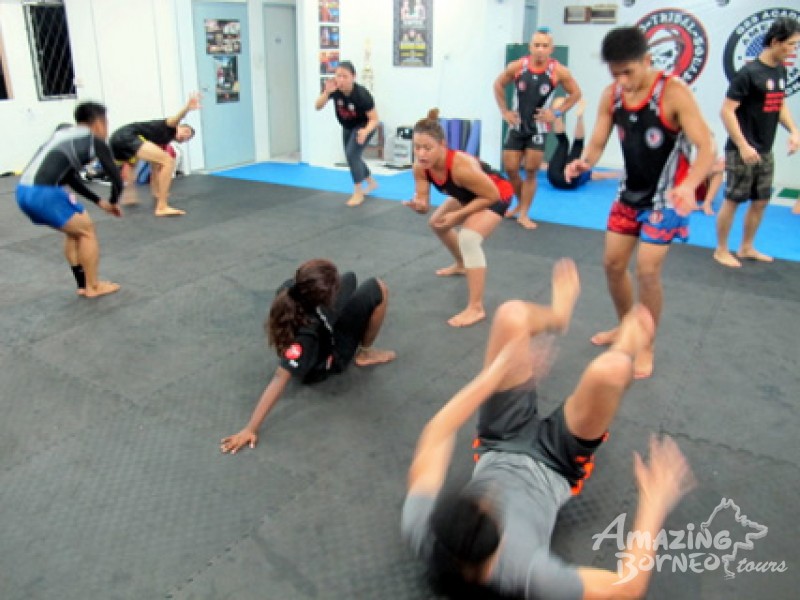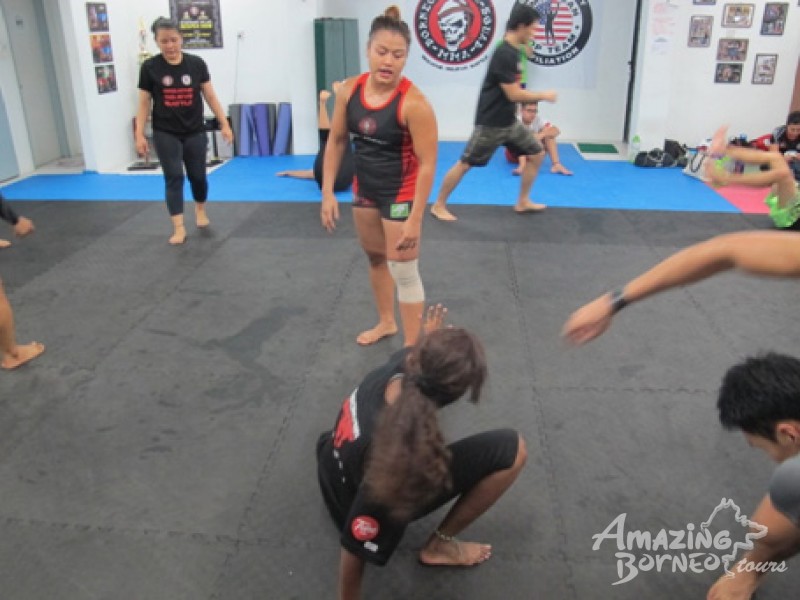 Jacqueline got a one-to-one training while rolling with Ann during class,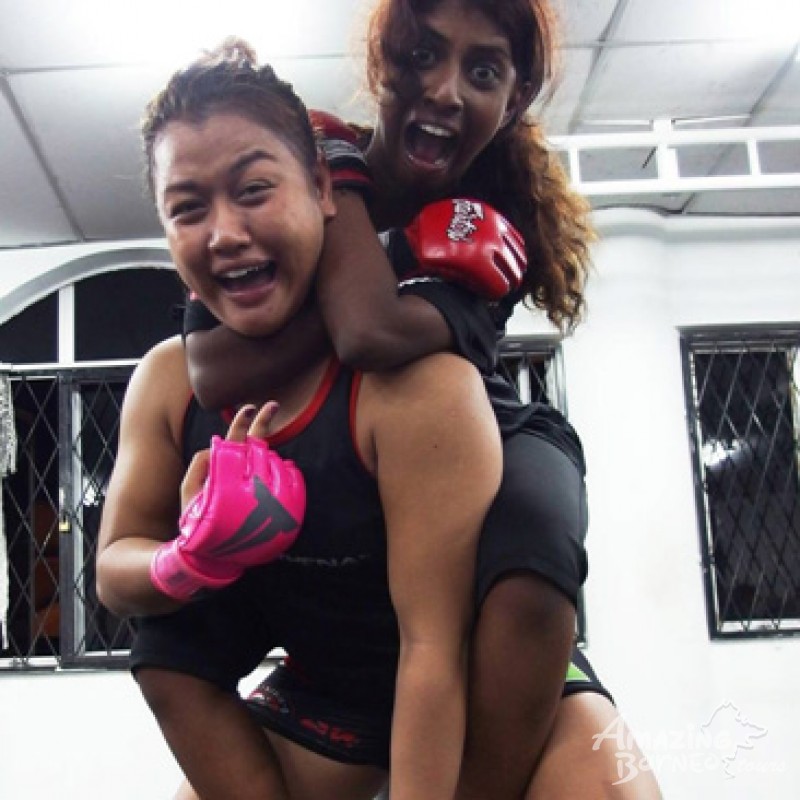 And even manages to get Ann's back in a rear naked choke!
Nailed that move, Jac! ;)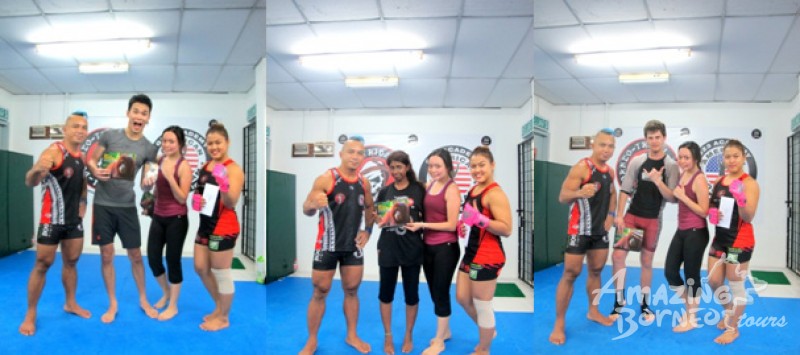 At the end of the evening, our 3 lucky Winners were presented treasures from Sabah Tourism Board and Amazing Borneo to bring home!
Amazing Borneo also presented our Sabah Ambassadors AJ and Ann with Tokens of Appreciation.
------------------------------
On 11 December, our Winners' last morning in Sabah, we had one more Highlight:
A personal MMA Sparring Session with Sabah Ambassador Rayner "King Karabaw" Kinsiong!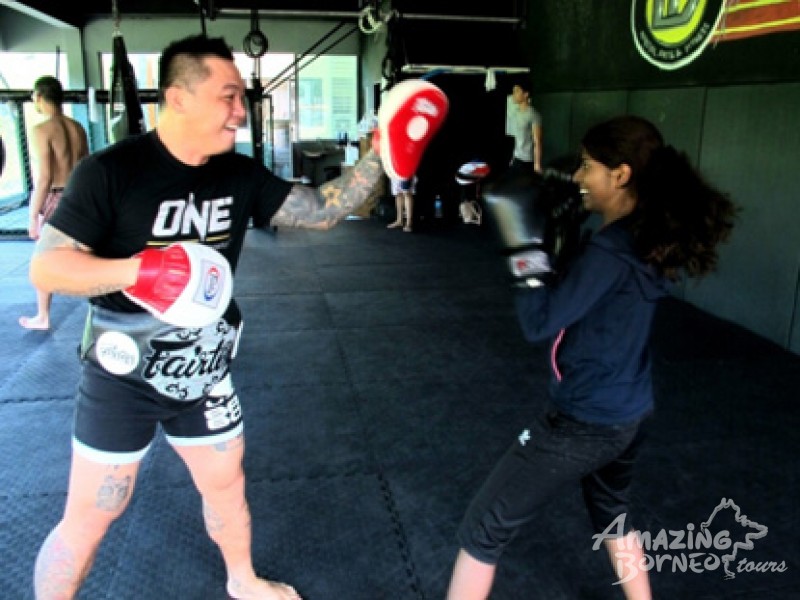 One FC Fighter Rayner Kinsiong, another national athlete born and bred in Sabah, runs MMA gym Team Karabaw and organizes Fight Events around Sabah.
On that morning, he gave our MMA enthusiasts Jac, Nathan, Shi Meng, and Owayne a good work out with strikes and grappling on the mats and in the cage!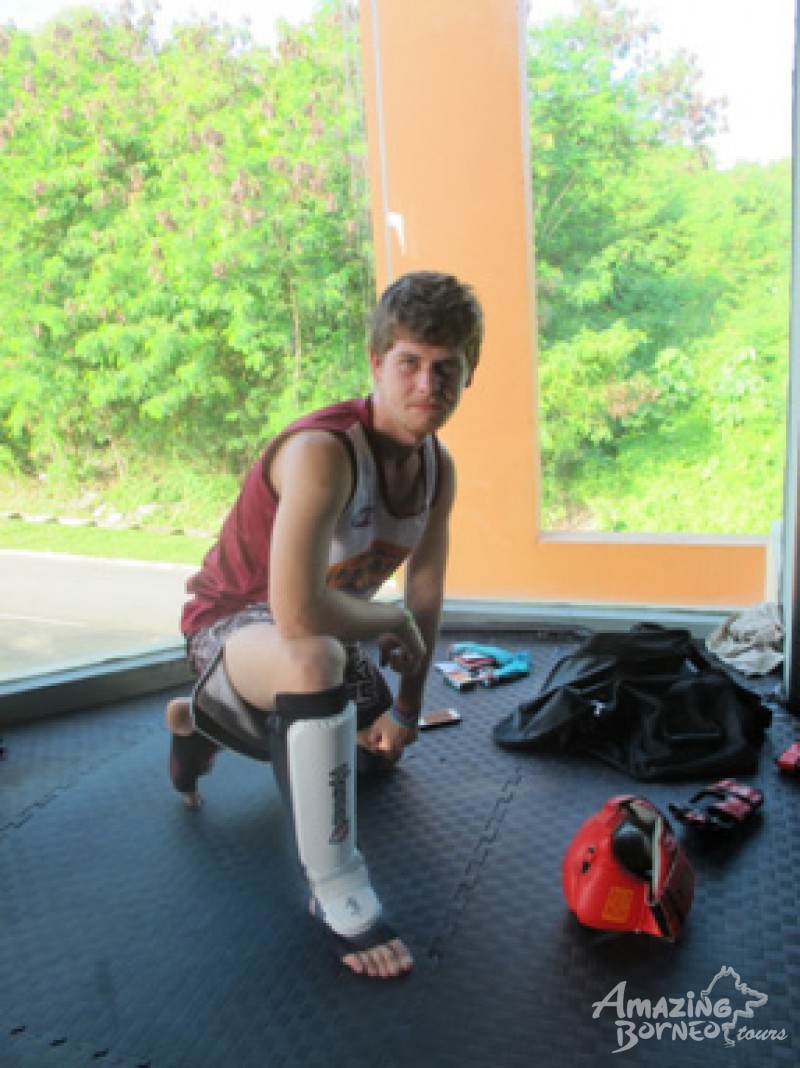 Nathan was all geared up for the challenge!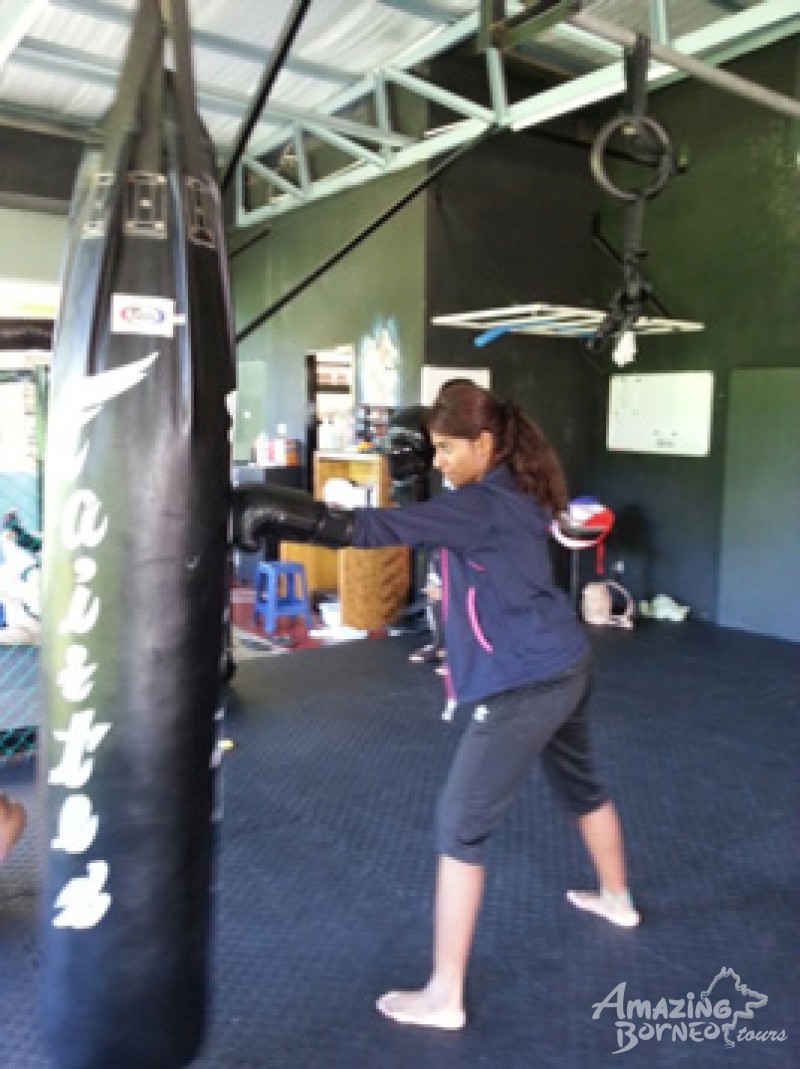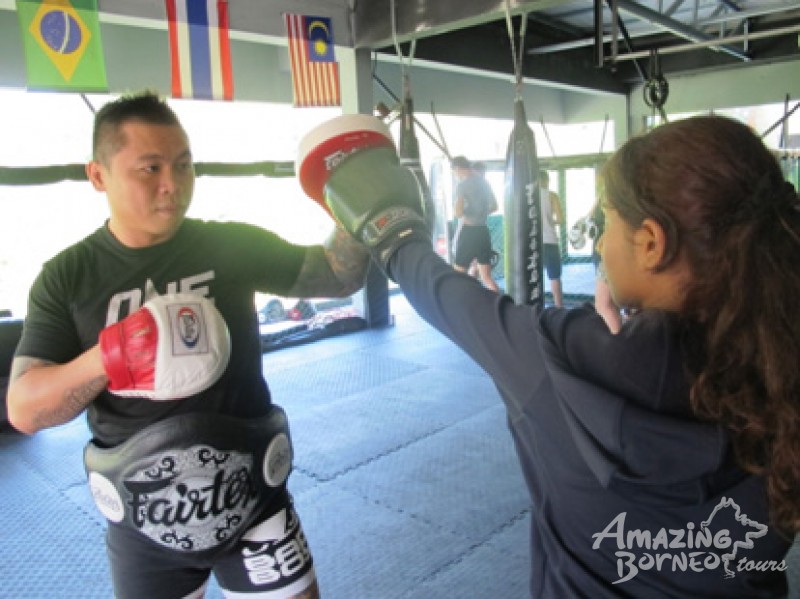 Jacqueline sweating her strikes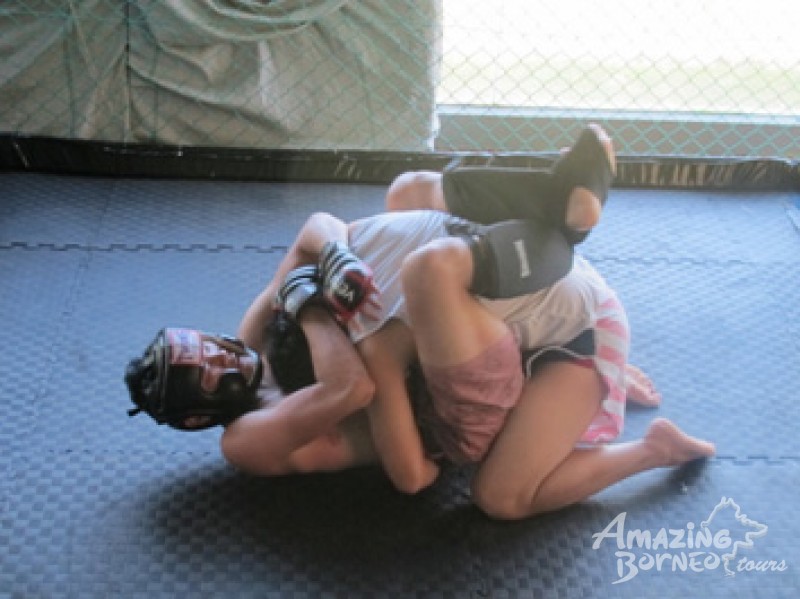 The boys rolling in the cage…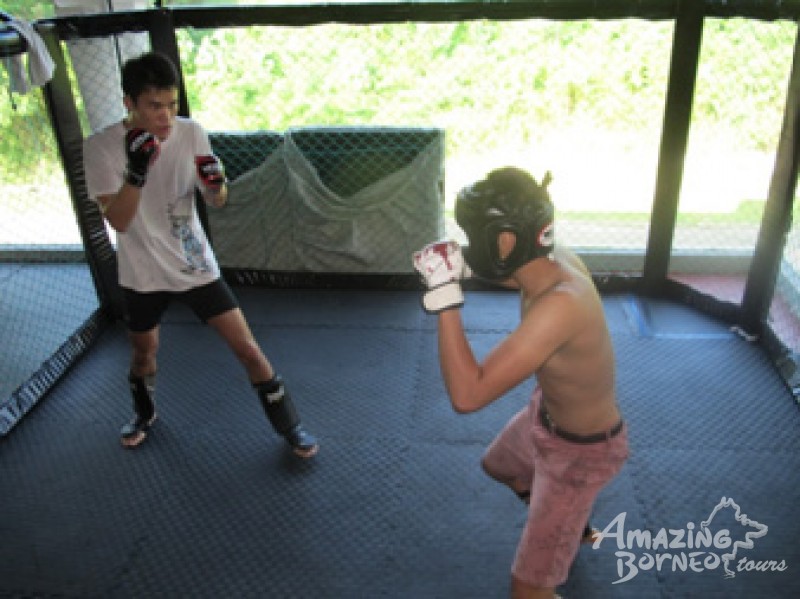 Shi Meng about to make his calculated strike!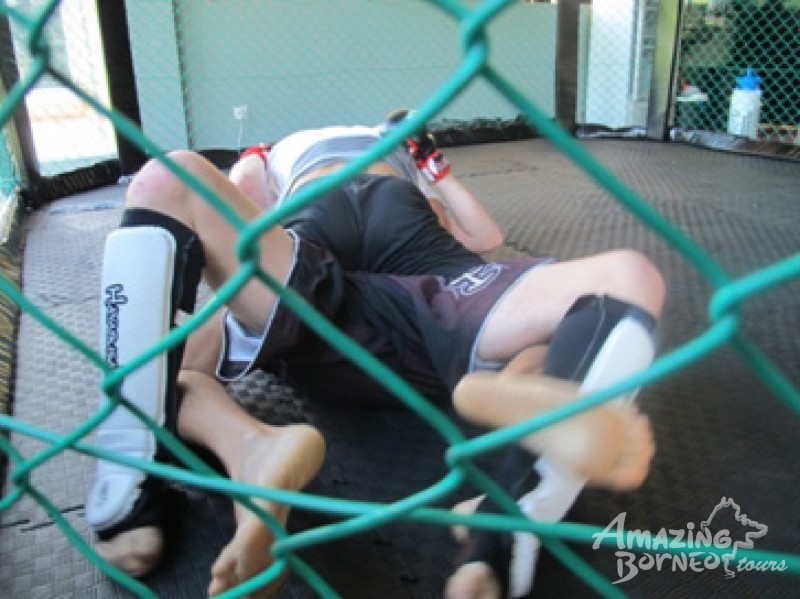 Grappling with Brazilian Jiu Jitsu moves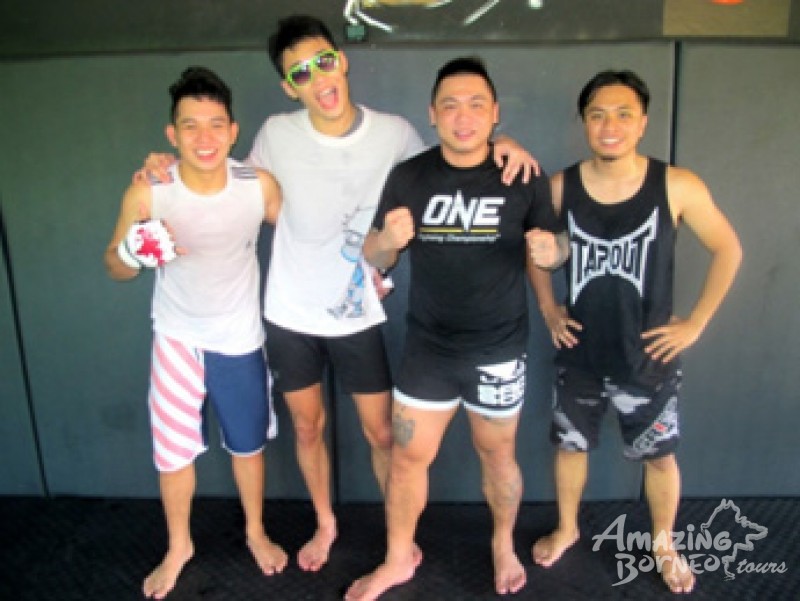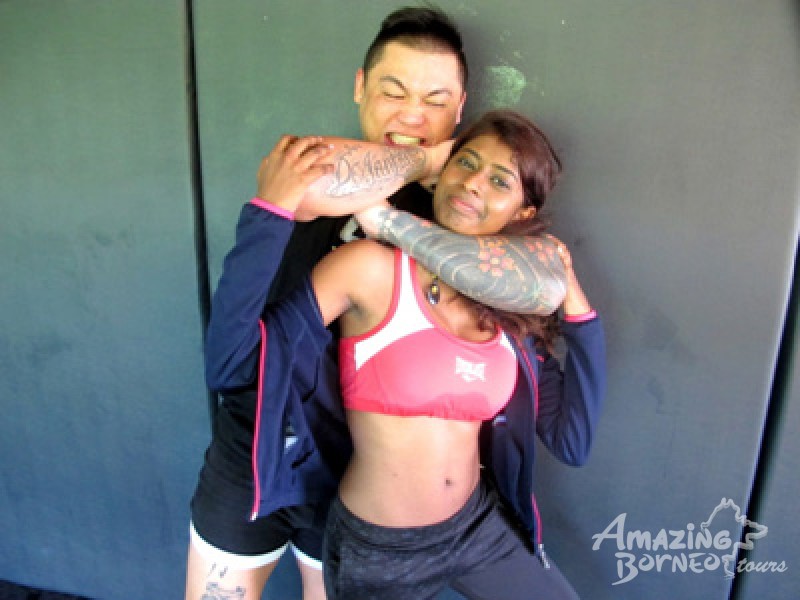 Fun shots with Rayner at the end of our work out session!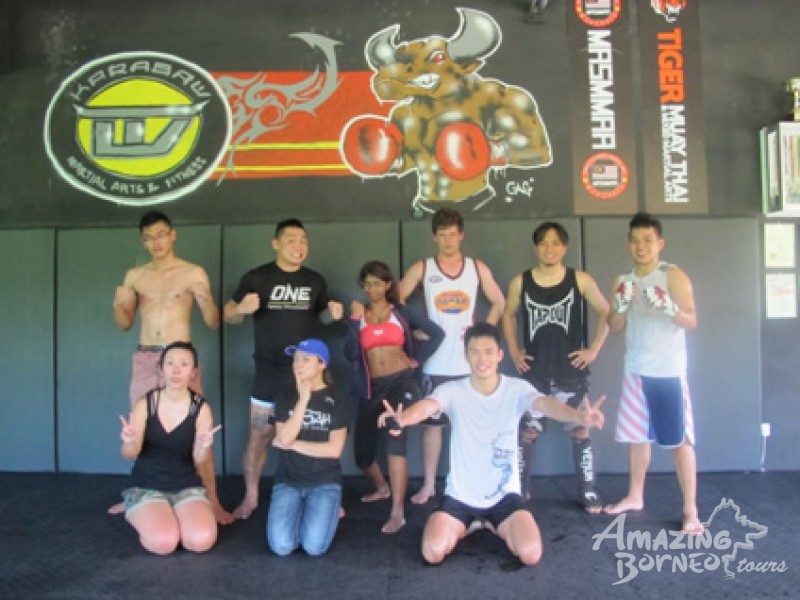 Thank you, Rayner, for the physically challenging but awesome hour at Team Karabaw!
------------------------------
Four days came to an end too quickly!
In conclusion, Amazing Borneo would like to express sincere thanks to the following partners and sponsors who contributed to make this trip a successful one:
Sabah Tourism Board
Promenade Hotel
Borneo Paddlers
Borneo Tribal Squad
Team Karabaw
As our winners headed home sadly, we already looked forward to the next time they would visit Sabah again with us. See you guys again soon! :)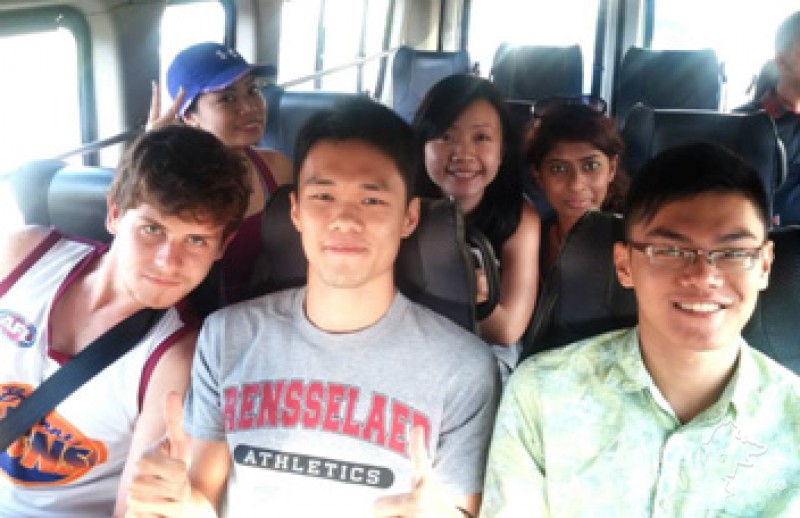 Photo credits: Jacqueline, Shi Meng, Nathan, Ryan, Wan Ting, Emily