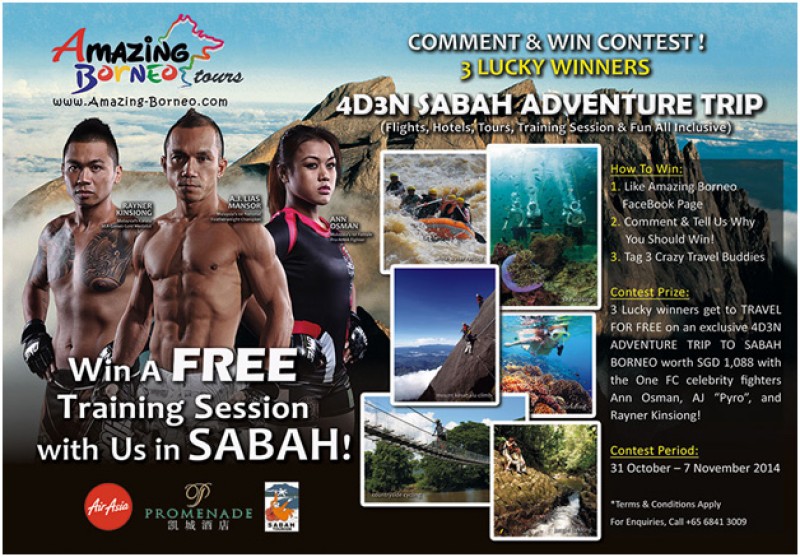 CONGRATULATIONS!!!
Thank you, everyone, once again for your participation in our contest!
All of the comment entries submitted were really great, and it was tough to choose the deserving winners for this exclusive Adventure trip!
However after much careful deliberation, the Tribe has spoken, and here are the 3 CONTEST WINNERS:
EDGAR ANG of Singapore
JACQQUELIINE BENITA PAUL of Malaysia
NATHAN HK HYNES of Australia
You have won a 4 DAYS 3 NIGHTS ADVENTURE TRIP to SABAH, Borneo, worth RM2,600 per person!
This exciting package includes:
Return flight tickets (SIN > BKI) including airport taxes
3 Nights accommodation at a 4-Star City Hotel
Visit to the majestic Mount Kinabalu
White Water Rafting with Ann Osman
01 personal training fitness gym session with AJ "Pyro"
01 personal training fitness gym session with Rayner Kinsiong
Sumptuous Seafood Dinner
Airport transfers and land transfers included
The Travel Dates will be 8-11 December 2014.
Dear Winners, Kindly Email to promo@amazingborneo.com with your contact details by Thursday, 13 November, and we will send you the official notification and more details of the Trip. We look forward to welcoming you to beautiful Sabah! :)
For the rest of you who did not win BUT are very keen for this rare opportunity to meet and train with our Sabah Ambassadors Ann, AJ, and Rayner…… EMAIL US TOO! Because we know how badly you wanna join, we've worked out something really special for you! Email to promo@amazingborneo.com with the words "I WANT IN!" and your contact details before 19 November 2014 to be included. (Hint: If you're a SABAHAN, we've got something really, REALLY special for you!)