Ah, Tamparuli –- home to the famous "Jambatan Tamparuli" (Tamparuli Bridge) that inspired a famous Kadazan Dusun folk song, "The Rumah Terbalik" (The Upside Down House), and the famous weekly tamu (market) every Wednesday. But I'm not here to talk about the bustling market or Tamparuli town, I'm here to tell you about a hill called "Bukit Perahu"!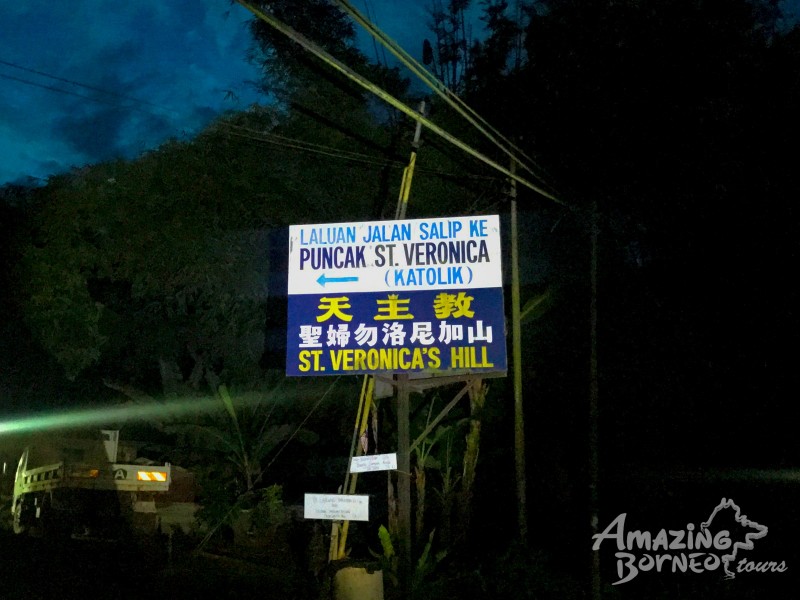 A sign to guide you on your way!
Only an hour's drive away from Kota Kinabalu, you won't have to suffer through a butt-numbing drive to Bukit Perahu. Yay! A hiking junkie like me loves a challenging trek up any hill, but prefer less crowded spots unlike Bukit Padang. I did my research and stumbled upon Bukit Perahu (also known as St. Veronica's Hill), a hiking location tucked away in Tamparuli. From then on, I knew that it was a match made in Heaven!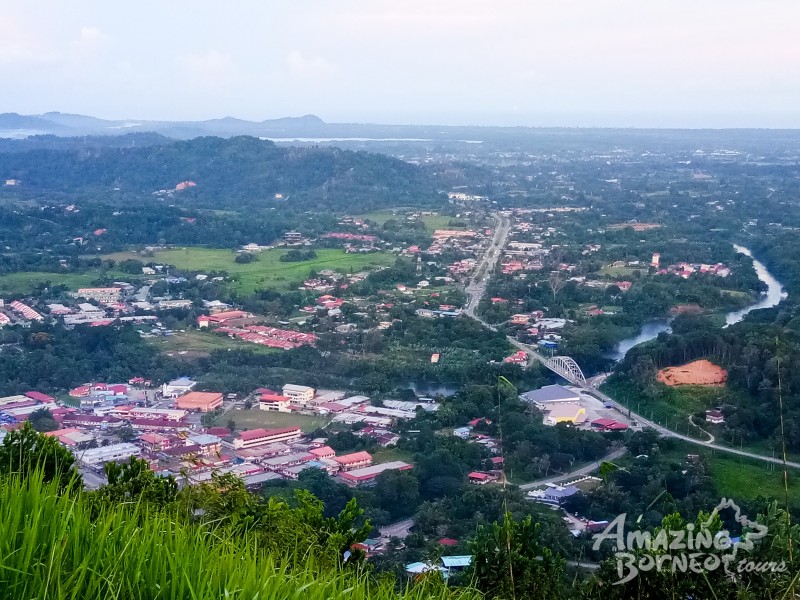 View of Tamparuli town.
But why is it called Bukit Perahu in the first place?
Its name was based on the unique rock formations discovered on the hill which amazingly resembles a stranded vessel, for "perahu" means Boat and "bukit" means Hill in Malay. So, don't freak out if you see the bow of a ship protruding between branches on your walk. It's just one of Mother Nature's beautiful sculptures.
Standing at 300 metres above sea level, hiking to the top can take approximately 17 to 45 minutes from start to summit. The soil may get a little slippery after a spot of rain, but it is well worth some leg training if you ever plan on scaling Mount Kinabalu in the future!
Aside from hiking, local Roman Catholics utilise this trail to the peak in rememberance of the Station of the Cross (or Way of the Cross). Fourteen crosses mark each checkpoint with a picture and description of Jesus Christ carrying the Coss to his cruxifixion.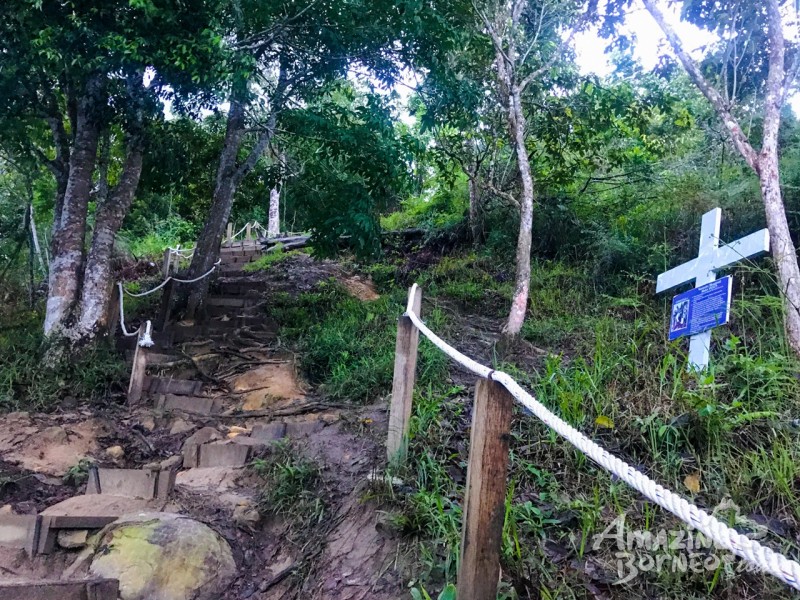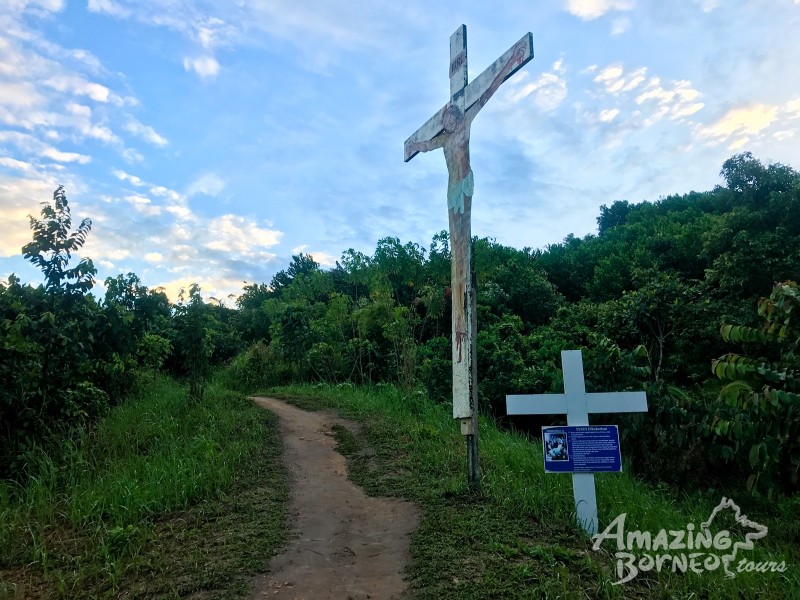 Hiking up the moderately challenging trail got me perspiring and panting like an exhausted puppy (clearly lacking in the stamina department!). But they weren't kidding when they say it's best to hike in the wee hours of the morning. As I reached the top, I was rewarded with a bewithching show of a rising sun for a new day behind the majestic Mount Kinabalu. Simply spectacular!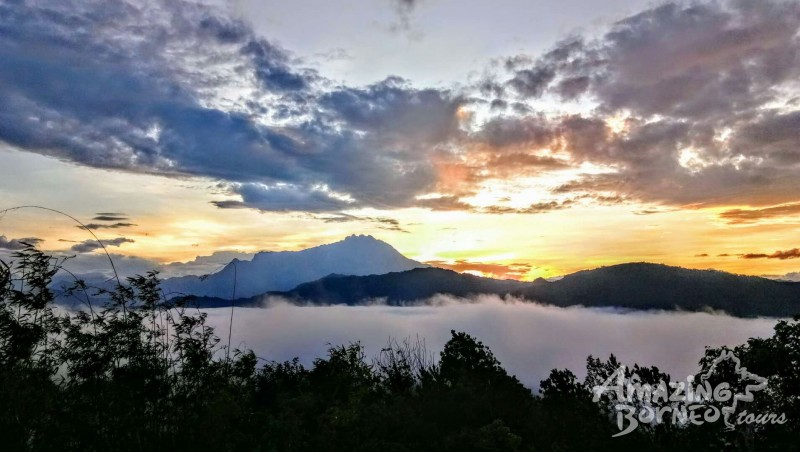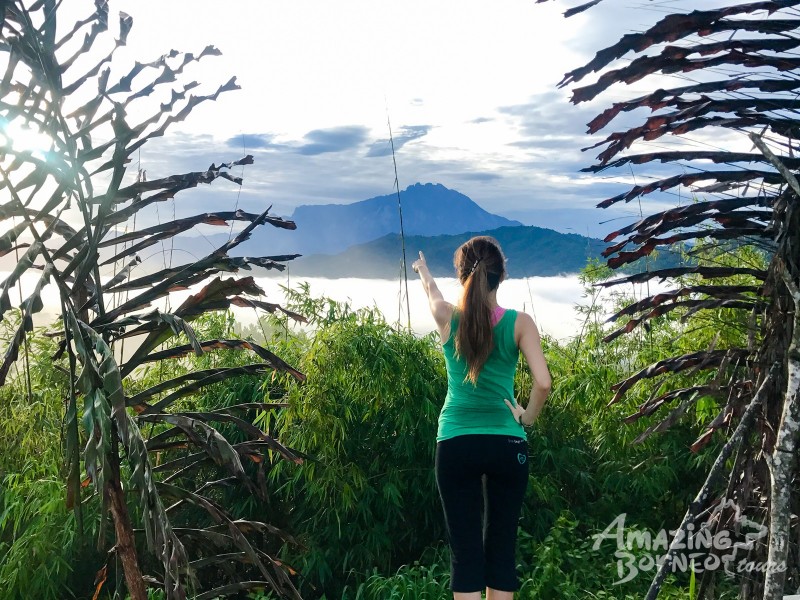 Also known for its panoramic landscape and rolling green hills, I came across a few photographers braving the slightly steep trail, all in haste to catch the prettiest shots of Aki Nabalu standing mighty above a sea of clouds. Camera and drones out, for they flaunt their best to capture the beauty and magic of Sabah's west coast!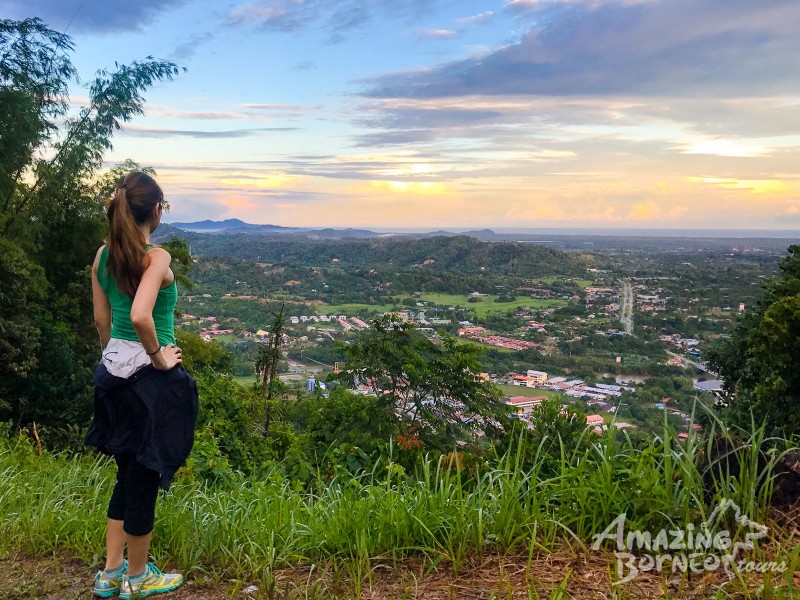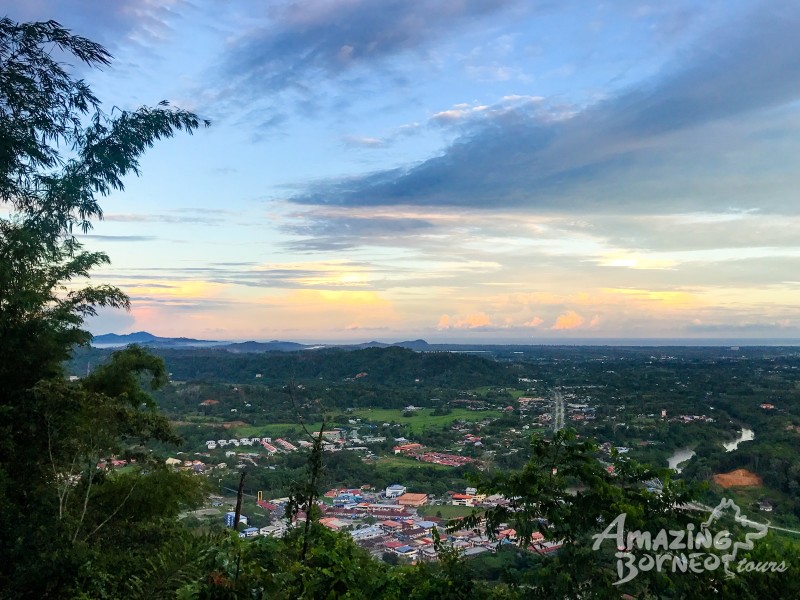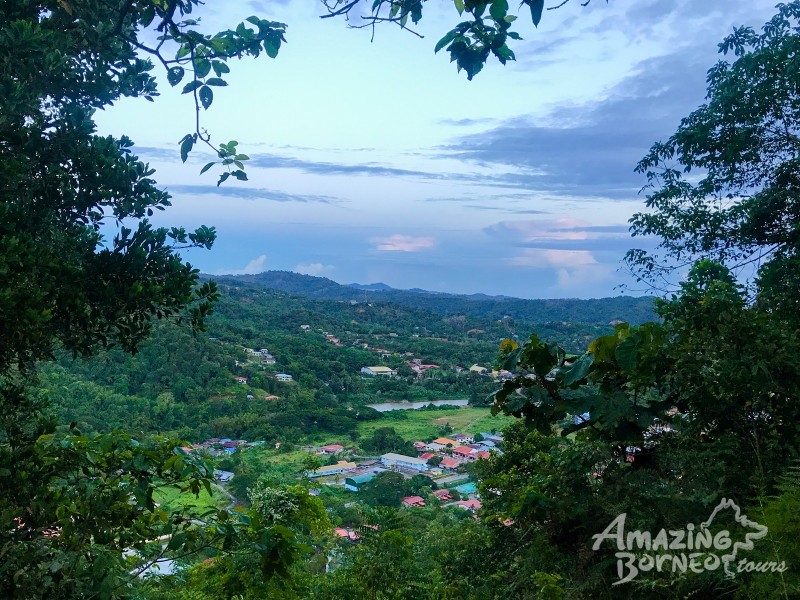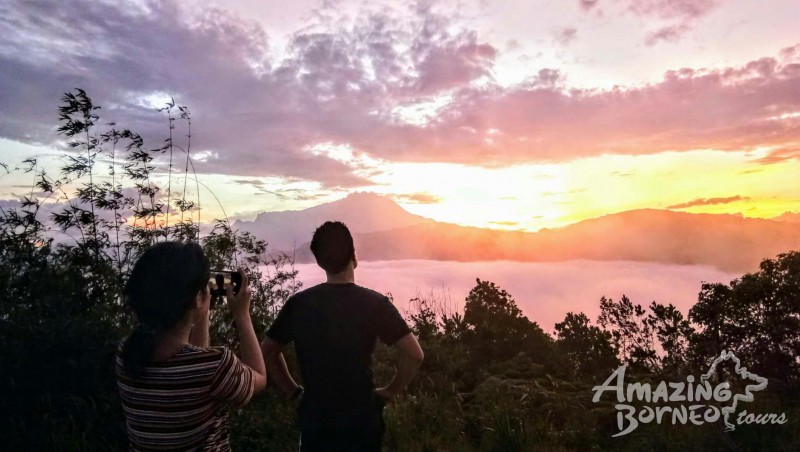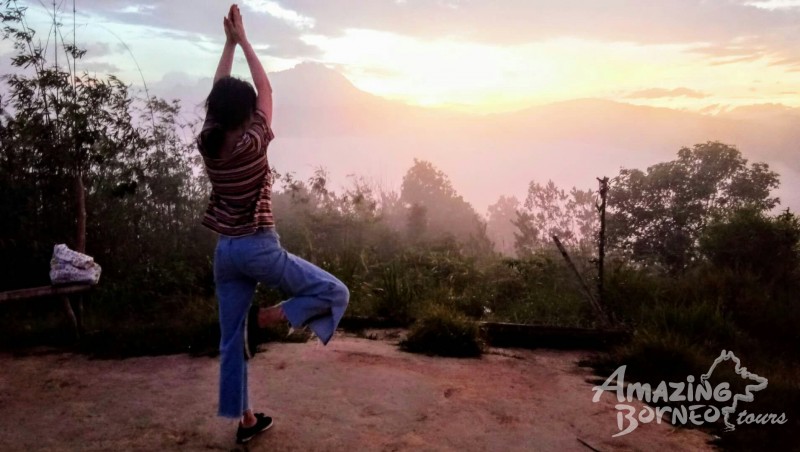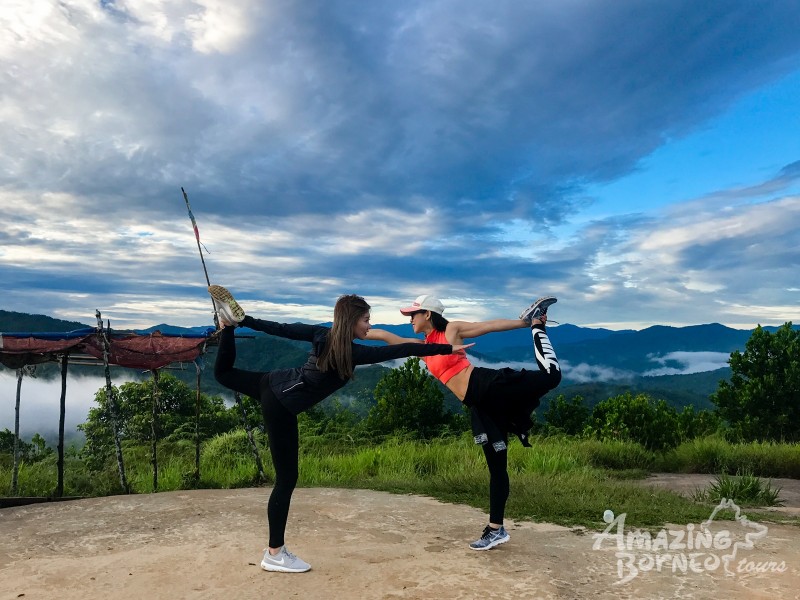 Definitely take the opportunity to strike a few poses and snap as many photos as possible!
Overall, it is worth every drop of sweat, tear, and cry of outrage for each time you thought you've already reached the top. It's also a healthy way to spend quality time with family and friends while enjoying the beauty that surrounds the towns of Tamparuli and Tuaran.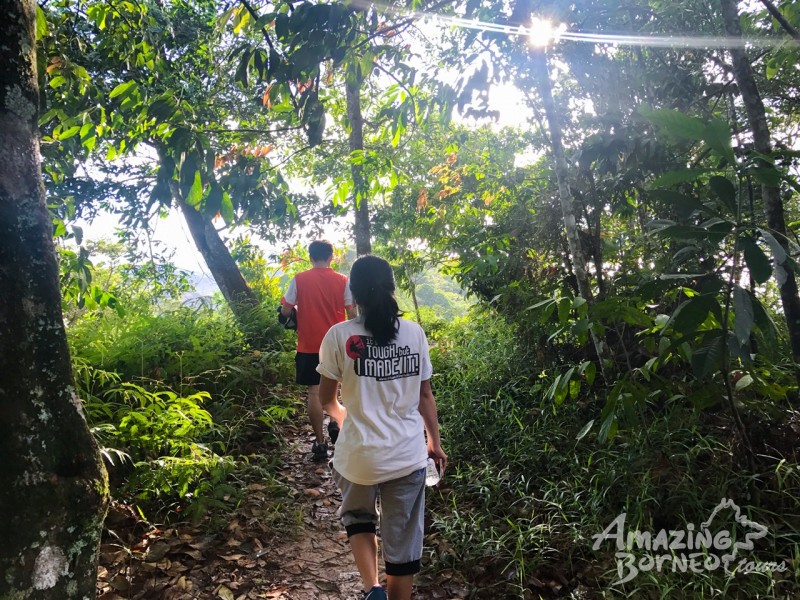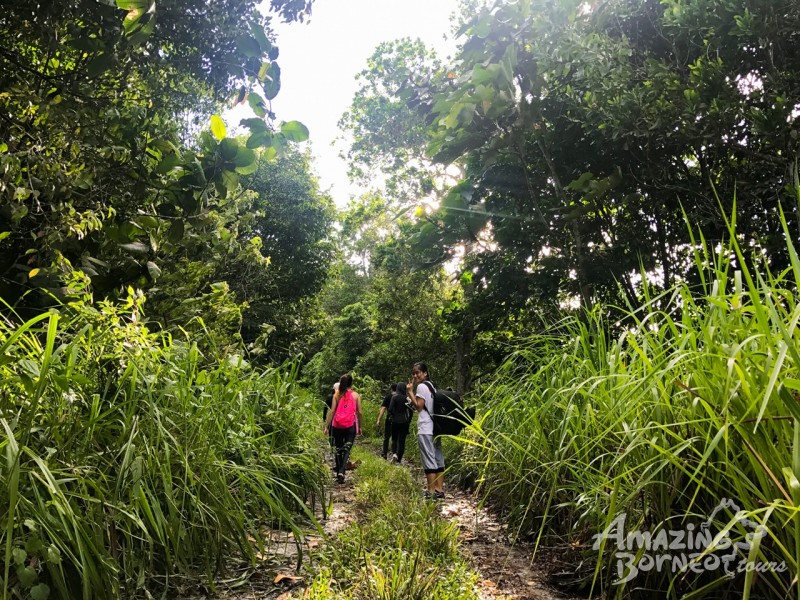 Don't tuck your cameras away just yet. The way back down is just as scenic as it is climbing up!
If you plan on testing out your fitness level too, here are a few tips to heed:
WATER! You wouldn't want to hike all the way up dehydrated with signs spelling "I AM ABOUT TO PASS OUT". Bring along a big water bottle or two and stay hydrated!
Wear suitable clothing. Trekking up steep hills can cause you to perspire like nobody's business. Wearing the right attire like a breathable dry-fit shirt would be a great option for a comfortable experience.
Comfortable shoes. When you're trudging through uneven trails of rocks and slippery soil, best to wear shoes that have some grip built for hiking such terrain or opt for sport shoes you can trust with your life!
A trekking pole. Ah, now this will come in real handy. A trekking pole will help you find stability if your knees start to feel like jelly.
Torchlights would be handy, too! As I mentioned earlier, hiking in the wee hours of the morning is best as you'll be able to catch a stunning hilltop view when the sun rises. So, bring along a torchlight if you're planning to hike at 5AM or late in the evening.
---
I see you're still here!
Check out the link below and book yourself a hiking experience up Bukit Perahu!
~ "Top of the World" Sunrise Leisure Hike (St. Veronica's Hill)
CONTACT US:
Call: (+6) 088-448409
E-mail: info@amazingborneo.com