In light of the current situation surrounding the novel coronavirus 2019 (2019-nCoV), Malaysia's Prime Minister's Office announced on 27th January that the government is suspending all immigration facilities for Chinese nationals from Wuhan and the areas surrounding the Hubei province. The immigration facilities include eNTRY (visa-free facilities), Visa On Arrival, e-visas, and manual visas, and this is put into effect immediately until the situation returns to normal.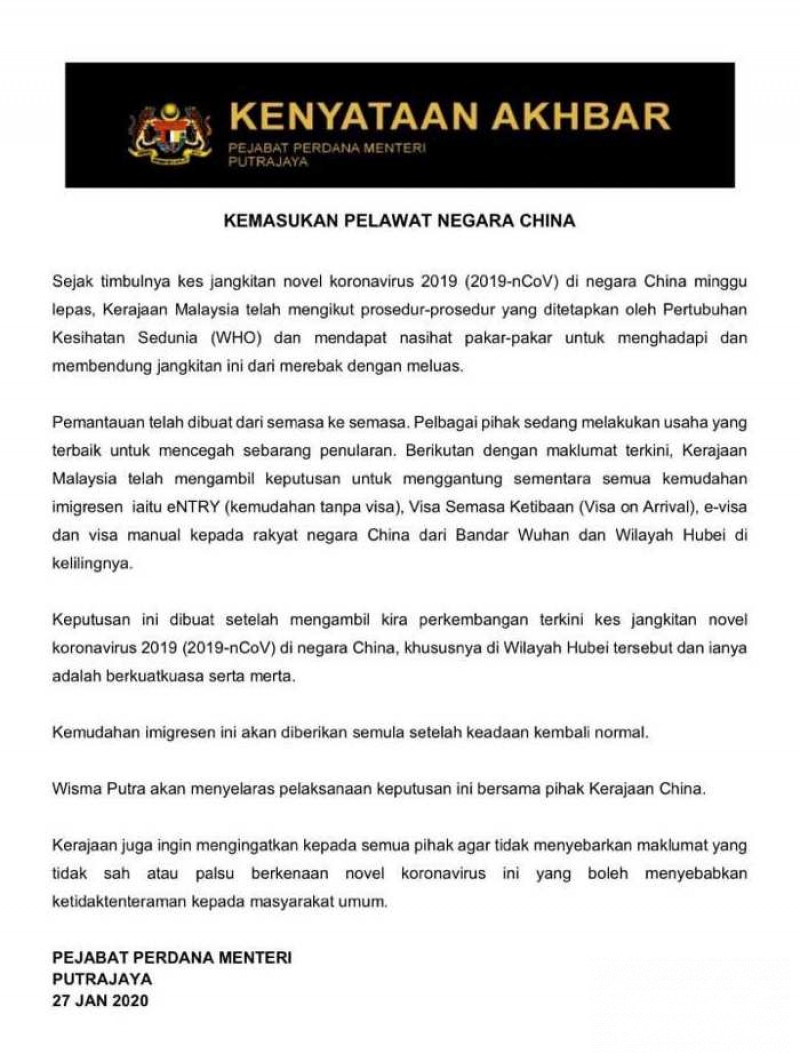 Source: Prime Minister's Office of Malaysia
According to the press release, the decision was made after taking the current development of the 2019-nCoV infection in China into consideration. The government also urged the public not to spread any unverified or fake information about the virus, which can cause further unrest in the country.
Seven confirmed cases in Malaysia so far
As of the time of writing, there have been seven confirmed cases of infections in Malaysia. All seven cases are Chinese nationals and are in stable condition.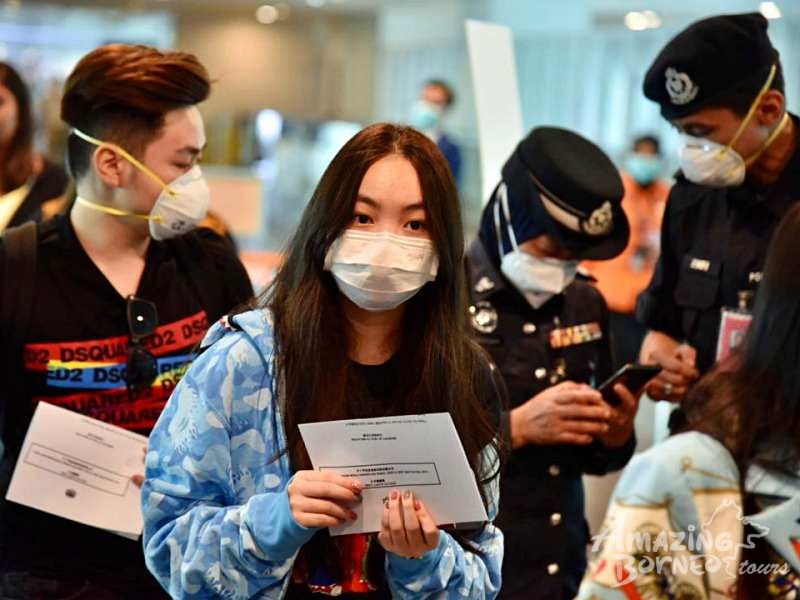 Source: Ministry of Health Malaysia
Currently, there are 6,061 confirmed cases of infection around the world with 132 confirmed deaths caused by the virus, also known as Wuhan virus. Meanwhile, 109 people reportedly have recovered from the infection.
In an interview with the New Straits Times, Universiti Malaya Tropical Infectious Diseases Research and Education Centre director Professor Dr Sazaly Abu Bakar said that most patients affected by 2019-nCoV would recover.
He said, "...the fatality rate of the 2019-CoV infection is relatively low, at slightly more than three per cent, suggesting the possibility that those who died could have other predispositions. Most (of the patients) would fully recover."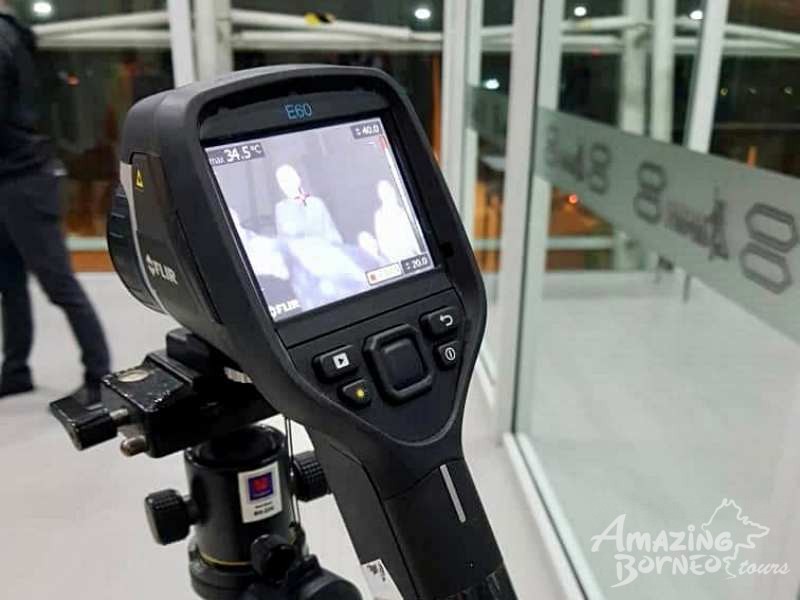 Source: Ministry of Health Malaysia
Malaysia's Ministry of Health has also been taking proactive measures in making sure that the county is safe from the virus, including placing more thermal scanners at entry points into Malaysia and tightening up health screening to detect tourists with a fever.
Amazing Borneo to ensure the safety of the guests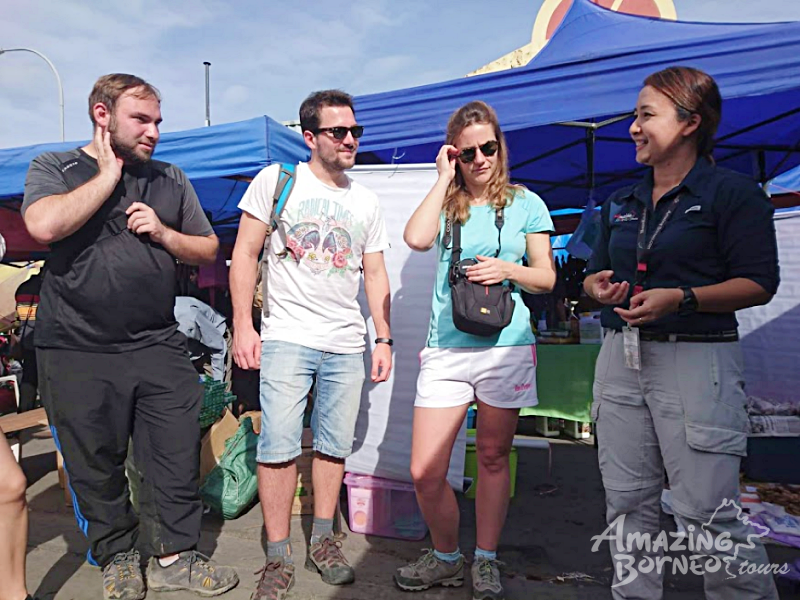 In Sabah, there is still no reported case of the Wuhan coronavirus. However, Amazing Borneo is taking precautionary measures in ensuring the safety of its employees and the guests.
Amazing Borneo is providing face masks and anti-bacterial hand sanitizers at Amazing Borneo's tour desks, offices and vehicles to all guests and employees. This effort aims to minimise the risk of any possible infection and to make sure everyone will feel safe travelling with Amazing Borneo.
How to protect yourself from Wuhan virus infection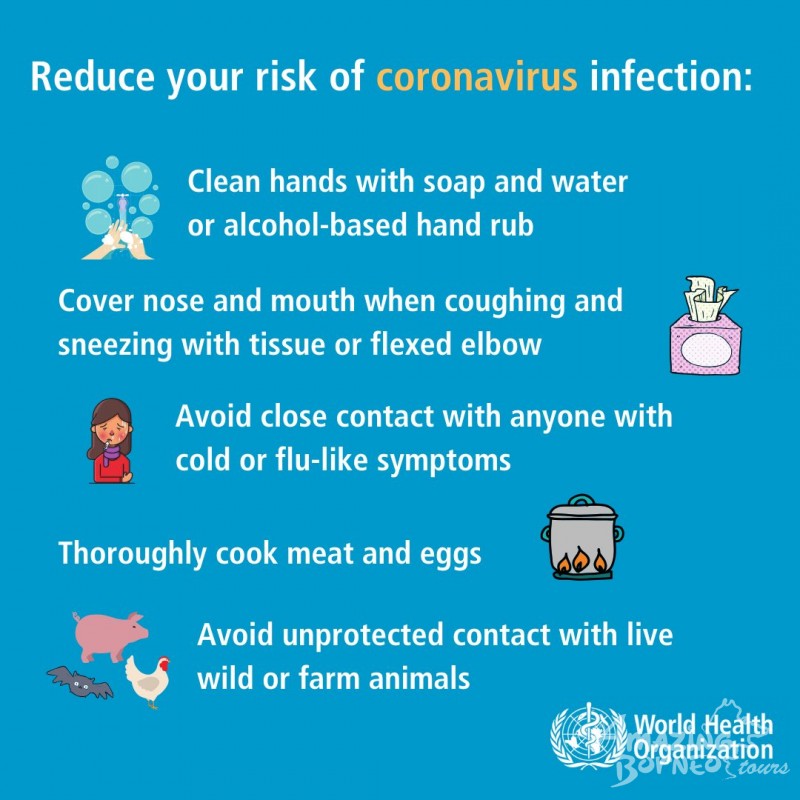 Source: World Health Organization
As a member of the public, we have our part to play in protecting yourself and making sure the virus does not spread in the country. Precautions that we all can take to minimise infection are as follows:
1. Postpone all travel to Hubei province and non-essential travel to Mainland China if you can help it
2. Wash your hands with soap and water or alcohol-based hand sanitizer regularly
3. Cover your nose and mouth when you cough or sneeze
4. Thoroughly cook meat and eggs
5. Avoid contact with anyone with cold or flu-like symptoms
6. Avoid going to overcrowded areas
For those who have recently returned from China or have in contact with people at risk of infection, you should also monitor your health closely for two weeks. If you feel unwell in that time period, please go to the nearest hospital and seek medical attention immediately. Once there, inform your doctor of your travel history and other health issues, such as fever, coughing or shortness of breath.
+++
Cover Photo: Ministry of Health Malaysia
CLICK HERE to view Updates on Covid-19
You may check your risk of exposure at www.checkcoronavirus.com for a peace of mind when travelling.