This week we started our familiarization-trip. Tee Chung was planning our trip and asked us which tour that Amazing Borneo Tours offers we like to go on the most. We are both adventures and like challenges. Hanna have never done a rafting before but Josefine had once when she was traveling in Australia a few years ago. So we told Tee that we were interested in trying rafting.
So our first day on the fam-trip was rafting! We started around 8:30 from Kota Kinabalu and the drive to Kiulu River took us 1 hour and 45 minutes. To join us there was a Singapore family that also liked adventures and wanted to try the easiest rafting. The parents told us that they had tried rafting before in Australia and really liked it. But that was before they had their kids. We small talked the whole journey and they were interested in us and to know more about the Malaysian lifestyle. Our guide Luq is very good with the guest and are more than happy to tell them how everything works in Sabah.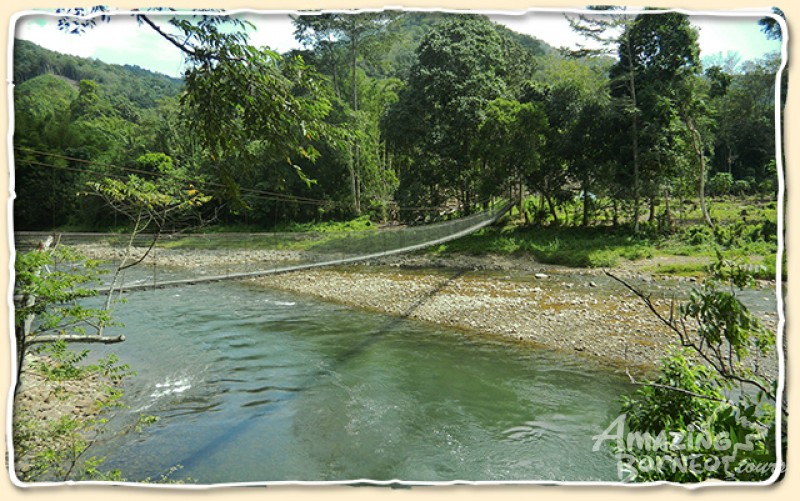 When we arrived to the river we got ourselves the gear for today – a lifejacket and a helmet. When we waited for the staff to prepare the boats we took a group photo together. Then we head down to the river edge for a safety briefing. They instruct us in how to hold the paddle, what to do if you fell in the water and what would happen if the boat flip and you got caught under. Now it was time to get in the boats and start going. When you do rafting you have to listen to your guide carefully, he is the one who knows how the river goes and know when to paddle or not. Our guide Luq told us that they called this rafting for the honeymoon rafting. The river and the currents are not so strong so most of the time you can relax and enjoy the beautiful nature and water. In some parts you can also try to do body rafting it's when you just float on your back and go along the river.
We never had a single moment when it was boring, under the easier and calmer parts of the river we splashed water on each other. If the other boats came near we soaked them in water with our paddles, it's like an unwritten rule.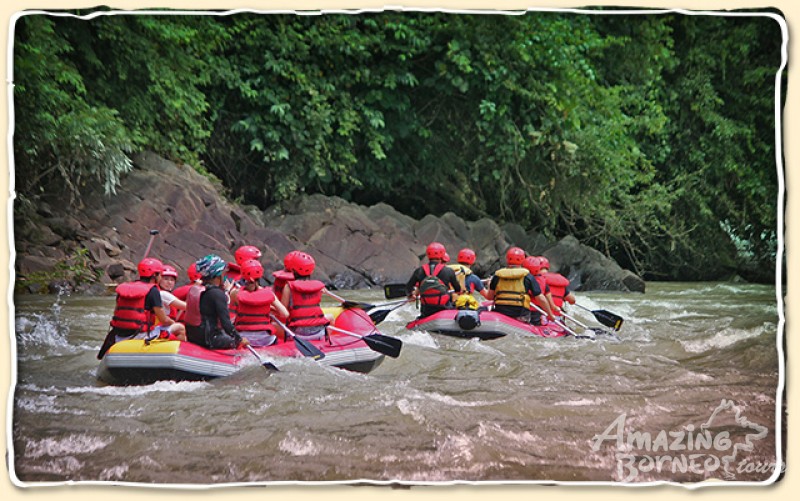 When we reached half time we stopped for a break and if you want you can try fish spa, you dip your feet in an aquarium of water and the fish eats up all the dead parts of your skin. If you are not in to it you can just relax and take a swim in the water.
We all managed to stay on the boat the whole time and we do understand know why they call it a honeymoon rafting. The currents are not that strong and hard, it's more like paddling in the ocean. If you haven't done rafting before and unsure if you like it, this is a great river to start on. Or if you have your kids with you or are not that adventures, the have some currents that makes your stomach tickle. The water in the river is clear and it's not deep, most of the time is just up to your knee.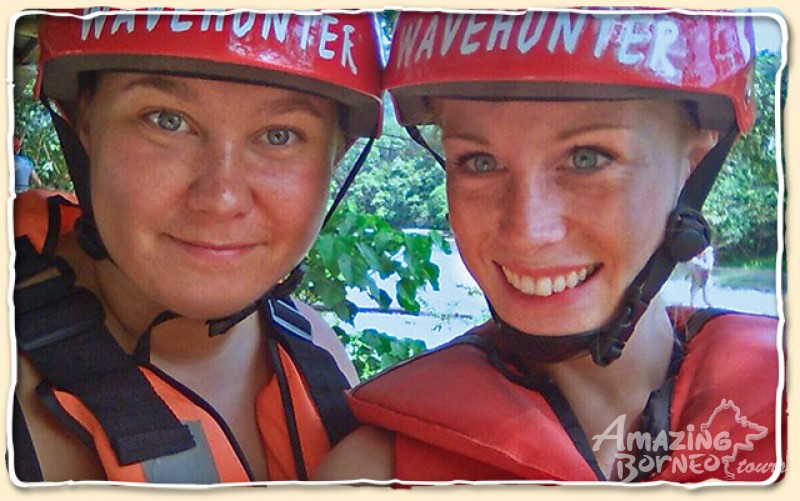 When you reach the finish line you will be served a lunch buffet and there is toilets and opportunity to get change to dry clothes. You will be in Kota Kinabalu again in the afternoon.