We started in the early morning from KK and went with bus towards Kinabalu Park. The winding roads took us to our first stop on the way, Nabalu, a small village with a local market. Nabalu is a great place to take photos with the magnificent Mount Kinabalu in the background, but unfortunately it was cloudy when we were there. But we still got an amazing view over the valleys and a bit of the mountain, its special feeling to stand on the edge of the platform and look out over the flourishing landscape. As we mention before Nabalu has a small local market with handicrafts, fruits and souvenirs. Hanna is a big fan of fruit and bought fresh pineapple from one of the stalls. The fruit and vegetables grow in the local area and therefor the taste is as fresh as it could be.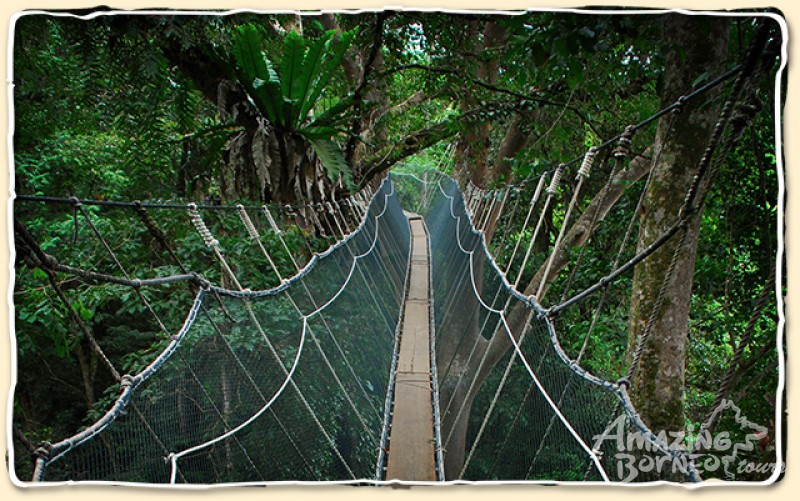 We continued our journey for another hour before we reached Kinabalu Park. Kinabalu Park is the meeting place for the ones who are up for the challenge to climb the mountain. But if you not that adventures you can also visit the Botanical Garden and see lots of orchids, actually the park has over 1000 kind of Orchids. Or if you would like to do an easier trekking there is a lot of different nature trails.
We had a good lunch buffet at Liwagu restaurant with the rainforest just outside the window and the spectacular mountain in the background. The lunch break last for one hour and then it was time to drive to the Hot Poring Springs. At the Hot Poring Springs we began with Treetop Canopy Walk, where we were able to walk on suspension bridges and see the rainforest from a new perspective. For us this was the highlight of the day, neither of us has walked on suspension bridges before. It's a strange feeling when the bridge swings with the beat of your steps. The highest bridge is 41 meters over the ground, it's a thrilling feeling but that is the charm with the Treetop Canopy Walk.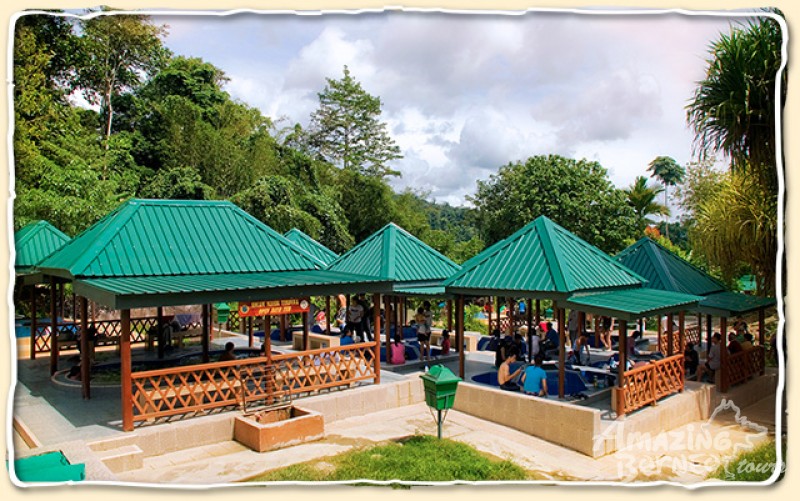 When we got back on the ground again we had the opportunity to dip our feet in the warm water from the Hot Springs. You can also take a bath in one of the Jacuzzis if you feel like. The water is heated by the mountain that is an old volcano. We are more used to a colder weather so we thought it was a bit too warm to take a dip in the water, still sweating from the tree walk. The tour guide recommends that you take a bath after you have done the climb of the mountain because it is good for you souring muscles.
When everyone was finish with bathing in the water it was time to go back to Kota Kinabalu city and two tired girls step on the bus that would take us back. Thanks Amazing Borneo tours for this day!