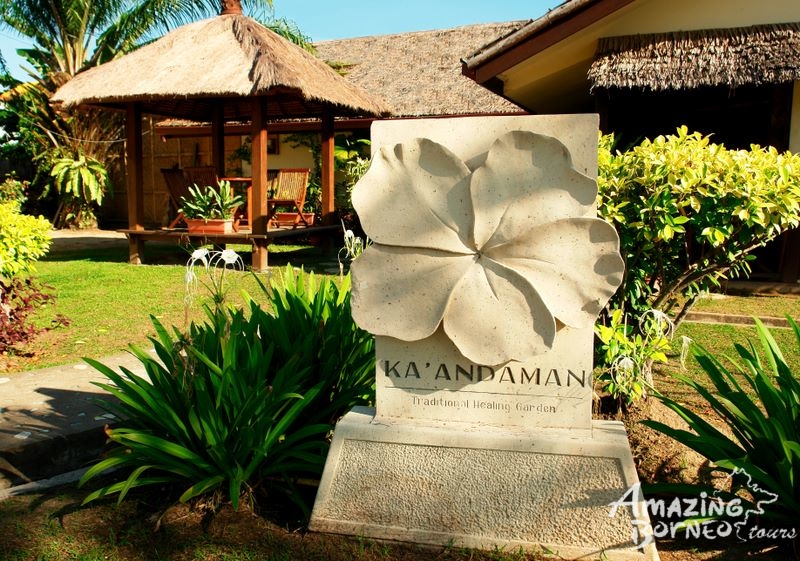 Life as a woman in the 21st century is hard work. With goals to achieve, people to meet, places to see and fun to be had. It's a wonder we still have time to breathe. Luckily, the 21st century also provides women with plenty of options and ways to decompress and pamper themselves. Enter Ka'andaman Spa -- an award-winning local Sabahan spa that offers an authentic Bornean wellness experience.
In KadazanDusun, the word Ka'andaman means 'memories', and so, the spa seeks to bring you to a place of deep relaxation and inner-wellness that will be forever etched in your memories.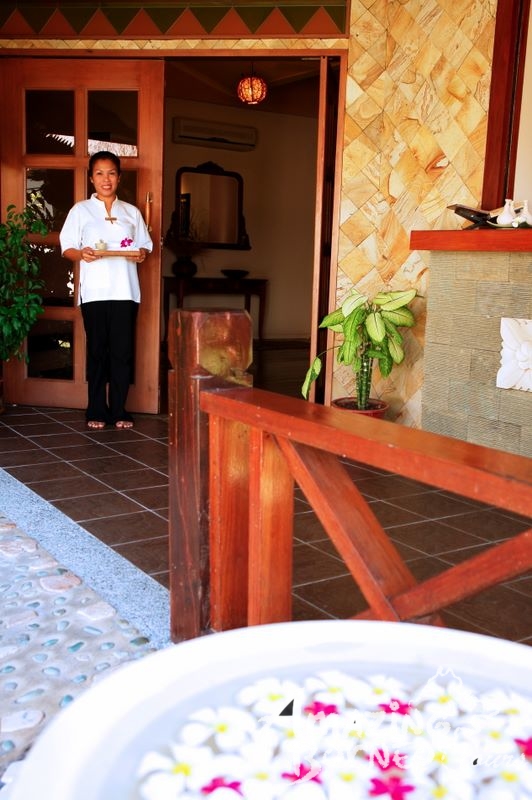 Your friendly therapist welcomes you with a glass of warm and soothing ginger tea

Located in Kampung Bahang, Penampang (within the Hongkod Koisaan or KDCA centre), Ka'andaman Spa is situated merely 10 to 15 minutes' drive-away from the city centre. It is surrounded by a garden and neighbouring village houses, making it a serene and rustic spa. To secure your desired pampering time, you are advised to make your reservations at least a day in advance and arrive 15 minutes prior to the appointment for briefing and preparation.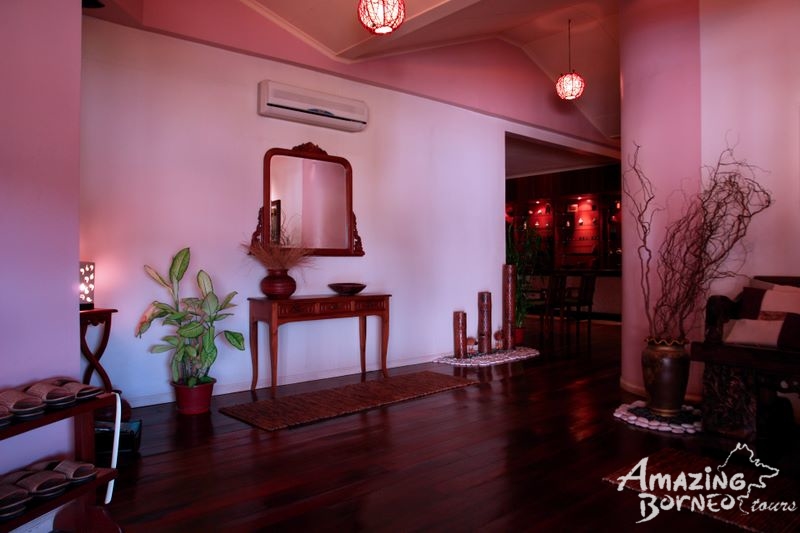 Before starting with your wellness treatment, you will be given a locker key and will be requested to change into a batik kimono and a disposable underwear. You are also advised to keep your personal belongings, such as mobile phone and wallet, inside the locker to ensure their safety. Before you begin, it's also recommended that you use the toilet beforehand as spa treatments can take up to an hour to two-and-a-half hours to complete.
Each spa package / treatment begins with a complimentary herbal foot bath, in which you will have your feet soaked in a wooden pail containing warm water and herbal leaves. After the complimentary herbal foot bath, your therapist with gently dry your feet before the treatment of your choice.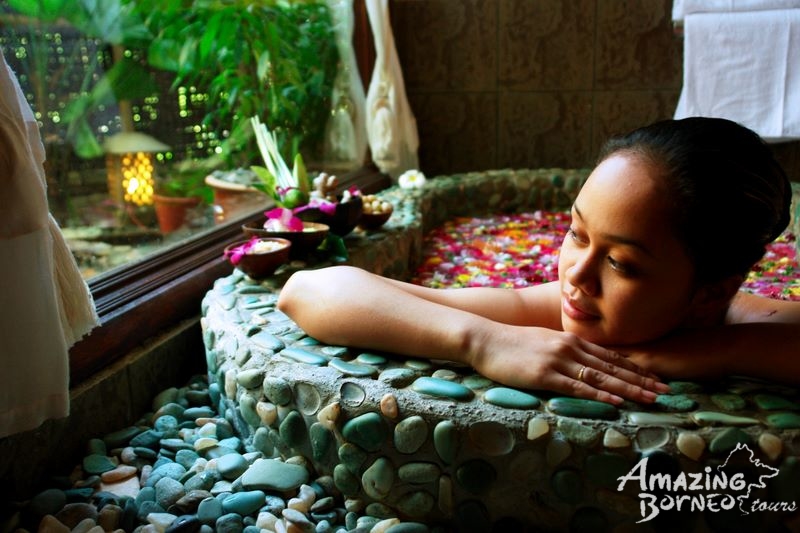 One of the bestselling packages in Ka'andaman Spa is the herbal bath, which is basically a warm relaxing bath in a tub that is infused with herbal leaves. The herbal bath takes 30 minutes and is accompanied by a glass of delicious ginger tea and fruit platter. After the bath, you will notice that your skin is softer and dead skin rubs off easily.
Another alternative to the herbal bath is the milk bath. Well-known as the chosen beauty regimen of Queen Cleopatra herself, the milk bath uses lactic acid -- an alpha hydroxy acid -- to dissolve the proteins which hold together dead skin cells, leaving your skin noticeably supple, soft and fairer after a bath.

After a relaxing bath, you can opt to have an hour-long body massage to further allow your body and mind to be fully rejuvenated. Choose between the aromatherapy body massage (using aromatherapy oils) or shiatsu massage that relieves tension using finger pressure on your pressure points. A full body massage will relieve aching muscles and loosen stiff joints, leaving you recharged and energized to seize the day!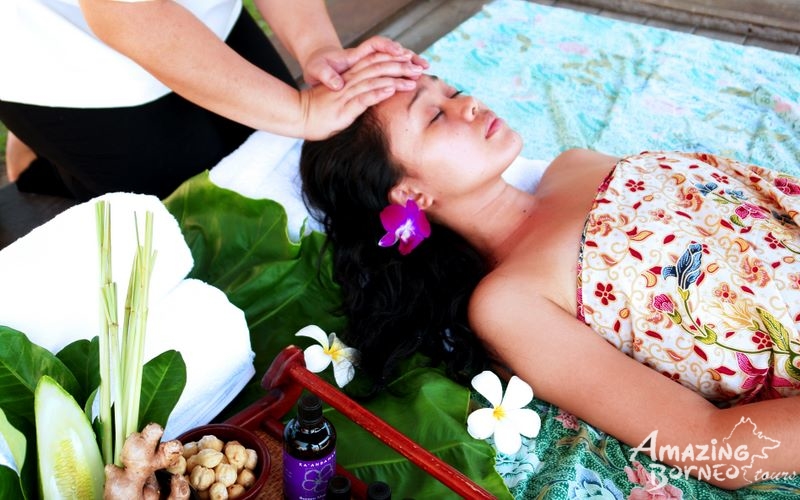 Last but not least, a must-try package for women on the go is the 30-minute Borneo Facial -- a traditional facial treatment that uses only the freshest natural ingredients, such as coconut, ginger and lime that won't irritate even the most sensitive of skin types. A visit to Ka'andaman Spa will rejuvenate your tired muscles, relieve stress and revive your mind!

This Valentine's Day, don't forget to book a pampering treatment for you and yours. From the 13th to the 15th of February, enjoy a special Valentine Package worth RM300 that will give you and your special one all the tender loving care you need. This year, say 'I love you' with Ka'andaman Spa!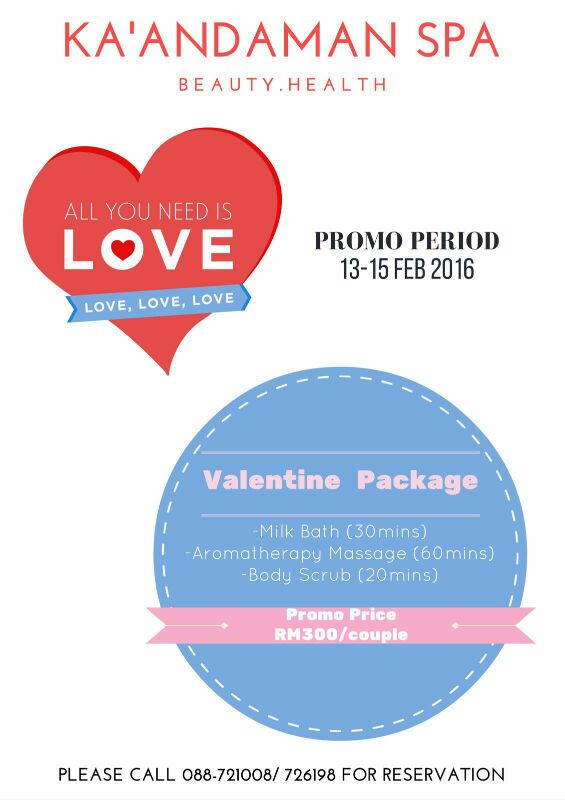 For info and reservation, contact Ka'andaman Spa at 088-721008 / 726198 or visit their website at www.kaandamanspa.com.my.