For all first-time visitors to Sabah, the number one must-go-to tour to get them acquainted to the Land Below the Wind would definitely be the the 2D1N Kinabalu Park & Poring Hot Spring Tour. Not only will you be presented with Sabah's best offerings--its immaculate natural surrounding--but you will also be educated with some of the most valuable lessons in geography and plant biology.
Day 1
The 2-day 1-night Kinabalu Park & Poring Hot Spring tour started off with a pickup at 8.30am. Depending on where you are staying, our trusty captain and tour guide will be at your hotel early to arrange your pickup.
After the hotel pickup, the tour began with a journey to Tamparuli town via the KK-Tuaran road. Along the way, myself and five other guests passed through some of the main attractions in KK city such as the KK City Mosque, also known as the Floating Mosque and the Poh Toh Tze Temple. Our tourist guide of the day, David filled us in with some backgrounds of the places of interests and told us that if we're interested to visit the places, they are included in the KK City Day Tour package.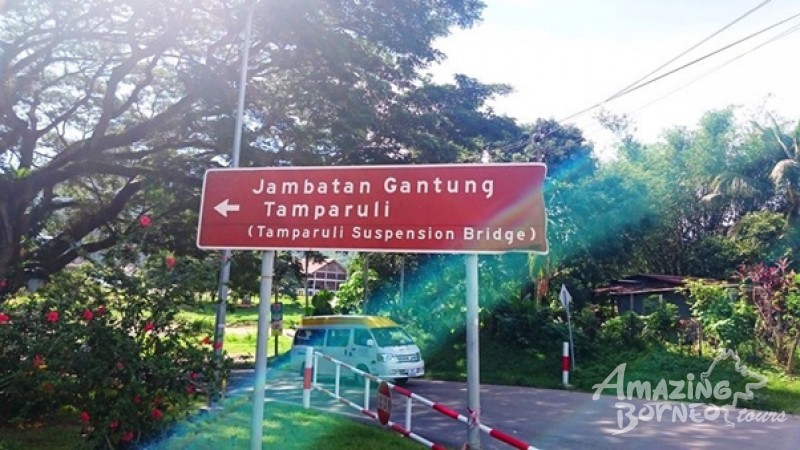 The journey to Tamparuli town took about one hour. When we arrived, our captain, James dropped us off at the hanging bridge to experience walking across it. For me as a local, the experience wasn't as novel as hanging bridges are quite a common entity throughout Sabah. For our guests from Hong Kong and Singapore, however, the experience was thrilling due to the shaky nature of the bridge. Nonetheless, our guide made sure that we all made it to the other end safely.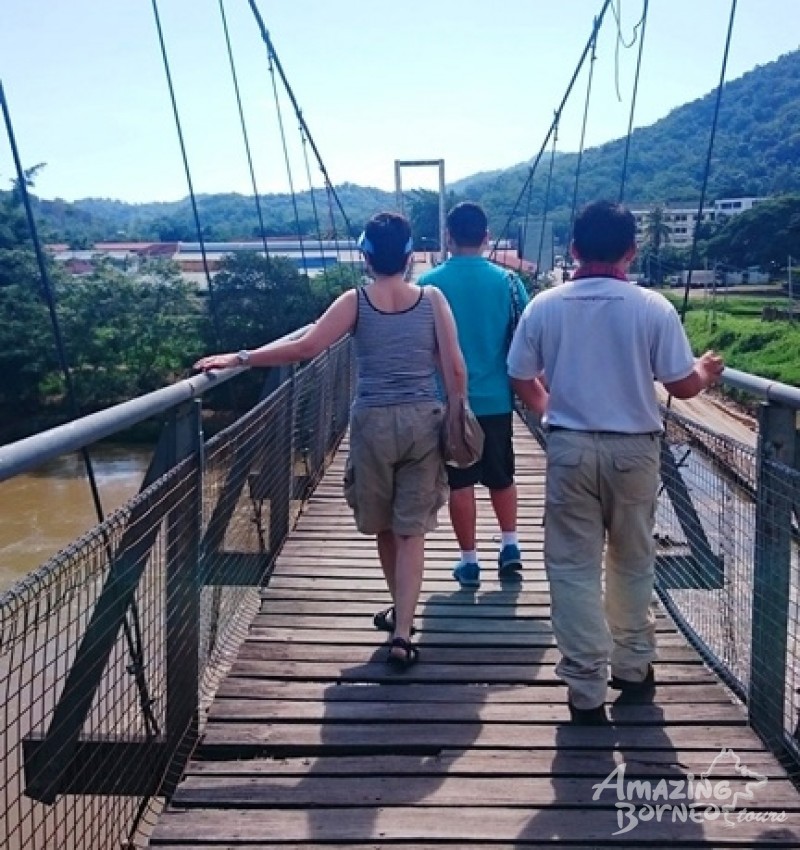 Part of the hanging bridge experience is marvelling at the beauty of the quaint Tamparuli town. With its great big river, lush greens and small cluster of township, the scene looked like that of an old pre-war movie. This is part of Sabah's charm--in KK, you'll get hip and modern sceneries; and just an hour away, you'll get something absolutely old school and nostalgic!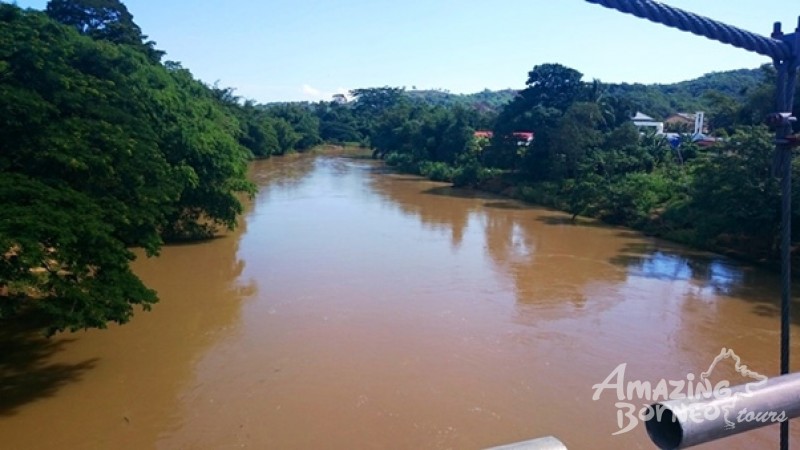 After a short pit stop at Tamparuli town, we then made our way to Poring Hot Spring for a tour on the canopy walk! But first, a trip to Ranau would not be perfect without a detour to Pekan Nabalu to stretch your legs.
Located 12km away from Kinabalu Park and just a short drive away from Pekan Kundasang, Pekan Nabalu is a happening place where locals and tourists alike flock over for great bargains and souvenir-hunting. One section of Pekan Nabalu comprises several rows of marketplace dedicated to foodstuff vendors. Another section, which is a marketplace with a traditional longhouse design, is dedicated to handicraft sellers.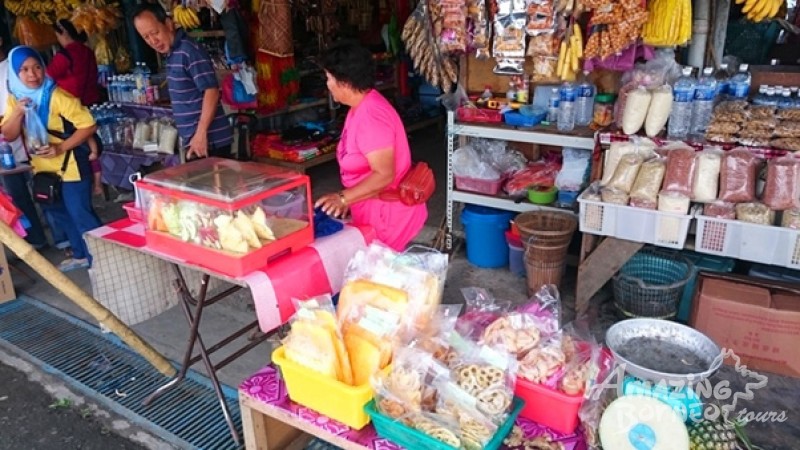 Offering a wide variety of fresh local produce, which are mainly organically-grown, you can stock up on vegetables, fruits and local delicacies such as tuhau (fermented wild ginger), bambangan (fermented wild mango), bosou (fermented fish/meat with rice) and lihing (rice wine). You can also find other popular local produce at a much cheaper price here.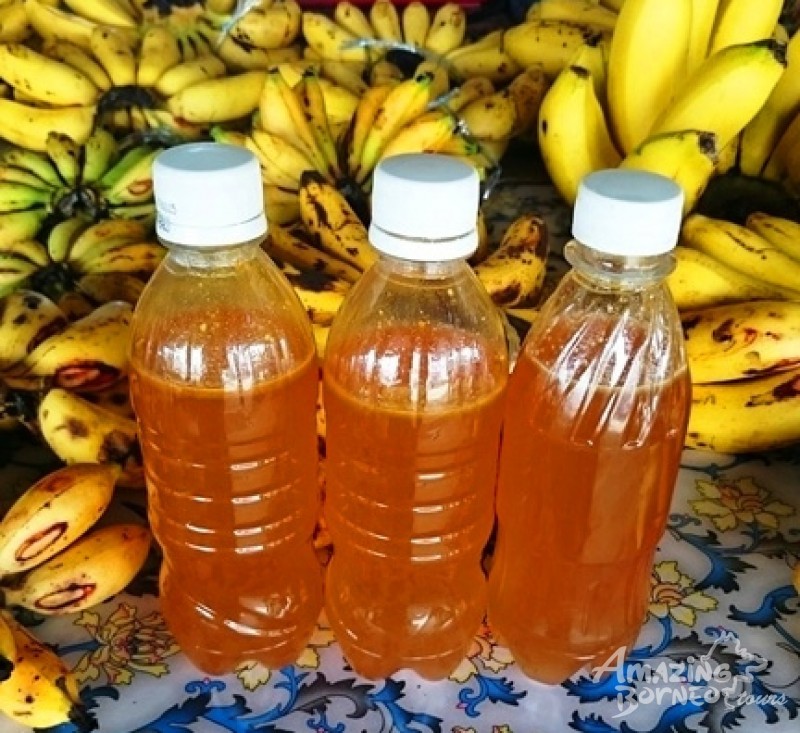 I bought a large 1L bottle of local wild honey from Tongod at only RM20. At commercial souvenir shops, the same product half that size would've cost me RM36! Decidedly, I was so happy to find a cheaper bargain as well as do my part in supporting the local traders in their business.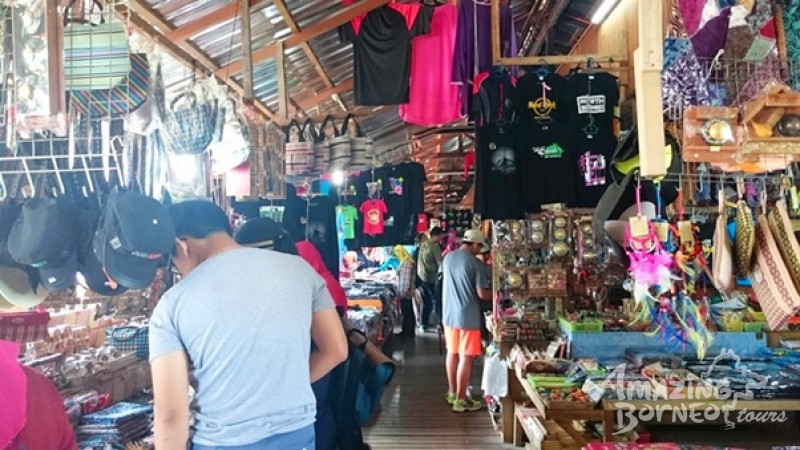 Pekan Nabalu also have a special platform from which you can witness a breathtaking view of Mount Kinabalu. Depending on the weather, the view of Mount Kinabalu is said to be at its most excellent from 9am to 10am. I marvelled in awe at the majestic sight and thanked God that this is my backyard!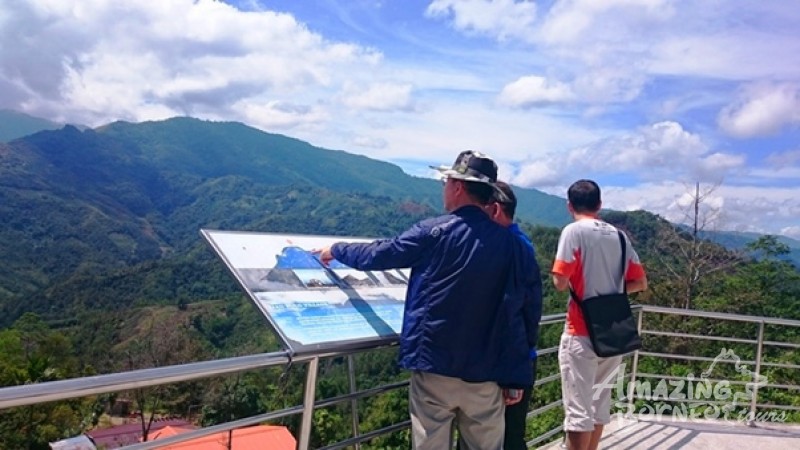 If you're feeling adventurous, you can also opt to climb up the 15-meter platform where you can witness a bird-eye view of Pekan Nabalu. I decided that I was going to save my legs for later trekking and skipped going up the platform.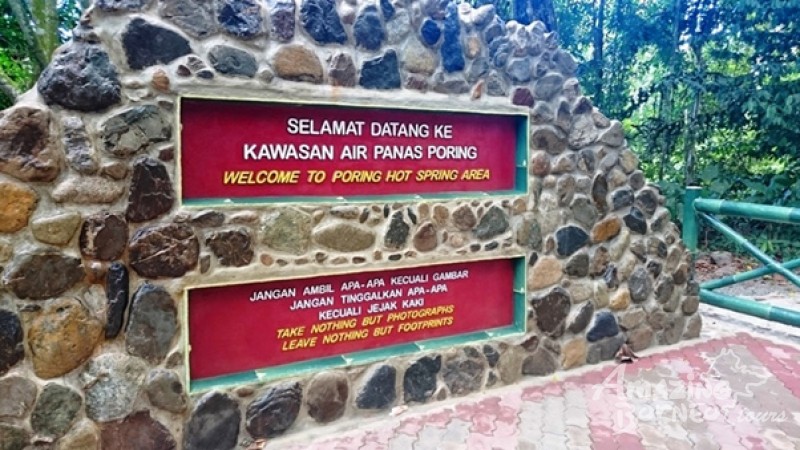 Next, we left for Poring Hot Spring. Normally, the journey to Poring Hot Spring from Pekan Nabalu would only take about 1 hour and 5 minutes (51 kilometer away), but due to the school holidays, there was an overwhelmingly large crowd heading towards Kundasang that day and we only arrived circa 1pm. We went straight for a hearty lunch to refuel ourselves after long drive.
At 2pm, we giddied up to experience the highlight of our trip: the Poring Canopy Walkway adventure!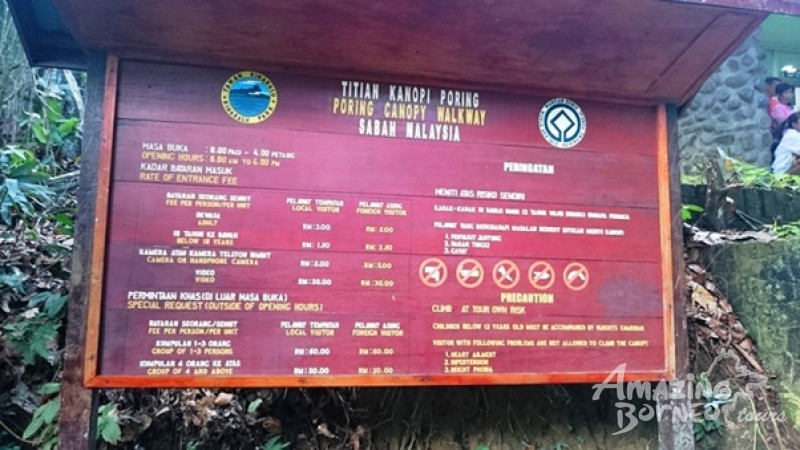 After paying for our entrance fees (which are included in the tour) we hiked up the man made stairway towards the observation tower, which is then linked to a network of three hanging bridges that makes up the canopy walkway.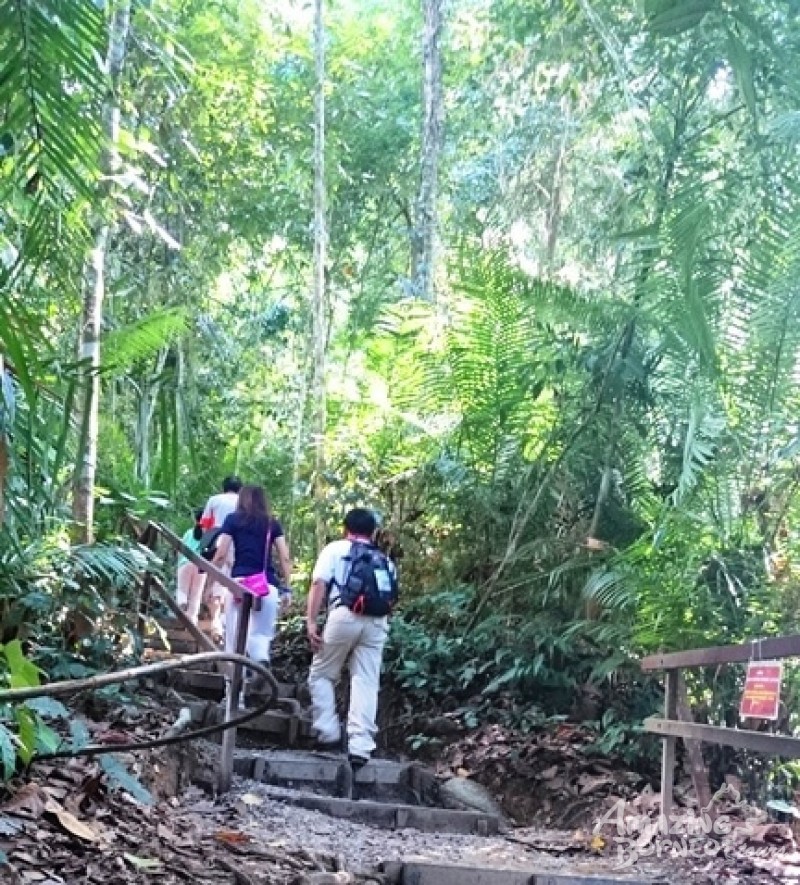 Spanning over 175 meters long and standing 41 to 43 meters in height, the Poring Canopy Walkway is definitely for the faint hearted, especially not for those afraid of heights. Higher than a 8-storey building, the canopy walkway overlooks a thick canopy of green dipterocarp forest.
The canopy walkway is a suspension bridge constructed with ropes, steel cables and a series of aluminum ladders bolted together. Laced with polyester ropes, the open rungs of ladders are covered with walking plank. Netting enclosed both sides for additional security. However, only six people are allowed to walk on the canopy walkway at a time so we had to wait for our turns.
When it was finally my turn, I tried hard not to look down. However, the cool fresh air and the serenity of the virgin rainforest eventually got the better of me and I ended up snapping a few happy photos!
Apart from being a great platform to enable visitors and botany enthusiasts to observe plants in a closer setting, the Poring Canopy Walkway is also an excellent place for birdwatchers and birding photographers to get a sneak peek of birds, some of which are endemic to Borneo.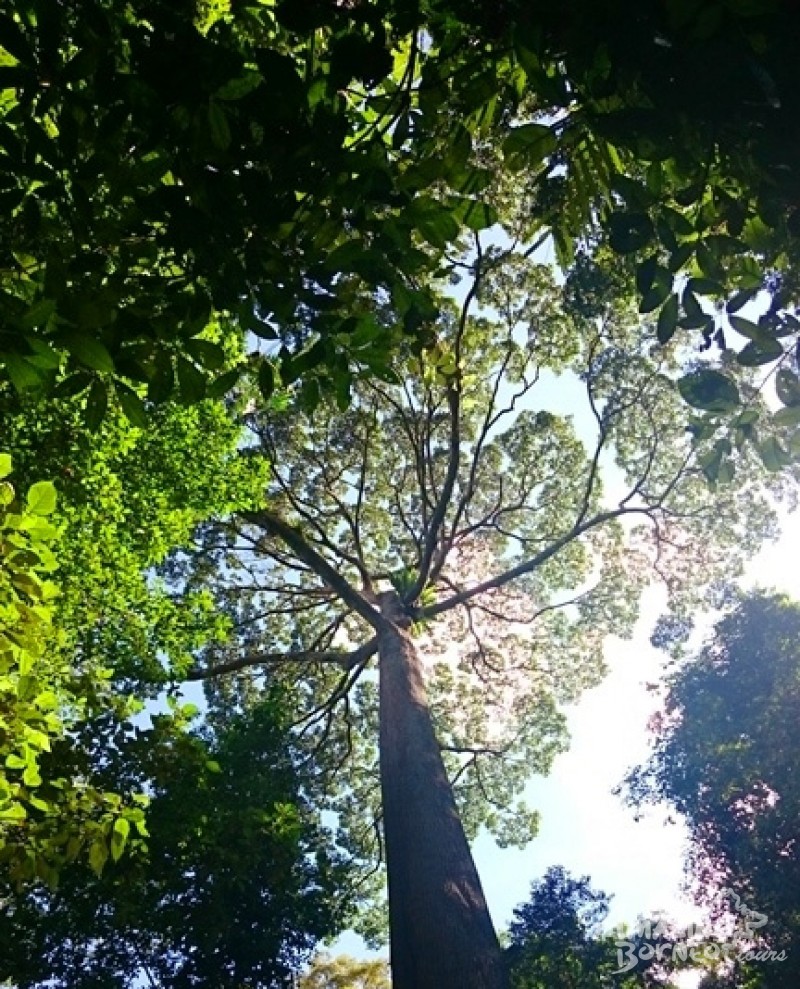 Beautiful view from the walkway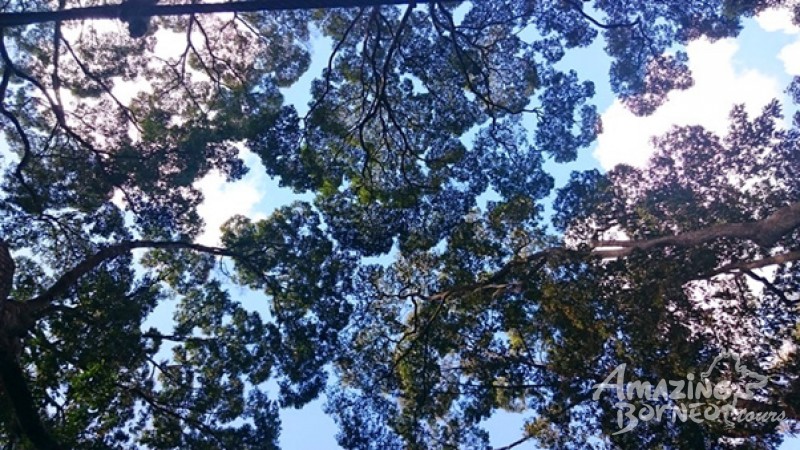 Look up!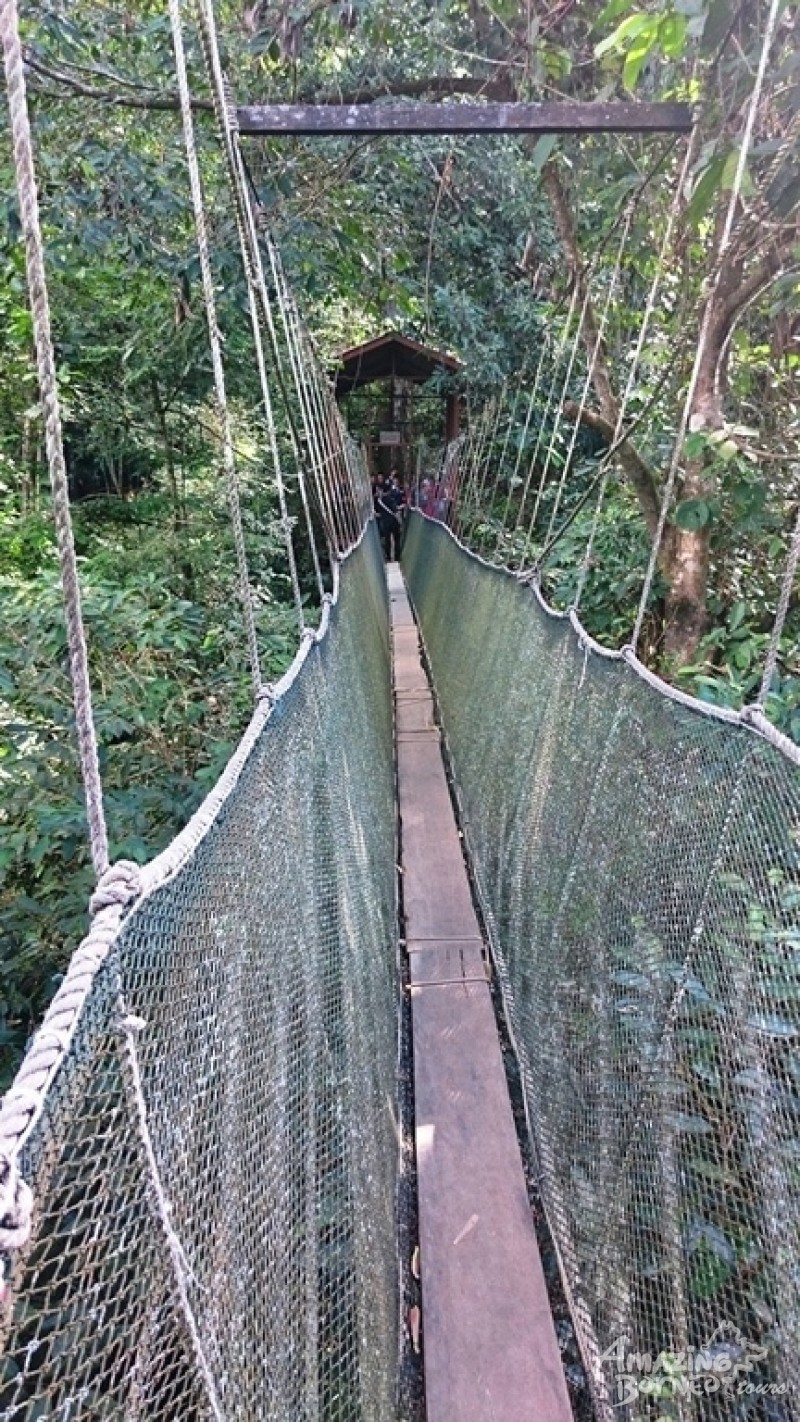 Braving to walk to the end of the walkway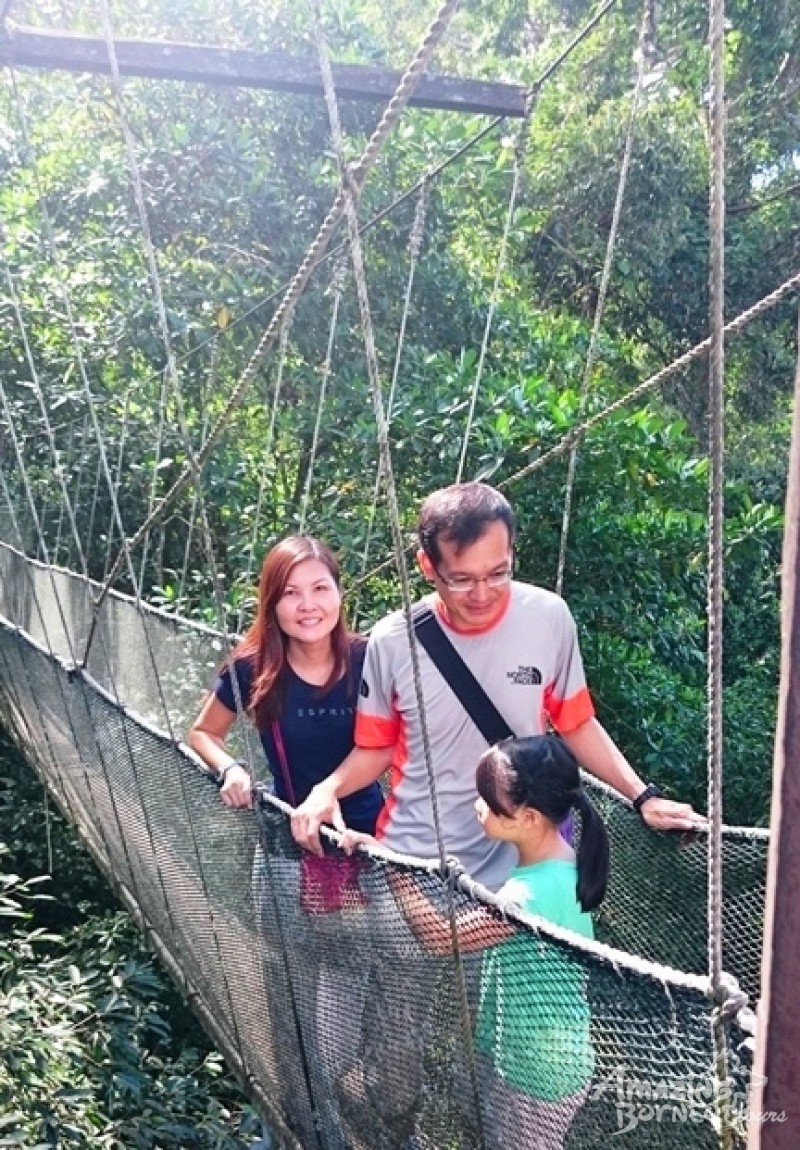 Our guests from Singapore, Mr Chris and family. Their daughter, Zhie Rui was having a fever that day but she still braved the trip like a champ!
The trek up and down and across the canopy walkway took us approximately one hour. Descending from the canopy walkway, our guide David asked if we still have enough energy to visit the nearby waterfall. Not to miss any opportunity to experience Sabah's finest, our guests gave a unanimous 'yes!' and off we went to the waterfall.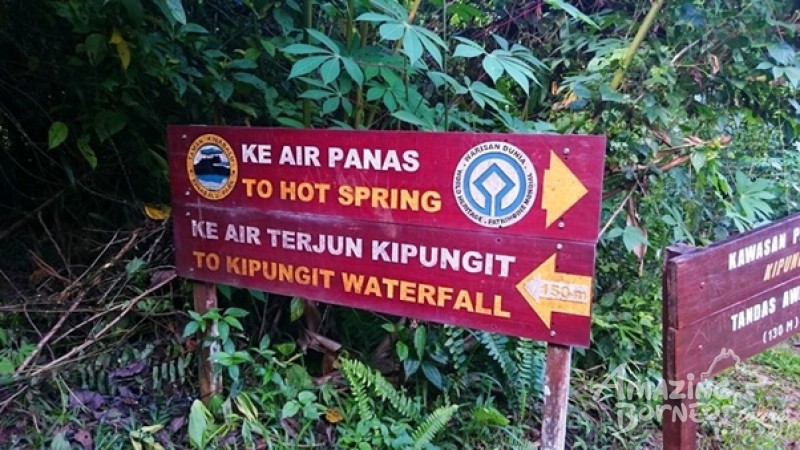 The waterfall, known as the Kipungit Waterfall is located about 20-minutes away from the Canopy Walkway starting point. As we approached the waterfall, the sound of water crashing became more apparent and we regretted not bringing along extra clothes for a swim.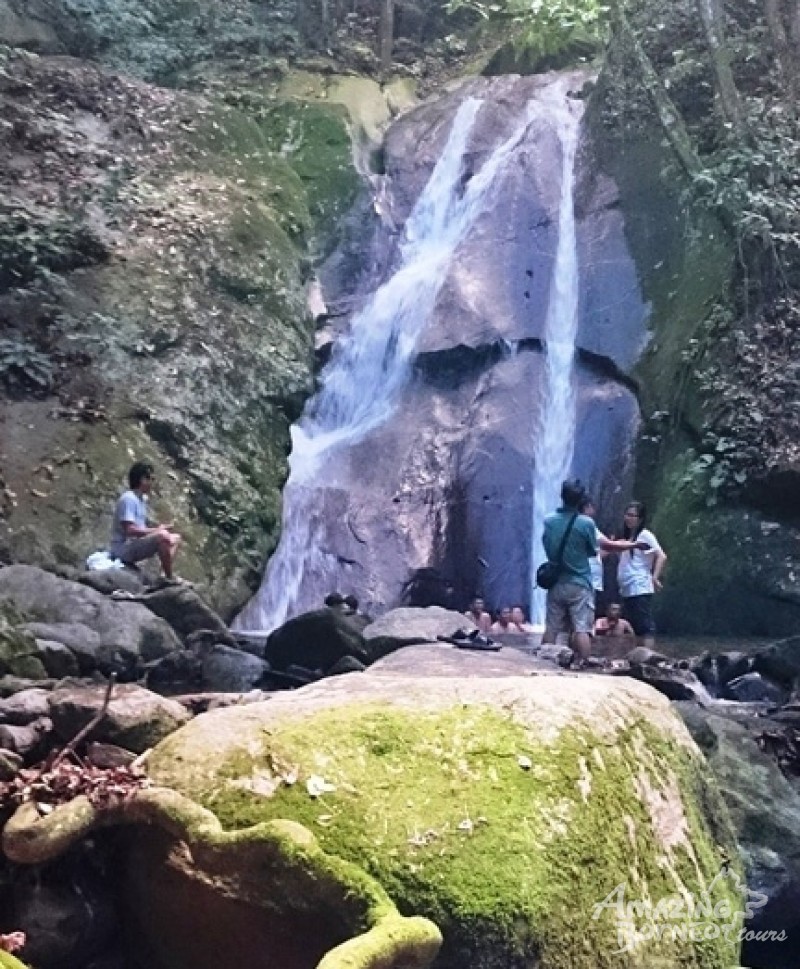 When we arrived, there were already several groups of people enjoying a refreshing dip in the water. The waterfall is a great picnic spot for friends and families. Perhaps, one day I shall return with a roll of mat and some tidbits.
We left Poring Hot Spring at around 4pm with sore legs from the trekking but with satisfied smiles on our faces, regardless. We piled into the Amazing Borneo tour van and the next thing we knew, David asked us whether we'd like to go see the rafflesia flower. Once again, everyone gave a resounding 'yes!' and we all head over to the Poring Rafflesia Garden to see the blooming rafflesia.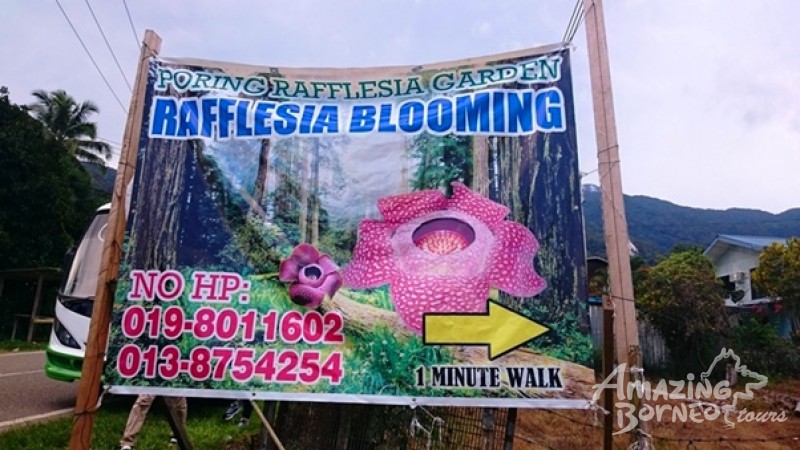 I felt extremely lucky as this was the first time I managed to witness a blooming rafflesia in real life, although I have been living in Sabah most of my life! It was only the second day of the bloom and the flower was still fresh.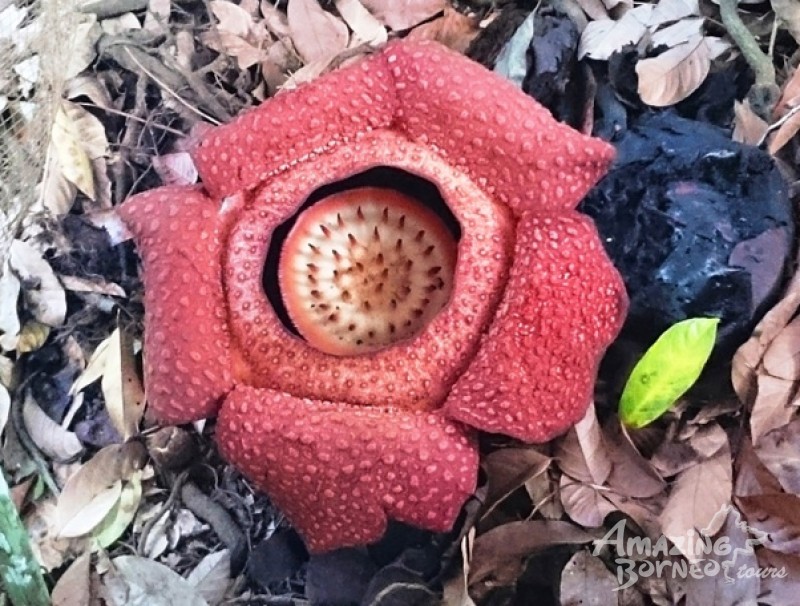 The amazing Rafflesia keithii, which is about 80cm long in diameter
The amazing Rafflesia keithii, which is about 80cm long in diameter
According to our guide, there are eight species of rafflesia flowers that bloom on Borneo, namely Rafflesia keithii, Rafflesia arnoldii, Rafflesia cantleyi, Rafflesia hasseltii, Rafflesia keithii, Rafflesia kerrii, Rafflesia pricei, and Rafflesia tengku-adlinii. The largest species would be Rafflesia arnoldii that can span up to 100cm long in diameter.
Satisfied with the things we saw today, we made our way to our final destination of the day, Kinabalu Pine Resort to check in for a dinner and night's restful sleep.
Day 2
Day 2 of our tour started off with a sumptuous buffet breakfast at the Kinabalu Pine Resort restaurant. After breakfast, we took sometime on our own to explore the nearby markets and to take photos of the beautiful pine-y scenery surrounding the resort.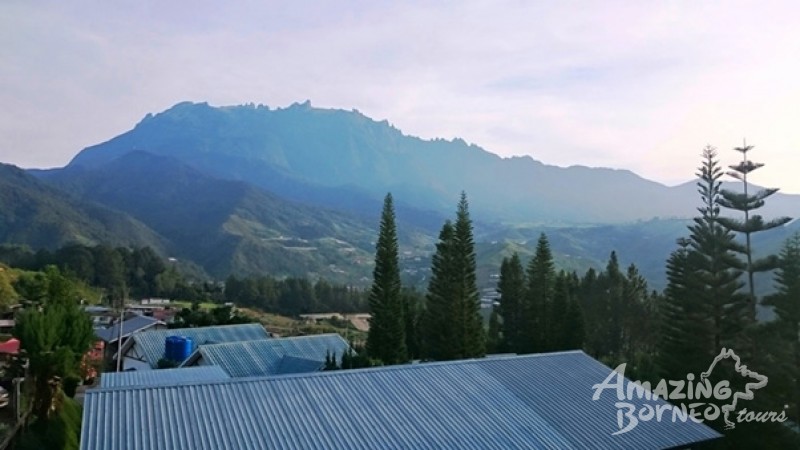 Gorgeous morning view from the Kinabalu Pine Resort. Hi there, Mt Kinabalu!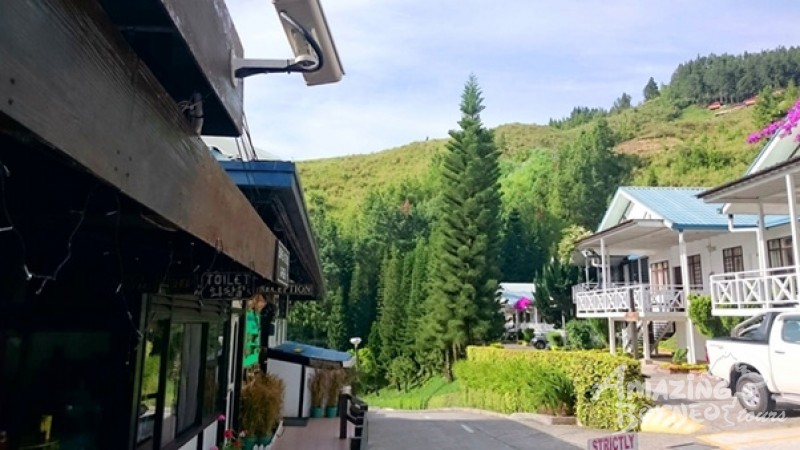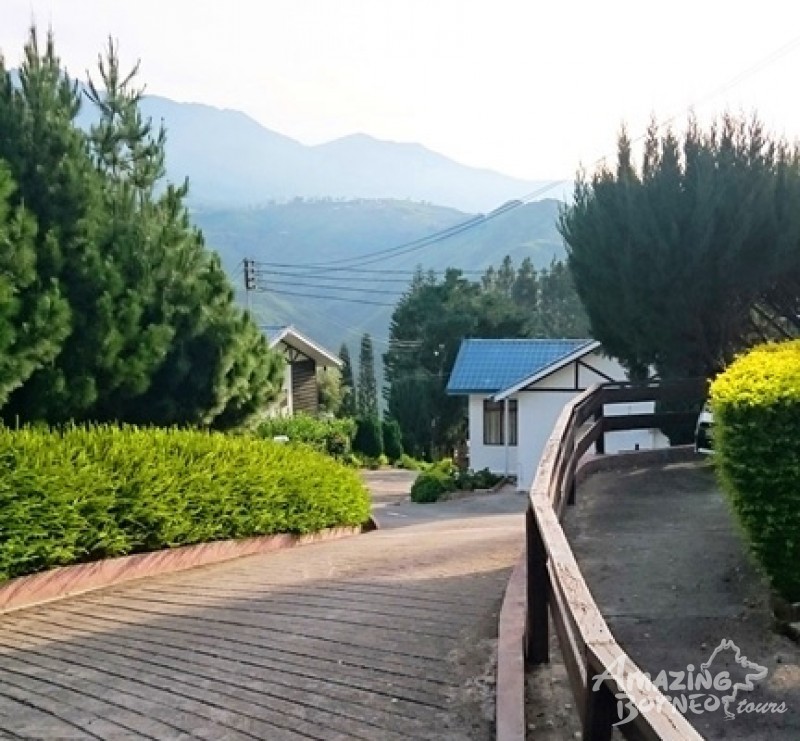 At 9.30am, all of us gathered and with our stuff to check out from the resort. Our next stop was to Sabah's very own Kinabalu Park--Malaysia's first ever UNESCO World Heritage Site.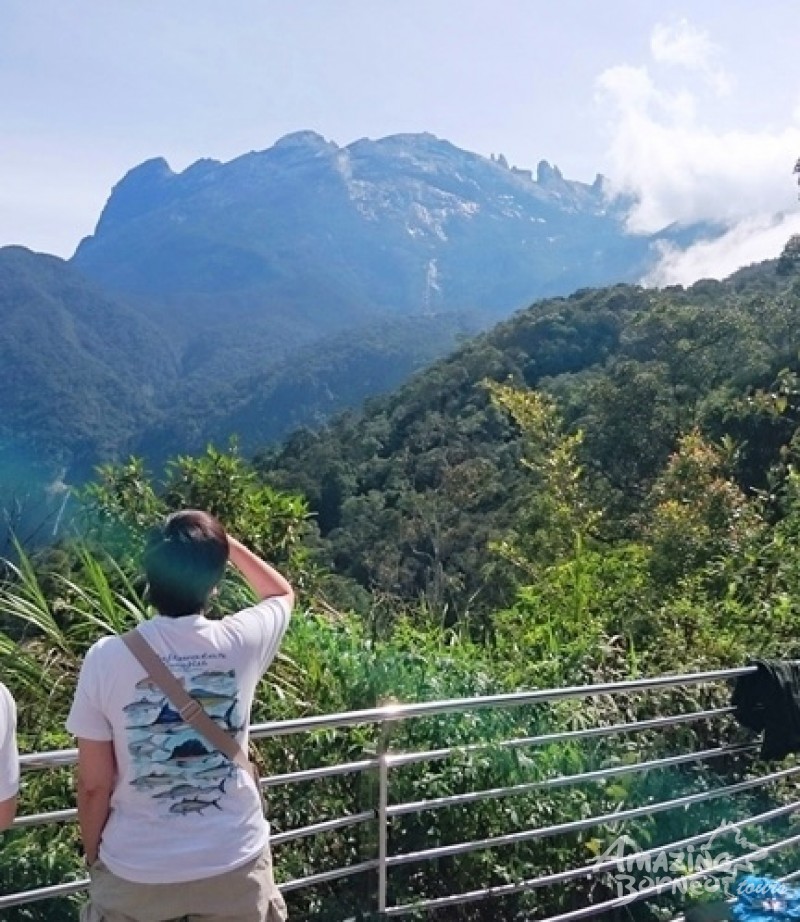 Observation deck in Kinabalu Park
Our first stop in Kinabalu Park was to visit the Timpohon Gate, which is the entrance gate for climbers aspiring to conquer Mount Kinabalu.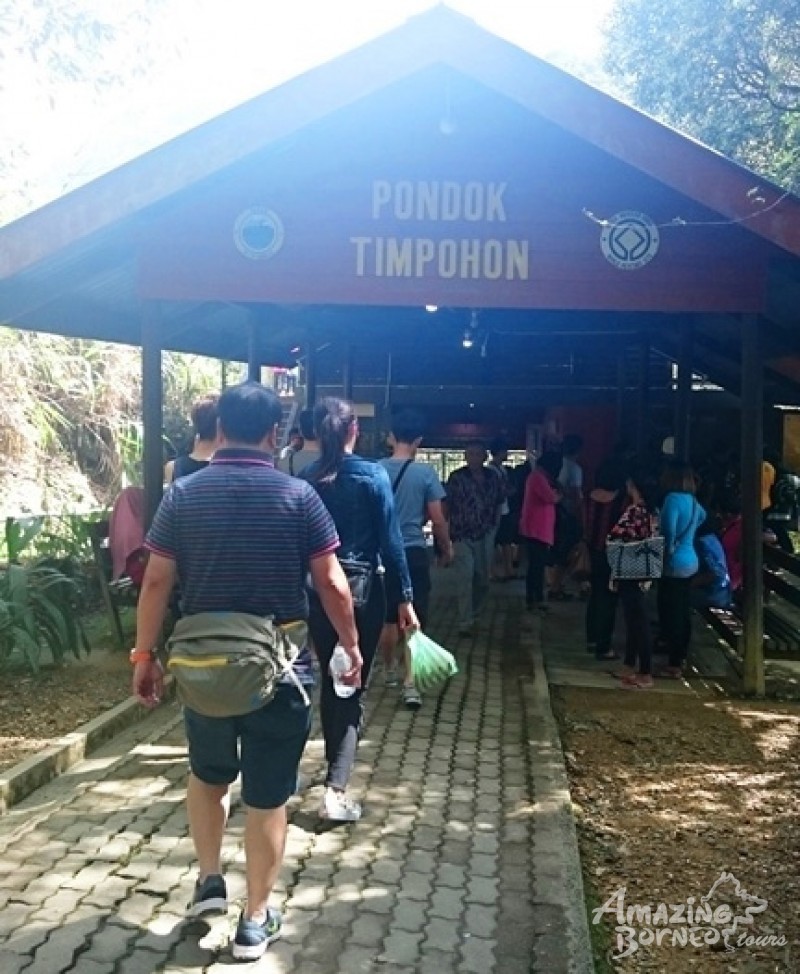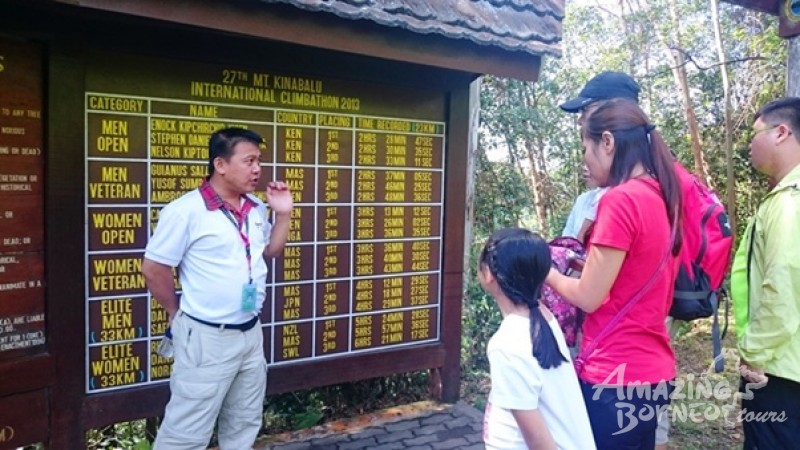 David giving a briefing about the Mount Kinabalu International Climbathon 'wall of fame' at the Timpohon Gate
After dropping by the Timpohon Gate, we took a short walk towards a small secluded place which just happened to lead to Kinabalu Park's best-kept secret: the Mount Kinabalu Botanical Garden.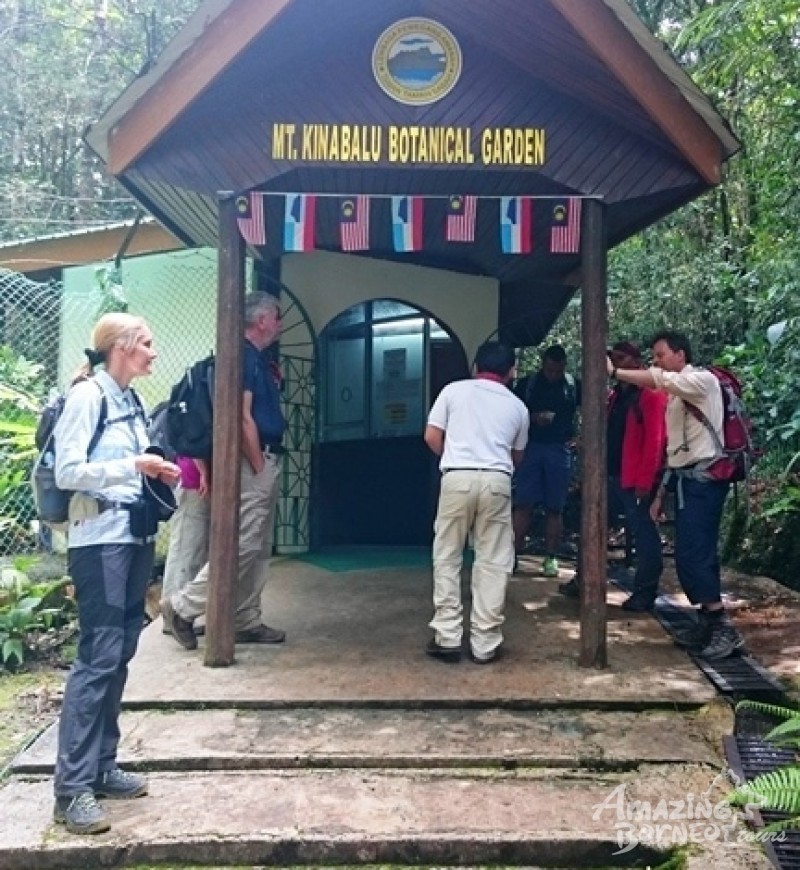 Entrance to the Mount Kinabalu Botanical Garden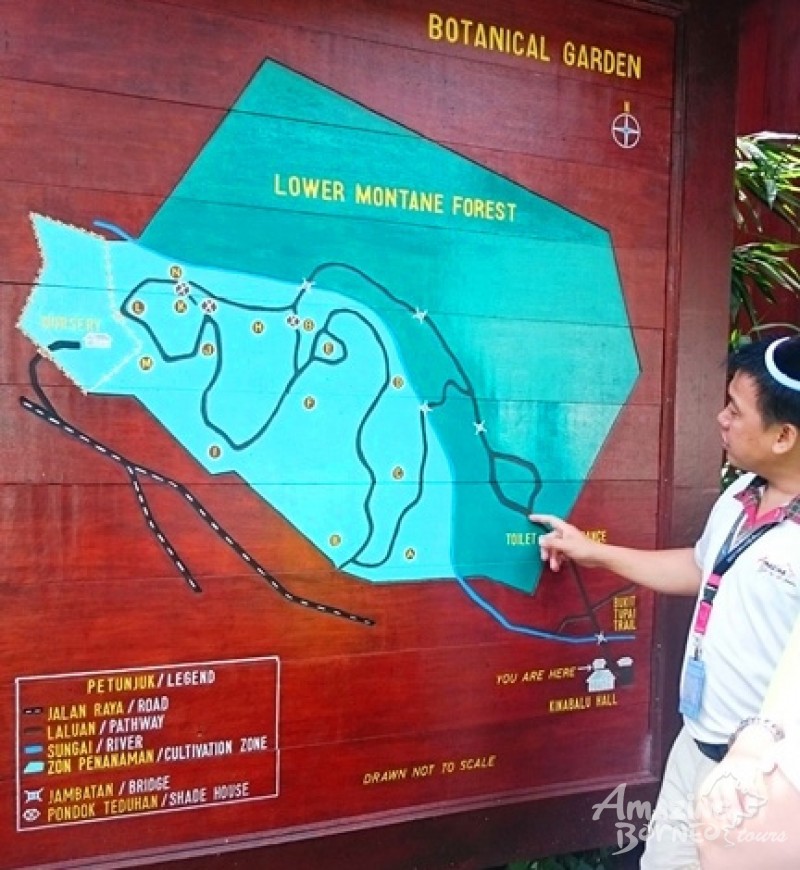 David briefing us on the trails in the Botanical Garden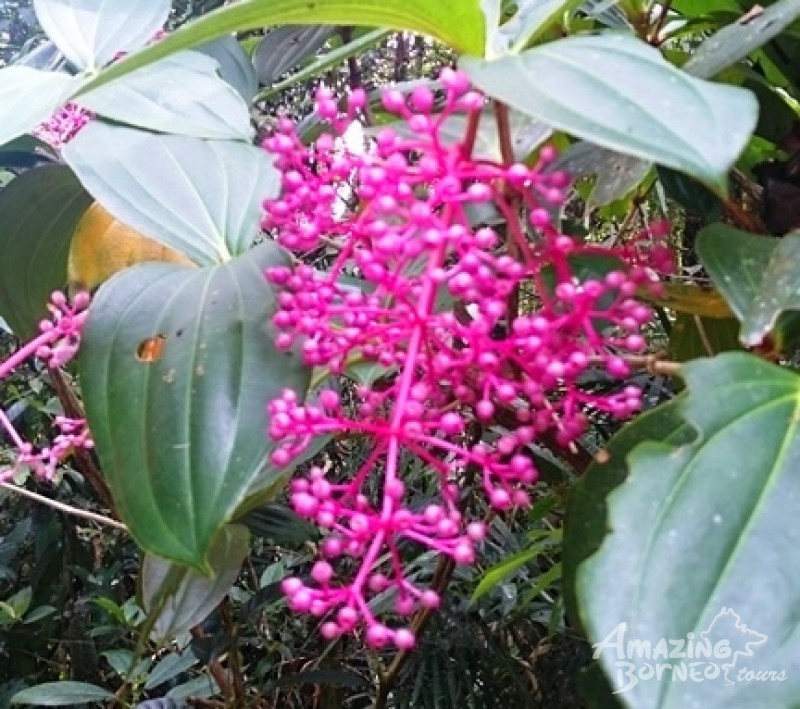 Wild raspberries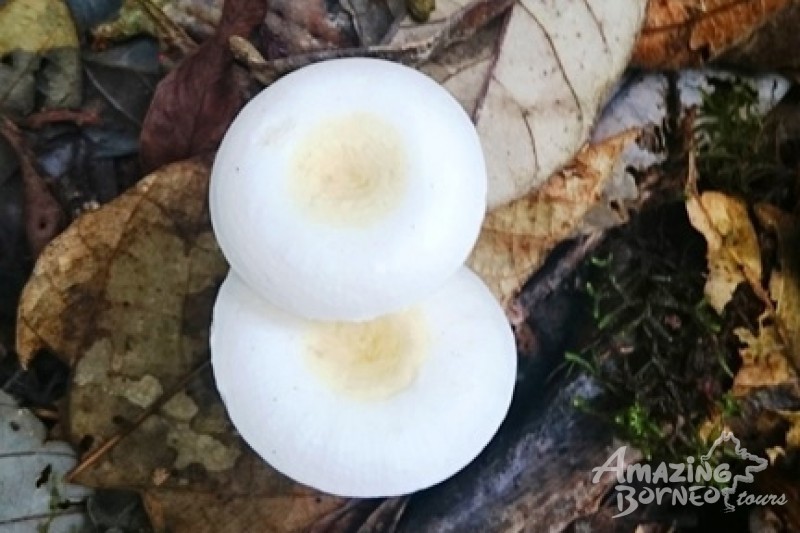 Mushrooms which is said to be able to glow in the dark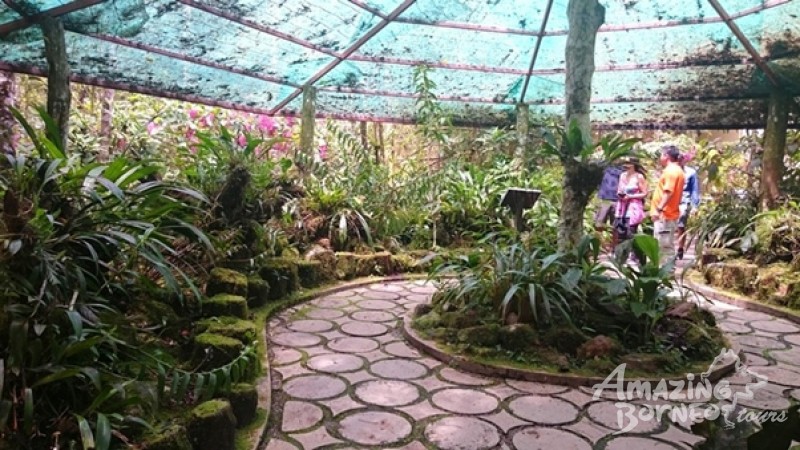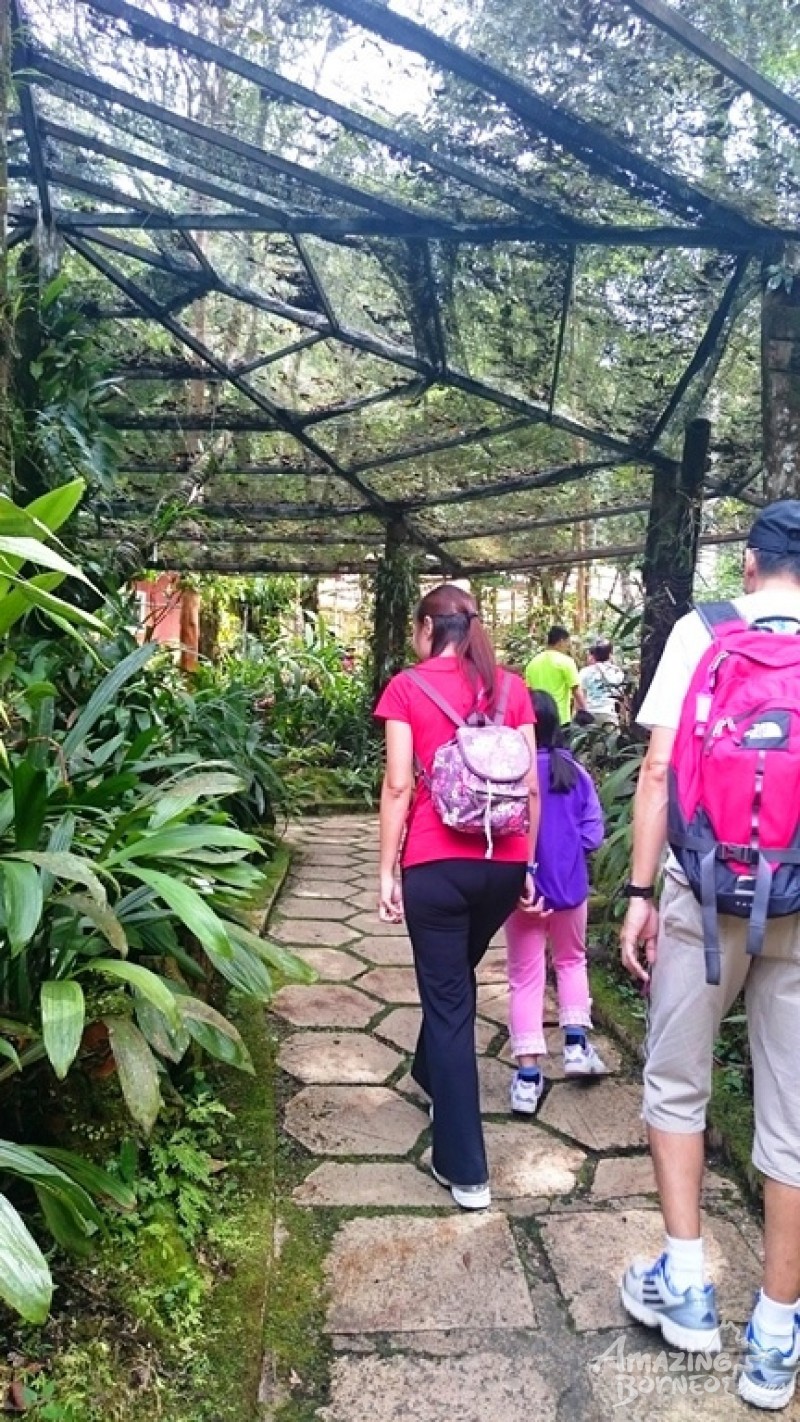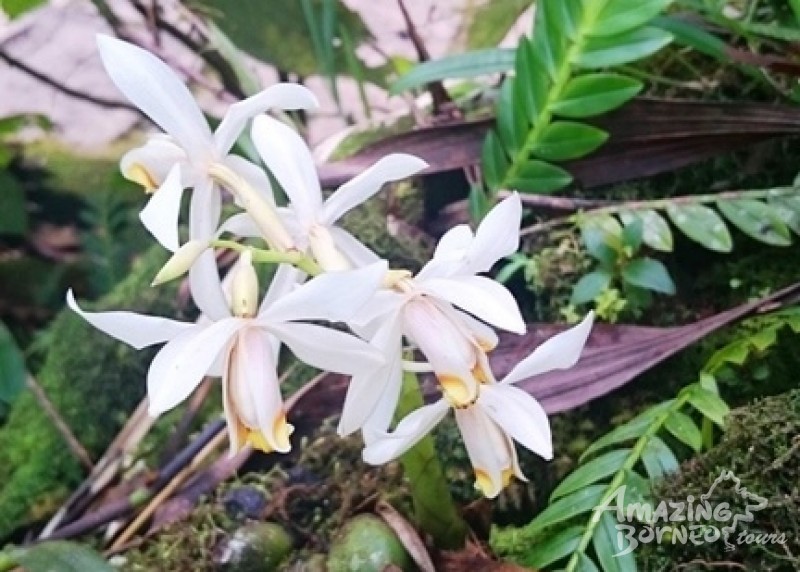 One of the species of orchids in the Botanical Garden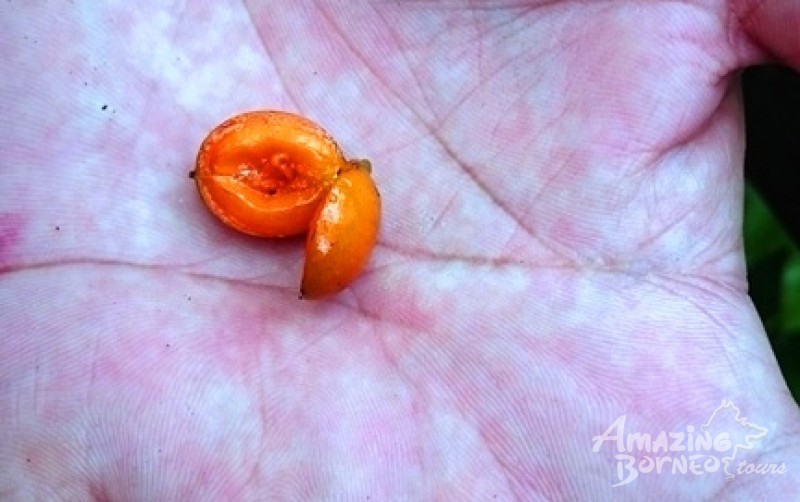 Fruit from the kerosene tree that can be lit up with a lighter
Nestled somewhere in between Liwagu Restaurant and Kinabalu Hall, Mount Kinabalu Botanical Garden, which is also known as the Mountain Garden is one of Kinabalu Park's best kept secrets. Many people are not aware of the existence of the Botanical Garden due to its secluded location, however, it has been around since 1981 and is the biggest botanical gardens in Sabah after the Tenom Agriculture Park.
Kinabalu Park has one of the richest assemblage of flora in the world, with an estimate of 5,000 to 6,000 vascular plant species that cover the habitat from warm lowland forest up to cold alpine mountain zone inside a park area of 754 square kilometers. A short visit to its Botanical Garden will not only be a good relaxing exercise, but will also improve a visitor's knowledge about the flora and fauna at Kinabalu Park.
The Botanical Garden comprises 16 different trails such as the Silau Silau Trail and Bukit Tupai Trail. Depending on how much time you have on your hands, you can actually take your time to trek through and explore all the trails in the garden.
Along the way, you will encounter many unique species of trees and flowers such as orchids, Medinilla speciosa (Showy Asian Grapes), the Nepenthes rajah (pitcher plant) and so on. There will also be helpful signs and tags to help you find your way and identify the plants species that you encounter.
Our last stop before heading to lunch was to the Kinabalu Natural History Gallery. This gallery houses a paraphernalia of exhibitions ranging from animal and insects specimens to handicraft exhibitions and geological specimens,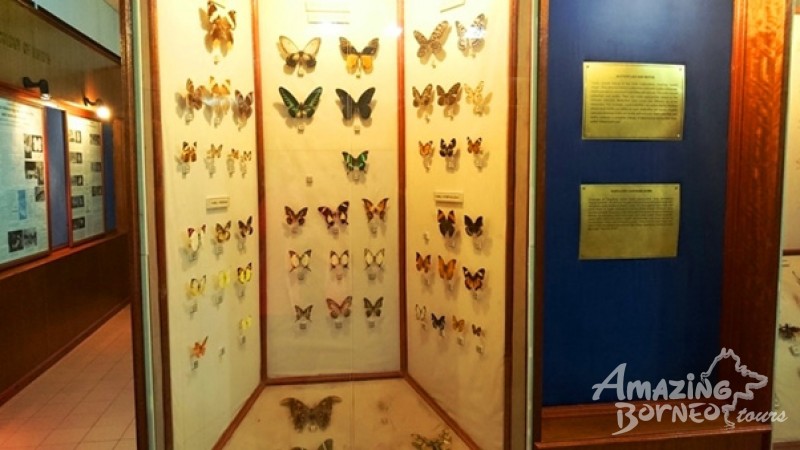 Butterfly specimens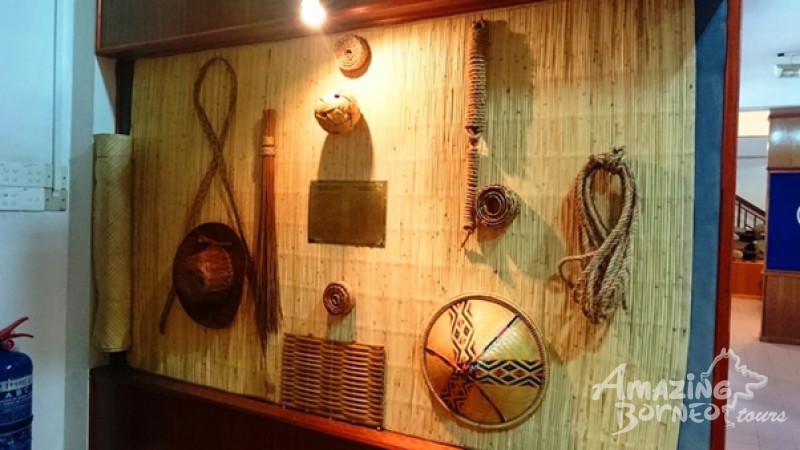 Traditional handicraft exhibition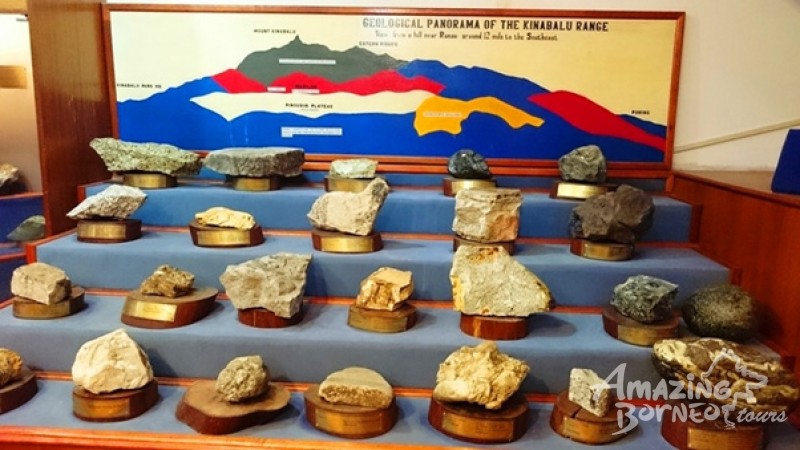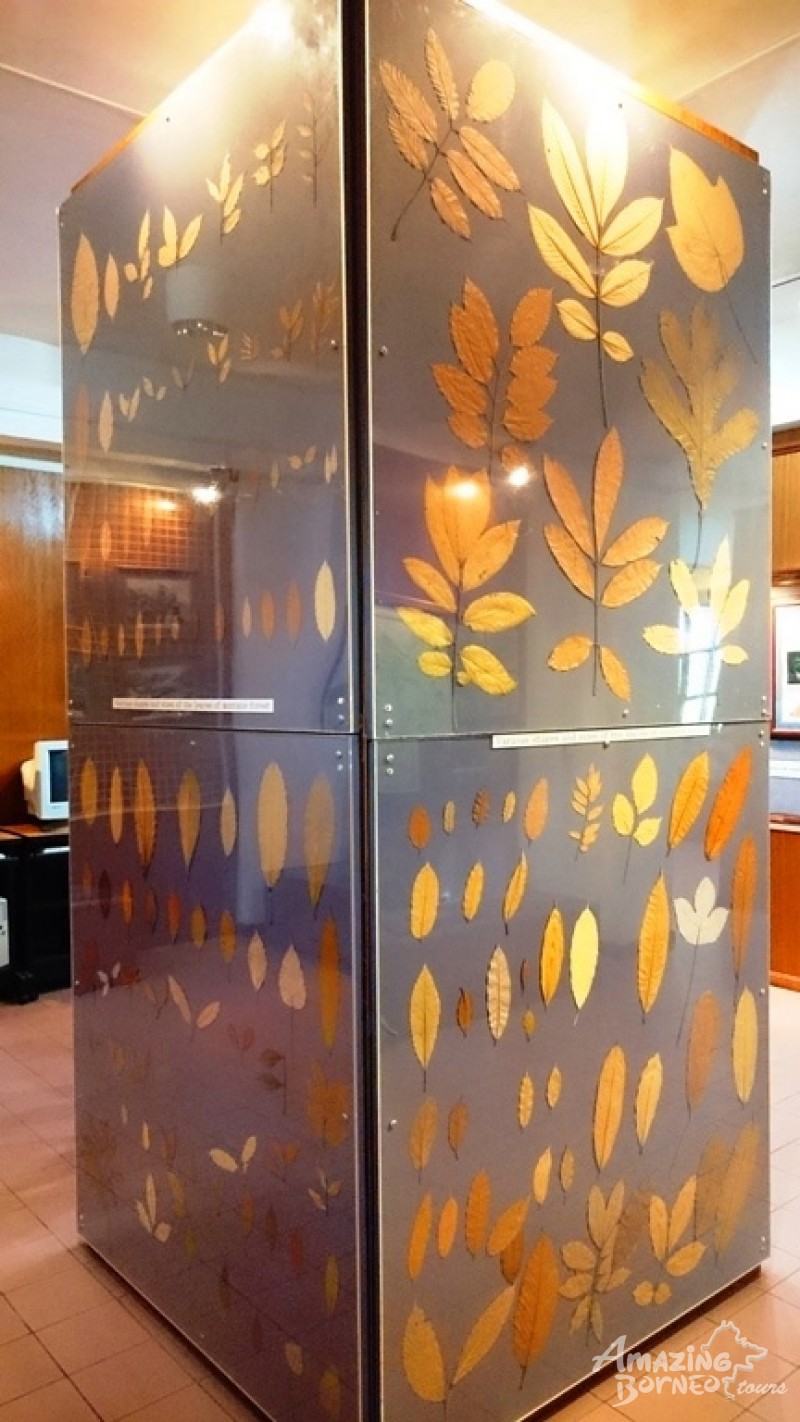 Leaf specimens
This gallery is a must-visit for those who are conducting research or even those who are simply entranced by the diversity of Sabah's natural heritage.
With sore legs and a happy heart, we bid adieu to Kinabalu Park after a buffet lunch at the Balsam Buffet Restaurant. The 2D1N trip to Kinabalu Park and Poring Hot Spring proved to be an inspiring and educational experience. As we piled into our tour van en route to Kota Kinabalu, we kiss Mount Kinabaly goodbye, eager to visit again one day.