@hafizesanif | Instagram.com
It's called Wanderlust. and it's contagious. usually incurable. Our guests travel thousands of miles to satisfy it, to experience something Special, Raw, & Unfiltered. Because truth be told, Sabah is a pretty epic venue for that, and it delivers with a photogenic tapestry of spiritual cloud-high mountains, expansive river vistas and ancient rainforests not only beckoning your gaze but also teaching you to live the #NoFilter life. Don't believe us? we've got evidence from our gutsy guests grammin all across Borneo.
1. Putting that Panorama function to good use : via Ferrata edition.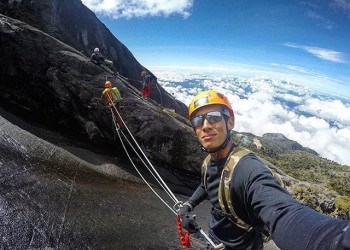 @rajaimranshah | Instagram.com
From diving in the sea to walking on the clouds, literally hooked on adrenaline --our guest @rajaimranshah-- is the World's happiest dude on the World's Highest via Ferrata, with a picture as proof for friends back home-- because saying you conquered a granite massif and then went to take a closer look by dangling 4000meters off its edge is a far-fetched statement. Whats that Instagram mantra? "Pics or it didn't happen!"
Low's Peak Circuit via Ferrata also known as How Dare Devils Get Their Adrenaline Fix.
@norzieabdthani | Instagram.com
What is the via Ferrata?: Instead of taking the normal route on your descent, you will traverse along the granite walls of Mt.Kinabalu through a series of iron rings, palettes (footholds), rails and cables wrapped around the North Face of Mt.Kinabalu. With each foothold taking you further down the "iron path", you are exposed to hidden plateaus, nooks and crannies. Best thing is, no prior experience required.
If you're turned on by the intoxicating mix of nature and verticle endeavors, this adventure is yours for the taking. Don't have a head for heights? This is your chance to get over the fear-- in most dramatic fashion. and also the perfect chance to put your cameras' panorama function to good use! Click Through For More info on Via Feratta Packages.
2. Up the river, one down on the bucket-list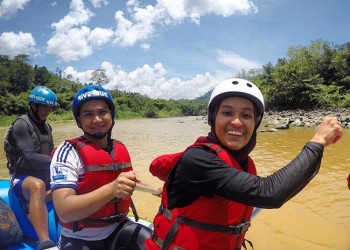 @akmalredzwan | Instagram.com
@akmalredzwan & friend crushing bucket-list goals. What better way to seal a friendship than with some synchronized paddling and getting jiggy (or swallowed) by the Padas River rapids. Think your relationship can withstand anything? think again and take a white water rafting trip to Padas-- Grade 4 on the Thrill-O-Meter, because rapids are not named 'Merry Go Round' & 'Washing Machine' for nothing. The 30km route is the longest rafting route in all of Borneo, for the keen and the courageous and those who don't mind getting soaked, because well, #YOLO.
3. Miss Universe Malaysia 2009 Joanna Belle on Dive Day Out with SeaTango
You know what causes stress? Not enough of the outdoors. Also not enough scuba diving. If it's one thing all scuba divers can relate with, it's the complete Zen one feels when all that's left is the sound of your own breathing in a world that has melted into a psychedelic wonderland.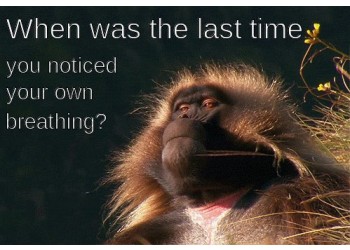 Dive in and Zen Out
Don't dive? That's a shame but it's alright, 'cause Sabahan sweetheart Miss Universe Malaysia 2009 Joanna Belle together with the awesome crew over at Froggy Planet explored the flip-side with us on an upcoming travel vlog that's dedicated to filling you in on all the Lo-down with what goes on once you back-roll off a boat with a tank of purified oxygen. YEAH, get hyped! Or learn how to dive like, right away. 'cause you have no idea what you're missing out on.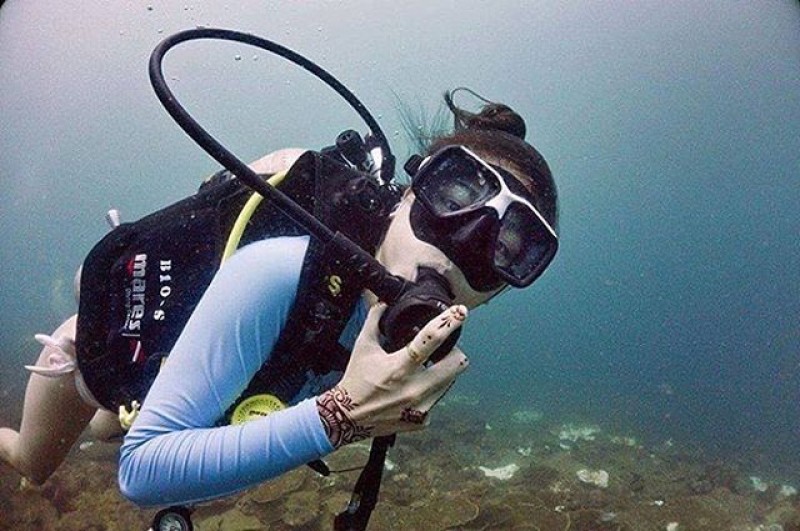 @Joannabelle_nlv | Instagram.com
4. Singaporean Youtubers @NightOwlCinematics films Travel Vlog in Sabah
In collaboration with AirAsia Singapore and Yours Truly, Amazing Borneo, celebrity Singaporean Youtubers Night Owl Cinematics ventured out into the tropics of Sabah for a big slice of Wanderlust and a healthy dose of Vitamin Sea for their upcoming travel vlog. When it's coming from this bunch, expect a whole lot of comedy. Here's a few teaser shots :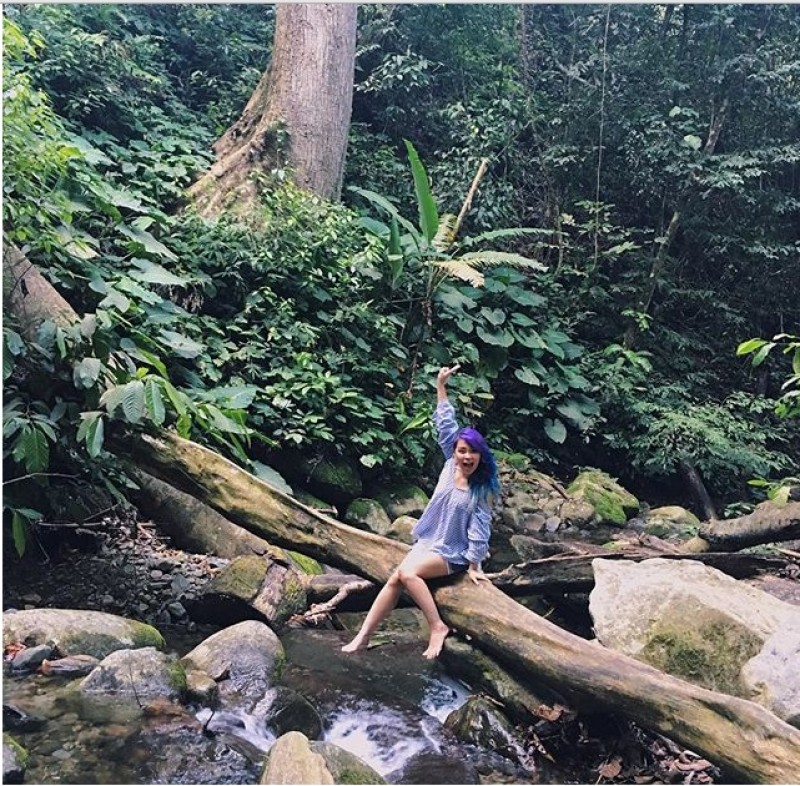 @sylsylnoc | Instagram.com
16 degrees in Kinabalu Pine Resort, but still looking good for a snap in this lush corner. Sylvia of Night Owl Cinematics raising her gram-game while inspiring others to greet the great outdoors!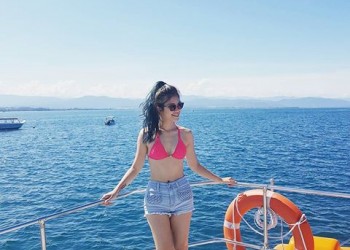 Life is simple, just add water.
@jazliyanaparis | Instagram.com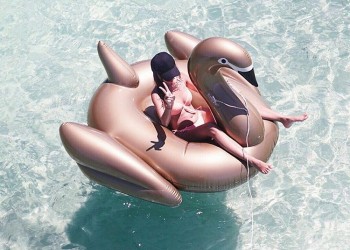 @aureliahathaway | Instagram.com
One of the creative wizards behind Night Owl Cinematics taking a break from all the fun boat snorkeling.
Snorkeled from a boat before? its aboat time you do! away from crowded shores and straight into the colorful coral reef within Sabah's protected Tunku Abdul Rahman Marine Park.
5. Misty with a chance of Monkeys.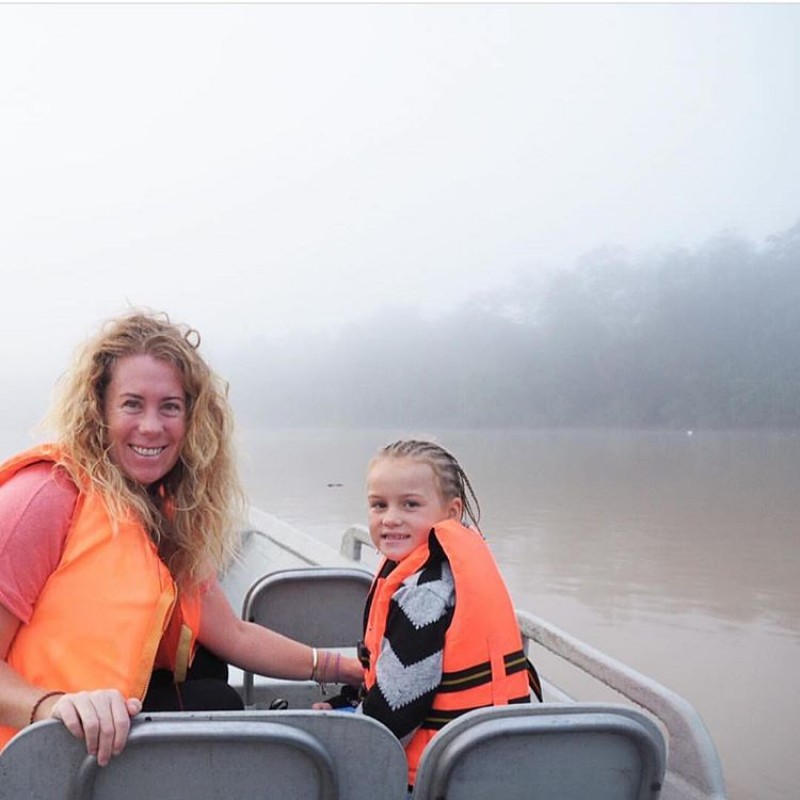 @mumpacktravel | Instagram.com
While you were snoozing, mother-daughter globetrotting duo MumPackTravel, took a dreamy 6:00a.m morning cruise down the almighty Kinabatangan river for that #NoFilter kind of beauty. An experience she said to be "peaceful, still and magical to see so many incredible creatures - purely wild and free" also the perfect backdrop for a snap like that.
If you want to get off your computer and spot animals in the wild, the Kinabatangan river sustains one of the World's most richest ecosystems & is one of the best places in all of South East Asia to encounter wild primates such as wild Orangutans, Bornean Gibbons, pot-bellied Proboscis Monkeys, eight different kinds of hornbills, herds of dwarf elephants with dumbo ears--also known as Pygmy Elephants. Here is where both Borneo and you're inner photographer really comes to life.
In the mood to embrace the beautifully complex world we live in? step right in. Visit www.AmazingBorneo.com for more info.
We'll just leave you with this heart-warming shot of two macaques cuddling on the Kinabatangan River Bank, captured by @stijnnaturephotography.
@stijnnaturephotography | Instagram.com