Why you should Apply for an Internship at Amazing Borneo!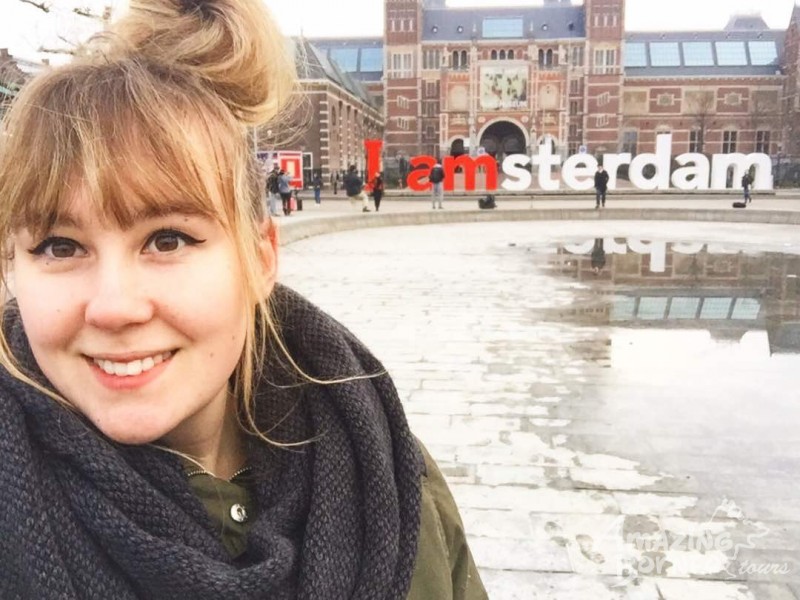 As a final year student in a Bachelor of International Tourism degree in Paris, I needed to undertake an internship abroad as a requirement to graduate. I immediately thought of Asia as I've always been attracted by its diverse culture and unique landscapes.
Initially, I didn't know much about Malaysia or what internship opportunities it has to offer. I then chanced upon Amazing Borneo as one of the leading tour operators in the country, and it piqued my interest to further look into it. The fact that they prioritised on quality tours while being as sustainable as they can was really appealing to me. I applied and after a Skype interview, I landed myself an internship in both Marketing and Sales Departments which gave me the chance to tackle a variety of tasks.
My 'Amazing' Tasks:
I started my journey in the Marketing Department.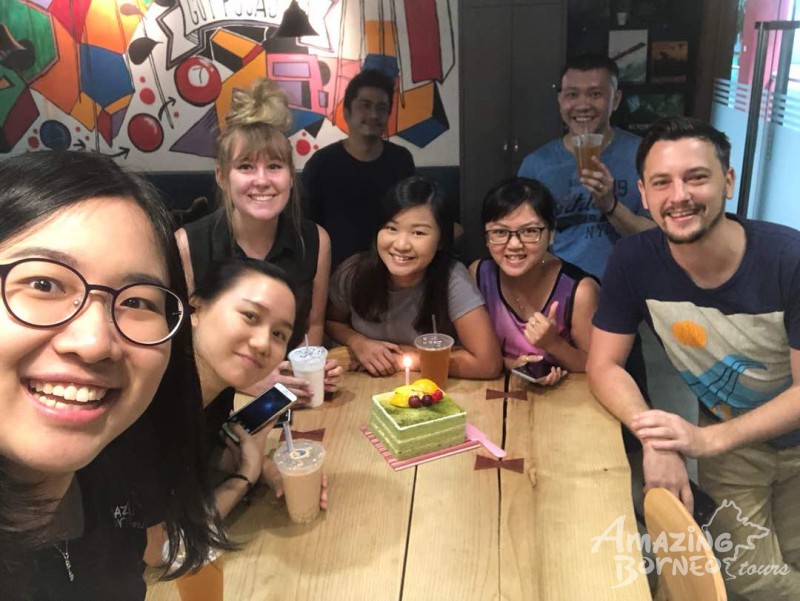 The Marketing Department.
One of the major tasks in the Marketing Department was upkeeping their social media accounts. On my first day, I was tasked to manage the Facebook and Instagram accounts of two of their major attractions, Mount Kinabalu and the North Borneo Cruises.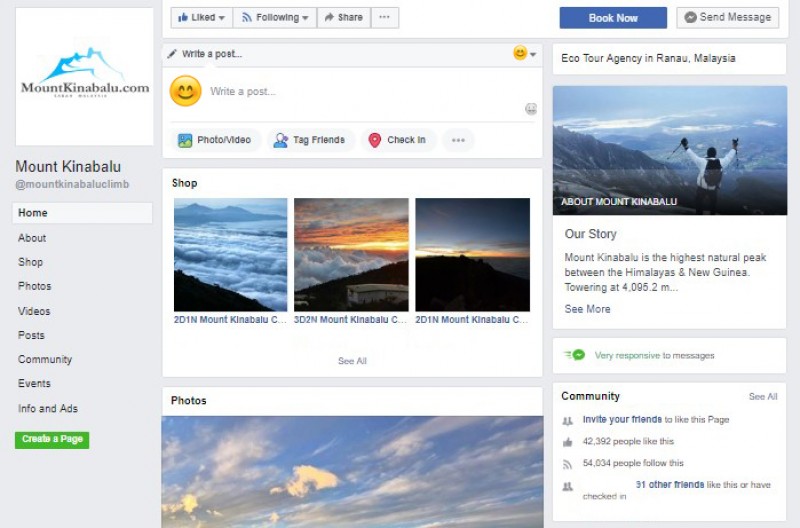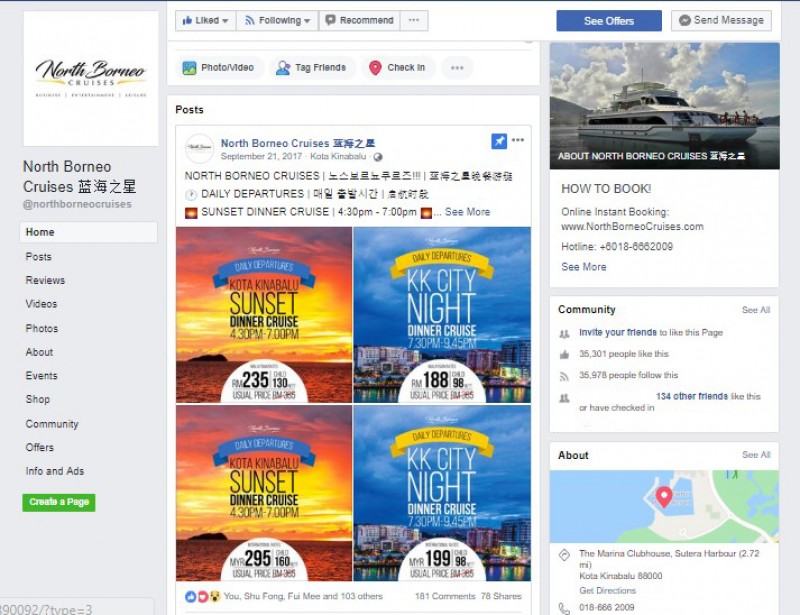 North Borneo Cruises Facebook Page
My role was to update the accounts on a daily with content, the right captions, and interact with followers by responding to comments, as well as answer enquiries we receive via Instagram Direct Messaging (DMs).
After a period of time, I was entrusted to do daily tweets on Amazing Borneo's Twitter feed and oversee the user activities in a Facebook group called "Mount Kinabalu Live".
By handling all these social media accounts, I got the chance to learn and test out different Marketing strategies to see which were more effective and delivered results.
As part of the Marketing team, I was given full creative freedom to express my ideas and visions through photo and video editing to provide content for these accounts. I also had plenty of opportunities to author various articles on "Travelogue", Amazing Borneo's blog section on their website (like the one you're reading right now!).
My colleagues not only gave me tips that greatly improved my writing skills, but they also taught me how to edit videos. This is something I've always been interested to try, and I found myself having a lot of fun incorporating it into my other tasks!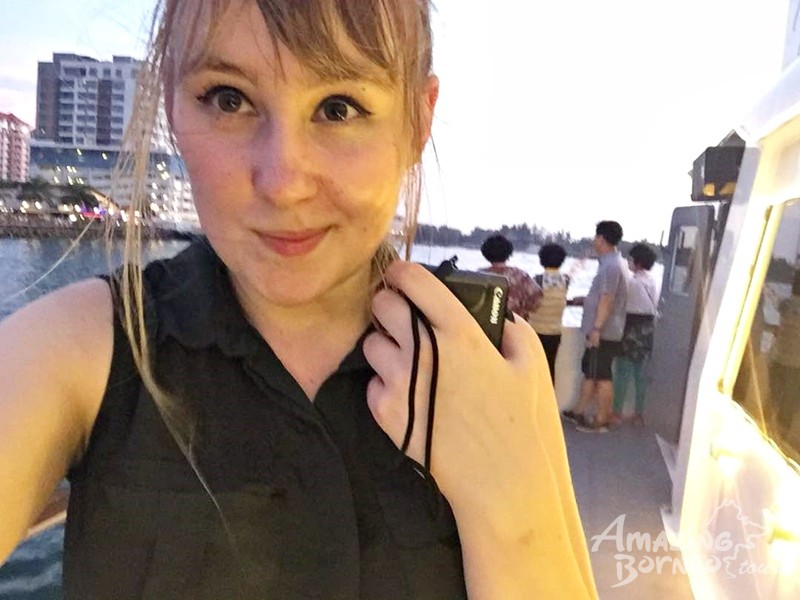 First Vlog in the making!
I gained knowledge about cameras and their settings to take the best possible photos and videos in different situations.
Putting some newly-gained skills into action!
On top of working in the Marketing team, I began tasks in the Sales team a month after I first started my internship.
I was taught how to do some Data Analysis on last year's invoices, select 5 principal markets, and identify the packages they bought. This has proven to be very beneficial because thanks to all these information I compiled, the Sales team are now able to create new strategies to better target specific markets, and has helped me with initiating new Marketing strategies with regards to social media postings.
Participating In Different Activities
During my time at the company, I participated in a few events and got the chance to see another side of the Amazing Borneo team.
I helped with planning and organising their very first Open Day event, which was a roaring success!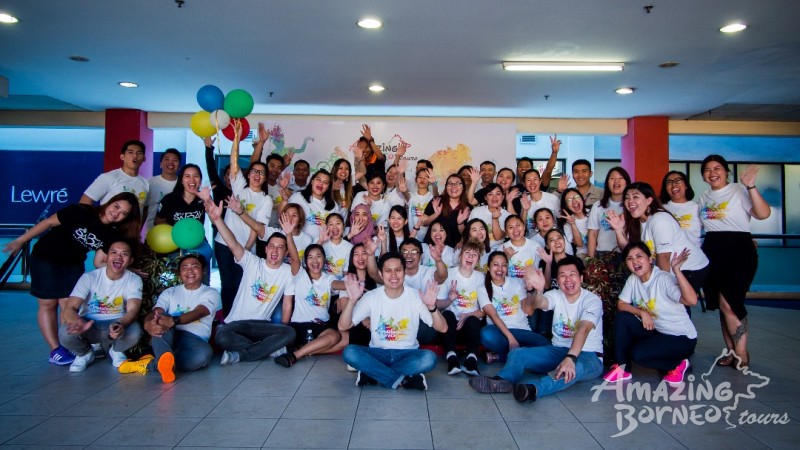 At the end of the Amazing Borneo Open Day 2018
I assisted in taking photos during one of their team building activities the company offers. As the organisers change with each team building enquiry, different cycles of employees get a chance to participate at least once. It was an opportunity to bond with other employees outside of the Marketing and Sales team.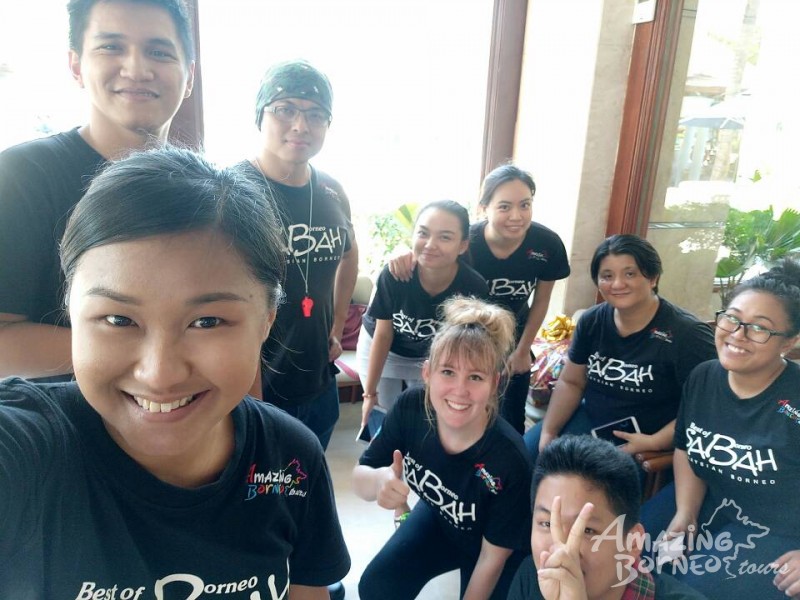 Team Building activity at Nexus Resort
I joined two interesting courses; one on social media and another is the DISC training. The DISC training helps in knowing how to better work with your colleagues according to their personality type as well as delving more into your own personality.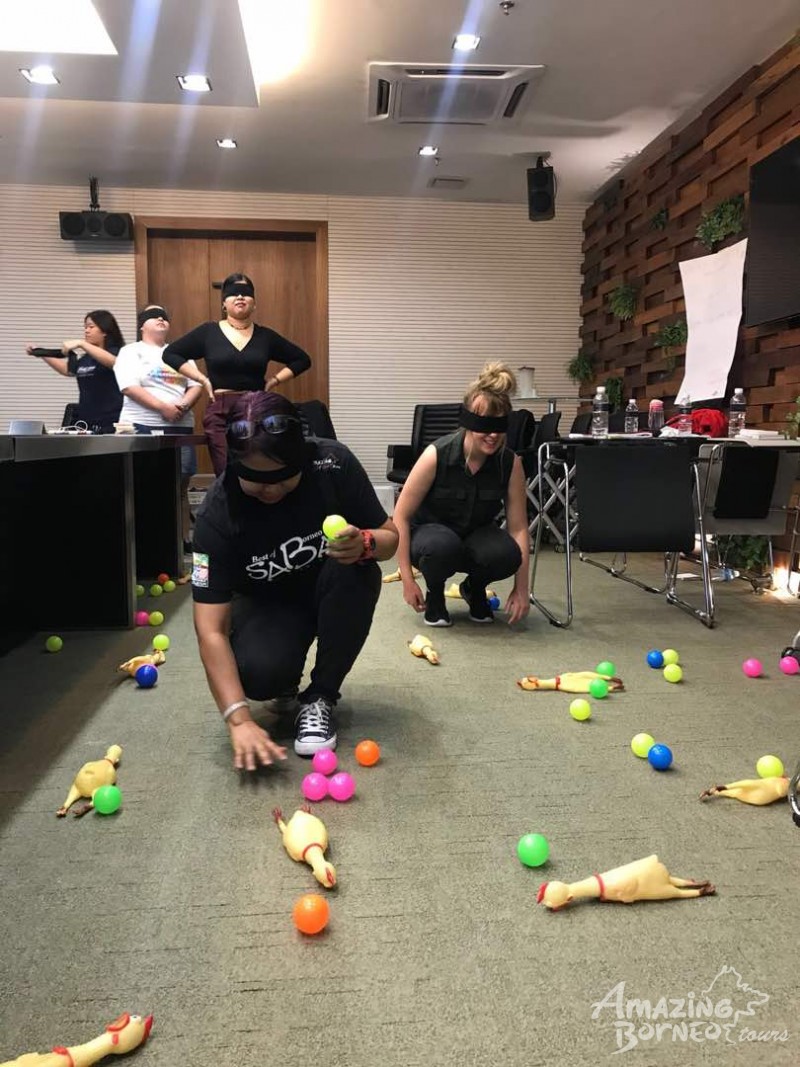 Listening and trust exercise during the DISC training
Big Thumbs Up!
What I really appreciated about my internship is that I didn't get the impression of being an intern. I was entrusted tasks with responsibilities and considered as a permanent employee. New suggestions and ideas were always welcomed, and my opinions were taken into account during meetings.
I had never experienced this during any of my previous internships and I really appreciate this as it meant that my work was close to what they expected and of their high standards!
Discovering New Places
Working for a tour operator means that it is a must to know about the destinations you are promoting well.
Sabah was completely unknown to me but I was extremely lucky to have been sent on multiple trips during my time at Amazing Borneo! These trips gave me a better understanding and experience to be able to write articles and produce content such as photos and videos!
I will leave Sabah (for now) with unforgettable memories of my many adventures such as:
Cycling Through Sabah's Unique Landscapes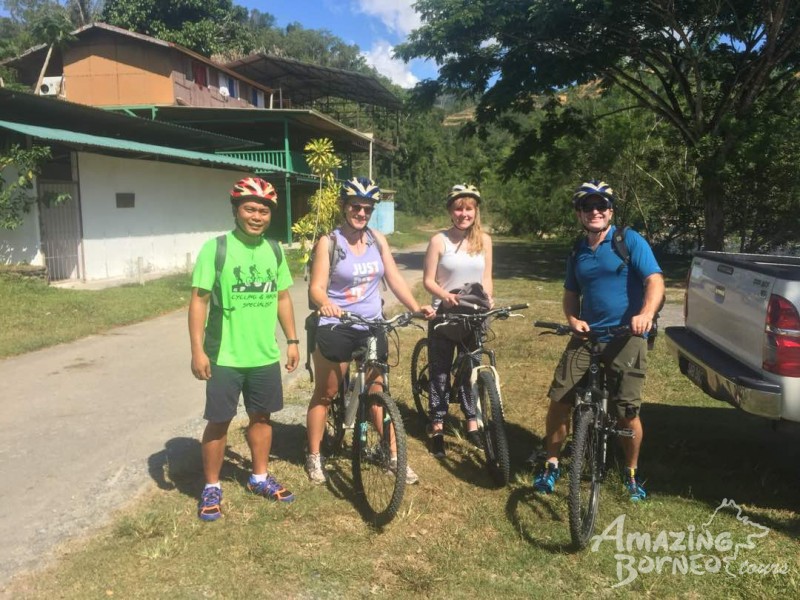 Switching From Snorkels to an Oxygen Tank with SeaTango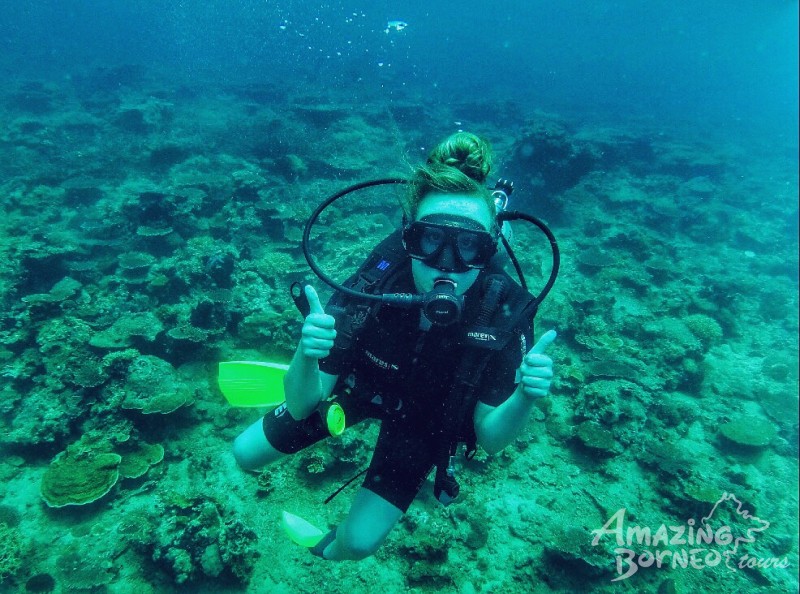 Getting As Close As Possible to Sabah's Sunset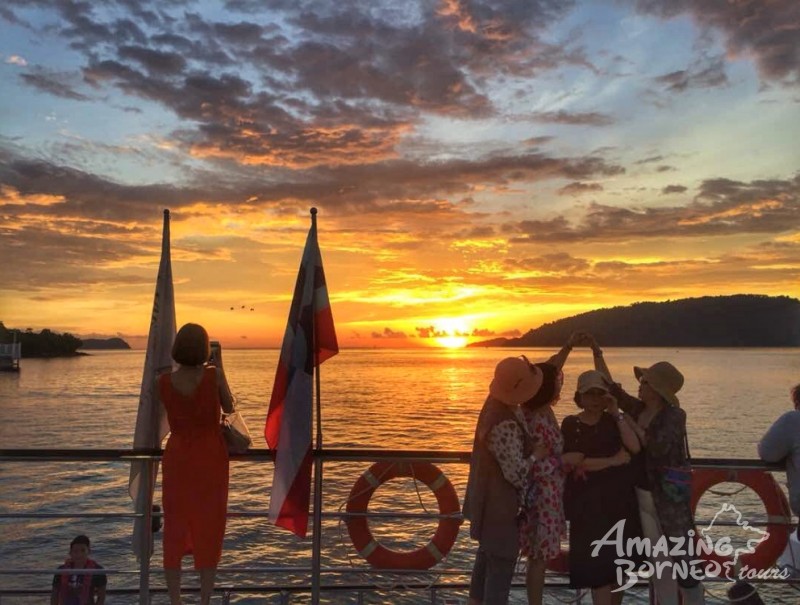 Becoming an Explorer on the Klias River Cruise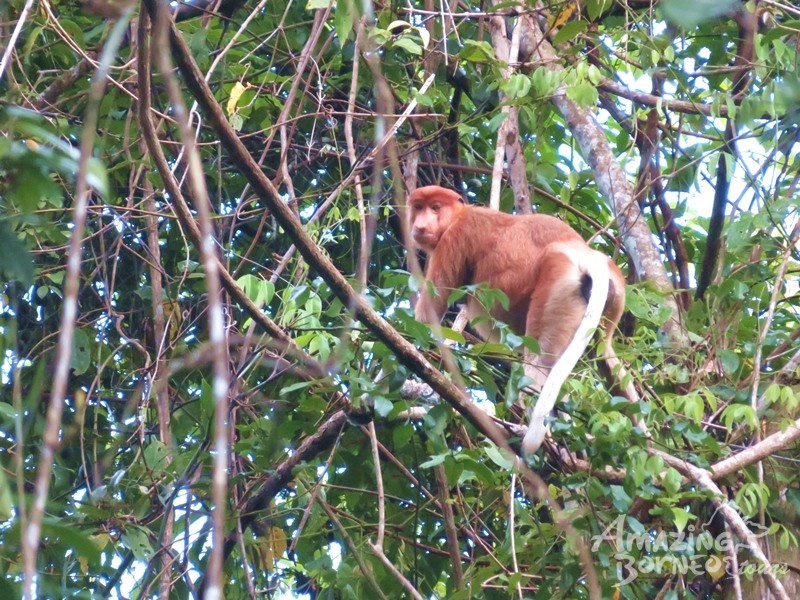 Fun Boat Snorkeling & Island Visit with SeaTango
(or click here to watch the vlog!)
My #GETLUCKY Mount Kinabalu Journey
(or click here to watch the vlog!)
Lastly, a one-week work trip collecting footage and travelling from one district to another between homestays. It was exhausting, but it's the best way to discover new places, participate in local activities, and fully immerse in Sabah's vibrant culture!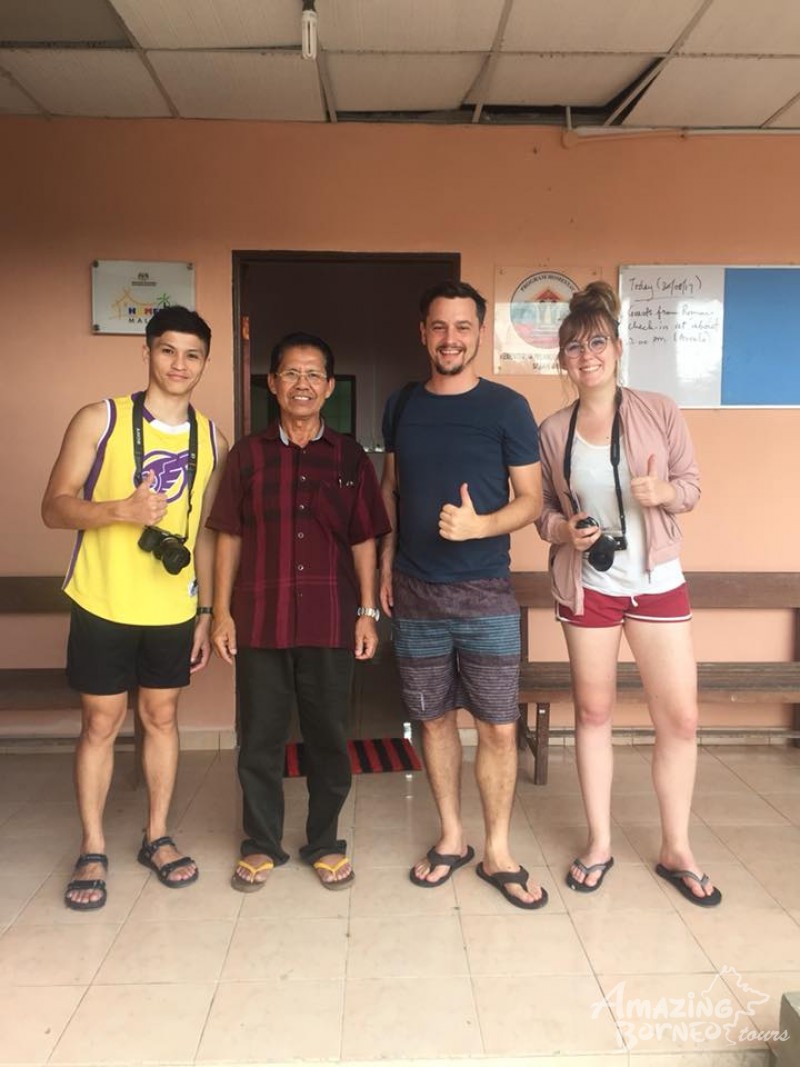 With one of the homestay owners in Kota Belud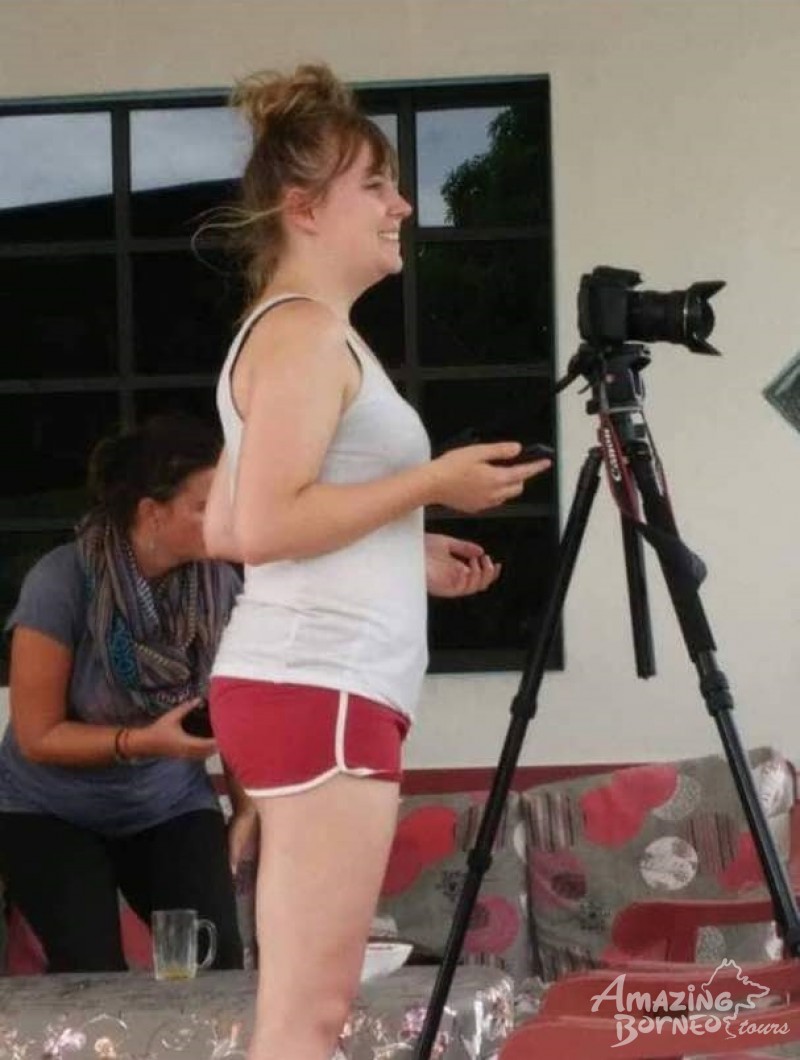 Interviewing them while manning the camera.
Working Environment
The I entered the Marketing Department and later Sales, I immediately felt intergrated into their teams. My colleagues were super friendly, funny, warm-hearted, and perfect to work with.
I admit, I was impressed by how they were able to balance being serious at work and also find time to have fun! After work, they would often take me to different areas they frequent to show me the true Sabahan lifestyle and local food. How sweet is that?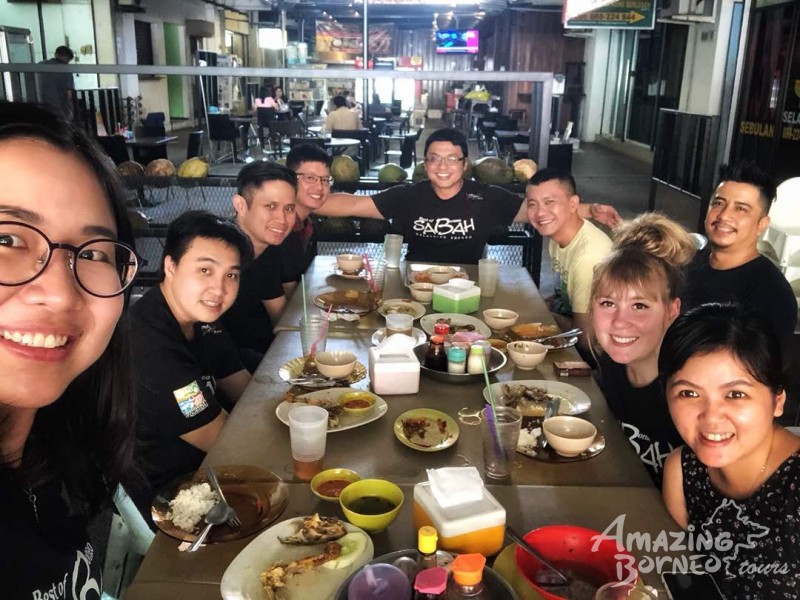 Team lunch!
About the office, it's definitely one of the coolest and modern one I've worked at thus far!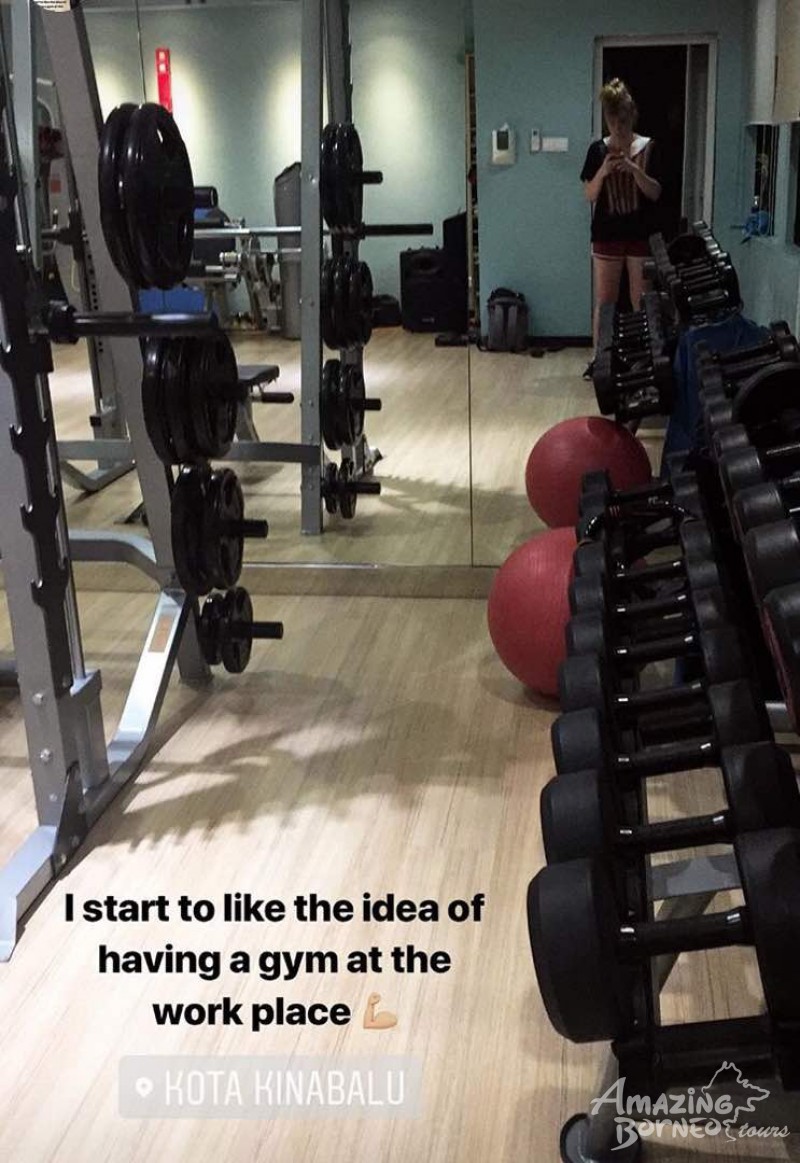 A gym at your disposal to eliminate the weight you've gained from all the Malaysian delights you will eat.
They have several common areas including 2 pantries for you to eat at and your coffee break to get you through the day, a shared space with an entertainment system and pool table, a karaoke set for you to sing your stress and worries away, and even "idea rooms" for a little contented solitude while you rest your mind or... come up with new ideas?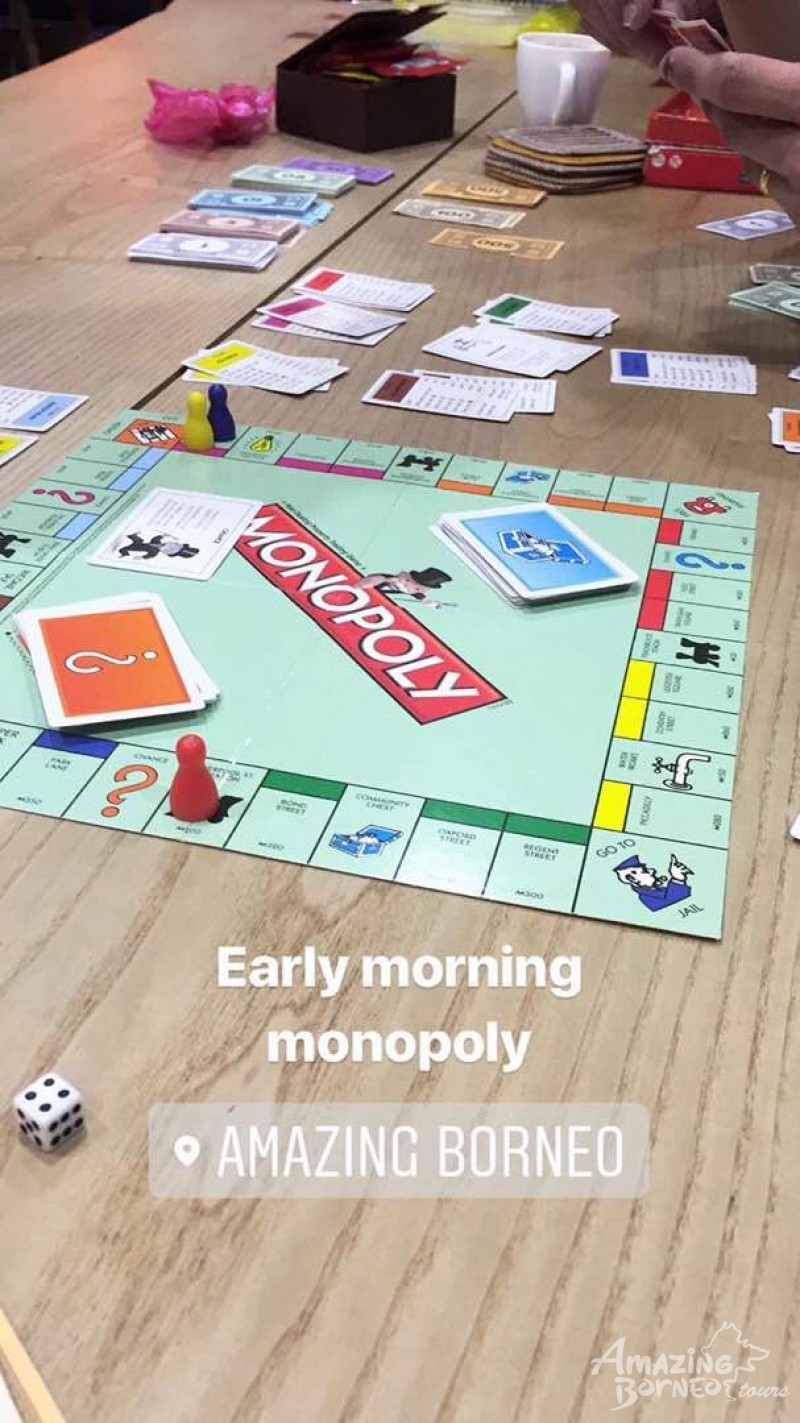 Some monopoly in the morning because... why not?
5-Star Internship!
Reviews are very important for tour operators to gain the trust of potential customers, so it is only fitting for me to rate this internship.

I rate it with 5-Stars and would definitely recommend!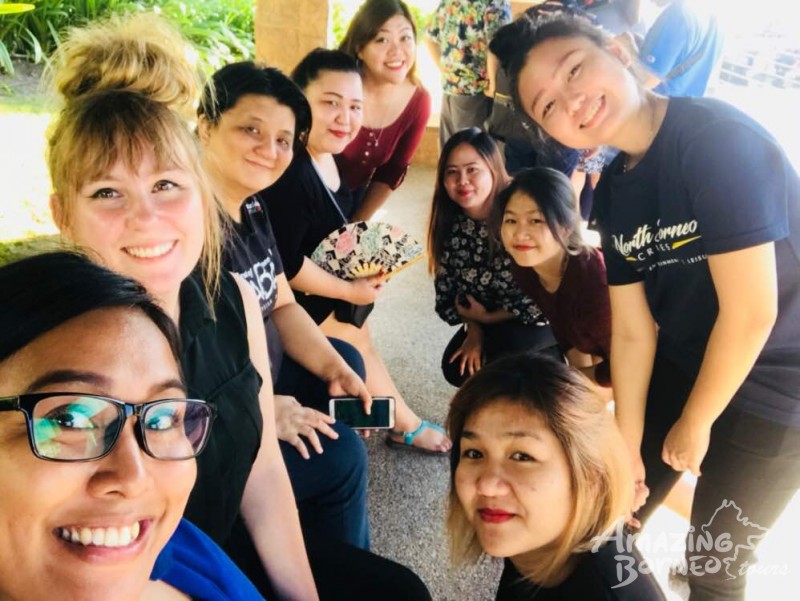 Looking back on it now, I can only be grateful for my time here! I've learned so much and been given the opportunity to see so many places, and all while being amongst fantastic people!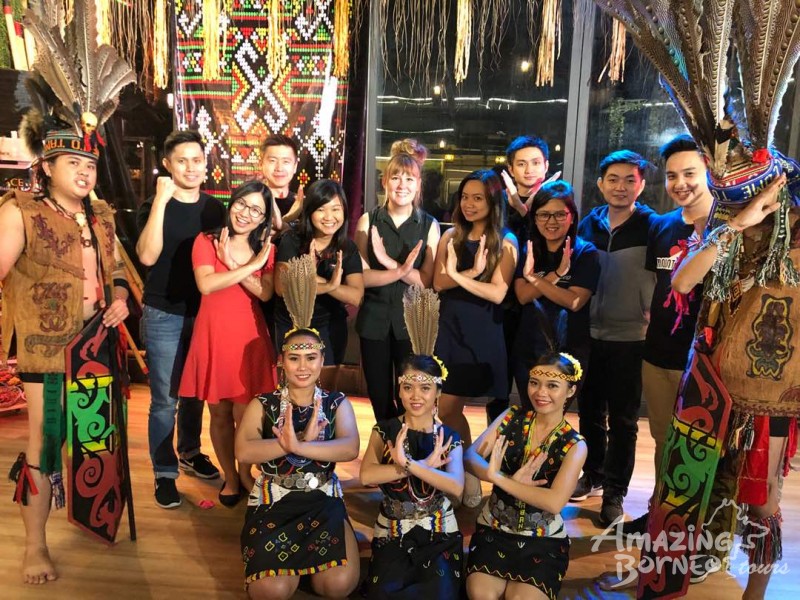 I have just one last thing to say, Terima Kasih!
---
To apply for an Internship at Amazing Borneo, simply drop your resume to us at hr@amazingborneo.com!