Photo: BusinessToday
Health Minister Khairy Jamaluddin today announced new travel protocols and some good news for those travelling between here and our neighbour Singapore.
New Travel SOPs (Latest Update from 1st May 2022)
Prior to arrival, travellers will need to download and register their details on the MySejahtera app.
Fully vaccinated travellers and children aged 12 and below are exempted from pre-departure and on-arrival tests.
Partially or not vaccinated travellers must take an RT-PCR test 2 days before departure and a supervised RTK-Ag test within 24 hours of arrival. They will also have to quarantine for 5 days.
COVID-19 insurance is no longer required for all travellers entering Malaysia.
By default, COVID-19 positive cases are required to quarantine for 7 days. However, under Test and Release, they will have an option to undergo a supervised RTK-Ag test on the 4th day. If tested negative, they may be released from quarantine.
Please ensure you read through the OFFICIAL GUIDELINE FOR ENTRY INTO SABAH published by Sabah Tourism Board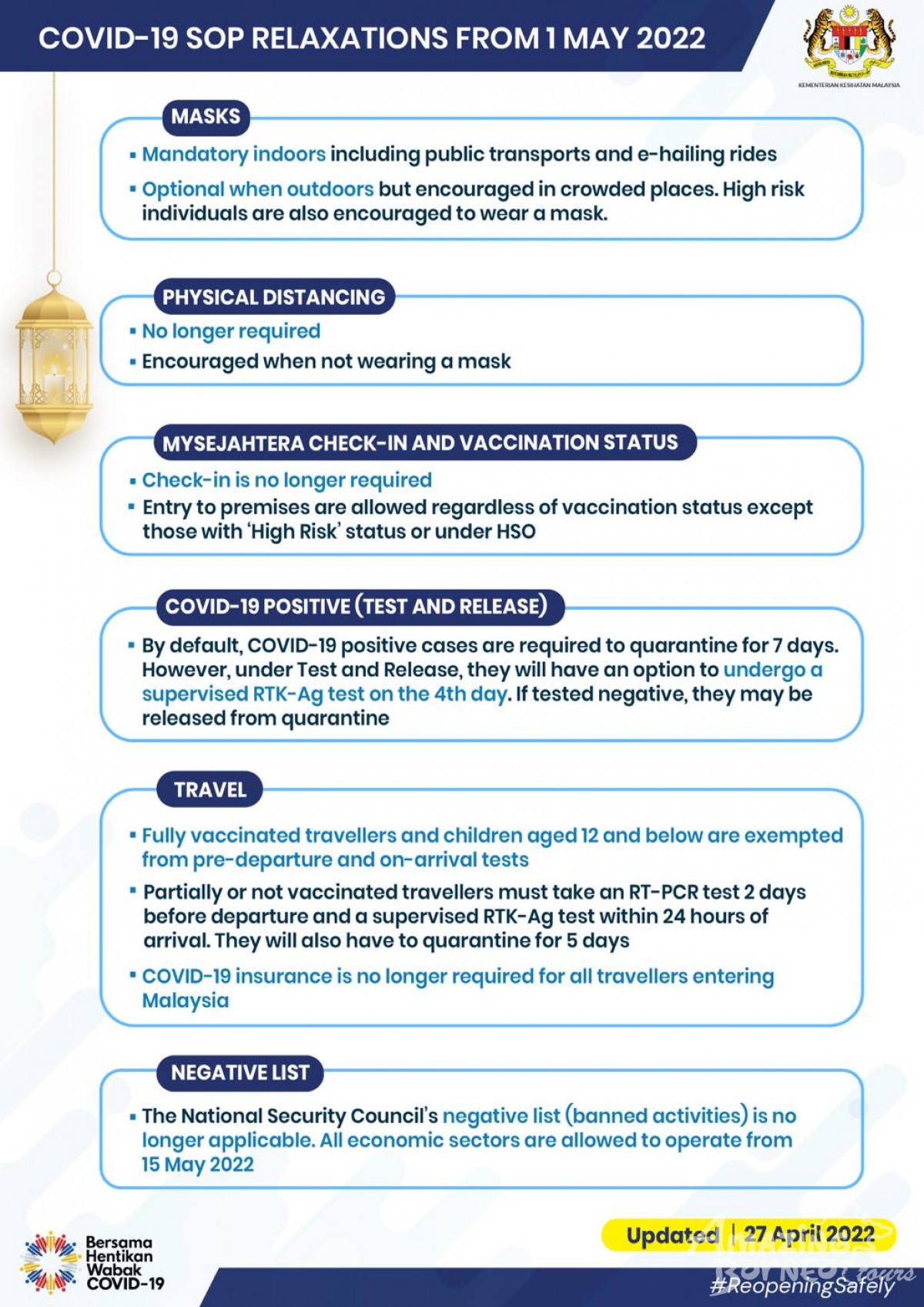 Photo: Ministry of Health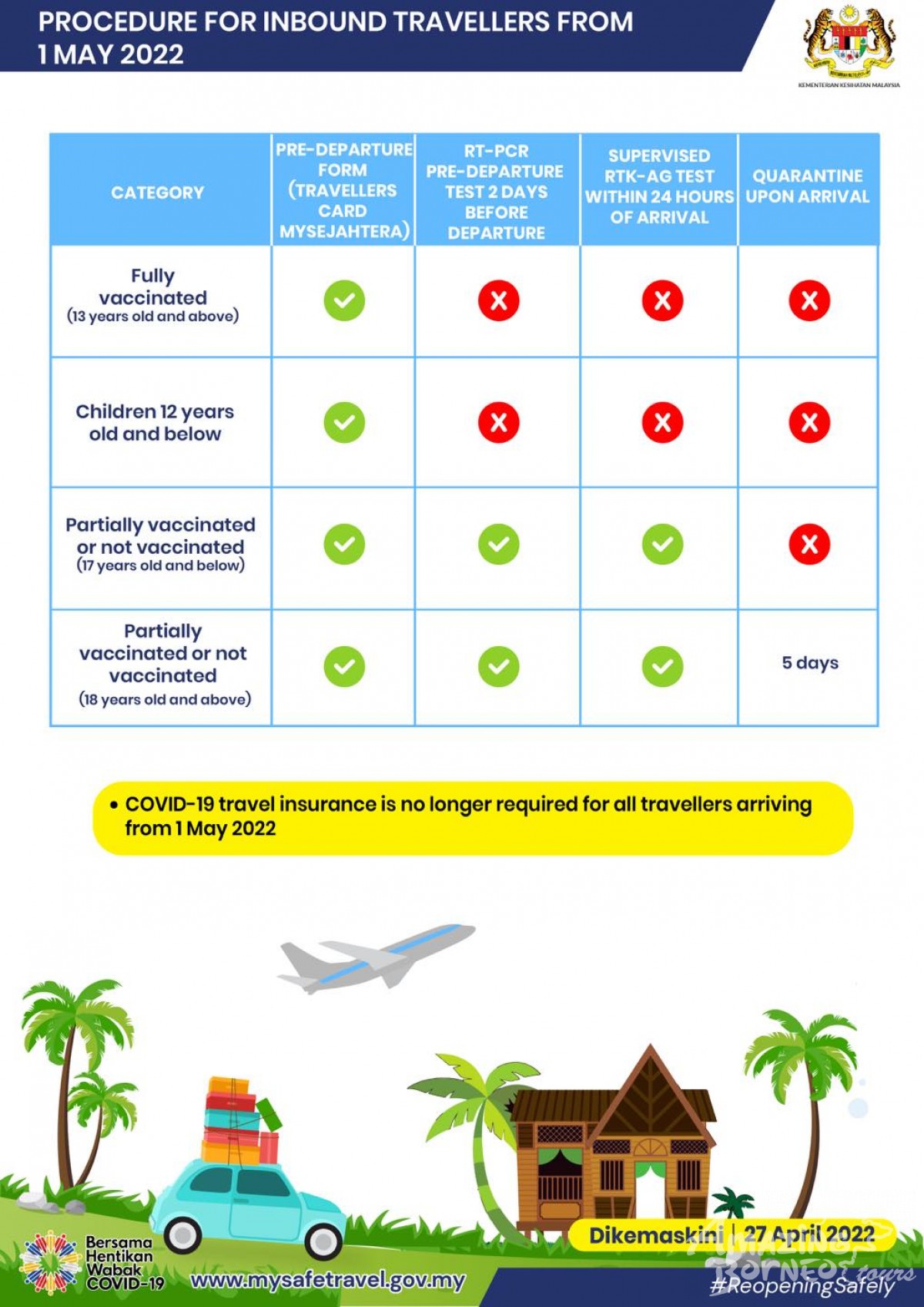 Photo: Ministry of Health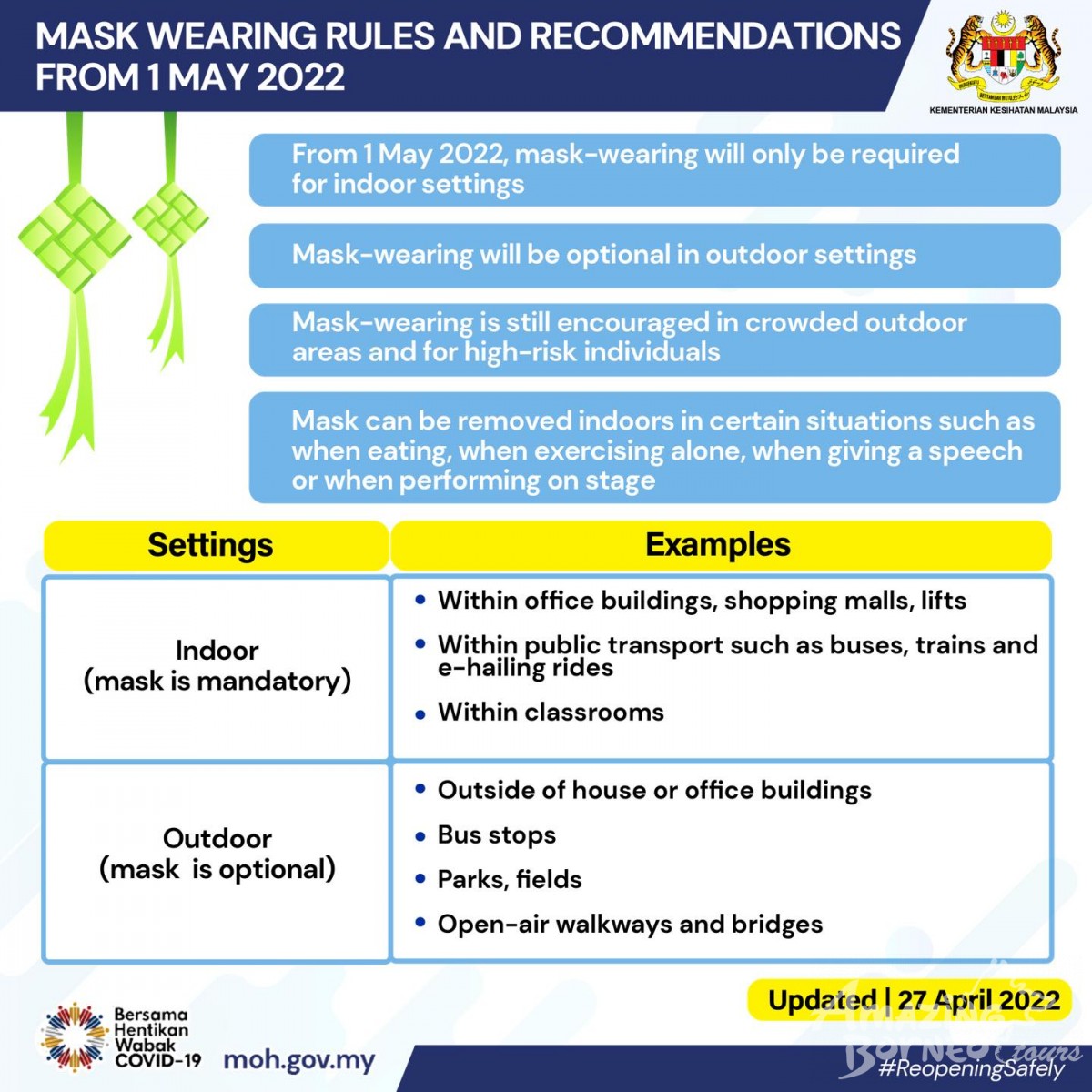 Photo: Ministry of Health
Malaysia-Singapore Travel Update
Fully vaccinated people living in Malaysia and Singapore travelling to either nation by land will no longer need to quarantine or do Covid-19 tests, either upon or prior to arrival.
Discontinuation Of Several Schemes Related To Travel
Several government schemes related to travel will be officially discontinued as of 1 April 2022 including:
Home quarantine application
Langkawi international travel bubble
Digital tracker
High-risk countries list
PCR test by the Ministry of Health at KLIA (Covid-19 screening procedures to be done by private healthcare operators)
MyTravelPass
MIDA OSC Programme
Face Mask Exemption SOPs
The removal of face masks are only allowed for the following:
Occupants in own residences, hotel rooms, lodging, and public facilities that do not involve interaction with other individuals
Solitary workspace
Outdoors
Recreational & leisure activities
Exercising indoors without interaction with other individuals
Private vehicles (excluding e-hailing)
During eating and drinking
Performance activities (singing, talks, etc)
Children below 5 years of age
Individuals with special needs (OKU / respiratory problems)
Credit: Newswav
Amazing Borneo is open and welcome all local and overseas travellers. If you have any travel plans in Borneo, please contact us. For your safety and peace of mind, we highly recommend for you to book a private custom tour and learn more about Amazing Borneo's Safety Protocol.