Gomantong Caves is located at the lower Kinabatangan (read my Kinabatangan blog here) area--about two hours away from Sandakan town. The Gomantong Caves is a complex caves system that lies inside the Gomantong Hill, which is the largest limestone outcrop in the area. The caves are situated within the 3,297-hectare Gomantong Forest Reserve, which is a class IV forest reserve.
Discovered and mapped in 1930 by P. Orolfo, Gomantong Caves is the largest cave and the main producer of edible bird's nest in Sabah, which are harvested by the Sabah Wildlife Department. The cave is divided into two main sections: Simud Hitam and Simud Putih, as well as several smaller caves. The Gomantong Cave is home to four types of swiftlets, 27 species of bats, as well as several other species of invertebrates that break down guano and dead animals.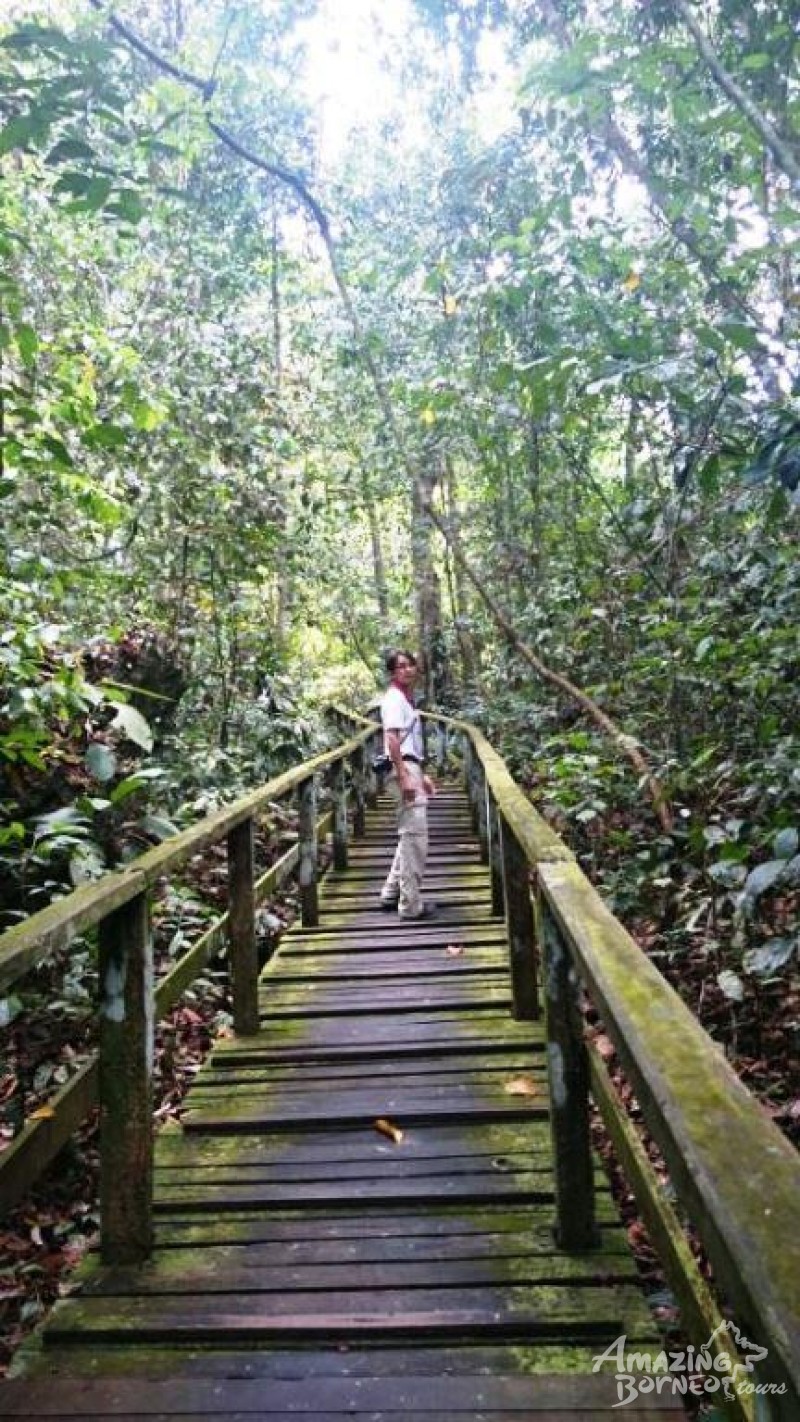 Our trusty tour guide, Belle leading guests up the boardwalk towards the Gomantong Cave
The journey from the entrance leading to the cave takes approximately 10 minutes. You will be walking on a boardwalk, surrounded by verdant foliage and cool fresh air. While walking around the area, you will also be able to spot wildlife such as the red leaf monkey, insects and even the orang utan if you're lucky.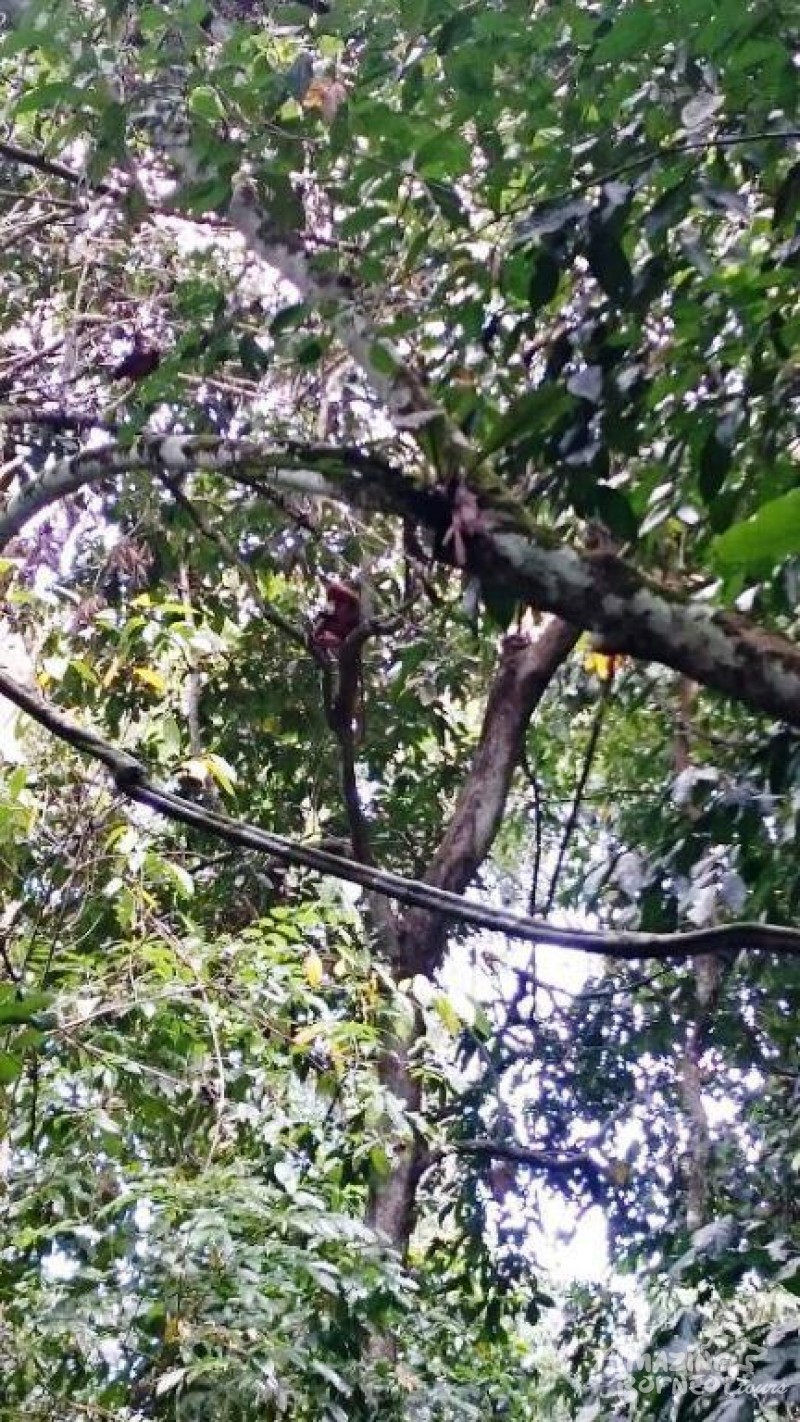 A Red Leaf Monkey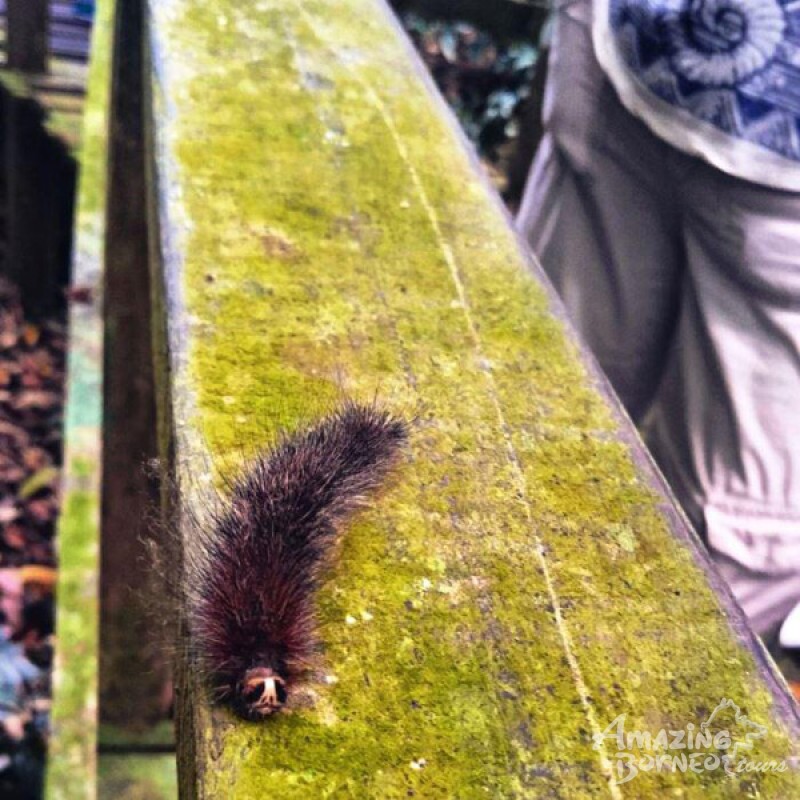 Cute caterpillar on the boardwalk banister
Arriving at the cave, I was instantly breath-taken by mysteriously beautiful view of the cave. At the same time, be warned that the cave does not smell like daisies or anything pleasant!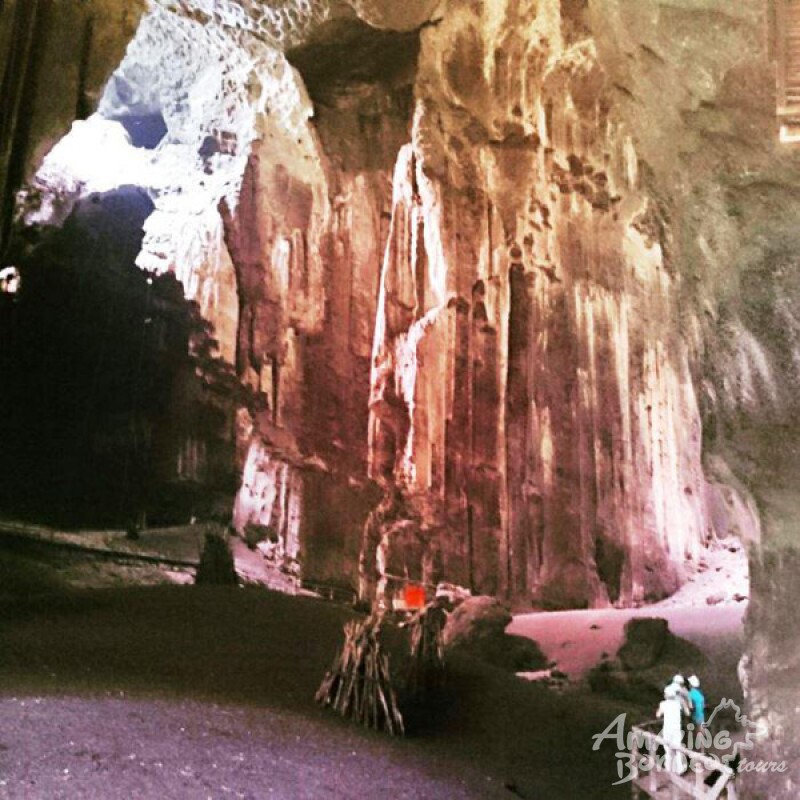 Gomantong Cave Entrance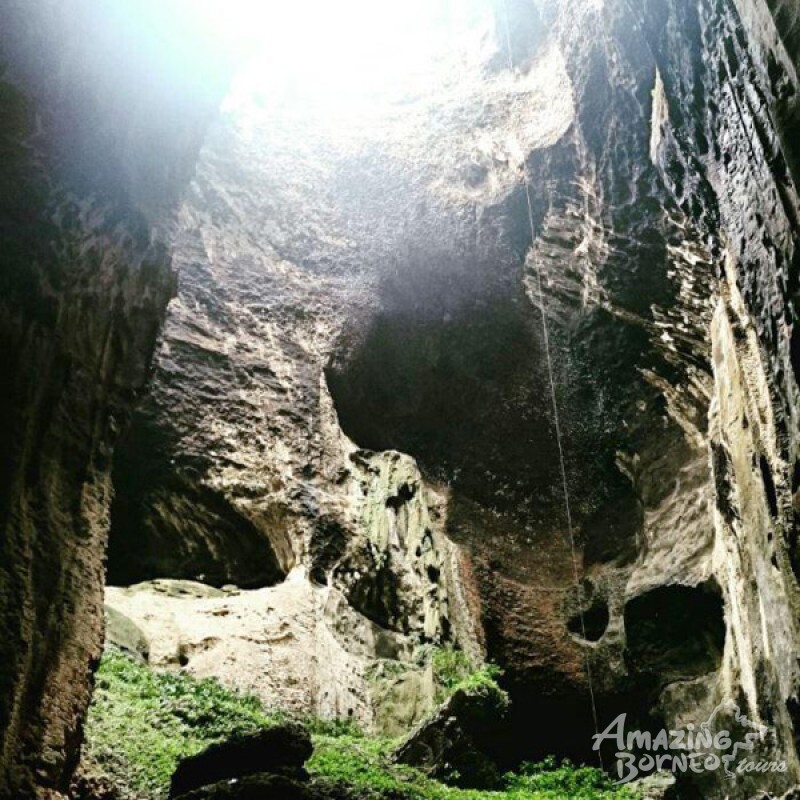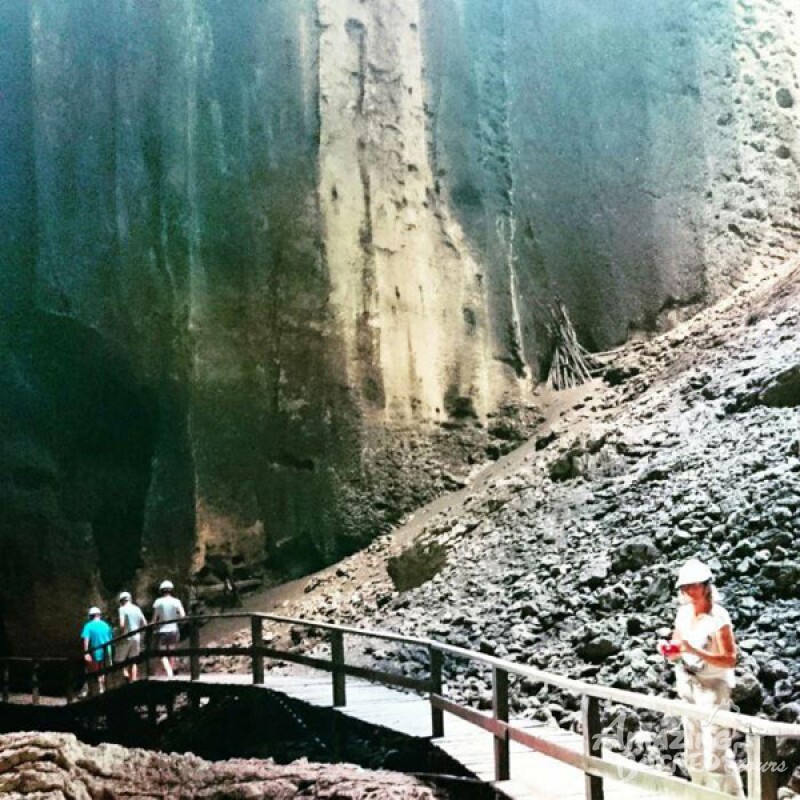 Make sure to wear a hat or bring an umbrella, as you never know when a bird dropping would hit! As you walk into the cave, be extra careful as the boardwalk is covered in bird and bat droppings, making it rather slippery. For the same reason, if you can avoid it, you also shouldn't be holding onto the boardwalk banister.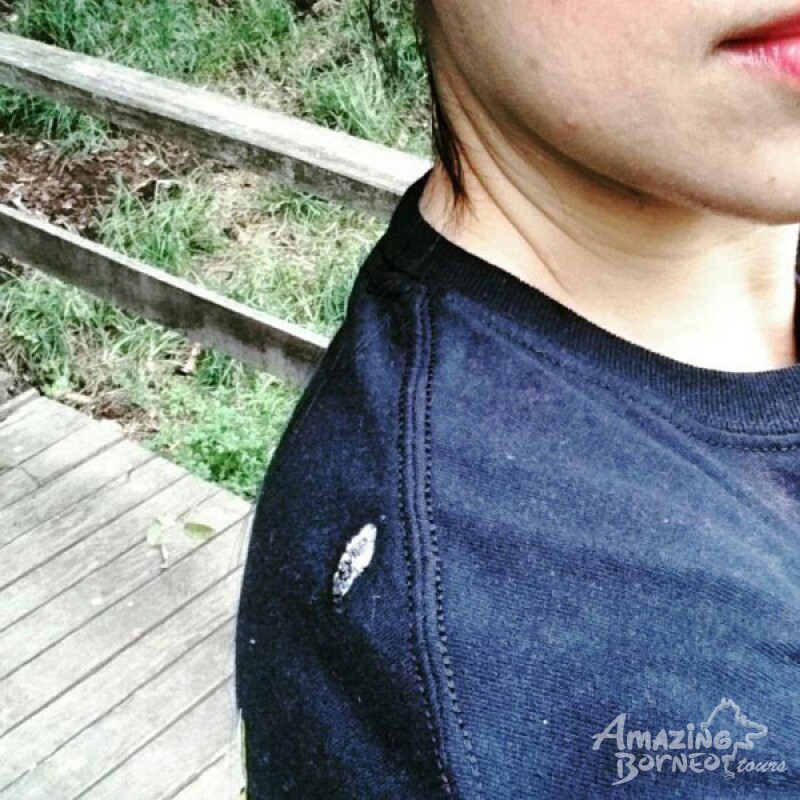 A little welcome present!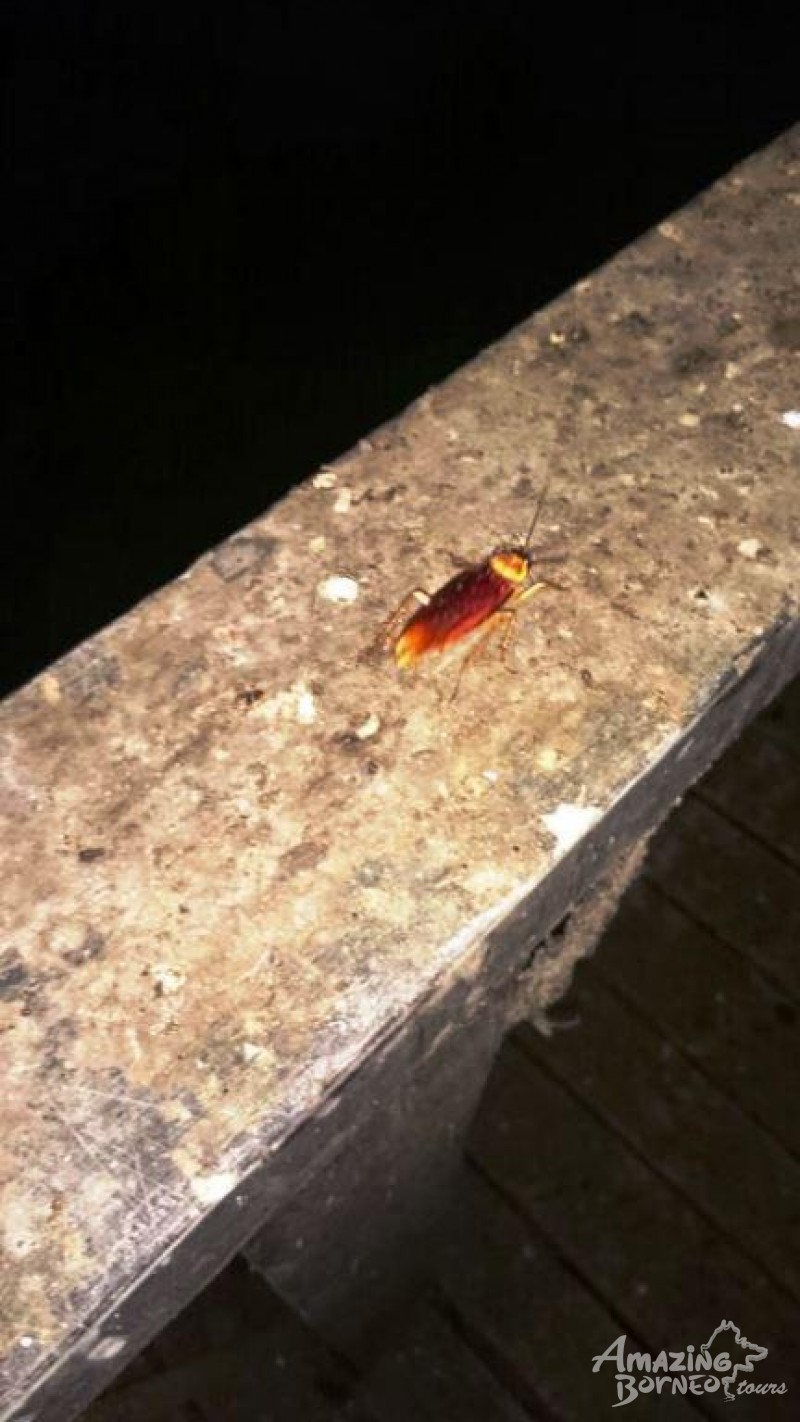 A friendly Gomantong Cave resident
In addition to bats and swallows, Gomantong Cave floor is teeming with cockroaches. Therefore, it's important to wear covered shoes when going into the cave. Nonetheless, if you can ignore the putrid smell and the crawling cockroaches, the view inside of the Gomantong cave chamber is actually quite fascinating!
The inside of Gomantong Cave is dark and damp, the only plants that grow in the environment are moulds and ferns. It is usually quiet inside the cave, save for the occasional sounds of bats and birds, as well as water dripping. If you have trouble seeing in dimly-lit condition, it is recommended that you bring a headlight or a good quality torchlight to aid your vision.
Gomantong Cave is open daily from 8am to 1pm and 2pm to 5pm (Monday - Thursday & Saturday - Sunday) and from 8am to 11.30am and 2pm to 5pm on Friday. For more info on the cave , please contact the Sabah Wildlife Department at 088-215353.