Sabah takes a giant leap in marine conservation with a 1-million-hectare marine park & shark sanctuary.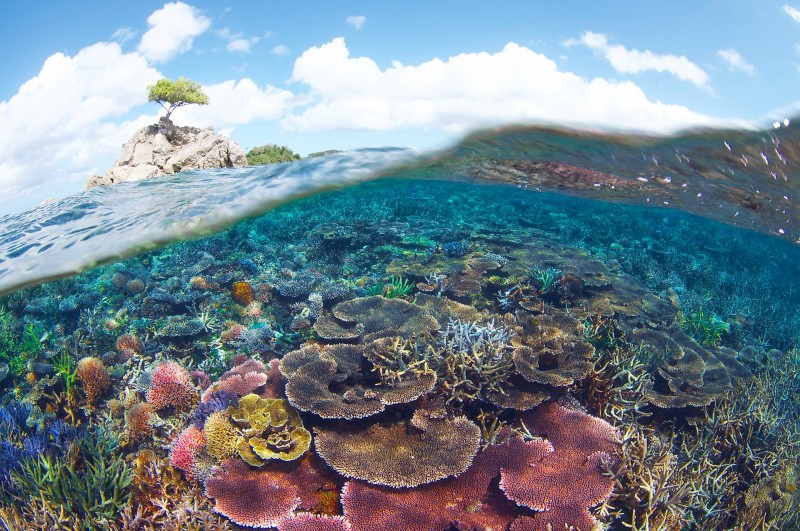 Tree Rock in the Tun Mustapha marine park. The new park is home to more than 250 species of hard coral and around 360 species of fish.
Photograph: Eric Madeja/WWF Malaysia
How Big, How Blue, How Bold-- Sabah marks a milestone in global marine protection and conservation by establishing a 1million hectare (2.4m acres) protected marine park, The Tun Mustapha Marine Park—Malaysia's largest marine protected area (MPA), located off the Northern tip of Sabah, Kudat.
The park's gazettement, which comes alive after more than 13 years of negotiations and planning, was led by Malaysia's Sabah Parks with government agencies, local communities, international partners, and support from non-governmental organizations including WWF.
The protected area is a bio-diversity hotbed of more than 250 species of hard coral, endangered green turtles, a variety of sharks, sea snakes, migratory whales, dugongs (sea cows) and around 360 species of fish. Besides scuba diving, the area is brimming with pristine islands beautiful white sand beaches, and stunning seascapes with a number of key turtle nesting areas paving the way for more opportunities in "voluntourism" in the near future. So why not make a difference as you travel. Such a holiday gives true meaning to the word 'Paradise'.
The new park protects almost a million hectares of coral reef, mangroves, seagrass beds that spread out over 50 islands-- but not just that. The park is well-placed to ensure the survival of the 180,000 people that live within the park's boundaries--the coral triangle-- where environmental protection must be balanced with the needs of growing coastal populations, further advancing the people's socio-economy. Sabah Parks has also confirmed that the park is pioneering a mixed-use approach to marine conservation, with spots dedicated for artisanal and commercial fishing as well as areas under "strict protection".
With its official declaration on July 24th 2016, the size of protected marine parks in Sabah now stretches to about two million hectares along with the Tun Sakaran Marine Park and the Tunku Abdul Rahman Park—all of which would be a sanctuary in efforts to protect the shark population of Sabah.