One of Amazing Borneo Tours trips we wanted to do the most was the Rasa Ria Orang Utan Encounter. We have never seen Orang Utan in real life and really wanted to do that. We don't have monkeys in Sweden (except for in the zoo) so for us this is very exotic. First they told us that we would not be able to see them because no one had booked the tour for the day that was fitting out schedule. But after a few days they told us that someone booked the trip and if we still wanted to go we could. Of course we still wanted to see the Orang Utan in real life so we did some changes in our schedule for the next day. Something that is good to know is that you have to book the trip at least 2 days before because there is only a limited number of guests that are allowed to visit the center in one day.
Our guide and driver for today was Leo and Lerond, they picked us up outside our apartment and we drove to 1Borneo to pick up an American family. We continue to Rasa Ria Resort, only 50 min drive from Kota Kinabalu city. The resort have a nature club were they rehabilitate Orang Utan to get back to a life in the wilderness. To get to the nature club you walk thru the whole resort. This is not just a small hotel, the have like their own world. On the way in to the hotel you pass a golf court. We stopped outside the reception and walked thru go get outside to the "backyard". The staff are very welcoming and greet you very politely. The resort have their own beach and a pool area and everything is so well organize, you will feel very tempted to stay at the resort and don't go back after you have seen it.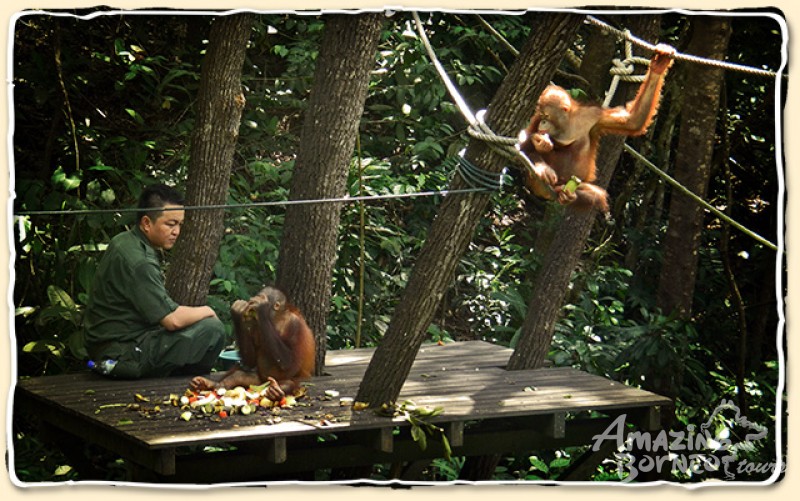 To get to the Orang Utan you will have to register your arrival and clean your shoes. Before they let us walk the 10 min walk to the platform they showed us an information video about the center, what they do and how the work with the Orang Utans. Then it was finally time to go to the Orang Utans, Leo had told us in the car that sometimes they just stay in the tree tops and to be ready with the camera. If you see one take a picture because maybe they wouldn't come closer. So there we stand at the platform waiting and search the tree tops with our eyes to find the Orang Utan. The keeper called their names and after 5 min the leafs in the tree tops started to move and the first Orang Utan came down, the keeper brought some fruit and it climb down the tree and started to eat. We all watched it with fascination and after a couple of minutes the trees started to move again and one more came down, also hungry for fruit. Now we had two Orang Utan in front of us and all had their camera up snatching picture and watch them eat. One of the Orang Utan was more willing to give us a show, he swinged in the ropes in front of us and showed us his skills. But if was not only Orang Utan that was craving for fruit, from nowhere a crowd of monkeys appeared. First they were afraid of getting near the Orang Utan but when they had enough of the fruit and climb up in the trees again the small silver colored monkeys took over.
We all was more interested in the Orang Utan so we followed them up with our eyes in the tree tops and watch them play with each other. Before we came here we thought they were pretty big but when we watched them we realize that the body is quite small. We thought that they were going to leave us but suddenly they headed down again and this time really close. Before we went in they told us not to pet them or feed them. Now one of the Orang Utan was maximum one meters away from us. It was so cool to really see them so close. If we were allowed we could have touch it. The Orang Utan was looking at us with big eyes and the keeper told us to hold in our sunglasses. The Orang Utan has long fingers and sometimes they think it's funny to take them. When the Orang Utan got tired of looking at us it headed back up in the trees and our time had run out. It was time to go back!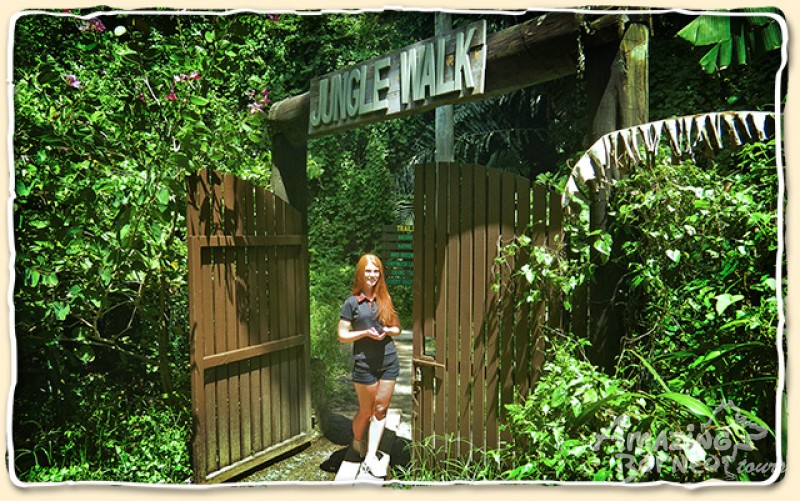 We had an amazing day, it was so fun to see the Orang Utan swing in the trees and to see it up close.