I figured, to truly seal the friendship I have with this laid-back sunny state of Sabah, my taste-buds would need to venture out into the delectable depths, just to complete the sights and sounds with taste and textures.
It's one thing to be sampling local delicacies from a plate, but today we took the experience to whole new level by putting aprons on and getting hands deep in Sabah's culinary tradition.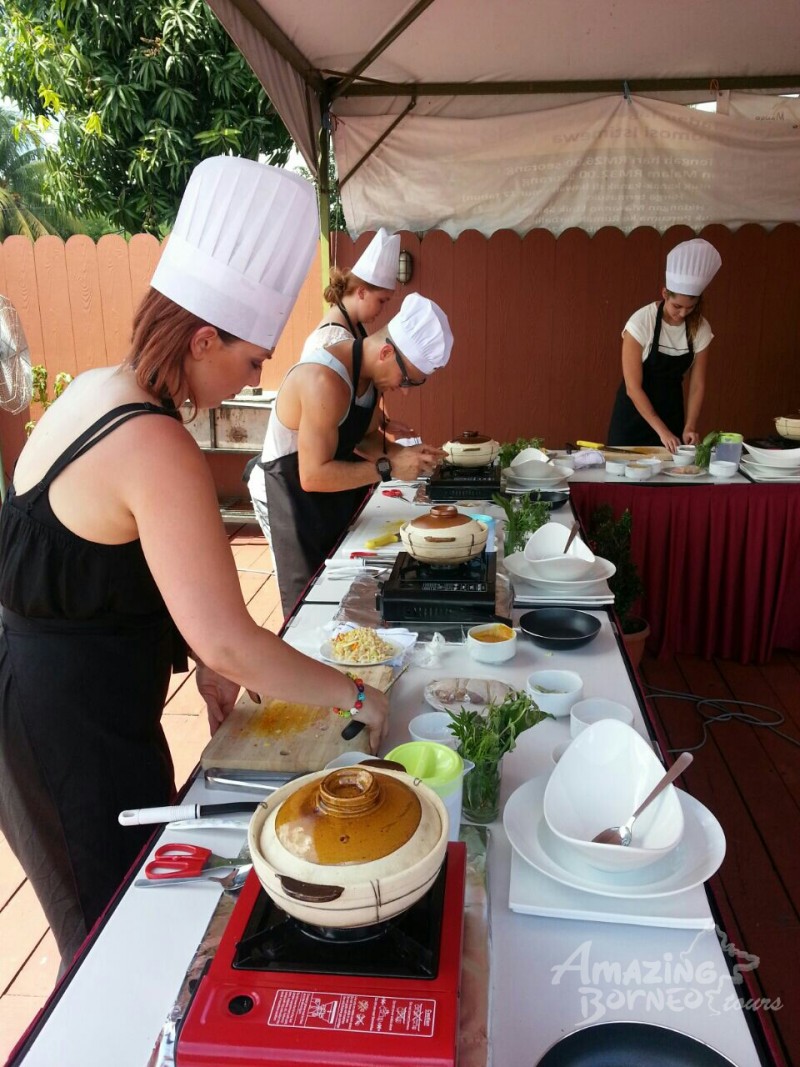 Though my kitchen skills are rusty, I knew for a fact that no-one needed to be a 'domestic goddess' for this class because we had a Head Chef guiding us all the way!
What's on the menu:
HINAVA SADA ( TRADITIONAL FISH SALAD )
Exotic tropical flavors as a side entrée. A popular ethnic delicacy and appetizer that stems from the Kadazan Dusun tribe. This dish is all about fresh tangy flavors that excites the tastebuds.
KOK DAING NILOHOAN ( TRADITIONAL FISH HEAD SOUP )
Savoury and soulful… tasty secrets from the shores where "sea gypsies" roam. A traditional dish that originates from the Bajau Ubian, the second largest indigenous tribes in Sabah. They are known as "cowboys of the east" for their horsemen skills and also deemed as "sea gypsies" for their skills in seafaring.
MANUK TINAPAH ( BBQ CHICKEN IN HERBS )
A season of seven spices. Culinary magic originating from the East Coast of Sabah. The Bajau tribe certainly know how to grill a chicken, and they do it with the grace taught by the sea, the patience taught by herbs, and the enthusiasm taught by spices.
Knives, pots and pans are primed, polished and ready to go.
The complete spread of ingredients, utensils and cookware on my work station, where the magic happens. Even when the cooking hasn't started, aromas are already in the air from such fresh ingredients, especially the pairings of ginger and lemongrass.
The head chef then briefed us step by step on how to prepare the Broth and which ingredients to chop first. I was also glad that he enlightened us on some stories about how these dishes came about, steeped in centuries of history.
Slicing fish like a pro, thanks for the neat tips and tricks chef! *be one with the knife*
My favorite dish had to be the Hinava Salad, fresh.. raw and tangy. This one is special to Sabah's culinary history, this traditional native dish is an every-day favorite for the ethnic Kadazan tribes. The raw fish is cooked by squeezing lime juice. Fresh onions and bitter gourd are then thrown in viola, it's a history and cooking lesson all in its self!
Part of the fun was also the food presentation. We got a little creative and make sure our dishes looked as good as it taste.
Time to dig in.
I'd say, preparing this gave me a heightened sense of appreciated for Sabah's cultural heritage.. also a lot of insight on how diversified this little island of Borneo is, every district province town, a whole different taste.
If you're keen on adding some outdoor cooking action during your travels , also learn a thing or two 'bout Sabah's culinary tradition, click for more info : http://goo.gl/I105YE