Sunset expedition with North Borneo Cruise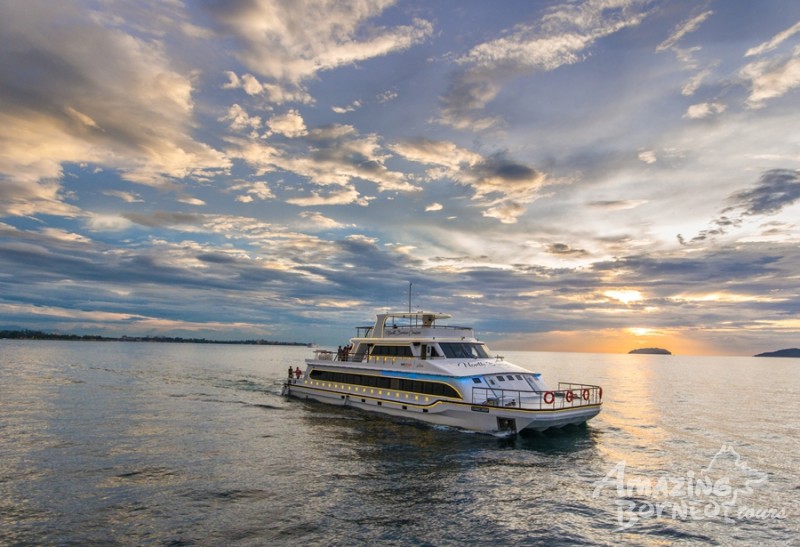 I always wonder how it would feel like to gaze at the famous Kota Kinabalu sunset from a cruise out at sea. Being an intern at Amazing Borneo, I was given the chance to experience it first-hand. It was only my third day of intern but already I get to strike one thing off my bucket list! Not only is it a brand new experience for me, but it is also first of its kind in Sabah. I was beyond thrilled.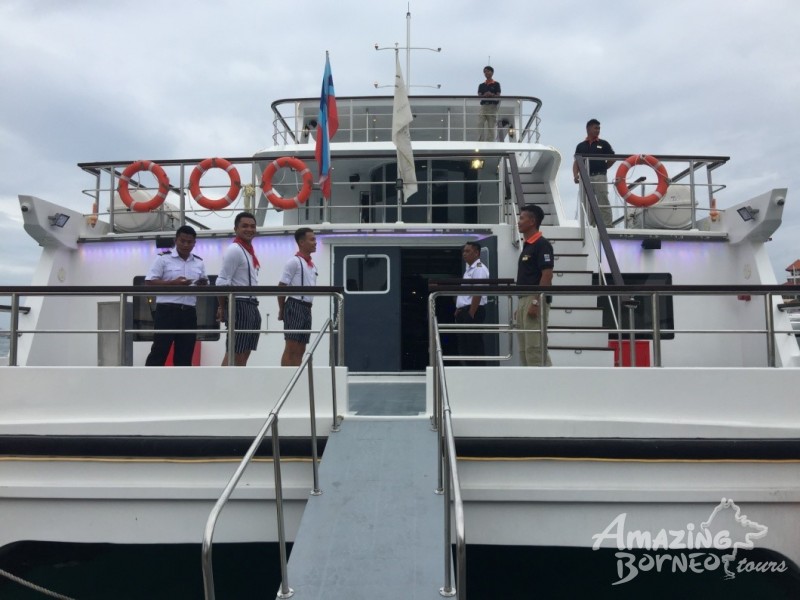 Before heading out, I popped two motion sickness pills before I leave for my voyage. If you're prone to seasick, I'd suggest you take one as well just in case.
Friendly service crew onboard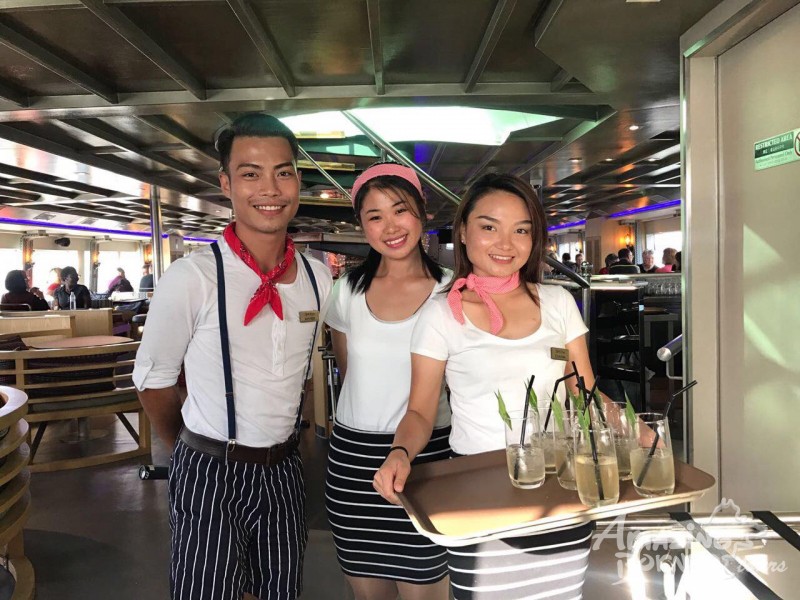 North Borneo Cruise departs from Sutera Harbour Marina Jetty and upon arrival; I was amiably welcomed onboard by the service crew. We began to meander around the main deck while waiting for the rest of the guests to arrive.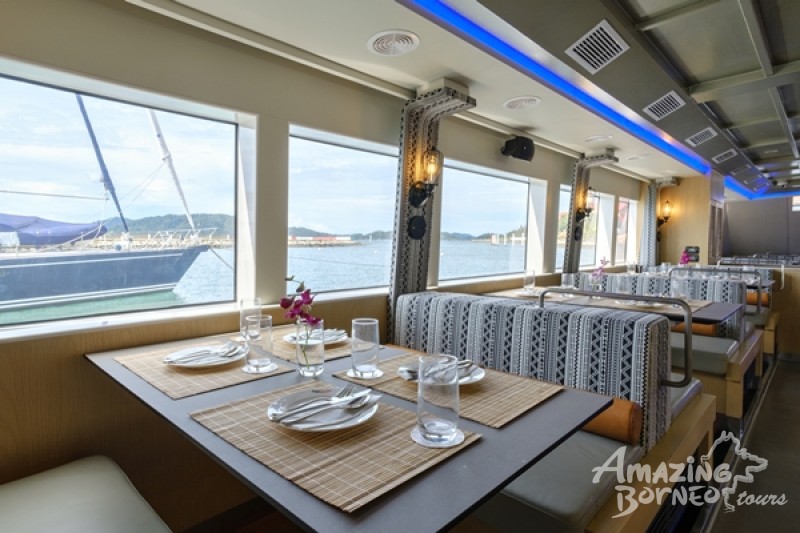 The main deck was furnished beautifully from the tables to the mini stage and illuminated with spotlights it gives off the ambience of a fine-dining restaurant.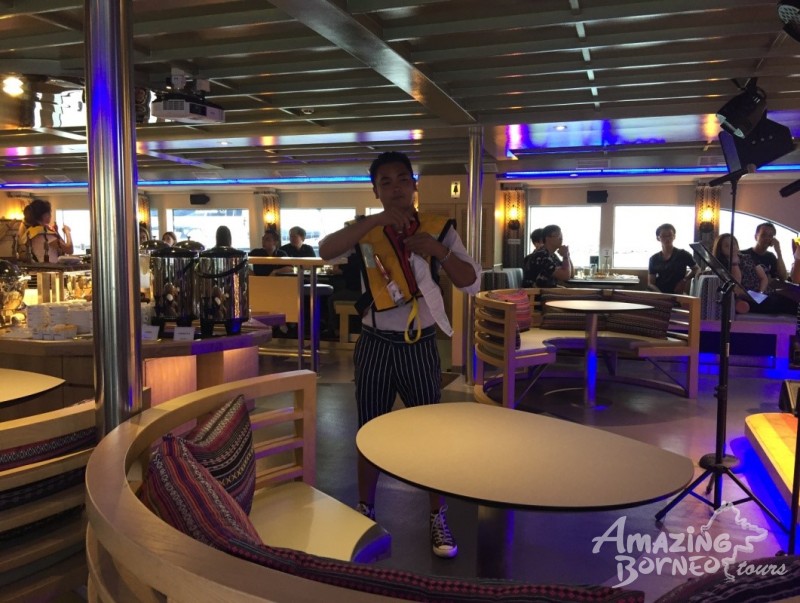 The cruise sets forth at 4:50PM and before guests are allowed to roam around freely, a safety briefing is compulsory in case of emergency. Safety briefing held on water is not much different than the safety briefing in the plane. We were tempted to gorge on the generous array of starters and entrée but we put our gluttony aside for a bit and went exploring the two remaining decks.
VIP Karaoke Room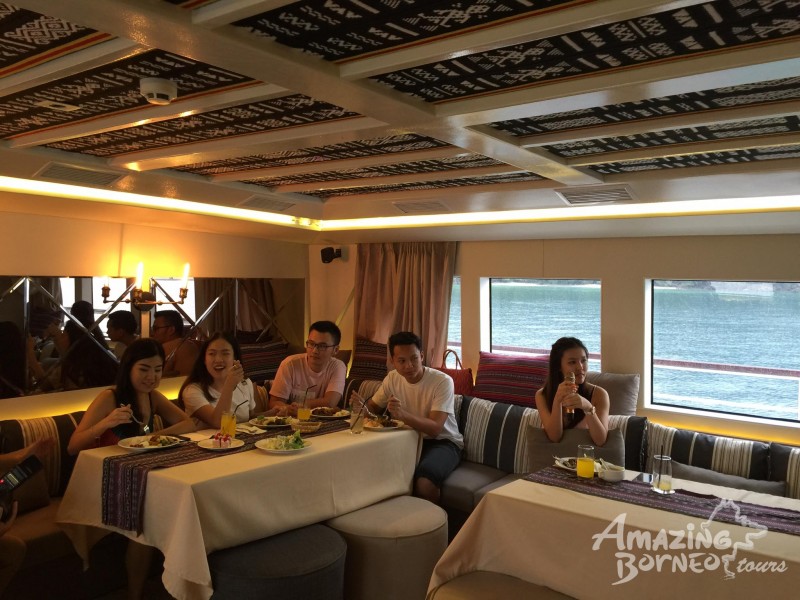 If you're planning a party but having trouble looking for the right venue, look no further. Whether it's a 21st birthday party or your parents' 10th anniversary, this VIP deck is suitable for any occasion.

The interior design is truly elegant and sophisticated that no matter what angle you take pictures from, it will always be Instagram approved. There are three windows on both sides of the deck so you can enjoy watching the sea without having to go outside. The deck is able to house 20 people but it is still spacious enough to move or dance around.
Sun-deck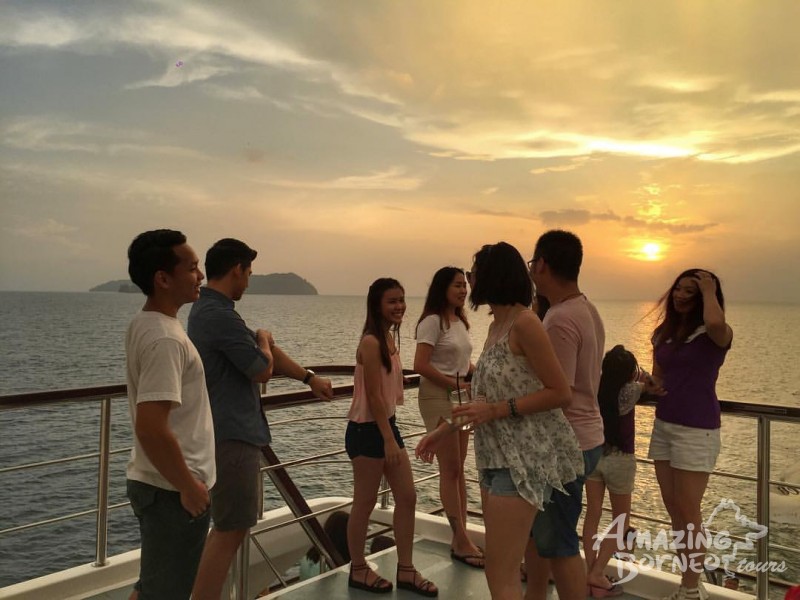 My exploration advanced to the sun deck as it is the perfect spot for a full panoramic view of the landscape. We were stoked to experience Kota Kinabalu's stunning sunset from the sea.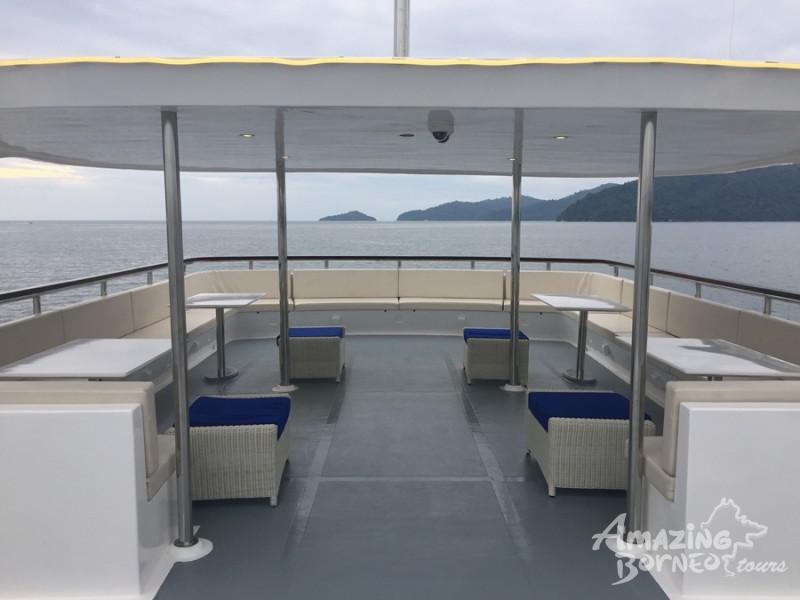 On a clear day however, guests may feast their eyes at the visible sight of Mount Kinabalu. Since it's an open space deck, guests are welcome to lounge about after dinner for a breezy, relaxing time.
Buffet Dining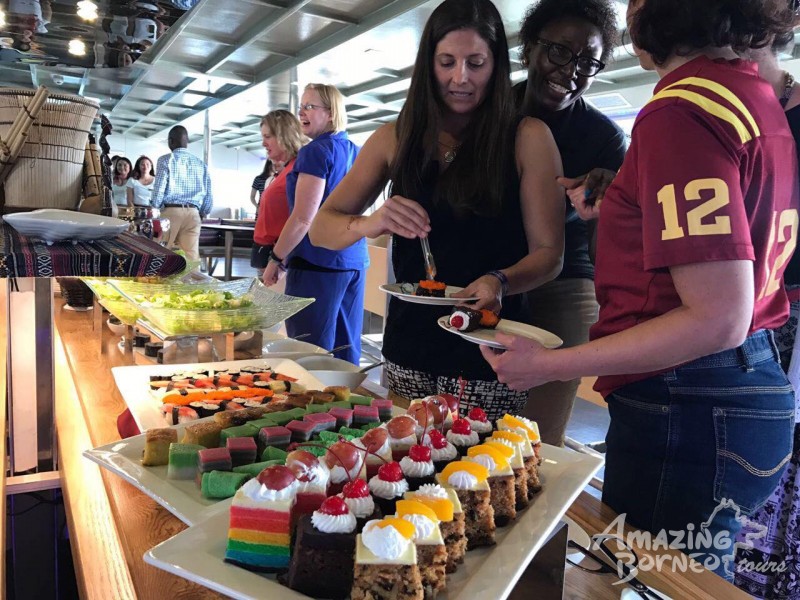 North Borneo Cruise features a complete menu of mouth-watering appetizers, soups, salads, entrées, and desserts. The highlight of the main deck is the international buffet prepared by experienced chefs with exceptional culinary skills. It's a fusion of local and western cuisine so we were blessed to have the best of both worlds.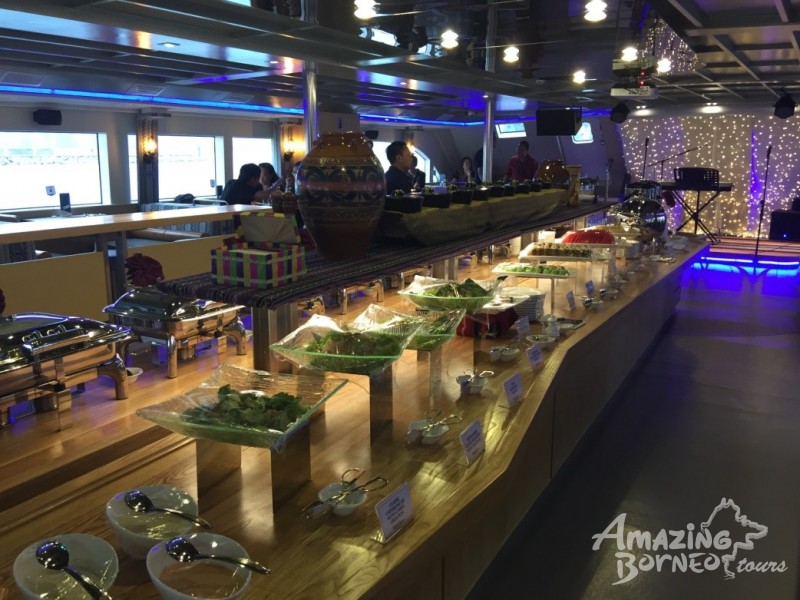 Even picky eaters and those with a restricted diet will be pleased with the offerings. The dishes were garnished attractively even a simple dish looks enticing. Alcoholic beverages are available for order if guests prefer downing their grub with a glass of wine or a pint of beer.
Cruising Route

The cruise actually travels into one big circle; it passes by the islands of Tunku Abdul Rahman Park, then to the sunset point, down by the coastline, goes by the waterfront and back to the jetty. The scenic route made our dining experience far superior and memorable as our delicious meal is followed by a tranquil cruise in the bay. The main deck itself can cater up to 118 people but the spaces between each table are comfortable and well-designed you don't have to worry about others listening to your private conversations. Also, the pathways aren't narrow so guests can pace away without bumping into each other.
Live Band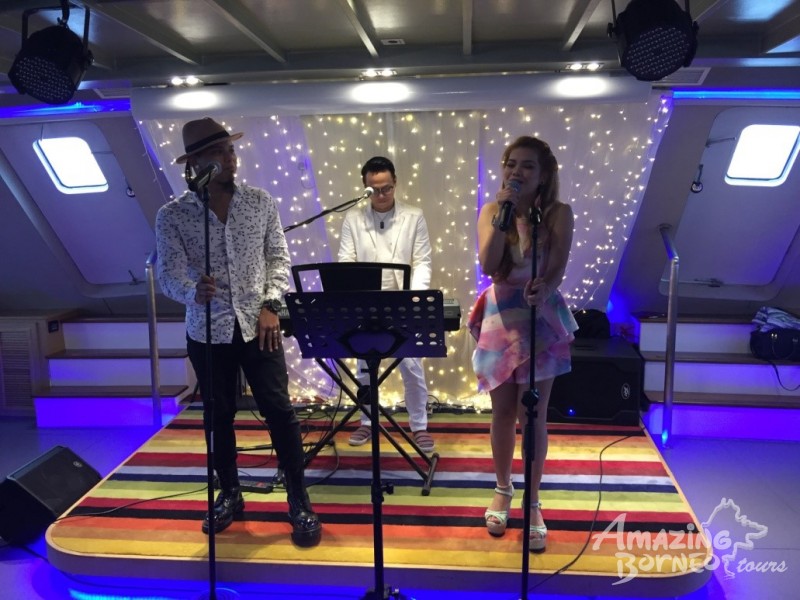 It's true to a certain extent that cruise is all sun, sea, sights, and relaxation, but with North Borneo Cruise, you get the radiating sun and the pulsating nightlife! Borneo Stars, a local live band, performed with such energy that night we can't help but to dance along with the service crew and other guests.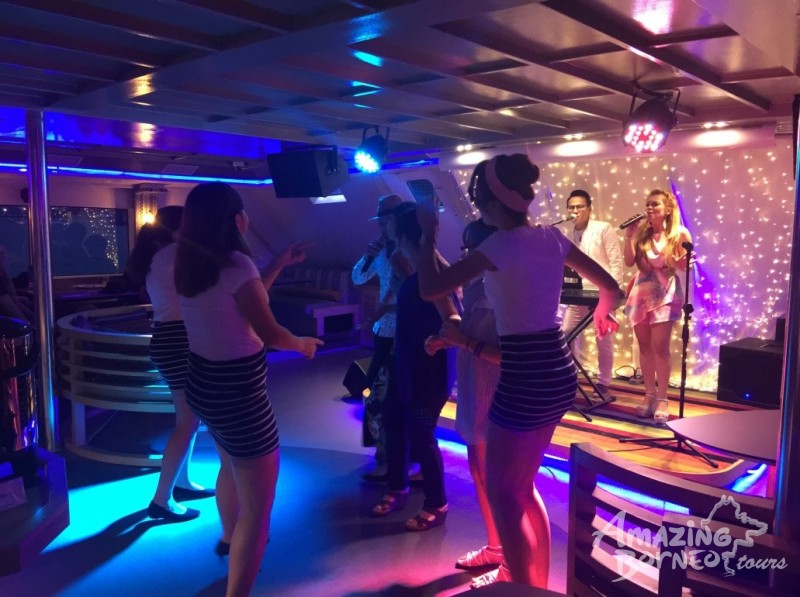 We have to hand it to the service crew; they were blowing up some sleek dancing skills. Some of the best performers are brought from land all the way to the sea for one night's unbeatable vibe. On weekdays, be sure to bring your dancing shoes and show off your best moves with the live bands onboard. Weekend's entertainment is reserved for a Bamboo Orchestra performance and perfect for those preferring a slow jam kind of night.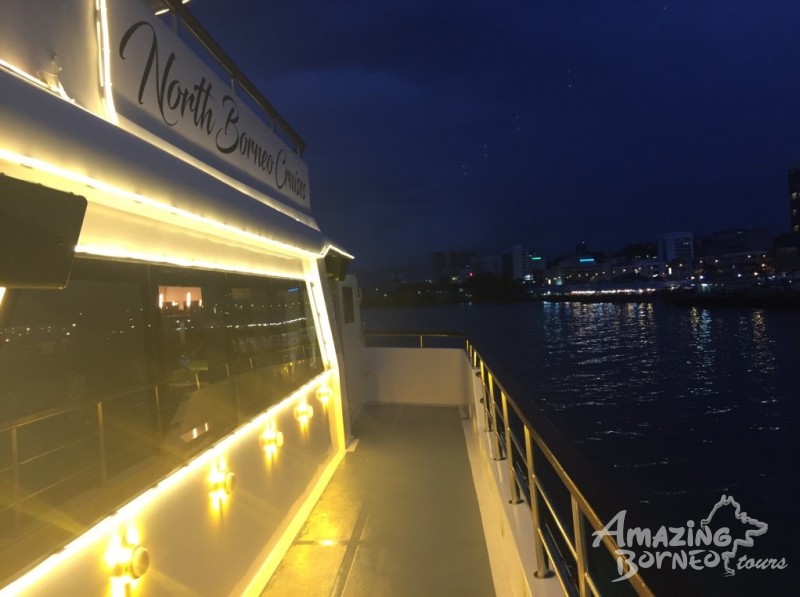 We didn't realise we have arrived back at Sutera Harbour Marina Jetty at 7PM. 2 hours went by fast as we indulged in the finest food the cruise have to offer, snapping tons of pictures our phone memory is almost full, and dancing like there's no tomorrow. Before we got off the cruise, Amir, a member of the Borneo Stars serenaded everyone, especially the ladies with a love song. He especially made the birthday girl weak to her knees with his suave charm. The performance ended and it was time to bid farewell to the cruise. Our exit was celebrated heartedly by the service crew it left us feeling eternal bliss. We truly had a great time cruising by the wonderful sea.
Cruise Sessions
North Borneo Cruise begins their cruise on a regular basis and offers two sessions; if you're planning to chase the sunset, the cruise departs at 4:50PM till 7PM but if it's a romantic dinner by the sea you're looking forward to, the second session starts at 7:50PM until 10PM.
Tickets are selling at a promo price of RM295 for adults and RM160 for a child guest. And yes, delicious buffet, entertainment, and unforgettable memory are inclusive! Go ahead and book your tickets at www.NorthBorneoCruises.com